What's Going On In The News Today?
A shooting in San Francisco highlights the strained relationship between cities and immigration officials. Research primates have been infected with deadly viruses so scientists can develop drugs to protect Americans from weapons of mass destruction. And check out some stunning photos on the Astronomy Photographer of the Year shortlist.
HERE ARE THE TOP STORIES
Frustrated European leaders have set a "final deadline" of Sunday for Greece to solve its debt crisis.
Greece was supposed to submit a new plan yesterday during an emergency summit, but the country failed to present any new substantive proposals to solve its debt crisis. "Until now I have avoided talking about deadlines. But tonight I have to say it loud and clear — the final deadline ends this week," Donald Tusk, the president of the European Council, told reporters.
"Deadlines have come and gone without serious consequences, but yet another emergency gathering, this one involving all 28 European Union leaders in Brussels on Sunday, might really be a crunch point," the New York Times writes.
And a little extra.
What has five years of austerity done to the Greek health system? And how bad could things get? BuzzFeed News scanned the medical literature, spoke to experts studying the health effects of austerity, and crunched the numbers from international health and economic databases into six charts that show the effects of austerity on Greeks' health.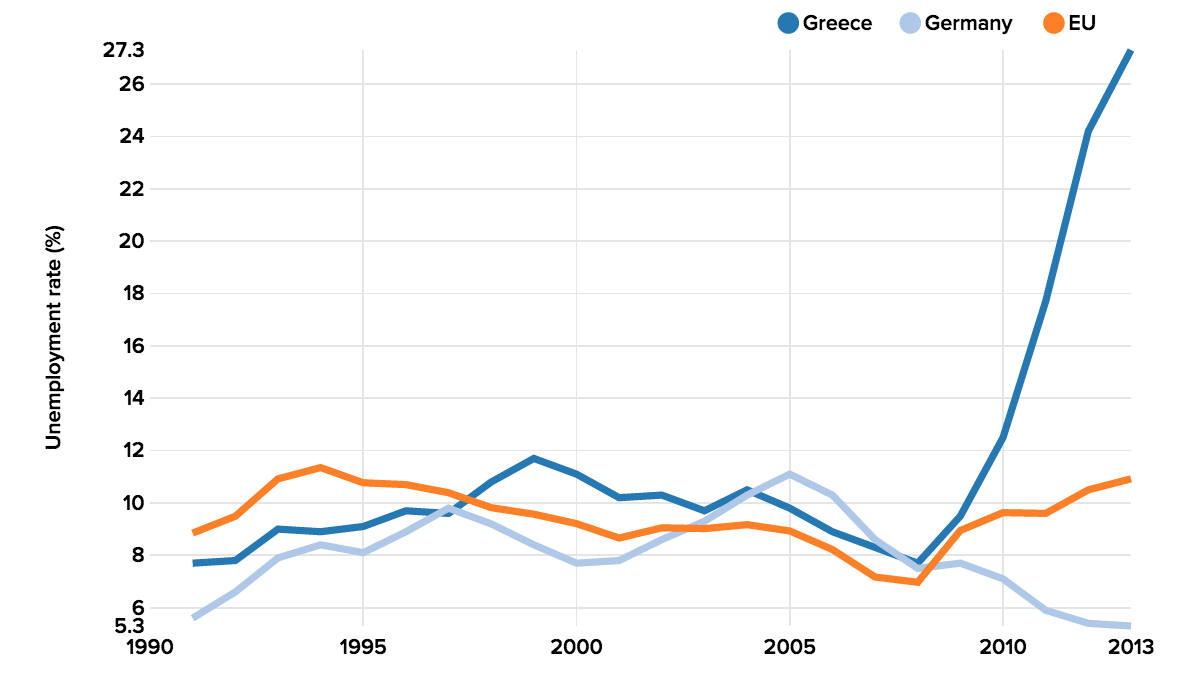 A shooting on a San Francisco pier highlights the strained relationship between cities and immigration officials.
Last week, 32-year-old Kathryn Steinle was fatally shot at a popular pier in San Francisco. The man charged with shooting her, Francisco Sanchez, is an undocumented immigrant who has been deported five times and convicted of seven felonies. Now, U.S. Immigration and Customs Enforcement officials say her death could have been avoided had the city agreed to detain Sanchez for deportation yet again.
"Steinle's shooting has set off a national debate about securing the nation's borders and how local police should better work with immigration officials, particularly so-called 'sanctuary cities,' which generally refuse to comply with federal requests out of political disagreement and a desire to improve community relations," BuzzFeed News' Adolfo Flores writes.
WE'RE KEEPING AN EYE ON
Advocates who have long campaigned for leniency for nonviolent drug offenders are happy, but impatient.
Earlier this week, the New York Times reported that President Obama was expected to free dozens of prisoners who are serving lengthy terms on nonviolent drug convictions.
Those who have supported clemency, or leniency, "say they are thrilled that President Obama appears poised to commute dozens of such sentences. But they're also frustrated with what they see as needless delays, both bureaucratic and political, that have slowed the pace of commutations," BuzzFeed News' David Mack writes.
What's next?
"The clemency process has played out as lawmakers from both parties have been urging for a change in drug and crime policies," Mack writes. But "it's unclear exactly how many commutations the president is seeking to grant, or if the administration intends to focus on offenses involving specific drugs, such as crack."
DID YOU HEAR ABOUT THIS?
Monkeys are the unsung heroes of the war on terror — or its hidden innocent victims, depending on your point of view.
Research primates have been deliberately infected with deadly bacteria and viruses, including plague, anthrax, Ebola, and smallpox, so scientists can develop and test new drugs and vaccines to protect Americans from weapons of mass destruction. "The U.S. government's push in biodefense has also taken a heavy toll on research monkeys — a cost that has not been publicly tallied until now," BuzzFeed News' Peter Aldhous reports.
How disaster and tragedy spawned a radical music movement in Haiti.
Notorious for blending the political and profane, and denounced for its roots in Vodou, rabòday is the defiant — and wildly popular — sound of a new, disaffected generation of Haitians. As the country prepares for long-awaited elections starting in August, the electronic dance music genre's populist stars have become unusually influential by turning public anxieties into dance-friendly anthems. "Every country has its own style, but rabòday is Haitian," DJ TonyMix said.
What if male actors were described the way female actors are?
Magazine profiles love detailing the way female celebrities purr their oyster orders and encase their svelte figures in flowing, all-white pantsuits. But what about the men? BuzzFeed's Jenna Guillaume and Jessica Misener took up the challenge and wrote some blurbs about Channing Tatum, George Clooney, and Bradley Cooper for us.
Quick things to know:
In food news: Why Shake Shack is getting into the chicken burger business (BuzzFeed News) and how much more Starbucks customers will pay each year with yesterday's price increases. (ABC News)
Happy Wednesday
The shortlist for this year's Astronomy Photographer of the Year competition is awesome, and here are the photos to prove it. These are some of the most stunning images of nature and space doing their thing.
Want a news roundup like this in your inbox every weekday? Enter your email address to sign up now!
For the latest updates, download the BuzzFeed News app for iOS now!