HERE ARE THE TOP STORIES
In a race to use expiring drugs, Arkansas has executed two men in one night.
Jack Jones and Marcel Williams died Monday — the first double execution since 2000. The state scheduled eight executions for the second half of April before one of its lethal injection drugs expires.
Williams was sentenced to death for abducting, raping, and killing Stacy Rae Erickson, a 22-year-old mother of two, in 1994. Jones was executed for murdering and raping Mary Phillips during a 1995 robbery at her accounting office while her 11-year-old daughter watched.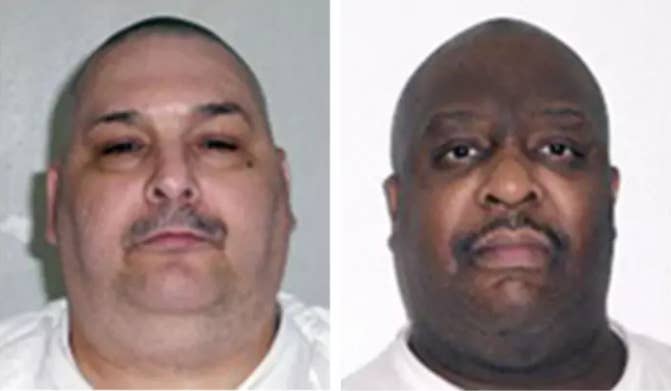 WE'RE KEEPING AN EYE ON

Here's the latest evidence that Russian hackers are targeting Europe's elections.
The same hackers who breached the email servers of the Democratic National Committee in 2016 are now focusing their attention on the European elections, according to a new report due to be published on Tuesday by the cybersecurity firm Trend Micro.
German intelligence agencies have warned that Russian hackers could attempt to disrupt Germany's upcoming federal elections using methods that mirror those used in the US election. Their efforts appear to focus on destabilizing Angela Merkel, who is running for re-election in September this year.
And markets are saying "Vive la France" after pro-European Union centrist Emmanuel Macron gained the most votes in the first round of the French presidential election.
How "Last Resort" became the internet's new favorite joke song.
Last month, after US Republican leadership failed to bring its Obamacare replacement bill to a House vote, the television writer Justin Halpern spotted an easy opportunity to crack a joke. He doctored the same-day New York Times story, adding a paragraph that (completely inaccurately) described Speaker of the House Paul Ryan leaving "the White House in defeat. Within moments, the muffled sounds of Papa Roach's 'Last Resort' were heard blaring from inside the car as it drove away." And then he tweeted it.
It was a tossed-off prank; Halpern told BuzzFeed News the whole thing might have taken him two minutes. But, like the 2000 song it references, the joke was a massive hit.