What's Going On Around The World Today
Twelve Pacific Rim nations have agreed to a historic trade deal encompassing 40% of the world's economy. A BuzzFeed News investigation revealed that a corporate donor to the UK's Conservative Party was secretly dropping cash-stuffed backpacks at post offices around London. And a Facebook love story.
HERE ARE THE TOP STORIES
The U.S. struck the biggest ever regional free-trade accord with Japan and 10 other Pacific Rim nations yesterday.
The Trans-Pacific Partnership — which has been negotiated for eight years — includes "tariff reductions for agriculture and automobiles, as well as intellectual-property rights for movies and pharmaceutical drugs, the free flow of information on the internet, wildlife conservation, online commerce, and dispute settlement practices for multinational corporations," the Washington Post writes.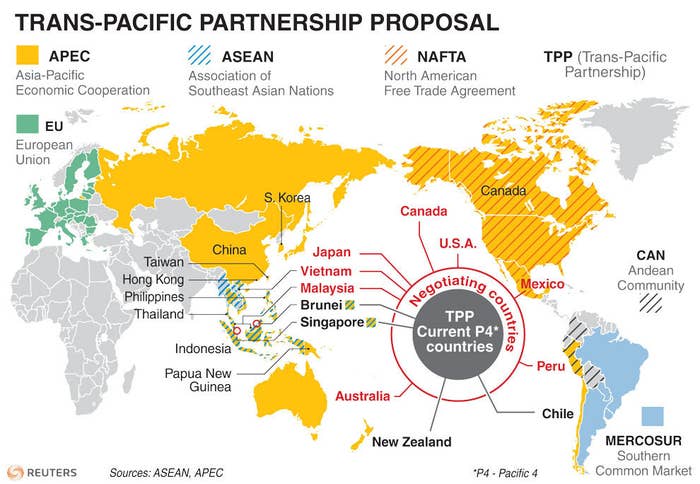 U.S. President Barack Obama said the pact would open up new markets for the U.S. to do business with. It'll give "our workers the fair shot at success they deserve," the president said.

Before the new partnership becomes a true reality, however, Obama has a big hurdle to overcome: U.S. Congress, where "the biggest trade deal in history is about to become Washington's biggest political football," POLITICO writes. Both Democrats and Republicans have criticized the new accord, saying it falls short on many issues.
A bit of background.
The Trans-Pacific Partnership is a 12-nation trade and regulatory deal that would establish the world's largest regional free trade zone in history.

The nations that make up the partnership are Australia, Brunei, Canada, Chile, Japan, Malaysia, Mexico, New Zealand, Peru, Singapore, the U.S., and Vietnam.

The TPP, which would encompass 40% of the world's economy, is the largest trade deal since the 1994 free trade agreement with the U.S., Canada, and Mexico.

President Obama has said the partnership would help ensure U.S. competitiveness against China. Opponents of the deal, which include labor unions and environmentalists, argue it'll hurt U.S. jobs and environmental protection.
Here are some of the changes that lie ahead coming from the new pact. And here are 6 things to know about the deal, like what's a free trade agreement anyway and who wins and loses from the deal.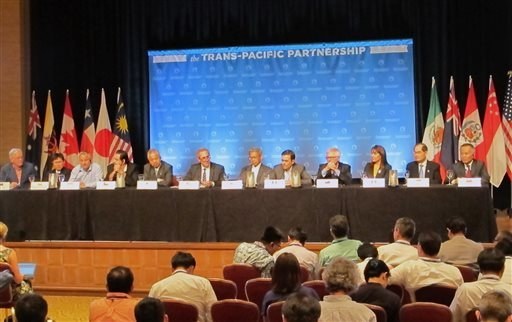 WE'RE KEEPING AN EYE ON

President Obama declared a major disaster in South Carolina after historic rain and flooding continued to batter the U.S. state.
The floods have killed at least 12 people and caused mass evacuations and "a seemingly unending series of rescues as motorists got caught in rapidly rising waters," BuzzFeed News' Adolfo Flores writes. Additionally, tens of thousands of people were left stranded, many of them without running water.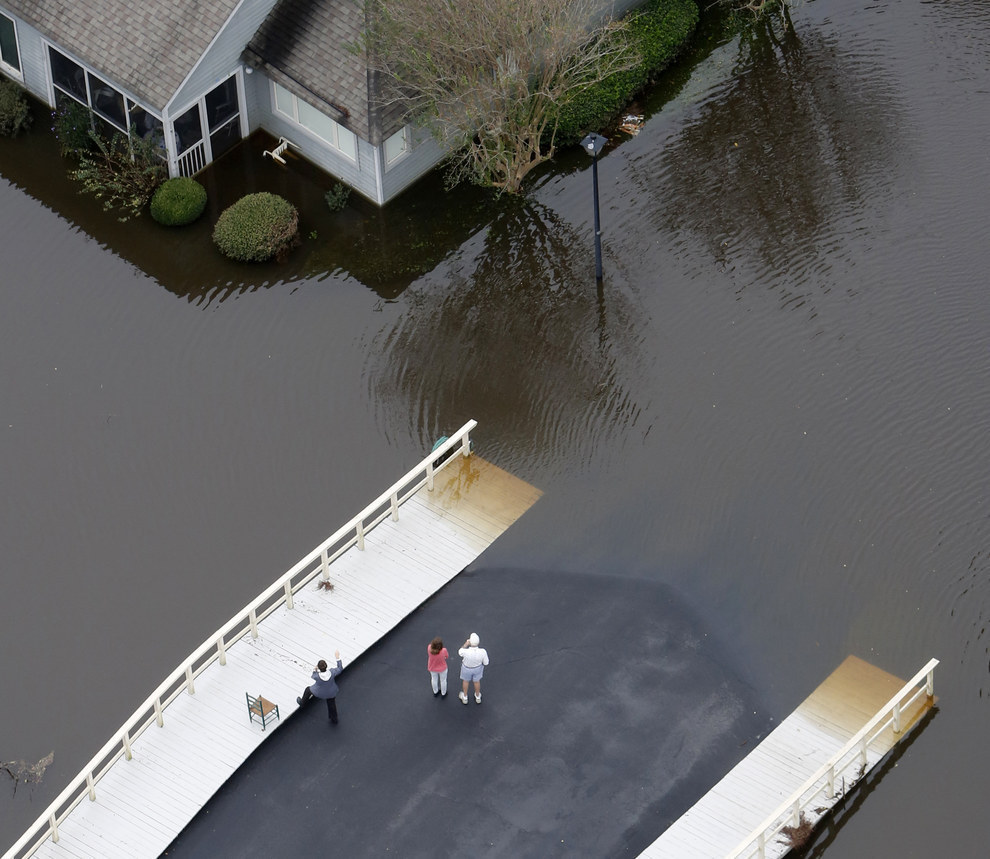 While sunshine is expected in the southern state today, it will take weeks for the state to recover from the damage and return to normal. "This is not over. Just because the rain stops does not mean that we are out of the woods," Gov. Nikki Haley said, according to the Associated Press.

What's next?
So, where does climate change come in? You can't really say that climate change is what caused the floods, the Washington Post writes. In this particular case, the weather systems interacting with each other are highly complicated. (For avid weather watchers, here's a precise explanation.) But, this once in a 1,000 years rain event is hard to completely separate from the effects of climate change. "The idea that extreme rains are worsening due to climate change is well established," according to the Post.
DID YOU HEAR ABOUT THIS?
A big-time donor to the UK's Conservative Party was secretly filmed dropping cash-stuffed backpacks at post offices around London.
Telecoms company Lycamobile, one of the Tory party's largest corporate donors, is facing serious questions over its finances after BuzzFeed News investigative reporters secretly filmed three bagmen dropping off the money.
The cash drops have totaled up to £1 million each week and post office tellers have repeatedly raised red flags. Lycamobile said the deposits were just "day to day banking" but legal and financial experts said they were "deeply suspicious" and should be urgently investigated.
Here, you can follow the donor's crazy cash trail in 20 pictures and gifs. And 16 things you need to know about Lycamobile's links to the conservatives.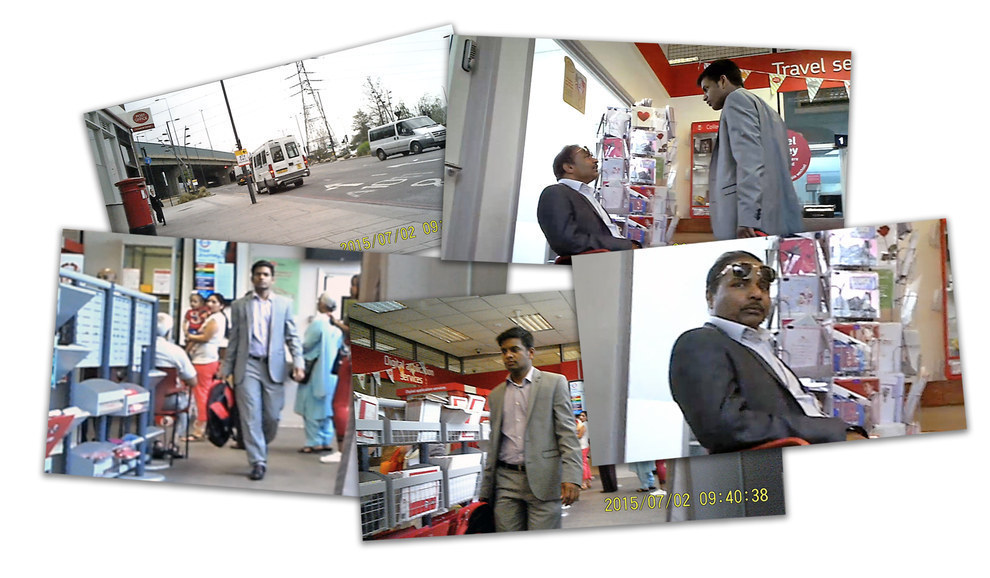 If these men aren't guilty, why can't they go free?
Four men who were convicted of murder, but who maintained they had been framed by a Chicago police detective, are all probably innocent, an official investigation commissioned by Mayor Rahm Emanuel has found.
In the case of one man, who was arrested 21 years ago, the report concludes, "[I]t is more likely than not that he is in fact innocent of the murders for which he was convicted." But prosecutors say that doesn't matter — and they want the report to remain secret, a BuzzFeed News investigation has found.
If you want the latest news and stories, download the BuzzFeed News app for iOS and Android.
Quick things to know:
Happy Tuesday
All's fair in love and Facebook? Two complete strangers met, fell in love, dated for two years, and got married all because of a mysterious Facebook glitch, BuzzFeed's Stephanie McNeal writes. In 2009, Schuler Benson was living and working in Arkansas. One day he tried to log onto Facebook on his ~flip phone~ and saw that he was already signed in, but into the account of a Colorado woman named Celeste. Through messaging and becoming actual Facebook friends, the two found out they shared a similar sense of humor. And a few status updates, comments, and probably a whole lot of likes later, they decided to meet. And the rest is timeline history.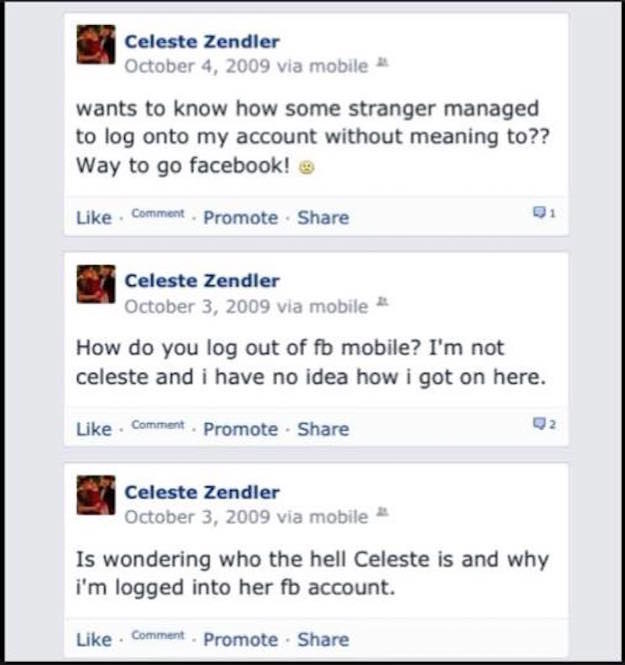 Want a news roundup like this in your inbox every weekday? Enter your email address to sign up now!
For the latest updates, download the BuzzFeed News app for iOS and Android now!