What's Going On Around The World Today?
The U.S. government isn't allowed to collect data about your phone calls, a federal appeals court has ruled. David Cameron and the Conservatives won an unexpected victory in the U.K. elections. And the city of Tehran becomes a huge art gallery.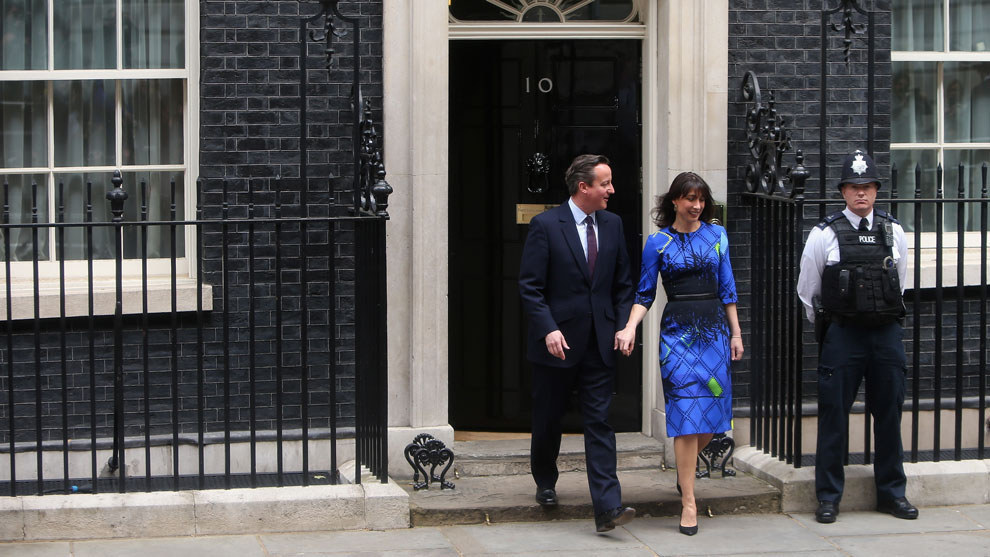 And a little extra.
Among the SNP winners was 20-year-old Mhairi Black, a politics student who defeated Douglas Alexander, Labour's foreign policy spokesman and one of its most senior figures. Black is the youngest U.K. lawmaker since 13-year-old Christopher Monck in 1667.
The U.S. government isn't allowed under the Patriot Act to collect data about your phone calls, a federal appeals court ruled.
A federal appeals court ruled yesterday that the Patriot Act does not allow the National Security Agency's vast collection of millions of Americans' phone records. The Patriot Act was put in place after the 9/11 attacks to allow for broad government surveillance tools to combat terrorism. The court decided to not stop the program and sent the case back to a lower court, suggesting that the lower court wait for Congress to debate the law, as parts of the Patriot Act are set to expire June 1.
And a little extra.
The first real Republican debate of 2016 is about the Patriot Act. "Expect the Senate floor to look more like a Republican presidential debate stage in the coming weeks, with [U.S. presidential] candidates Rand Paul, Marco Rubio, and Ted Cruz facing off over the size and scope of the government's domestic surveillance program," BuzzFeed News' Kate Nocera writes.
WE'RE KEEPING AN EYE ON
The Senate passed a bill that would allow congressional review of any nuclear deal the U.S. reaches with Iran.
That means Congress would have the power to block the White House from lifting sanctions against Iran. Some Republicans, including presidential candidate Marco Rubio, wanted Congress to have even more power to reject an eventual deal with Iran. Last month, President Obama relented and said he would sign the bill giving Congress a say after it received rare unanimous support in the Senate Foreign Relations Committee.
What's next?
House Speaker John Boehner has said he will fight for quick passage of the bill supported by both parties in the Senate.
Nuclear talks with Iran "resume next week in Vienna, with a target date of June 30 for a final agreement," according to the Associated Press. A framework agreement reached in April would lift economic sanctions on Iran if it limits its nuclear production.
DID YOU HEAR ABOUT THIS?
The U.S. Justice Department will investigate whether the Baltimore Police Department has a "pattern or practice" of excessive force.
This comes a day after Baltimore Mayor Stephanie Rawlings-Blake called for a federal investigation into the police department to examine stops, searches, and arrests following the death of 25-year-old Freddie Gray, who sustained a fatal spinal injury while in police custody. The investigation could resemble the one launched in Ferguson, Missouri, in August 2014 after the police-involved shooting death of unarmed black teenage Michael Brown, BuzzFeed News' Salvador Hernandez writes. The investigation found a pattern of racial bias in Ferguson's police department and local courts. Federal officials reportedly plan to announce the Baltimore investigation today.
Tornadoes roared across the U.S. Great Plains on Wednesday, prompting Oklahoma's governor to declare a state of emergency in 12 counties.
One person drowned in a storm shelter and 12 people were injured as a storm causing at least 50 tornadoes swept across a 500-mile stretch of land in Oklahoma, Kansas, Nebraska, and Texas.
A feminist group at the University of Mary Washington says its members received rape and murder threats on the anonymous messaging app Yik Yak.
A complaint filed to the Office of Civil Rights within the U.S. Department of Education accuses the Virginia university of failing to protect students from threats of sexual violence and harassment. This is one of the first Title IX cases to address the role of Yik Yak in creating hostile environments on campus, Lisa Banks, a civil rights attorney who filed the complaint on behalf of the group, told BuzzFeed News.
Quick things to know:
Ambassadors from the Philippines and Norway are among the six people killed in a helicopter crash in Pakistan. (BuzzFeed News)
How well you do know what happened in the news this week? Take the BuzzFeed News Quiz!


WEEKEND READS
Our special guest is BuzzFeed News San Francisco bureau chief Mat Honan, sharing his favorite stories from this week.
Is there a connection between athleticism and Tourette syndrome? This story of a 14 year-old runner, Amaris Tyynismaa, at least makes the case that people with the syndrome see their symptoms subside with athletic activity. But mostly this is a gorgeous and touching story of a teenager who inhabits a body that's both a wonderful machine, and its own kind of prison.
Every once in a while a story comes along that makes you completely reconsider commonplace things you've always taken for granted. This New York Times exposé on the way workers in nail salons are treated is one of those. After reading it you'll never be able to walk past (or into) one of those anonymous, exchangeable mani-pedi shops again without feeling a sense of outrage for the victimized workers who sometimes aren't even paid. It's utterly damning.
You could be forgiven for thinking it's fiction, because Joshuah Bearman's dive-in look at the real life Silk Road story is the stuff of blockbuster action movies — which it almost certainly will become. It's got drugs, "lots and lots of great sex" (or at least it alludes to lots and lots of great sex) and completely amazing visuals. But mostly it's a gripping, well-told crime story.
HAPPY FRIDAY
Something is a little different in Tehran. Starting on Thursday, all 1,500 billboards in the Iranian capital stopped displaying ads for goods or anti-Western slogans and started depicting works from famous foreign and local artists instead. It's part of a campaign to get more Iranians to museums, called "A Gallery As Big As a Town." The campaign seems to be a nice change in view for some of the city's residents. A cab driver told the New York Times: "My usual morning route has become a big adventure for me."
Want a news roundup like this in your inbox every weekday? Enter your email address to sign up now!