HERE ARE THE TOP STORIES
The Obama administration will tell U.S. public schools to let transgender students use restrooms matching their gender identity.
The guidance is not legally binding, but it reinforces the administration's position that it will take legal action against violators. The rules apply to restrooms, locker rooms, sports teams, fraternities, sororities, housing, and more, BuzzFeed News' Dominic Holden reports.
The U.S. government is tangled in three lawsuits in North Carolina, where state officials have claimed transgender students pose a safety threat in restrooms and locker rooms. The lawmakers there banned transgender people from using facilities that match their gender identity in public schools.
U.S. presidential election: Donald Trump and House Speaker Paul Ryan said that despite their "few differences" they can unify Republicans.
Ryan, the country's most powerful elected Republican, has said he isn't ready to endorse Trump, the presumptive Republican nominee, because of some of the candidate's policy positions and brash demeanor. This has led to some ~tension~ in the party. So the two sat down in Washington, D.C., yesterday.
The House Speaker seemed to describe the meeting in the same terms one would describe a blind date, saying Trump "had a very good personality" and that "he is a very warm and genuine person." But Ryan still didn't endorse him, BuzzFeed News reports.
For the latest news and updates, download the BuzzFeed News app for iOS and Android (available in Canadian, UK, Australian, and U.S. app stores).

DID YOU HEAR ABOUT THIS?
Abuse foreign workers? Rob them? The U.S. will let you hire more.
America's huge "guest worker" program — in which more than 175,000 foreign workers come each year to do low-paying temporary jobs — is rife with abuse. Employers have frequently endangered their workers, stolen their wages, and even threatened their lives. But when those employers apply for visas to bring in more guest workers, the answer is almost always yes, BuzzFeed News reports.
One company was accused of forcing its guest workers to eat rancid food, giving them only unclean water, and making them work at gunpoint. But the next year, that company was permitted to bring in more guest workers.
Previous stories by BuzzFeed News have found that the increasingly popular visa program is rife with abuse and that many employers illegally deny jobs to American workers.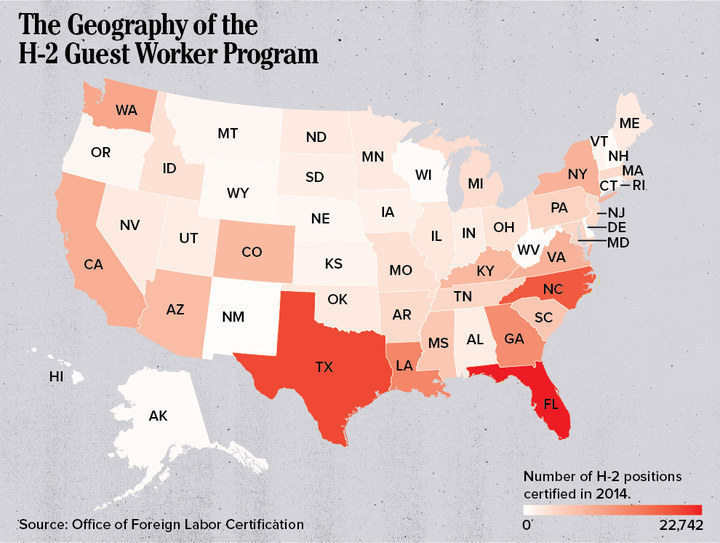 Quick things to know:
Leaked internal Facebook documents show staffers have a hand in deciding what gets onto the influential "Trending" news section. (BuzzFeed News) The company could clear up much of the controversy surrounding bias allegations by releasing people who have selected Trending stories from their nondisclosure agreements. (BuzzFeed News)

The U.S. still has no idea what to do with captured ISIS fighters. Officials told BuzzFeed News there are no plans to detain captured ISIS fighters for the long term, and no one's quite sure who should be interrogating them. (BuzzFeed News) And this is how ISIS uses the internet. (BuzzFeed News)
Want a news roundup like this in your inbox every weekday? Enter your email address to sign up now!