HERE ARE THE TOP STORIES
President Trump signed a significantly downsized version of his refugee and travel executive order.
Iraq will no longer be on the list of temporarily banned nations and the Syrian refugee program will no longer be indefinitely suspended.
The order makes explicitly clear that legal permanent residents and current visa holders are not covered by the order — points of repeated confusion in the aftermath of the signing of the original order.
The new order takes effect on March 16, and the original — which caused an uproar and nationwide litigation — will be revoked as of then.
And here's how the White House is justifying the new refugee and immigration ban — it's with two examples of FBI-led sting operations and a statistic that a former FBI agent says has "no meaning behind it."
Via Twitter
And a little extra
Trump told Planned Parenthood to stop providing abortions if it wants to keep its federal funding — the women's health organization refused.

The president took credit for thousands of new Exxon jobs, but the project began years ago.

And official photos released Monday by the National Park Service — including dozens of aerial and ground photographs — show Trump's inauguration crowds were smaller than Obama's.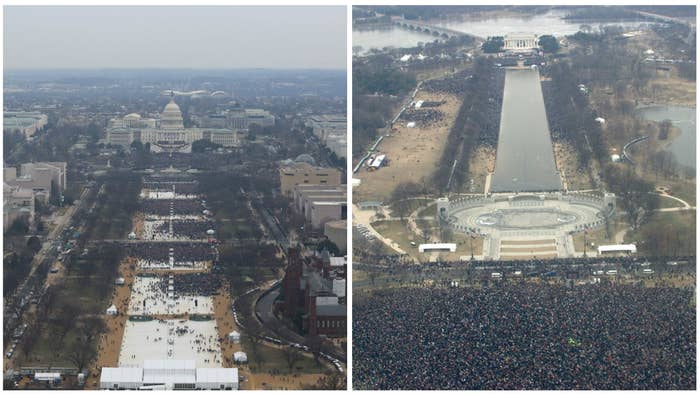 Republican leaders have finally released their plan to replace Obamacare, but its passage through Congress is far from certain.
The plan — dubbed the American Health Care Act — promises to fulfill President Trump's vow to broadly repeal Obamacare, including the individual mandate, while preserving the law's ban on denying coverage to people with pre-existing conditions. The plan also continues to allow parents to keep children on their insurance up until the age of 26.
House and Senate Republican leadership are united behind the plan. But conservatives in the House remain skeptical that the bill makes sufficient changes to the Democratic health care bill they've spent six years campaigning against.
WE'RE KEEPING AN EYE ON
Wednesday's Women's Strike.
Public schools in Chapel Hill, North Carolina, and Alexandria, Virginia, will close Wednesday, after hundreds of teachers requested the day off to participate in this week's Women's Strike.
Organizers of the Women's March have asked supporters — including the more than 500,000 women who signed up to their lists after the Jan. 21 protests — to take three actions for the "Day Without a Woman" protest: Don't work at the office or at home; don't shop if you can help it, except at small, women- and minority-owned businesses; and wear red.
What's next?

If the strike draws large numbers, it'll be another show of strength for a movement that coalesced within weeks of Donald Trump's election victory in November, and which draws on the organizing experience of the labor movement.
QUICK THINGS TO KNOW