What's Going On Around The World Today
Nigerian presidential candidates try to win the hearts of Nigerians living abroad. Police authorities suspend an investigation into an alleged UVA sexual assault highlighted by a Rolling Stone article. And a 570-pound man is challenging himself to run a 5K every month.
HERE ARE THE TOP STORIES
Police have suspended an investigation into UVA's Rolling Stone rape allegations. Charlottesville police chief Timothy Longo announced yesterday that there was no substantive evidence that a female student, identified only as Jackie, was sexually assaulted at a fraternity house in 2012. The alleged incident was first reported in a Rolling Stone article published last November. Longo added: "I just want to be clear, that doesn't mean something terrible did not happen to Jackie…we were just not able to gather sufficient facts on what that event might have been." The investigation will remain inactive until more information is gathered, and Jackie will not be charged with false reporting.
And a little extra. When the Rolling Stone story, "A Rape on Campus," was published last November, it sparked a national debate about sexual assault on college campuses. The story claimed that Jackie was raped by seven men at a Phi Kappa Psi fraternity house and that the school's administration had failed to provide a sufficient response. The article also portrayed a student culture that prioritized partying and status over a safe environment.
The story gathered so much attention that the university was compelled to suspend fraternities for the rest of 2014. At one point, the school sought to extend the ban throughout the whole school year, according to a Bloomberg report.
But things started falling apart two weeks after the Rolling Stone story published, when The Washington Post ran an investigation that disputed key facts in the story. Rolling Stone eventually admitted to inaccuracies in the article and issued an apology to its readers. The magazine also announced that the Columbia Journalism School would conduct an independent review of its editorial processes. The report will be published on April 8.
The story's author, Sabrina Rubin Erdely, has remained silent on the controversy for months, according to Jezebel's Anna Merlan.
WE'RE KEEPING AN EYE ON
A plane carrying between 142 and 150 people crashed in southeastern France. French President Francois Hollande says there are likely no survivors after a Germanwings flight crashed in the French Alps today. The flight was headed from Barcelona to Dusseldorf, according to BuzzFeed News.
What's next? The conditions of the accident are unclear at this time. Lufthansa, the parent company of Germanwings, is expected to give updates as more information is confirmed.
Nigeria presidential candidates are campaigning abroad for upcoming elections. The race is coming down to two candidates: incumbent President Goodluck Jonathan and former military leader Muhammadu Buhari. Both men have been aggressively targeting members of the far-flung Nigerian diaspora who live in cities like London, Edinburgh, and New York in their bids to tip the balance and gain leadership over Nigeria, the most populous country on the African continent, BuzzFeed News' Shyamantha Asoka reports.
What's next? The Nigerian national elections are set to take place this Saturday.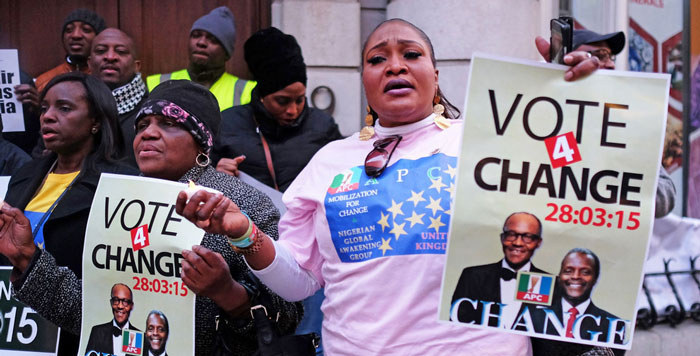 Telecoms have filed the first lawsuits to challenge the FCC's net neutrality rules. On Monday, two lawsuits were filed against the Federal Communication Commission's new rules for broadband internet passed in February that "aim to keep Internet providers from speeding up, slowing down or blocking Web traffic," according to Washington Post's Brian Fung.
What's next? The lawsuits came sooner than many experts had expected, months before the rules are event to take effect. After the filings are finalized, the FCC will have to decide whether it wants to ask them to be dismissed entirely.
DID YOU HEAR ABOUT THIS?
Afghans protested the killing of a woman who was wrongly accused of burning a Qur'an. Hundreds of Afghans rallied in Kabul yesterday in memory of 27-year-old Farkhunda, who was beaten to death on Thursday by an angry mob who falsely claimed that she had burned a Qu'ran. The protesters wore masks of Farkhunda's bloodied face, and voiced their anger on social media through the #JusticeForFarkhunda hashtag. "We want justice for Farkhunda, we want justice for Afghan women. All these injustices happening to Afghan women are unacceptable," a prominent activist who goes by the name of "Dr. Alima" told the Associated Press. Afghan President Ashraf Ghani has also ordered a commission to investigate the incident, while a massive rally will take place today outside Afghanistan's Supreme Court in Kabul to call for justice, according to CNN.
People who are wrongfully convicted then freed are struggling after their release. Most states that provide compensation to exonerees offer money, but no job training or financial guidance. The transition can be overwhelming. BuzzFeed News' Albert Samaha shares the stories of Clarence Harrison and others who have been exonerated and compensated for their wrongful imprisonment, and how a clear name and cash for all the years lost doesn't mean living happily ever after.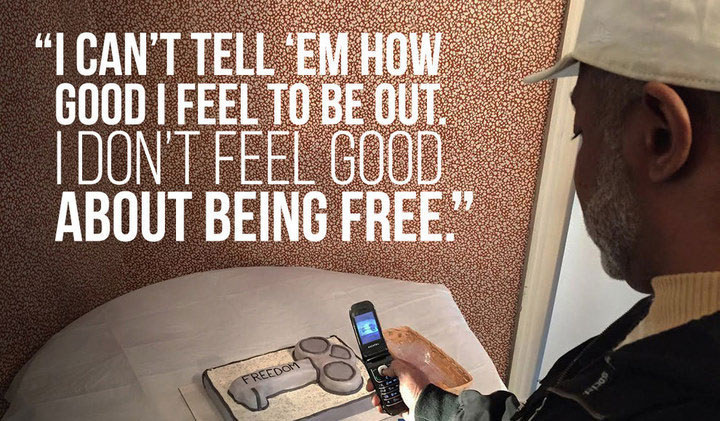 Quick things to know:
HAPPY TUESDAY
Derek Mitchell, a 570-pound man from Kansas City, Missouri, is challenging himself to run a 5K every month. He had been diagnosed five years ago with a benign tumor in his pituitary gland, which led to his weight gain. "If I can walk a 5K anybody can," he told local reporters. "And I'm living proof of that now."