HERE ARE THE TOP STORIES
Hillary Clinton and Bernie Sanders sparred over immigration, health care, and whether Trump is a racist during their eighth presidential debate last night.
It was their second face-off in a week, the last one before Tuesday's primary in Florida, and the most substantive debate yet on Hispanic issues, BuzzFeed News' Adrian Carrasquillo writes.
Neither really came out a winner. Clinton, under some intense questioning about her past policies, didn't break through. Sanders, who stuck largely to his talking points, didn't score any big hits on the frontrunner, BuzzFeed News reports. And when asked directly whether Trump is a racist, neither candidate answered.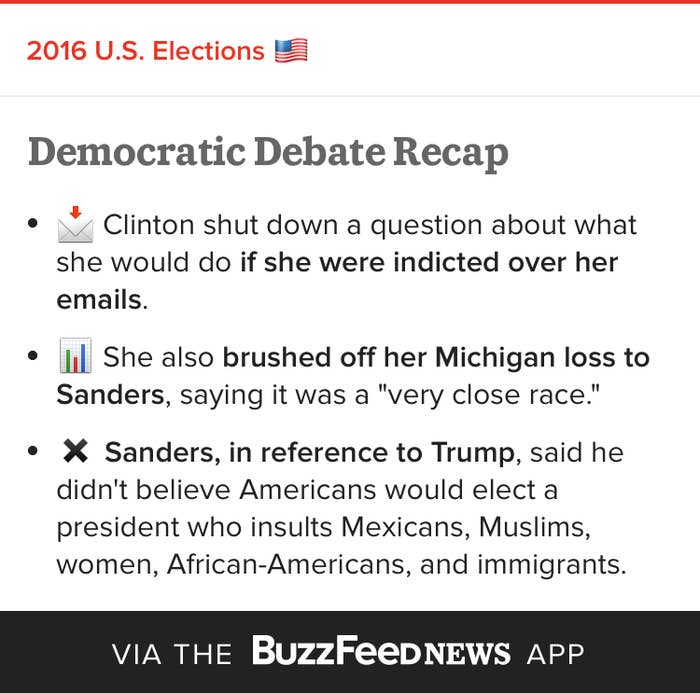 What's next?
A new era of optimism inside the Sanders campaign has arrived. After he improved his performance with black voters in Michigan, Sanders is now focusing on Cleveland and Chicago, large Midwestern cities whose states vote on Tuesday. So far, black voters have favored Clinton, BuzzFeed News' Darren Sands writes.
Looking for some Thursday night plans? The Republicans are debating each other in Florida tonight.
For all updates about the 2016 U.S. elections and other stories, download the BuzzFeed News app for iOS and Android.
WE'RE KEEPING AN EYE ON
Behind the story: Internal data offers a glimpse at Uber's sexual assault complaints.
Earlier in the week, ride-hailing app Uber walked back an explanation for why its customer support system showed high numbers of search result returns for "rape" and "sexual assault." The company's change in position came a day after BuzzFeed News published screenshots from Uber's system.
We spoke with BuzzFeed News' Charlie Warzel, who reported this story together with Johana Bhuiyan.
How did Uber respond to your findings?
Uber was in contact with us toward the end of our reporting process and had a good idea of what to expect from our story. Shortly after our piece was published, the company came back with a rebuttal of sorts. It suggested some instances were exaggerated complaints and that others were the result of the software it uses, a popular product called Zendesk. Uber cited misspellings of the word "rape," mentions of rape and sexual assault on other platforms and in the news unrelated to Uber that were discussed in the customer complaints, and a series of false positives that came up as a result of Zendesk's search engines. Uber declined to let us vet these results for ourselves.
Then Uber changed its response — what exactly did the company say and where was the discrepancy?
Uber claimed that "any email address or rider/driver last name that contains the letters R, A, P, E consecutively (for example, Don Draper) are included. After analyzing the data, we found more than 11,000 rider names and 17,500 rider emails with the letters 'rape.'" But this didn't fit with the way Zendesk's search actually worked. Basically, if you searched "rape" in Uber's system, results for somebody with the name "Draper" would not appear.
Uber apologized for the error, saying "We apologize to Zendesk for using an imperfect (and fictitious) example that doesn't accurately represent their search functionality."
What do these figures tell us?
The screenshots — however one chooses to interpret them — begin to show the volume of complaints that come through Uber's customer support each day. The sheer quantity of these tickets makes it difficult to tell which ones are exaggerations or attempts at false escalations and which are legitimate and urgent requests. That is something every Uber driver and rider should keep in mind.
DID YOU HEAR ABOUT THIS?
One woman grapples with the effects of abstinence-only education as a girl.
"Ladies, everything can be avoided if you'll just keep your legs closed." That's how Becca Andrews remembers her ninth-grade health teacher opening class back in 2006, when Andrews was a teenager in Tennessee.
At the time, the law in Tennessee stated that abstinence should be encouraged — it became stricter in 2012.
"When we learned about condoms, we were told they could have microscopic holes in them that made it possible for sperm to pass through, impregnating our now-used bodies," Andrews wrote for Mother Jones.
She continued: "I don't regret abstaining in high school, but the fear I picked up along the way hasn't been easy to shake. When I did start having sex in my early 20s, even though I loved the man I was with, part of me felt disgusted with my body and overwhelmed by the experience."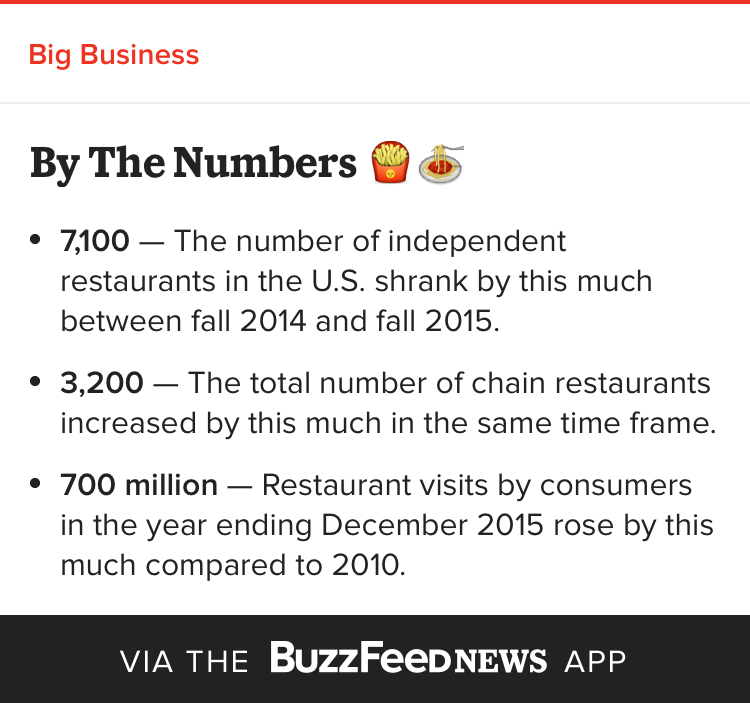 Happy Thursday
The Black Panther was the first black superhero in mainstream American comics. He first appeared in a 1966 issue of Fantastic Four. And now he's making a comeback in an 11-issue series written by award-winning author Ta-Nehisi Coates. In case you're eager to start reading, The Atlantic has an exclusive preview of the first issue. Who doesn't love a revival?

Want a news roundup like this in your inbox every weekday? Enter your email address to sign up now!