What's Going On Around The World Today?
Turkey's governing party has lost its majority for the first time in 13 years. A Texas police officer is "on administrative leave" after pulling a weapon on teens at a pool party. And here are the first photos of Prince George with his baby sister, Princess Charlotte.
HERE ARE THE TOP STORIES
The party of Turkish President Recep Tayyip Erdogan has lost power after the country's election.
For the first time in 13 years, Turkey's governing party, the Islamist and conservative Justice and Development party (AKP) failed to win a majority of parliamentary seats. The results were a setback for President Recep Tayyip Erdogan, who had hoped to win enough seats to rewrite the constitution and increase the power of his largely ceremonial role. AKP earned 41% of the vote and still has more seats than any other party.
The election was also a victory for the pro-Kurdish Peoples' Democratic Party (HDP), which won seats in parliament for the first time after winning more than 10% of votes.
And a little extra.
The center-left Republican People's Party (CHP) won the second-largest portion of parliamentary seats and CHP Chairman Murat Karayalcin said the election results "show a clear rejection by voters of Erdogan's drive for greater powers," according to BBC News. "Voters said a clear no to the presidential system," Karayalcin said.
"In a volatile Middle East, Turkey matters greatly — and so the path it takes, the nature of its democracy and the leaders it produces, all have implications far beyond its borders," BBC News' Mark Lowen writes.
Kalief Browder, who was jailed at Rikers for three years without a conviction, has died of an apparent suicide.
The 22-year-old was arrested in 2010 at age 16 after a man claimed he had robbed him. Browder then spent three years behind bars without being convicted of a crime while waiting for a trial. On Saturday, he killed himself, the New Yorker's Jennifer Gonnerman writes.
Browder described his teenage years at Rikers Island, which included two years of solitary confinement, as torture. He was released in June 2013 after the robbery charge was dropped. "In spite of the conditions he faced, Browder said on multiple occasions he refused to take a plea deal because he was innocent," BuzzFeed News' Claudia Koerner writes.
And a little extra.
The New Yorker's Gonnerman told Browder's story last year, which prompted a closer look at problems at Rikers and the backlog of the jail and the state court system. According to a New York Times report earlier this year, 400 people were being held at Rikers for more than two years without a conviction. New York Mayor Bill de Blasio has announced a plan to lower the inmate population and deal with the overwhelming delays.
WE'RE KEEPING AN EYE ON
The G7 summit of economic powers is meeting for a second day in Germany.
President Obama joined the heads of the U.K., Canada, France, Germany, Italy, Japan, and the European Union for a two-day summit, which started yesterday, to discuss a wide range of issues. The agenda is dominated by Ukraine, the Greek bailout, and climate change, according to The Guardian.
What's next?
The three things to watch for are Ukraine, Iran, and ISIS. "This year's summit will be the second that excludes Russia and it occurs amid an escalation in violence in Eastern Ukraine," Time's Maya Rhodan writes. The summit will also be the last opportunity for several key countries to meet before the deadline for the Iran nuclear negotiation on June 30. Iraqi and Nigerian leaders will also be there to discuss threats from militant groups such as ISIS and Boko Haram. The summit is the first meeting since ISIS militants captured the strategic city of Ramadi in Iraq.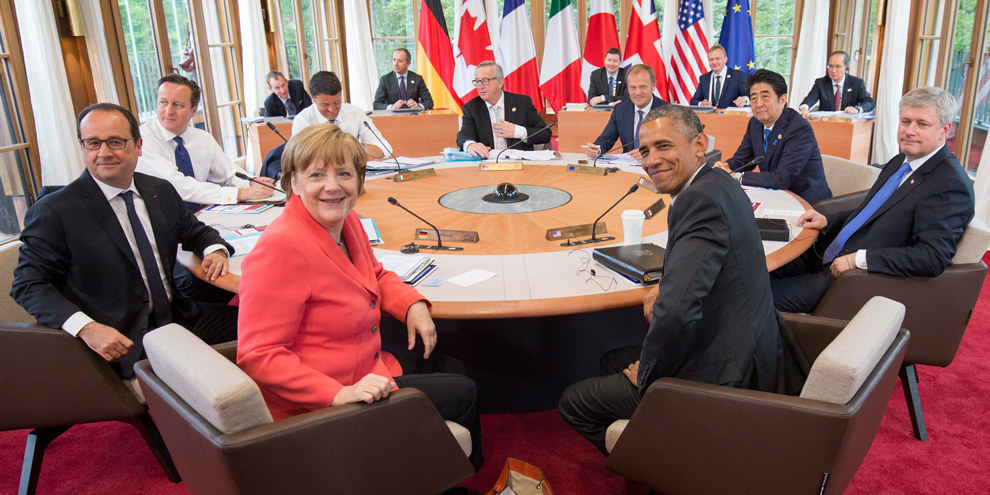 DID YOU HEAR ABOUT THIS?
A Texas police officer is "on administrative leave" after pulling a weapon on teens during a pool party.
A police officer in McKinney, Texas, has been placed on administrative leave after being filmed aggressively handcuffing, and then pulling a weapon on, a group of black teens following an "incident" at a local pool party on Friday night, BuzzFeed News' David Mack reports. McKinney Chief of Police Greg Conley held a press conference on Sunday afternoon, saying he is "committed a complete and thorough investigation of this incident."
There's a $100,000 reward for two convicted murderers who drilled out of maximum security New York prison.
Convicted murders Richard Matt, 48, and David Sweat, 34, escaped from maximum security Clinton Correctional Facility in Dannemora, New York, early Saturday morning. The two escaped through an elaborate series of tunnels after cutting through their cell walls with power tools. They are the first inmates to escape the prison since its construction in 1865.
Dudes are falling in love with Lululemon: meet the Lululemen.
More than one in seven dollars spent at pricey yogawear company Lululemon is for men's items, and sales of men's gear grew by 15% in the most recent quarter, almost twice as fast as overall sales at the company, BuzzFeed News' Sapna Maheshwari reports. "That's a bigger deal than it may seem, because getting men to buy clothes once exclusively worn by women is a very tough sell," Maheshwari writes.