HERE ARE THE TOP STORIES
Hillary Clinton has enough total delegates to clinch the Democratic presidential nomination ahead of today's primaries, the Associated Press reported.
She's the first woman to be a major U.S. political party's nominee. Clinton has been focused on her performance in today's California primary against Bernie Sanders, BuzzFeed News reports. Montana, New Jersey, New Mexico, South Dakota, and North Dakota also vote today.
Sanders disputed the AP's reporting: Clinton "does not have and will not have" enough pledged delegates, his campaign said.
The Democrats have two kinds of delegates who vote at the Democratic National Convention later this summer:
Pledged delegates are apportioned based on the results of primaries and caucuses. Clinton currently leads Bernie Sanders by about 300 pledged delegates.

Superdelegates are composed of Democratic officials and insiders, and may vote as they please, committing their support at any time. Clinton has secured the commitments of enough superdelegates to clinch the nomination, the AP reported yesterday.
It's considered highly unlikely that Sanders will be able to persuade enough superdelegates to overcome the gap in both pledged delegates and superdelegates between him and Clinton.

For continuous updates, download the BuzzFeed News app for iOS and Android (available in Canadian, UK, Australian, and U.S. app stores) and we'll update you on the results in tomorrow's newsletter.
BuzzFeed has terminated an advertising deal with the Republican National Committee over Donald Trump.
BuzzFeed CEO Jonah Peretti cited Trump's rhetoric and campaign promises as the reason for the decision:
"The Trump campaign is directly opposed to the freedoms of our employees in the United States and around the world and in some cases, such as his proposed ban on international travel for Muslims, would make it impossible for our employees to do their jobs.
"We certainly don't like to turn away revenue that funds all the important work we do across the company. However, in some cases we must make business exceptions: We don't run cigarette ads because they are hazardous to our health, and we won't accept Trump ads for the exact same reason."
WE'RE KEEPING AN EYE ON
The father of a former Stanford University swimmer convicted of sexual assault said in a letter to the judge that his son has paid heavily "for 20 minutes of action."
Brock Turner, 20, was convicted for sexually assaulting an unconscious woman behind a dumpster on campus following a fraternity party in 2015. His father Dan Turner's letter was made public and gained attention Monday after the victim read a letter in court that was posted by BuzzFeed News.
Dan Turner noted his son's high grades and athletic ability, and the "devastating impact" the case had on the swimmer. "Now, he barely consumes any food and eats only to exist. … That is a steep price to pay for 20 minutes of action out of his 20-plus years of life."
Dan Turner defended his comments, claiming they had been misinterpreted.
What's next?
People want to oust Aaron Persky, the judge who gave Brock Turner a six-month jail sentence for the sexual assault conviction. Even though Persky is up for re-election, he's unlikely to lose or be recalled and will likely remain in office for another six-year term, BuzzFeed News' Stephanie M. Lee reports.
DID YOU HEAR ABOUT THIS?
This village in Zimbabwe holds a key to ending AIDS.
The AIDS epidemic can be ended with current drugs — in theory. Now, a rural village in impoverished Zimbabwe has figured out how to help end the epidemic in real life, and they've done it in a simple, low-tech, and inexpensive way: making sure people take their drugs, Jon Cohen reports for BuzzFeed.
If transmission rates can be kept low enough, the epidemic will eventually die out. That's what experts mean when they talk about the end of AIDS. But this only works if people can get the medications in the first place and then stick to their regimens.
In the U.S., studies estimate that only about 35% of people who know they're HIV-positive are on the medications and have virus levels so low they basically can't transmit HIV. In the impoverished Zimbabwean village of Nyamutora, it's 96%.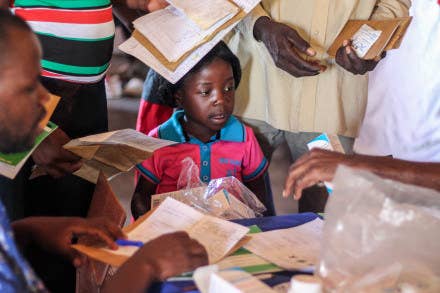 Quick things to know:
At least 11 people died in a bombing aimed at a police bus in Istanbul, Turkish officials say. (BBC News)

The parents of a 3-year-old boy who fell into a gorilla enclosure at the Cincinnati Zoo, prompting keepers to kill a male gorilla, will not face criminal charges. (BuzzFeed News)

Sports news: Basketball player Stephen Curry won't play for Team USA at the 2016 Olympics due to "several factors," including recent injuries. (BuzzFeed News) MMA fighter Kimbo Slice has died at 42. He was famous for his street fights and distinctive style in the ring. (BuzzFeed News)
Want a news roundup like this in your inbox every weekday? Enter your email address to sign up now!