What's Going On Around The World Today
After days of serious decline, China's stock markets rebounded today. Belgian prosecutors say they've found a Brussels apartment that was used as a hideout for the Paris attackers. And some good news for manatees: They may no longer be listed as endangered.
HERE ARE THE TOP STORIES
If most of your income relies on on-demand work, you're probably a racial minority.
We have some new insight into exactly what is going on with the on-demand economy in the U.S. New data about a little-discussed element of the on-demand economy was unearthed in a survey by research firm Penn Schoen Berland and published by Time. Of respondents who said they earn more than 40% of their income from on-demand work, 67% identified as racial minorities.
"If the majority of people who rely most heavily on these jobs for income are racial minorities, then they are part of a group of American workers who are already highly disadvantaged when it comes to finding work and fair pay," writes BuzzFeed News' Caroline O'Donovan.
The on-demand economy refers to technology companies, such as ridesharing app Uber, that provide immediate services. Uber, for example, insists that its drivers need to be classified as independent contractors. "The drivers value this flexibility so much that they're willing to sacrifice some of the benefits and protections of traditional employment in order to get it," O'Donovan writes.
For the latest news and stories, download the BuzzFeed News app for iOS and Android (in U.S. app stores only). If you're not yet subscribed to this Newsletter you can sign up here to receive the latest news in your inbox from Monday through Friday.

WE'RE KEEPING AN EYE ON
China's stock markets have had a rough week.
Markets in China have managed to rebound today, after stocks fell nearly 12% in the week to Thursday, reported the Washington Post.
The results were felt in the U.S. as well, where markets had a rocky start to the year, according to CNN Money.
A bit of background.
China had a so-called "circuit-breaker" system in place, which is a mechanism that automatically stops trading when stocks fall more than 7%. That system — designed to provide calm in a time of market panic and manage heavy fluctuations — backfired and actually gave people time to panic, Foreign Policy writes. On Friday, China suspended the circuit-breaker.
One of the reasons for the sharp decline on the stock market this week seems to be the gradual depreciation of the yuan currency by China's central bank. "A devaluation is seen as a pointer that the economy is doing worse than official statistics suggest," BBC News writes.
THIS WEEK IN HEALTH
We don't actually know whether cancer screening "saves lives," a group of experts in this week's British Medical Journal say.
The experts found that while some types of screening can reduce deaths from a specific type of cancer, they don't necessarily save lives overall. BuzzFeed UK's Kelly Oakes reports on the findings:
Screening should be measured against the total number of deaths that occur following it, rather than the number of cancer-specific deaths, as is currently the case.

False-positive screening results can have a negative impact on health, and even cause deaths themselves, outweighing the benefits of screening.

Bigger, more powerful trials are needed to measure whether the total number of deaths goes down after people are screened for cancer.

In the meantime, the possible downsides of screening should be communicated better so patients can make up their own minds about whether screening is worth the risk.
A Dutch study found that most HIV infections can be prevented.
According to a study published on Wednesday, most HIV infections in gay and bisexual men in the Netherlands could be prevented with antiretroviral treatment, BuzzFeed News' Virginia Hughes reports.
The treatment, known as pre-exposure prophylaxis, or PrEP, isn't widely available in Europe. It's unclear whether PrEP would lead to a similar drop in infections in the U.S., where a growing number of gay and bisexual men are already getting PrEP as Truvada, the once-a-day blue pill.
DID YOU HEAR ABOUT THIS?

The Pied Piper of North Carolina.
Stan Eury turned an obscure bit of immigration law into a mammoth federal program — and a lucrative business empire, importing hundreds of thousands of Mexican workers for legal American jobs. Except that some of the jobs weren't real jobs, and an untold number of those workers may never have returned to Mexico at all, according to a BuzzFeed News investigation.
We spoke to the BuzzFeed News investigative team about this story:
How did you first get into this story, and Stan Eury?
We began looking at a federal program that allows foreign workers to come to the U.S. to do unskilled jobs — it's called the H-2 guest worker program — and almost right away we began hearing about Stan Eury. The more we learned about how the guest workers program works from our previous pieces, the more we realized what a uniquely influential figure he is and how important it was to tell his story. For a quarter century, he has been the program's dominant power broker, getting approval for visas that allowed him to bring in hundreds of thousands of Mexican laborers to work for U.S. companies and making himself a fortune in the process. Then he got criminally charged and went to prison, but government regulators still did not dismantle his machine: Companies in the empire he built are still getting approved for visas to this day.
What did Eury do that was so remarkable?
He had the vision to realize that there was a huge unmet demand for guest workers, who cross the border for up to 10 months, live where they work, labor incredibly hard, and then go home again. So he took a little-known program and turned it into a behemoth, which is a kind of genius of its own. In 1989, the year he started his business, only 13,500 guest workers entered the country. Last year, that figure reached 150,000 — and Eury's companies alone won approval for 20,000 such visas.
You wrote two other huge investigations into these visas. What makes them so troubling?
Our reporting showed that many employers who use the H-2 program exploit foreign guest workers, stealing their wages, housing them in squalid conditions and, in some cases, even endangering their lives. Many companies in the H-2 program also go to great lengths to avoid hiring qualified Americans, who by law are supposed to get first crack at these jobs. To be sure, many employers follow the rules, and many guest workers and their families benefit. But the program is rife with abuse, and it suffers from inadequate regulation and enforcement.
I think most people have never even heard of H-2 guest workers. Should we have?
They are tremendously important in some industries, including agriculture, forestry, seafood processing, landscaping, and even traveling carnivals. Americans benefit from the lower costs of goods and services that the use of guest workers provides, but at the same time are often totally unaware of the real human toll the program can inflict.
What's Eury up to now?
Eury is currently cooling his heels in federal prison in Salters, South Carolina. He reported to the minimum-security labor camp there on Nov. 20 and is expected to serve 11 months of a 13-month sentence. He's set to get out just before Halloween 2016.
Eva Longoria is back in the limelight.
The 40-year-old former star of Desperate Housewives is returning to TV as a triple threat (actor, producer, and director) with her new NBC series Telenovela, a behind-the-scenes look at a Spanish-language soap.
Longoria said she was drawn to the show from the get-go: "It was a world I had never seen on TV. It was your basic sitcom characters, but it's the first kind of general-market sitcom that could appeal to Latinos," she told BuzzFeed News.
During the decade-long break between Desperate Housewives and Telenovela, Longoria intentionally retreated from the spotlight to focus on political activism and community work. She was on President Barack Obama's re-election committee and established the Eva Longoria Foundation, an organization that aims to help Latinas build better futures for themselves and their families through education and entrepreneurship.
Happy Friday
We can stop calling manatees endangered. The U.S. Fish and Wildlife Service is proposing to instead list the gentle sea cows as "threatened." There is now a record population of at least 13,000 manatees across all waters, with more than 6,300 recorded off the coast of Florida in February 2015, BuzzFeed News' Leticia Miranda reports. But before you start celebrating, there's still plenty of reason for caution, according to the Center for Biological Diversity: The Florida manatee is still threatened by boat strikes, cold stress, and undiagnosed mass die-offs.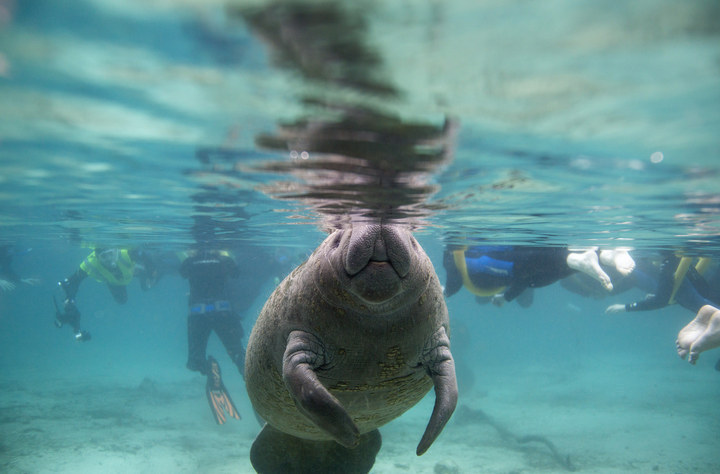 For the latest updates, download the BuzzFeed News app for iOS and Android now!