HERE ARE THE TOP STORIES
President Donald Trump fired the acting attorney general after she ordered lawyers now to defend his travel ban.
Just hours after Sally Yates ordered lawyers at the US Department of Justice not to defend the president's executive order in court, the acting attorney general was fired. Trump has named Dana Boente, a federal prosecutor in Virginia, to the position. Yates "betrayed the Department of Justice by refusing to enforce a legal order designed to protect the citizens of the United States," the White House said in a statement.
And a little extra.

The US ban on visas to nationals of seven mostly Muslim countries threatens to strengthen anti-Western forces and weaken counterterrorism cooperation painstakingly assembled over decades, US officials and foreign diplomats say.
Major US universities are calling their students home after Trump's travel ban. University leaders have joined the outcry against Trump's executive order, saying it could harm science and is anti-American. "Where we have a wall around the country, science would crumble," said the head of one science group.
Barack Obama spoke out against Trump's travel ban, saying he supported the protesters and that he "fundamentally disagrees with the notion of discriminating against individuals because of their faith or religion." This is the first time Obama has weighed in on Trump's presidency since he left office earlier this month.
People across Canada are showing support after six people were killed in an attack on a Quebec City mosque.
Across the country, people attended vigils, expressed their condolences, mourned the dead, and spoke against violence after Sunday night's attack. Among the victims, all men, are a grocery store owner, a professor of agricultural sciences, and a father of three.
The lone suspect, identified as 27-year-old Alexandre Bissonnette, has been charged with murder. Friends have described him as a "xenophobe" who was "enthralled by a borderline racist nationalist movement."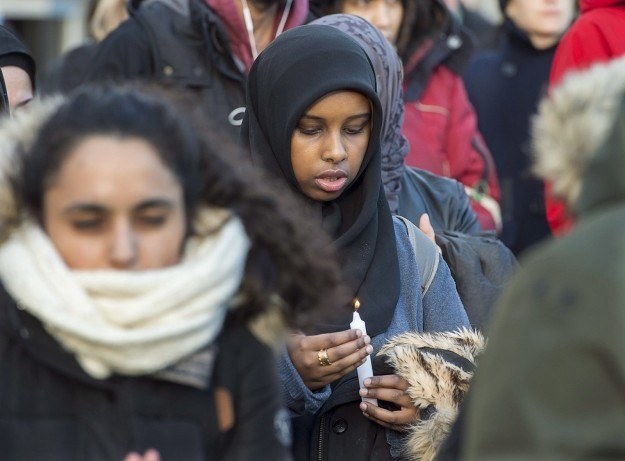 The UK vs. Trump.
UK Foreign Secretary Boris Johnson said British passport holders will not be hit by Trump's immigration ban. However, this appeared to be contradicted by advice posted by the US Embassy in London on its website, asking dual nationals of the seven countries on Trump's list not to schedule or attend visa appointments.
And after British Prime Minister Theresa May met with President Donald Trump at the White House, the next date in the "special relationship" is due to be a state visit to the UK for Trump. More than 1.5 million people have signed a petition to cancel the trip.
What British Somalis have to say about Trump's refugee ban: Locals from the Somali community in London's Shepherd's Bush told BuzzFeed News the US president's order would perpetuate extremism.
And a whole bunch of Londoners shouted "fuck Trump" outside of Downing Street on Monday night. Protesters said Trump's new visa restrictions were "inhumane" and called May's response "spineless."