HERE ARE THE TOP STORIES
Trump on Friday signed executive orders that suspended the US refugee program for 120 days and indefinitely barred those coming from Syria.
Here's what we know:
The entire US refugee program is temporarily suspended for 120 days;

Those refugees coming from Syria are indefinitely barred;

People from Syria, Iraq, Iran, Sudan, Somalia, Libya, and Yemen are blocked from entering the US for 90 days;

The Visa Interview Waiver Program has been immediately suspended;

Immigration officials have been ordered to complete additional screening of new migrants "to ensure that those approved for refugee admission do not pose a threat to the security and welfare of the United States."
But on Sunday — in a major reversal — a top Trump administration official said legal permanent residents will continue to be permitted to travel. Thousands of other people from the seven countries Trump has singled out (refugees and people who hold student, work, or other visas) will still be affected by the president's order.

Protests erupted across the US over the weekend as the impact of the president's executive orders to restrict visas and refugees started to set in, stranding passengers at airports around the globe.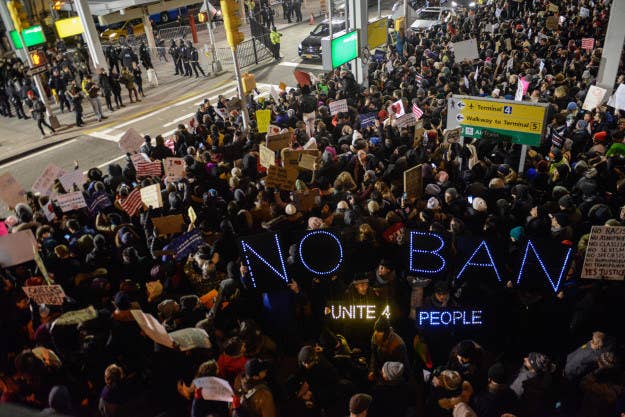 And a little extra

Four federal judges issued rulings in quick succession blunting the effect of the order and calling its constitutionality into question less than 36 hours after Trump signed his executive order on Friday.
In December 2015, Trump called for a "total and complete shutdown of Muslims" entering the US until the country can "figure out what is going on." Back then, many prominent Republicans — including some people who have since joined the Trump administration — were vehemently opposed to that idea. Here's what they had to say back then.
Trump responded Sunday to wide-ranging criticism of his controversial refugee ban. On Saturday, he said his ban was working "very nicely."
At least six people were killed and another eight injured in a terrorist attack on a mosque in Quebec City, Canada.
Police said two suspects have been arrested after the shooting at the Islamic Cultural Centre of Quebec City. Police said mostly men were gathered inside the mosque to pray when the shooting began just before 8 p.m., CBC News reported.
Canada's Prime Minister Justin Trudeau called it an act of terrorism. "We condemn this terrorist attack on Muslims in a centre of worship and refuge. Muslim-Canadians are an important part of our national fabric, and these senseless acts have no place in our communities, cities and country."
QUICK THINGS TO KNOW