What's Going On Around The World Today
The Republican presidential candidates held another debate last night, but without Donald Trump. The mosquito-borne Zika virus could affect between 3 and 4 million people in the Americas in the coming year. And Barbie will now be available in three new body types.
HERE ARE THE TOP STORIES
What's life like inside an ISIS prison? Former prisoners share the horrific treatment they endured.
Just steps away from a border crossing with Turkey manned by Turkish guards, ISIS converted the basement of an old building in the Syrian town of Tel Abyad into a prison. Here, inmates were beaten regularly by their ISIS captors, and sometimes beheaded, BuzzFeed News' Mike Giglio and Munzer al-Awad report from Syria.
Phone numbers scratched on the prison walls led to a meeting with a man who was held prisoner by ISIS. While most of the phone lines are now dead, four inmates actually answered when contacted by BuzzFeed News. One of them, a 26-year-old vegetable vendor who was brought to the prison with his father and now lives in Turkey as a refugee, met Giglio.
He remembered thinking he would die in the prison as he added his own number to those already on the walls. Another prisoner told him, "If they kill you, maybe someone can tell your family you were here."
Another prisoner, a 33-year-old former farmer, had been imprisoned by ISIS after they caught him secretly selling cigarettes to support his family through the war. "I thought they would kill me," he said. "We were crying and praying all the time."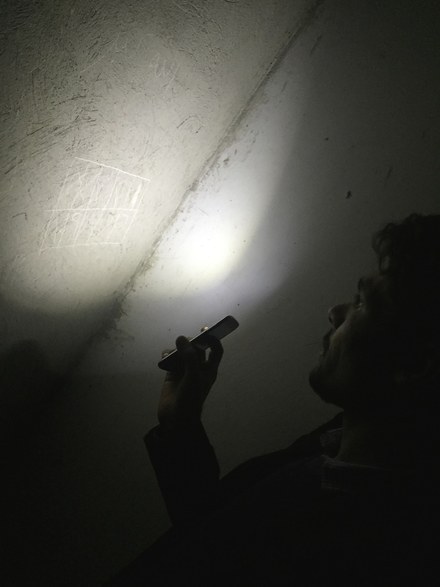 WE'RE KEEPING AN EYE ON

The Republican presidential candidates held ~another~ debate, but this time without frontrunner Donald Trump.
Seven candidates faced off in Iowa Thursday night. Former Florida Gov. Jeb Bush, Texas Sen. Ted Cruz, Florida Sen. Marco Rubio, and Kentucky Sen. Rand Paul put on solid performances. New Jersey Gov. Chris Christie and Ohio Gov. John Kasich…not so much.

Even though he wasn't there, Trump still loomed over the debate: His absence (he held a rally instead) dominated the early portion of the evening.

An exchange on immigration was one of the most robust sections of the night, especially between Rubio, Bush, and Cruz. The candidates faced their toughest and most substantive policy questions on immigration yet as they were forced to watch old video clips of themselves discussing the issue and reconcile comments at odds with their current stances.
Some other stuff: Carson, on dealing with Russia, said, "Putin is a one-horse country: oil and energy." The winner of Thursday's debate seems to have been Fox News anchor and moderator Megyn Kelly. And Christie spent most of the night attacking Democratic candidate Hillary Clinton.
What's next?
The first nominating vote of the season will take place in Iowa on Monday. Why is everyone talking about it? We spoke to BuzzFeed News' Deputy Politics Editor Kyle Blaine:

We keep hearing the term "Iowa caucuses," but what does that actually mean?
The Iowa caucuses are the first presidential nominating contests to be held in the country. Iowans will head to their caucus stations, listen to representatives for each candidate make a speech, and then cast their support behind a particular candidate. Depending on whether a voter is participating in the Republican or Democratic caucus, this process is a bit different (as outlined here by BuzzFeed News' Evan McMorris-Santoro).
Why do they matter?
The caucuses matter mainly because it's the first time votes are cast, and the outcome can either confirm everything we think we know about the race from our reporting and from polls, or the results could surprise us and really shake up the entire field. So it's the first real test of each candidate's message and organization.
Once the votes are counted and there's a winner, how much influence does that have on the rest of the election?
That's a bit more difficult to measure. After the results are in, there will be a lot of pressure on low-polling candidates to get out of the race, particularly in the still very large Republican field. So expect to see some of the lower-tier candidates end their campaigns after the caucuses, and the focus narrow on higher-performing candidates. In the immediate weeks after Iowa, there are nominating contests in New Hampshire, South Carolina, and Nevada, so coming out of Iowa meeting or exceeding expectations can be a big boost to a campaign (the opposite is also true). But in this election cycle so far, the theme seems to be "anything goes."
Barbie's new collection has curvy, petite, and tall dolls.
For the first time in 57 years, best-selling doll Barbie will be available in more ways than just her impossibly proportioned traditional shape. Mattel has introduced tall, petite, and curvy models to its collection in an effort to make more body types available to the doll's many fans.
The change came after a two-year design initiative by Mattel and was motivated by dwindling sales (which dropped 16% in 2014 alone, according to Forbes) and a weakening public perception of the brand, BuzzFeed's Julie Gerstein writes.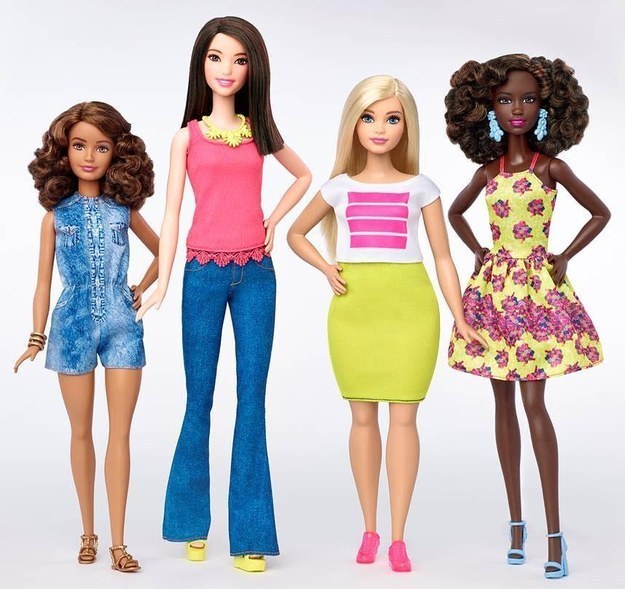 A little extra.
Mattel introduced dolls with different skin tones and hair textures last year and hopes that the new dolls "will more closely reflect their young owners' world," Time writes.
But it's also a risky move for the company. "Barbie is more than just a doll. The brand does $1 billion in sales across more than 150 countries annually, and 92% of American girls ages 3 to 12 have owned a Barbie, thanks in part to her affordable $10 price tag," Time writes.
DID YOU HEAR ABOUT THIS?
An 11-year-old was thrown out of school because of his DNA, his parents say.
In 2012, Colman Chadam was pulled out of class and asked to say goodbye to his friends. His parents were allegedly told that the reason for their son's sudden dismissal was because he carries genetic markers associated with cystic fibrosis — a rare, inherited disease that creates thick, sticky mucus in the lungs and digestive system — but doesn't have the disease itself. Over three years later, the Chadams are still fighting a legal battle against the school district in Palo Alto, California, BuzzFeed News' Stephanie M. Lee reports.
The Chadams sued the district for violating the Americans With Disabilities Act and Colman's First Amendment rights to the privacy of his medical information. They say a teacher revealed the information about their son's DNA to other parents, who then complained that he posed a health risk to other children.
"As DNA testing proliferates, this case raises broader issues about how genetic information should be protected and shared," Lee writes.
Welcome to America — now spy on your friends.
When Muslim immigrants apply to become citizens, they often find the process delayed for years without explanation. Then, when they are at wit's end, they get a visit from the FBI with an offer they don't dare refuse.
BuzzFeed News' Talal Ansari and Siraj Datoo were reporting on the extraordinary delays Muslim immigrants to the U.S. faced in applying for citizenship when they started to hear about a different kind of obstacle. After the immigrants had been waiting for years or even a decade with no word on the status of their applications, FBI agents would show up at their door with an offer: Want your papers? Become a secret government informant.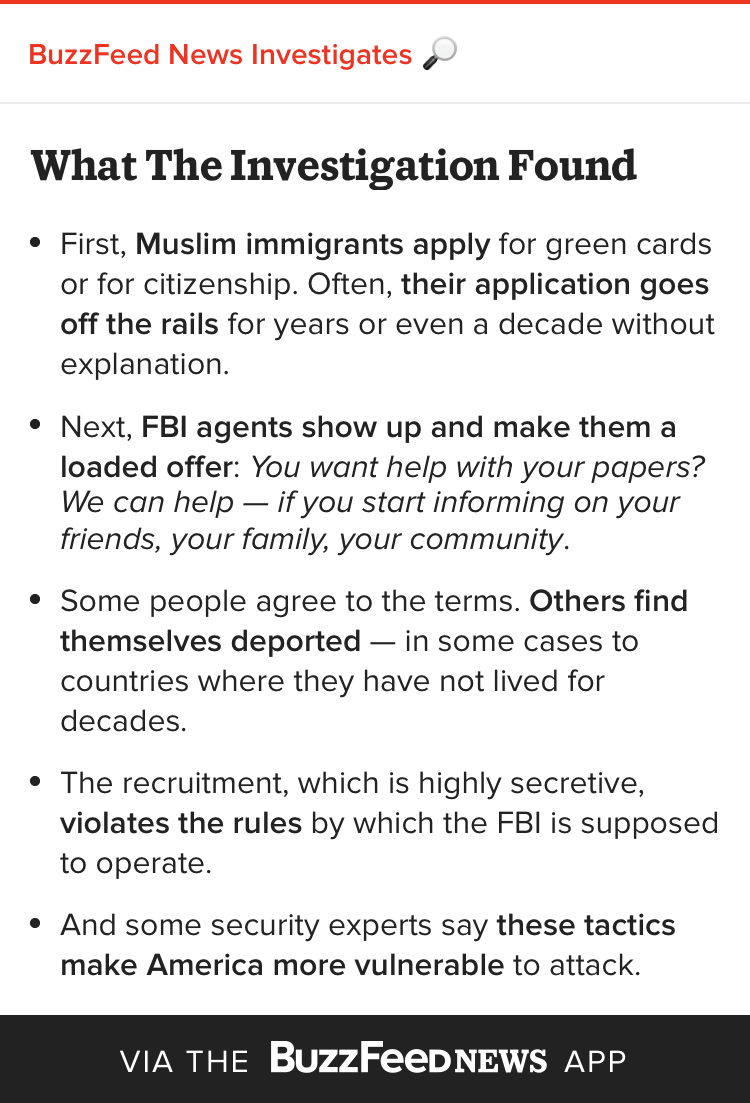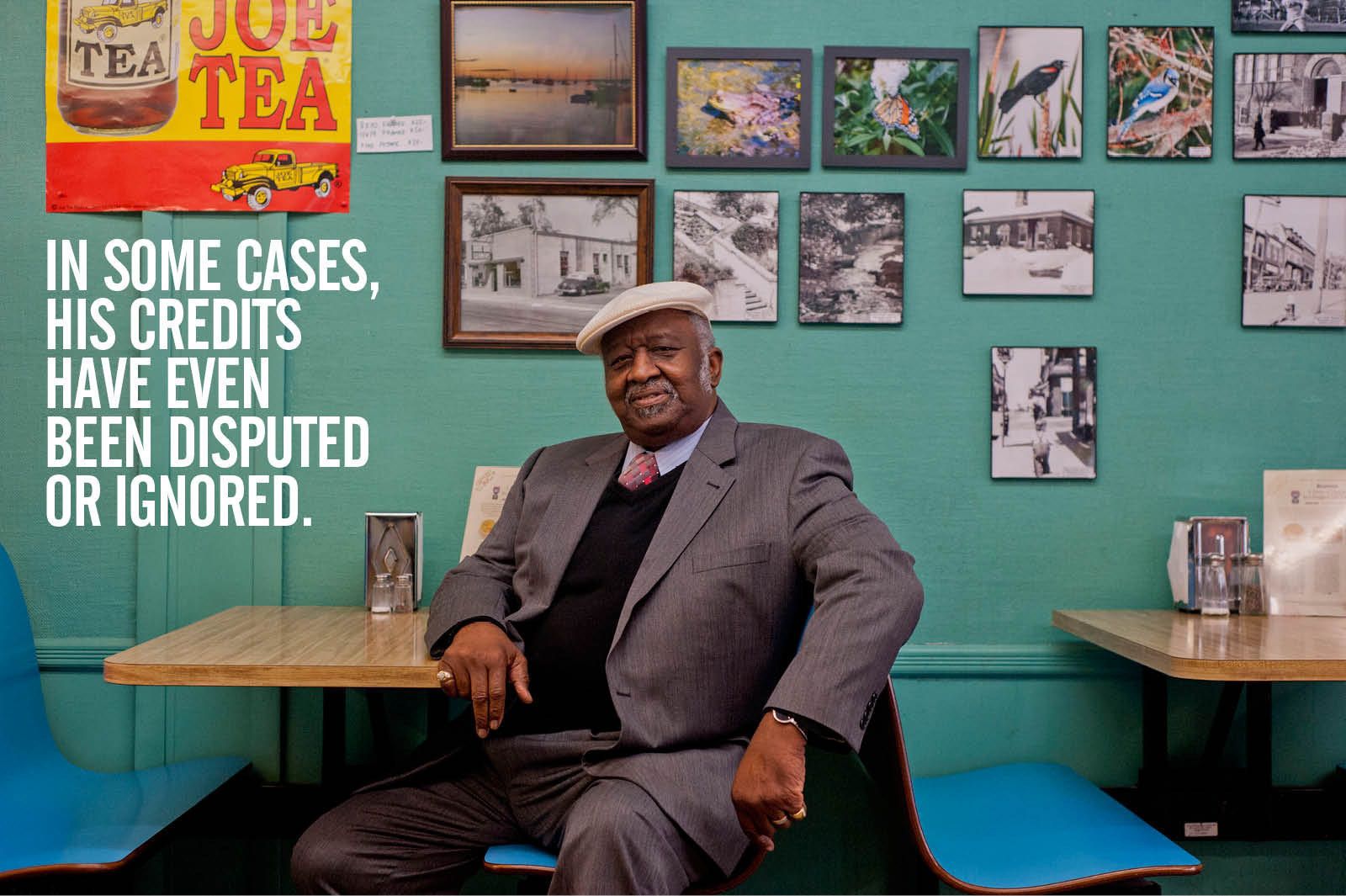 Happy Friday

Take a look around your home — which items have been there way too long? BuzzFeed Life's Mike Spohr has put together a list of things you should probably replace right now. If you wear contact lenses, you need a new case at least every three months to avoid developing an eye infection (!). And you think you're cleaning stuff with your kitchen sponge? You need a new one every week. Pro tip: You can kill the millions of bacteria that accumulate on it by microwaving it for a minute. What are you waiting for? Get purging!