What's Going On Around The World Today
China's economy grew by 6.9% in 2015, its slowest rate since 1990. A water crisis is ongoing in Flint, Michigan: Residents are now completely avoiding their lead-contaminated tap water. And almost two years later, a small community in Nigeria is still waiting for the rescue of more than 200 abducted schoolgirls.
HERE ARE THE TOP STORIES
China's economic growth has fallen to a 25-year low.
The world's second-largest economy grew by only 6.9% in 2015, CNBC reports. While the figures released Tuesday are still respectable by global standards, they raise concerns about China's economy. The country is "hooked on debt, the shadow banking sector has imploded, the property market sometimes shows signs of a bubble, and major industries are slowing," CNBC reports.
Meanwhile, analysts are wondering if China's growth numbers for 2015 are accurate, because the government's data about how many goods and services it produces "are more or less made up," Quartz writes.
What's next?
A lower growth rate for China "adds fresh pressure on the government to make sure it develops a strong service industry, to balance China's declining heavy industries. And for the rest of the developing world, that could mean weaker currencies, fewer exports, and slower growth too," Quartz writes.
British politicians jumped at the opportunity to insult Donald Trump.
You read that right. British politicians debated for about three hours yesterday whether or not the brash billionaire should be allowed entry into the country. More than 570,000 Britons signed a petition urging them to ban Trump from Britain for his proposal to ban all Muslims from entering the U.S., the New York Times reports.
The politicians — who don't actually have the power to ban Trump — called him a "fool," a "buffoon," and a "wazzock" (that's British slang for a stupid person), writes BuzzFeed News' Jim Waterson.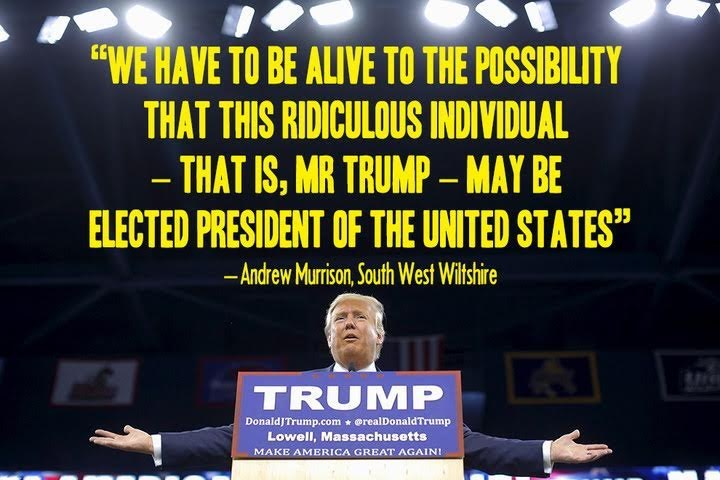 And a little extra.
Meanwhile, the British are trying something different to tackle extremism: Yesterday, the government launched a website called "Educate Against Hate," which aims to help parents and teachers steer young people away from radical thinking.
On Monday, British Prime Minister David Cameron introduced a £20 million ($28 million) fund "to help Muslim women improve their English in an attempt to help them integrate better and combat extremism as a result," BuzzFeed News' Siraj Datoo writes.
"This is now the third time the prime minister has called on immigrants to learn English despite the government previously cutting funding needed to deliver the lessons," BuzzFeed News writes.
For the latest news and stories, download the BuzzFeed News app for iOS and Android (in U.S. app stores only).
WE'RE KEEPING AN EYE ON
A water crisis is ongoing in Flint, Michigan, and residents are now completely avoiding their lead-contaminated tap water.
The National Guard sent dozens of additional troops to Flint on Monday, more than doubling the number already on the ground, NBC News reports.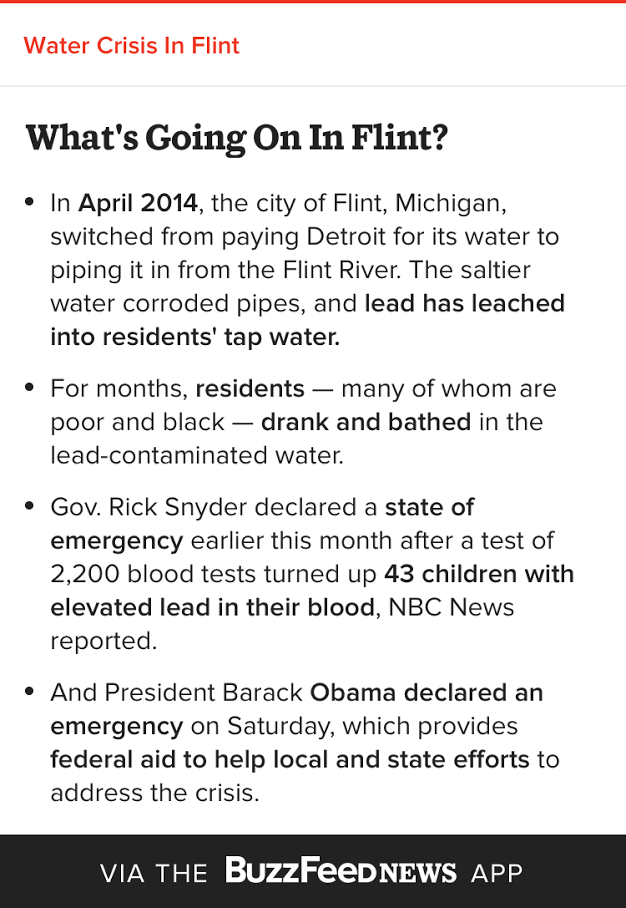 What's next?
Michigan's top prosecutor has launched an investigation into the crisis to see if any laws were broken. Politicians are pointing fingers at Gov. Snyder for his handling of the crisis. Hillary Clinton brought up the crisis during Sunday's Democratic presidential debate, saying Snyder "acted as though he didn't really care," and her opponent Vermont Sen. Bernie Sanders has called on Snyder to resign.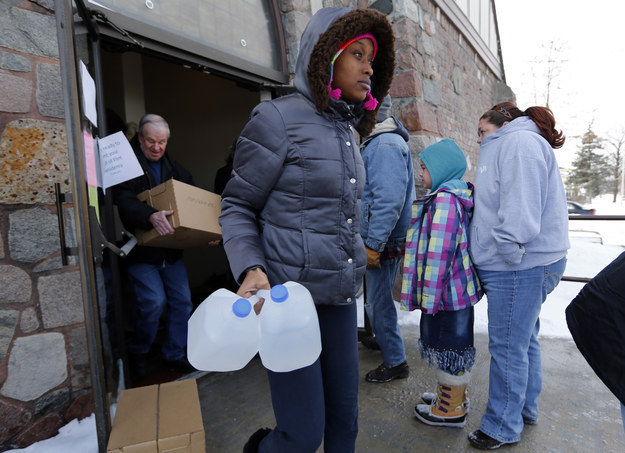 How a picture caused one former British soldier to smuggle a refugee child into Britain.
Robert Lawrie, 49, from Guiseley, Leeds, didn't think he'd ever be personally involved in the refugee crisis. Last week, Lawrie admitted to a court in Boulogne, France, that he had tried to sneak 4-year-old Syrian girl Bahar Ahmadi — known as Bru — into Britain from the Jungle refugee camp in Calais.
In an interview with BuzzFeed News' Rossalyn Warren, Lawrie spoke about the moment that led to him standing in the French court room: stumbling onto a photo of the drowned toddler Alan Kurdi, an image that catapulted the refugee crisis into the public eye last September.
"When I saw that photo, I remember I sat in the dark," Lawrie said. "I didn't have a light on, just the glare of the computer screen, and I looked at that photo. I must have looked at it for an hour. I was looking at his little fingers and hair, and his elbows. I imagined how cold it would have been, and thought of his dying mum. I thought of my own children, how it could have been them."
The French court dropped a tougher smuggling charge and gave Lawrie a suspended €1,000 (almost $1,100) fine for endangering child safety, according to the Associated Press.
Lawrie told BuzzFeed News that although he regrets trying to smuggle Bru into England, his "paternal instinct" had taken over.
"Bru followed me around everywhere. She was always smiling, she wanted to hold my hand as I walked around the camp — it was a real paternal instinct ... It was like holding my own child. I looked at her dad and I said, 'This can't happen any longer.'"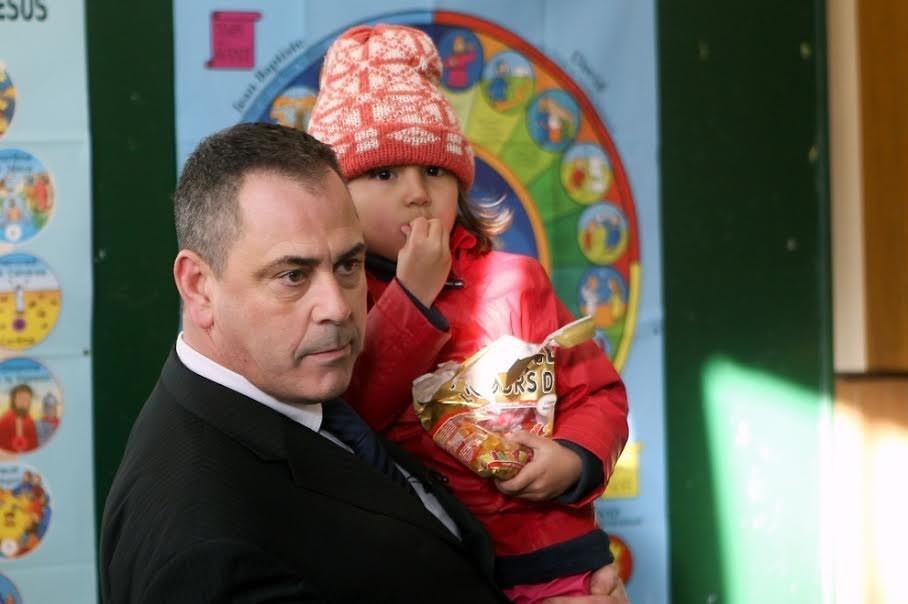 DID YOU HEAR ABOUT THIS?

In 2014, at least 276 schoolgirls were kidnapped in northern Nigeria. Almost two years later, their parents continue to wait for their rescue.
Last week, members of the "Bring Back Our Girls" campaign marched to demand that the Nigerian government do more to rescue the girls who were abducted by the Islamic extremist group Boko Haram in April 2014. While 57 later escaped, 219 are still missing.

We spoke to BuzzFeed News' Fiona Rutherford about what's happening in Chibok, the rural community in Nigeria's Borno state from where the girls disappeared.

What are the members of "Bring Back Our Girls" campaigning for exactly?
Fiona Rutherford: In December 2015, President Muhammadu Buhari said he had "no credible intelligence" on the schoolgirls' whereabouts or their health. Many people were left confused, and wanted a direct explanation from the president of what "no credible intelligence" meant. Last week's demonstration aimed to remind the world that, more than 640 days after being abducted, at least 200 schoolgirls are still missing. The march also gave the parents of the missing girls a chance to demand the urgent rescue of their daughters.
Why is it taking such a long time to locate the remaining girls?
FR: Members of "Bring Back Our Girls" are confused about this very question — the purpose of last week's march was to demand an explanation from President Buhari of why, after 21 months, at least 200 schoolgirls have not yet been rescued.
How is Chibok different today because of what happened?
FR: Life has been unbearable for the Chibok community, especially for the missing girls' parents. Although it is a community that views education as extremely important, living under the threat of Boko Haram has led to the closure of schools, and parents being afraid to send their children to school. Despite this, members of the community are committed to doing whatever they can to ensure their daughters are rescued.
The world has grown $67 trillion richer in just 15 years, but where's the wealth concentrated?
Just 62 individuals now have the equivalent combined wealth of the world's poorest 50%, according to the charity Oxfam's latest research, published on Monday. Let that sink in: That's 62 people owning as much as 3.6 billion people combined.
"Referring to 'the global 1%' raises in many heads the idea of speedboats, mansions on three continents, and a swarm of butlers. The reality is very different," BuzzFeed News' James Ball and Chris Applegate write.
Want to find out how you stack up compared to the rest of the world? You can now see for yourself. Our tool asks for your income (what you earn each year), rather than your wealth (the total value of everything you own) but it'll tell you where you sit compared to the rest of the world.

Quick things to know:
Happy Tuesday
Do you ever wonder what the apartments above or below you look like? Well, you're not alone. When Romanian photographer Bogdan Gîrbovan helped his downstairs neighbor fix her door, he noticed that the layout of her home was identical to his, but it looked and felt completely different. Cue a bolt of inspiration. Winding his way down the 10 floors of his apartment block in Bucharest, Romania, he photographed his neighbors to document the ways in which people express themselves through their home, BuzzFeed's Laura Gallant writes. Take this as a reminder to wave to your neighbors.