What's Going On Around The World Today
Ten U.S. sailors who were detained by Iran yesterday have been freed. At least 15 people died in a suicide bombing outside a polio vaccination center in Pakistan. And meet nine women who've been asked to show off their "flaws."
HERE ARE THE TOP STORIES
U.S. President Barack Obama focused on the economy, changing technology, and national security in his final State of the Union address.
BuzzFeed News' Tarini Parti and John Stanton covered the speech from Washington, D.C.:
Obama's address stuck mostly to his achievements as president and his vision for the future: focusing on improving economic security and access to education, using technology to fight climate change, developing foreign policy that goes beyond "carpet bombing," and working on creating a more unified Washington.

The president said he hopes to work on "bipartisan priorities" like criminal justice reform and helping people who are fighting prescription drug abuse.

Obama said "the Middle East is going through a transformation ... rooted in conflicts that date back millennia," a characterization of the region that was immediately criticized by people on Twitter.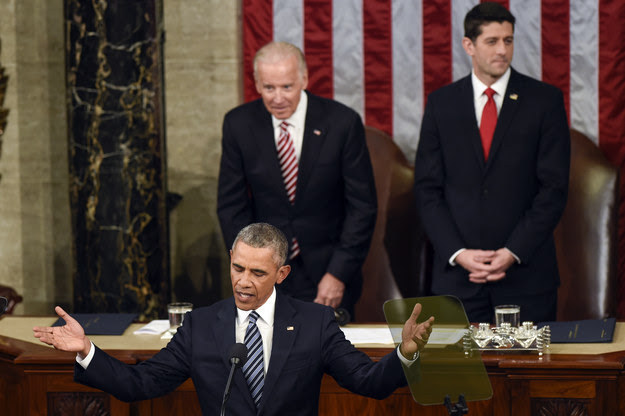 And a little extra.
Vice President Joe Biden will lead a new initiative to cure cancer, the president said. Biden's mission will be to "increase private and public resources to fight cancer and to bring cancer fighters together to work collaboratively, share information, and end the disease," CBS News writes.
The vice president's 46-year-old son, Beau, died from brain cancer in May 2015. "It's personal for me. But it's also personal for nearly every American, and millions of people around the world," Biden wrote in a post on Medium after the State of the Union.
Here are Obama's full remarks. And what was Democratic presidential candidate Bernie Sanders reading during the address?
WE'RE KEEPING AN EYE ON
Iran released 10 U.S. crew members and their vessels after taking them into custody in the Persian Gulf yesterday.
The sailors (nine men and one woman) were detained after Iran took their two small vessels into custody after they crossed into Iran's territorial waters. U.S. officials lost contact with the vessels en route from Kuwait to Bahrain, BuzzFeed News' Nicolas Medina Mora writes. The incident happened near Farsi Island.
A little extra
A mechanical malfunction is likely to blame, causing one of the vessels to stray into Iranian waters during a training mission, U.S. officials told NBC News.
The incident took place at a time when a nuclear agreement to curb Iran's nuclear ability that was signed by the U.S., Iran, and four other nations in July is expected to go into effect. The agreement, which Iranian President Hassan Rouhani hopes to make work, has been opposed by many of his political opponents, including senior leadership within the country's Revolutionary Guards.
Polio workers continue to be a target for militants in Pakistan after a suicide bombing killed at least 15 people in Quetta.
The explosion happened outside a polio vaccination center just as workers and security staff were reporting for duty. Many of the casualties are suspected to be police officers who were guarding the clinic, BBC News reports.
Two separate militant groups — the Pakistani Taliban and Jundallah, which is Taliban-linked and pledged allegiance to ISIS — have reportedly claimed responsibility for the attack, according to Reuters.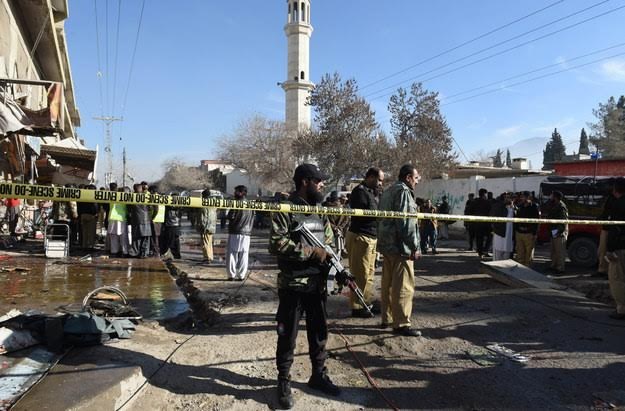 A bit of background.
This isn't the first attack against polio workers in recent months. Pakistan is one of only two countries in the world where polio, an infectious disease that mostly affects children under 5, is still endemic. More than 300 polio cases were recorded in Pakistan in 2014. The number has since fallen because vaccination teams were able to access areas that had previously been off-limits.
DID YOU HEAR ABOUT THIS?
Britain's National Crime Agency ignored warnings about illegal warrants, a BuzzFeed News investigation shows.
Britain's elite crime-fighting force continued conducting illegal raids for at least five years after judges first warned that officers were using unlawful search and seizure warrants, BuzzFeed UK's investigations team revealed.
The "systemic" use of unlawful warrants by the National Crime Agency (NCA), Britain's equivalent of the FBI, was revealed by BuzzFeed News' Tom Warren in December, prompting the agency to announce an internal review into hundreds of live cases to check whether evidence had been obtained illegally.
Now, freshly unearthed court filings show the NCA continued illegal raids despite receiving four warnings from U.K. courts that its warrant application forms were defective.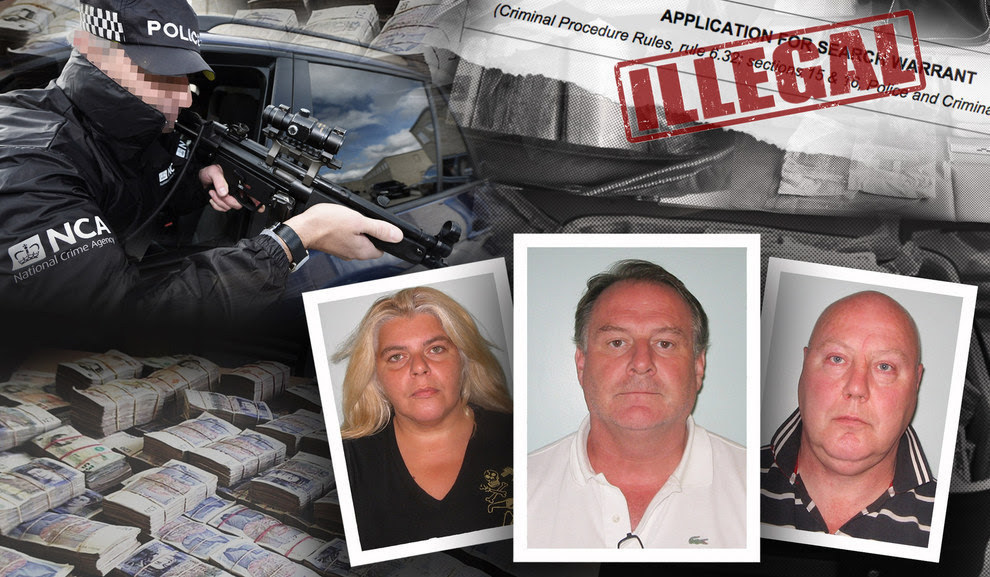 Giant for-profit foster care firm Mentor's "abnormal level of lobbying."
The company is under investigation by the powerful Senate Finance Committee for its practices in privatized for-profit child foster care. Now it's hired expensive and high-powered lobbyists and lawyers, including former staffers for the senators leading the probe, BuzzFeed News' Aram Roston writes.
U.S. Senate staffers said the investigation into Mentor is moving ahead and that the company's lobbying blitz won't affect it. But lobbying on this scale is rare in foster care, "which few people realize is a profitable business to companies such as Mentor," Roston writes.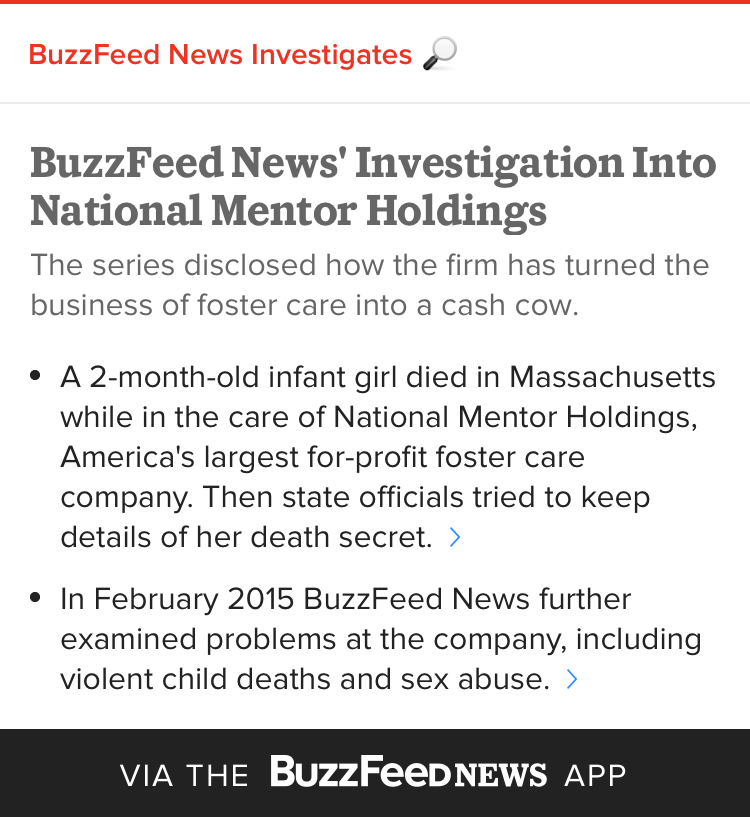 Happy Wednesday
These women are wearing exactly what they've been told not to wear, and it's ~awesome~. In a campaign called #ImFlattered, clothing company SmartGlamour asked nine women to show off their "flaws" to reclaim remarks others have made about their bodies. "Specifically in the land of women, we are told every day –– subconsciously and blatantly –– that we should be smaller. We should have no visible fat, cellulite, or imperfections," says SmartGlamour owner Mallorie Dunn. But like a boss, Dunn's campaign is inspiring women all over the world to love themselves as they are. Amen! Keep on rockin' it, ladies.