HERE ARE THE TOP STORIES
Betsy DeVos was confirmed as President Donald Trump's education secretary after an unprecedented tie-breaking vote.
The US Senate confirmed DeVos by a razor-thin margin Tuesday, with Vice President Mike Pence casting a vote to break a 50–50 tie. It's the first time in congressional history that a vice president has broken a tie on a Cabinet nominee.
No Democrats voted for DeVos's appointment and two Republicans crossed party lines to oppose her, saying they believed she was too inexperienced and narrowly focused on school choice issues like charter schools and vouchers to adequately support public schools.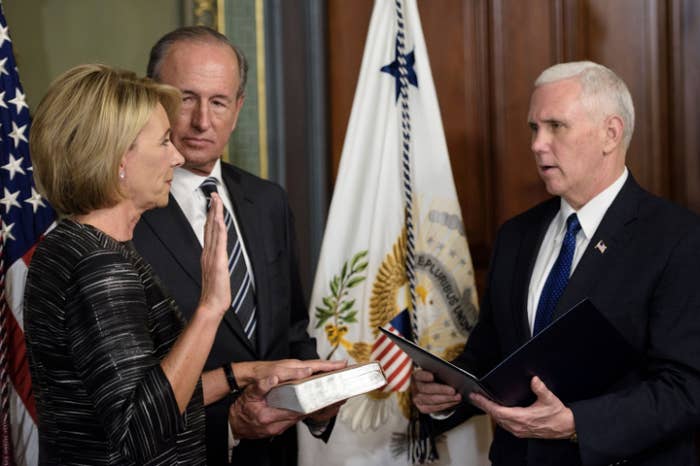 And a little extra.
Massachusetts Sen. Elizabeth Warren was silenced by Senate Republicans after criticizing President Trump's pick for attorney general, Jeff Sessions. After she read from a letter written by Coretta Scott King, the widow of Martin Luther King Jr., opposing Sessions' 1986 nomination to a federal judgeship, Majority Leader Mitch McConnell moved to block her from the debate by invoking an arcane Senate rule.
A federal court held a fast-paced hearing on Tuesday over whether Trump's refugee and travel ban should remain on hold. Judges heard arguments from Trump's Justice Department about resuming the president's order, but they were skeptical. The court said that a decision would "probably" come this week.
Meanwhile, Homeland Security Secretary John Kelly is taking the blame for how messy the rollout of Trump's executive order ended up being.
Trump says the confirmation process of his full Cabinet is longest in history but that's not true yet.
DID YOU HEAR ABOUT THIS?
What it's like to face your sexual abuser in court after four decades.
A key witness in the sexual abuse trial at one of Britain's top private schools invited BuzzFeed News to accompany him as he gave evidence against the teacher who abused him.
In an unprecedented disclosure, the witness described the effects of the abuse on his life and why he came forward triggering a major police investigation. BuzzFeed News spent weeks with the survivor to reveal what it takes to face your abuser, the experience of being cross-examined, and the excruciating wait for the verdict.