What's Going On Around The World Today
Syrian peace talks have been temporarily suspended, two days after they started, due to lack of progress. Donald Trump isn't taking his defeat in the first nominating vote of the election season well. And is it time to change tipping culture in restaurants?
HERE ARE THE TOP STORIES
President Obama slammed Republicans' hostile rhetoric toward Muslims during his first official visit to a U.S. mosque.
The president urged Americans to combat Islamophobia during his visit to the Islamic Society of Baltimore in Maryland, BuzzFeed News' John Stanton reports.
Obama's historic visit came as conservatives — particularly those on the campaign trail — have been using harsh language in talking about the Muslim world, Stanton writes. "We've seen too often people conflating horrific acts of terrorism with the beliefs of an entire faith," Obama said. "It's no surprise that threats against Muslims have surged."
A little extra.
Some Muslim-Americans wondered why it took Obama until this far into his presidency to visit a U.S. mosque. But Sabah Muktar, the young Muslim woman who introduced the president, said Obama's visit in these "uncertain times" served as an "affirmation to all Muslims," Vox reports.
"We are just as American as any other. It's a gesture that invites inclusiveness of all faiths and color. More importantly, it's an assurance for the Muslim-American kids constantly bombarded by anti-Islamic rhetoric that they belong."
For the latest news and stories, download the BuzzFeed News app for iOS and Android (in U.S. app stores only).
WE'RE KEEPING AN EYE ON
WikiLeaks founder Julian Assange says he'll "accept arrest" on sexual assault allegations if a United Nations investigation rules against him.
Assange, 44, said on Twitter that he could leave the Ecuadorian embassy in London — where he's been holed up since August 2012 — tomorrow, BuzzFeed News' Matthew Champion writes.
Assange was granted political asylum by Ecuador after Sweden sought his extradition over sexual assault allegations by two women.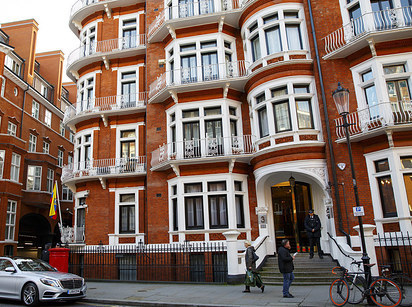 What's next?
A U.N. working group on arbitrary detention is planning to disclose the conclusion of its investigation into Assange's case on Friday morning, after his September 2014 complaint that he was being "arbitrarily detained." While the results haven't yet been released, the U.N. panel has ruled in Assange's favor, BBC News reports.
Assange tweeted that he'd "exit the embassy" if the U.N. were to rule against him.
"However, should I prevail and the state parties be found to have acted unlawfully, I expect the immediate return of my passport and the termination of further attempts to arrest me."
Here's what Ecuadorians think of Julian Assange.
Donald Trump says he will probably sue over the Iowa caucuses, accusing winner Ted Cruz of committing voter fraud.
Trump, who came in second in Monday's Republican caucuses, is calling for a new round of votes, which — let's face it — won't actually happen. In an interview with a Boston radio station, Trump also called Cruz a "nasty guy" and said he was "really fraudulent."
He criticized the Cruz campaign for spreading a CNN report saying Ben Carson would not travel to New Hampshire and South Carolina after the Iowa caucuses, suggesting the former neurosurgeon was dropping out. In fact, Carson's campaign later said the candidate was going home to get some fresh clothes.
They're dropping like flies.
Kentucky Sen. Rand Paul has suspended his campaign for the 2016 Republican nomination. Fellow Republican former Sen. Rick Santorum also dropped out of the race. He has endorsed Marco Rubio, who came in a strong third in Iowa on Monday. And former Arkansas Gov. Mike Huckabee had already dropped out earlier in the week.
Others who are still in the game: New Jersey Gov. Chris Christie, Ohio Gov. John Kasich, former Florida Gov. Jeb Bush, Ben Carson, and former Hewlett-Packard CEO Carly Fiorina.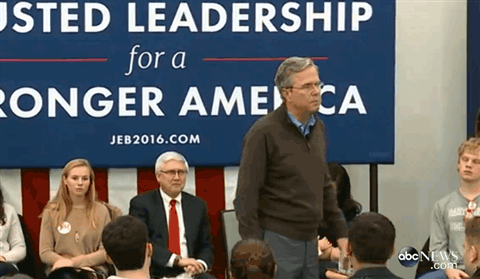 Meanwhile, on the Democratic side: A well-known immigration activist's decision to endorse Hillary Clinton set off a Twitter fight between her campaign and Bernie Sanders. The candidates will debate each other tonight in New Hampshire.

DID YOU HEAR ABOUT THIS?
Leaked racist emails have revealed a "toxic" culture at a University of Chicago fraternity.
Members of AEPi — a 102-year-old, historically Jewish fraternity — referred to a Muslim student-activist on campus as a "terrorist" and planned to celebrate "Marathon Luther King Day" by drinking and eating at a fried chicken restaurant, according to emails obtained by BuzzFeed News.
A university official denounced the comments as "offensive," and the fraternity has promised an investigation into the emails that were sent to the AEPi chapter's members and alumni between 2011 and 2015, BuzzFeed News' Tasneem Nashrulla writes.
The internal emails are the latest in a line of controversies that have rocked American fraternities. Fraternities and sororities are not recognized student organizations at the University of Chicago.
A group of restaurant owners say the time has come to end tipping as we know it.
Momentum has been growing to reform tipping in the restaurant industry and some employers — including prominent New York City restaurateur Danny Meyer, who has said he will eliminate tipping in his fine dining restaurants and switch to a "hospitality included" pricing — have joined with worker advocates in "an ambitious effort to eliminate the subminimum wage for tipped workers," BuzzFeed News' Cora Lewis writes.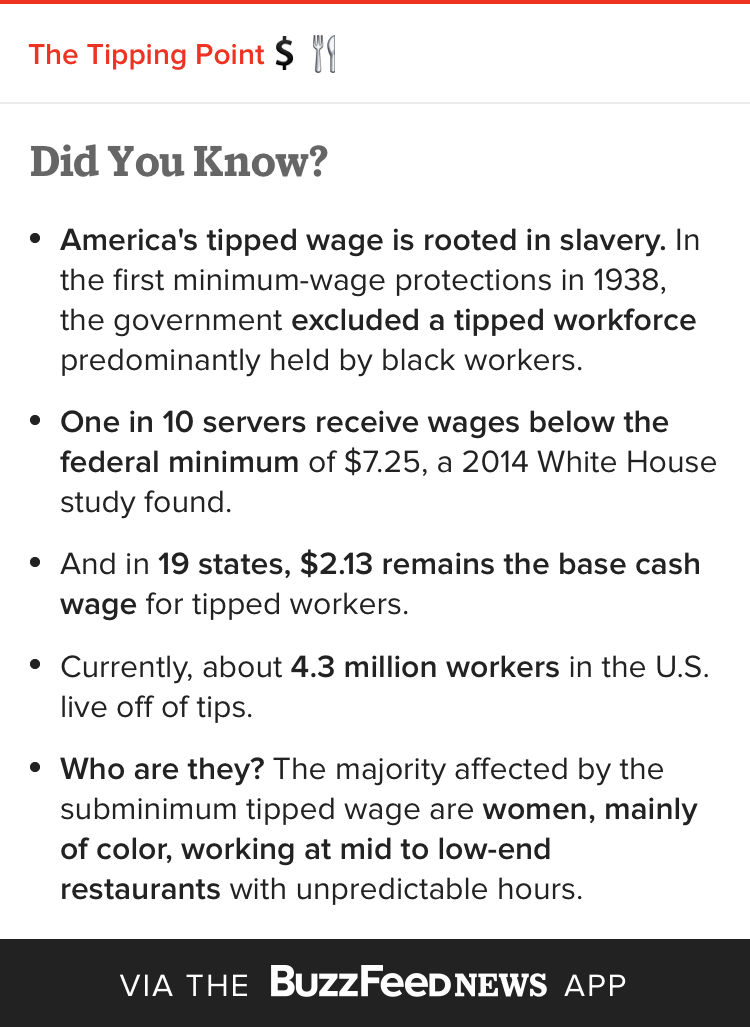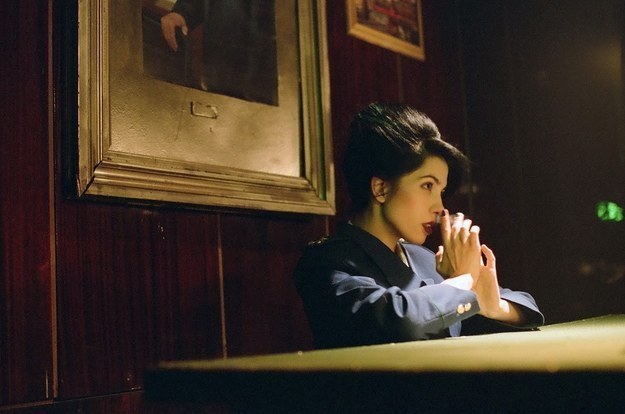 Happy Thursday
If you've been feeling a bit down during the winter months, you're not alone. Seasonal depression — which tends to be more severe in the winter — is quite common. But there are tricks that can help lift your mood during this dreary time. BuzzFeed News' Fiona Rutherford spoke to some experts and rounded up nine useful habits, from talking to someone you trust to taking a stroll outside. A balanced diet is crucial (carbs cause sluggishness) and cutting down on alcohol and drinking plenty of water instead will help keep energy levels up. Even if you don't suffer from seasonal depression, these are helpful and healthy habits to adopt.