What's Going On Around The World Today
Monday marked an "unprecedented" surge in attacks on hospitals in Syria, according to aid groups. Britain is gearing up to choose if it wants to stay in the European Union — here's why it matters. And meet Jesper, potentially the world's most adventurous cat.
HERE ARE THE TOP STORIES
Apple will fight a court order that says it must help the FBI unlock an iPhone used by one of the San Bernardino attackers.
Yesterday, a U.S. court ordered Apple to help the FBI unlock an iPhone used by one of the attackers who killed 14 people at a government center in San Bernardino, California, on Dec. 2. Federal investigators have been "unable to access a cell phone owned by Syed Farook and Tashfeen Malik because it is password protected and encrypted," BuzzFeed News' Brendan Klinkenberg reports.
The FBI says the phone contains crucial information and wants Apple to hand over software that would allow investigators to bypass a security feature on the iPhone that erases all data after a number of unsuccessful password attempts, the Associated Press writes.
Apple said it has "never worked with any government agency from any country to create a backdoor in any of our products or services. We have also never allowed access to our servers. And we never will."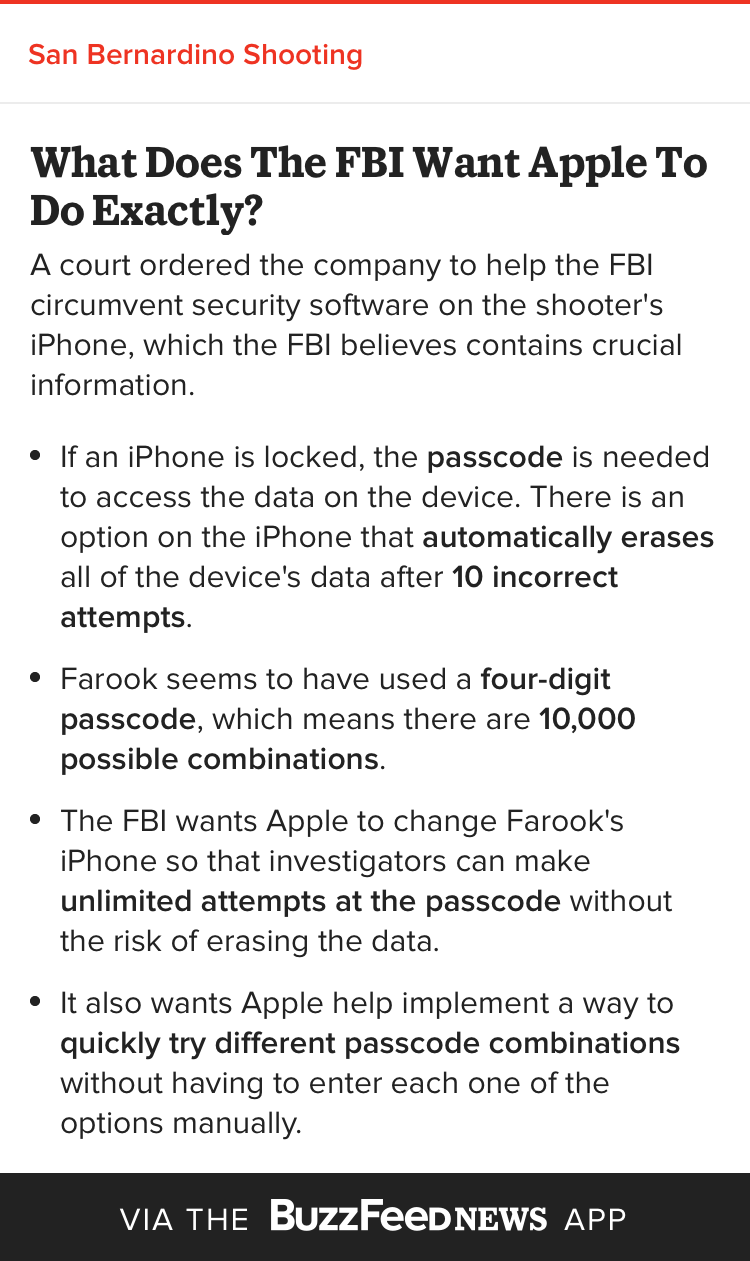 For the latest news and stories, download the BuzzFeed News app for iOS and Android (in U.S. app stores only).

Monday marked an "unprecedented" surge in attacks on hospitals in Syria, according to aid groups.
At least 50 civilians were killed after airstrikes hit a Doctors Without Borders hospital, at least four other medical facilities, and two schools in northern Syria on Monday, BuzzFeed News reports. It was an "an unprecedented increase in the number of attacks on healthcare in one single day," according to a report by affiliates of the World Health Organization. Three of the facilities are now out of service permanently, while the other four are temporarily closed.
Russia has been implicated as being behind the airstrikes, but President Vladimir Putin denies responsibility.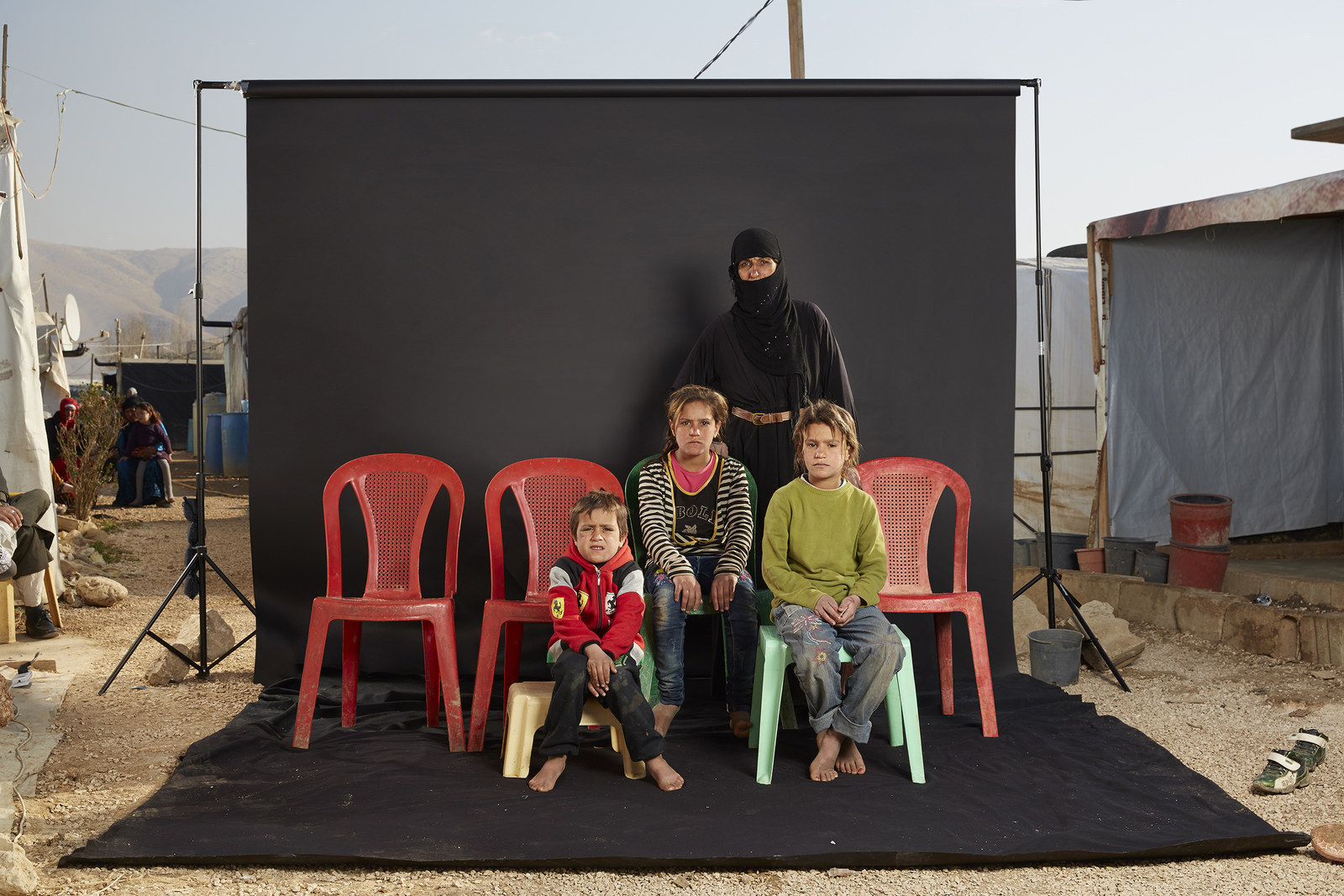 And a little extra.
The facilities that were hit accounted for more than 23,000 instances of patient care per month, according to a report by affiliates of the World Health Organization, including more than 1,000 reproductive and health services and 550 deliveries, BuzzFeed News' Mike Giglio and Munzer al-Awad report.
Last week, the U.S., Russia, and other world powers agreed to a "cessation of hostilities" in Syria, but there was no clear commitment to end Russian airstrikes, The Guardian writes.
WE'RE KEEPING AN EYE ON
Britain ~could~ leave the European Union.
British people will soon — probably in June — be able to choose whether the country should stay in the European Union. It's the first such vote in 41 years. Prime Minister David Cameron, who wants to keep Britain part of the EU, wants four main reforms, one of which is cutting benefits for migrants in a bid to reduce the numbers moving to Britain. He also wants to introduce more protections for the nine EU countries, including Britain, that don't have the euro as their currency.

The issue is complicated, so we spoke to BuzzFeed UK's Emily Ashton, who covers U.K. politics, about what is going on and why we should care.
When will this vote happen?
The date hasn't been announced yet, because Prime Minister David Cameron has been negotiating changes to the way Britain deals with the EU. Cameron will only be able to set the date once the other 27 EU leaders have agreed with his reforms, which is likely to happen on Friday at a summit in Brussels.
So the options are either In or Out. What happens if the Brits vote In?
Pro-EU campaigners say being inside the EU makes it easier for Britain to sell goods to Europe and that millions of British jobs depend on trade with the rest of the continent. Europe's open borders mean Britons are free to live and work in other EU countries, and the flow of young, educated migrants into the Britain is believed to boost its economy.
And if they say they want Out?
Those campaigning to leave the EU want to see a new, looser deal based on free trade. They argue that at the moment, businesses are being held back by the rules imposed on them by EU bosses based in Brussels. And they think it's wrong that Britain has to accept all EU migrants regardless of their skill level, meaning more pressure on British jobs and public services.
DID YOU HEAR ABOUT THIS?
Sick leave for restaurant staff matters: Seventy percent of norovirus outbreaks from food are caused by people working while sick.
Many of us are guilty of going to work when we're sick. In the restaurant industry, that illness can spread to co-workers and customers, BuzzFeed News' Venessa Wong and Cora Lewis write. A prime example is Chipotle, where last year's outbreaks of norovirus, E. coli, and salmonella showed that the consequences of sick employees can be devastating.
An estimated 90% of restaurant workers in the U.S. don't receive paid sick days, Wong and Lewis report. The lack of paid leave in an industry largely staffed by low-income workers creates a dangerous incentive. A survey by a worker advocacy group of 4,323 restaurant workers in the U.S. showed that 2 out of 3 workers reported cooking, preparing, and serving food while sick.
And a little extra.
If all of that isn't enough to make your stomach turn, listen to this: The parmesan cheese you're eating may be filled with wood pulp. Castle Cheese, a U.S.-based company, has been using wood pulp and other cheeses in its "100% Parmesan cheese," according to the U.S. Food and Drug Administration, BuzzFeed News' Stephanie McNeal reports. Many other companies are reportedly also adding cellulose — a chemical in wood pulp that is also used in creating paper and cotton — to their parmesan. A small dose of the chemical is safe to add to food, but many parmesan cheeses in stores contain too much of it, Bloomberg reports.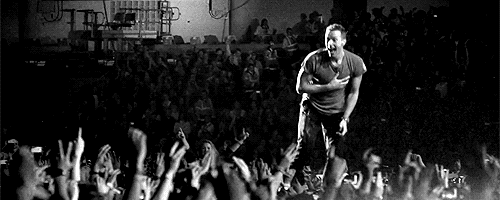 Happy Wednesday
Some cats become viral celebrities for a reason. And Jesper is a perfect example. He's 3 years old, he lives in Norway, and he has serious adventures. He loves the outdoors and snow, he likes to ski, and he rides horses. Einar Nymoen, the father of Jesper's owner, told BuzzFeed News that Jesper is a very "special" cat, BuzzFeed News' Alicia Melville-Smith writes. "When my daughter got Jesper she started taking him on trips to go fishing or hiking or camping," Nymoen said, adding that the feline acts more like a dog. Jesper, never change — you're an inspiration.
Want a news roundup like this in your inbox every weekday? Enter your email address to sign up now!