What's Going On Around The World Today
A woman was caught on video hurling insults and coffee at a group of Muslims praying in a park in California. Russia and Turkey's war of words is getting worse. And for the first time, a litter of puppies has been born through in vitro fertilization.
American Muslims are reporting they're feeling more victimized.
The New York-based service Crisis Text Line employs a group of volunteers to answer text messages from people who are feeling stressed, bullied, or otherwise in crisis, BuzzFeed News' David Mack writes. Data released yesterday shows a significant and recent increase in the number of texters who have reported feeling victimized for being Muslim in the U.S.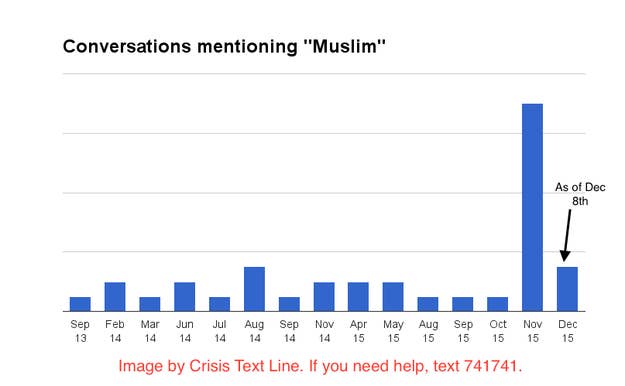 The number of conversations that reference being Muslim and feeling bullied increased significantly in November and are trending the same way in December, the group posted on its Facebook page. The spike comes after the Nov. 13 attacks in Paris, the deadly shooting in San Bernardino, and the political reaction to the tragedies in the U.S., including Donald Trump's proposed ban on Muslims entering the country.

And a little extra.
A woman was caught on video hurling insults and coffee at a group of Muslims praying in a park in California on Sunday. Prosecutors are reviewing the incident as a possible hate crime.
The mother of a man who was killed in a series of attacks in southern France in March 2012 was booed in the French parliament on Tuesday for wearing a headscarf, BuzzFeed News' Siraj Datoo and David Perrotin write. Latifa Ibn Ziaten, who heads an organisation called Imad-ibn-Ziaten, named after her son, that aims to "defend the values of the republic and of secularism," had been invited to the parliament to speak at a conference on secularism.
WE'RE KEEPING AN EYE ON
Daniel Holtzclaw is a former Oklahoma City police officer accused by 13 women of rape and sexual assault.
He has been on trial since Nov. 2. for allegedly sexually assaulting 13 black women in the community he patrolled, BuzzFeed News' Jessica Testa writes. He faces 36 counts of rape, sexual battery, and other charges. The all-white jury has been deliberating since Monday evening.
All 13 women testified during the trial. Their stories are "consistent, from the questions Holtzclaw initially asked them, to the way he exposed himself through the fly of his police uniform, to the remote locations he took some of them to," Testa reports from Oklahoma. These women's testimonies have never been reported all together, in full, until now.
Prosecutors said Holtzclaw targeted the women because they had records and lived in a high-crime neighborhood. Holtzclaw's lawyers have been focusing on the character of the women and the reliability of their testimony, claiming they are drug abusers and sex workers — some convicted felons with histories of lying to the police.
What's next?

The jury will reconvene around 9:30 a.m. local time. On Wednesday, the members of the jury met for almost 13 hours. In total, they've spent about 34 hours in deliberations, the New York Times writes.
For the latest updates about this trial and other news and stories, download the BuzzFeed News app for iOS and Android (in U.S. app stores only).
DID YOU HEAR ABOUT THIS?
Turkey and Russia's war of words is getting worse.
Turkey and Russia are in a war of words after Turkey shot down a Russian fighter jet that allegedly crossed into Turkish airspace in November.
Turkish Prime Minister Ahmet Davutoglu accused Russia of "ethnic cleansing" against Syria's ethnic Turkmen and Sunni Arab populations, BuzzFeed News' Borzou Daragahi writes.
Davutoglu told a small group of journalists at a meeting inside Istanbul's ornate Dolmabahce Palace that Russia's bombing campaign against moderate rebels strengthened Syria's Bashar al-Assad's regime and protected Moscow's airbases while actually bolstering ISIS. Davutoglu's Russian counterpart said Russia could have started an all-out war over the downing of its plane last month.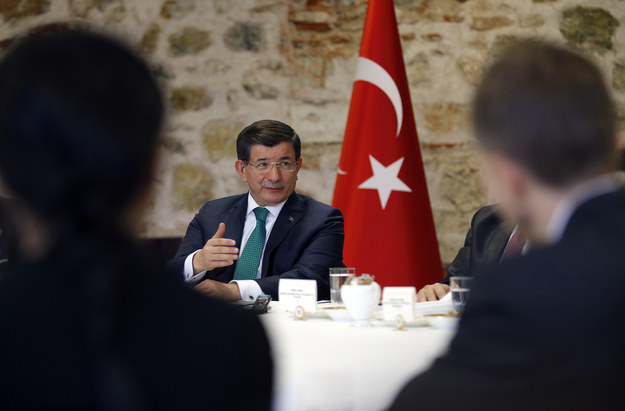 Meet the man who jumped off the Golden Gate Bridge and lived to talk about it.
Thousands of people a year jump off the bridge. Kevin Hines is one of the less than 1% of people who survive, and he hopes his story can inspire other people to seek help.
Hines talked to BuzzFeed about his difficult childhood and facing numerous mental health issues. "I vividly remember writing my suicide note," he told BuzzFeed. He took a bus to San Francisco's Golden Gate Bridge, slowly walked down the walkway, and saw people riding and walking by him. It was at that moment that he thought, "nobody cares."
"In four seconds, I fell 75 miles an hour, 25 stories, and I hit the water. I was in the most physical pain I had ever experienced," Hines said. The Coast Guard retrieved Hines from the water and brought him to a hospital.
Hines' near suicide left a mark on members of his family. He is still being treated for mental illness, but now he has better coping mechanisms.
If you are thinking about suicide, talk to someone. You can speak to someone immediately here or by calling the National Suicide Prevention Lifeline at 1-800-273-8255.

It's Mental Health Week at BuzzFeed. Follow our coverage on Twitter with the hashtag #MHW2015.

Quick things to know:
A game called Pie Face is this holiday season's big hit. It's like Russian roulette, but with whipped cream. (BuzzFeed News)

The U.S. Congress passed the replacement act for George W. Bush's much-disliked No Child Left Behind Act, with strong bipartisan support. The new law is called "Every Student Succeeds." (BuzzFeed News)
Happy Thursday
For the first time, a litter of puppies has been born through in vitro fertilization (IVF, the process used to fertilize an egg with a sperm outside of the body). A team of scientists and researchers from Cornell University and the Smithsonian Institution watched as seven puppies produced in a test tube were born to a surrogate mother, BuzzFeed News' Michelle Broder Van Dyke writes. The researchers called it a "huge breakthrough" and said it could be the key to saving endangered animals. IVF has been used for human reproduction since 1978, but hadn't been proven successful in dogs until now. This is probably the most adorable scientific breakthrough of all time.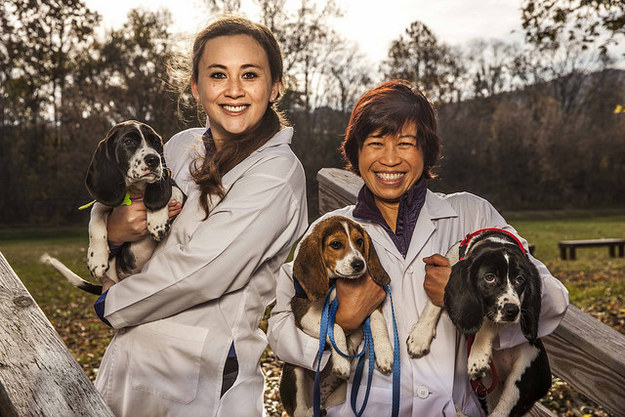 Want a news roundup like this in your inbox every weekday? Enter your email address to sign up now!
For the latest updates, download the BuzzFeed News app for iOS and Android now!