HERE ARE THE TOP STORIES
Donald Trump and Hillary Clinton crushed their rivals in New York's presidential primaries yesterday.
Clinton's win means her lead against Bernie Sanders is nearly insurmountable and Trump said Cruz is "mathematically eliminated."
Republican John Kasich is expected to finish second in New York, dealing a blow to Cruz, who is trying to make the case that he can be the nominee, BuzzFeed News reports.
It's all about the delegates, the people who vote for the nominee at the party conventions in June. Candidates earn delegates when they win votes in each state.
The candidates are now looking ahead to Tuesday, when Connecticut, Delaware, Maryland, Pennsylvania, and Rhode Island will vote.

And a little extra.
Bernie Sanders is raising serious money through the ActBlue fundraising site. Much of it comes from small donors. People who really love to donate to him do so again and again (at least 29 donors have given at least 100 times), according to a BuzzFeed News analysis of donations made to Sanders through the website.
Trump had an interesting day yesterday: His plane isn't registered to fly, he said he "could have said a few less words" when asked what he would change from the beginning of his campaign, and he's been cleaning up his tweets in hopes of being the Republican nominee.
WE'RE KEEPING AN EYE ON
The FBI says it needs hackers to help it keep up with encryption by tech companies.
A high-ranking technology official with the FBI told U.S. Congress yesterday that the agency is incapable of cracking locked phones and devices on its own, even with additional resources, and that the cooperation of technology companies would be necessary, BuzzFeed News' Hamza Shaban reports.
Yesterday's congressional hearing on encryption follows the high-profile legal battle between Apple and the Justice Department over access to a locked iPhone used by one of the San Bernardino attackers last year.
"While the legal conflict in that particular case dissipated after the FBI was shown by an outside party how to penetrate the device, the larger debate over granting the government special access to encrypted data remains unresolved," Shaban writes.
On the product side
Laptop upgrade: Apple says it's upgrading its compact laptop, which will include a faster processor and better battery life. Oh, and it'll also be available in rose gold.
Desktop decline: Intel is cutting up to 12,000 jobs globally. The company's dominant source of revenue comes from selling chips for personal computers, but that market has continued to decline, Forbes writes.
DID YOU HEAR ABOUT THIS?

How a fracking well is swallowing a tiny town in Pennsylvania.
The small town of DuBois, which has a population of about 7,700 people, is in the middle of a fight over a fracking waste well. After a century of logging, mining, and drilling, it now faces the environmental harms of the fracking boom — and the economic realities of its inevitable bust.

We spoke to BuzzFeed News' Dan Vergano, about what fracking is and how it's affecting DuBois — his hometown.

What's fracking?
Fracking is basically just cracking open rocks rich in oil and natural gas with high-pressure injections of sand, water, and slick chemicals. A portion of the fluid comes bubbling back to the surface. Disposal wells for these "flowback" fluids have emerged as one of the reasons people don't like fracking.
What's happening in DuBois?
The town is dealing with a downturn in the business as well as a deep disposal well proposed for the outskirts of town. There are only eight of these deep dumping wells in the state, so owning one could be a gold mine. Local residents, however, are unhappy with running the risks of a leak from the disposal well fouling their drinking water wells.
What's the solution?
There isn't one. A lot of people suggest the proposed well is perfectly legal, but morally wrong.
A good solution would be if state regulators judiciously used their powers to suggest the well owner find a hill farther out of town that doesn't threaten the watershed and to work with him to find a suitable site.
You can find this Q&A in full here.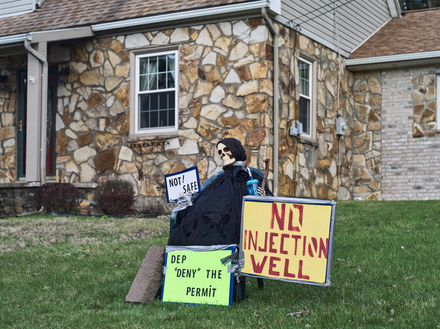 For the latest news and updates, download the BuzzFeed News app for iOS and Android (available in Canadian, UK, Australian, and U.S. app stores).

Quick things to know:
U.S. news: A federal appeals court yesterday upheld existing civil rights laws to protect transgender people against discrimination in education. (BuzzFeed News) Former New York City police Officer Peter Liang, who fatally shot unarmed Akai Gurley in 2014, won't be getting any jail time after a judge reduced his conviction Tuesday. (BuzzFeed News)

Health news: Utah's governor has declared that porn is causing a "public health crisis" in the state. (BuzzFeed News) The National Health Service in England will reconsider its decision not to provide HIV prevention drug PrEP. (BuzzFeed News) The rate of new dementia cases in England and Wales seem to have decreased in the 20 years leading up to 2011, scientists say. (BuzzFeed News)

Environmental news: Almost all of Australia's Great Barrier Reef has been affected by a massive coral bleaching event, scientists say. (BuzzFeed News) And Earth has no chill: March was the most abnormally hot month ever recorded. (BuzzFeed News)
Happy Wednesday
Sometimes dogs need a night out as well. New Delhi now has a doggy café, Puppychino, where pups can dine on pasta, play with chew toys, and make new friends, BuzzFeed India's Andre Borges writes. Sisters Mallika and Nayani Tandon were inspired to open the café after constantly feeling guilty for leaving their dogs, female labrador Bobo and male husky Simba, at home when they went out. Time for a dog date.
Want a news roundup like this in your inbox every weekday? Enter your email address to sign up now!