HERE ARE THE TOP STORIES
Clinton and Sanders clashed in a heated debate last night and things got LOUD.
The issues: The candidates sparred over the minimum wage, Wall Street, and foreign policy. But immigration didn't come up, even though they were in the state with the second-most foreign-born people in the country.

The criticisms: When Sanders was asked about one of his sharpest criticisms of his opponent he didn't have a clear answer on how Clinton is influenced by money.

The stakes: They're high. A Sanders victory in Tuesday's New York primary could slow Clinton's march to the nomination. For Clinton, a victory would propel her even further ahead of Sanders.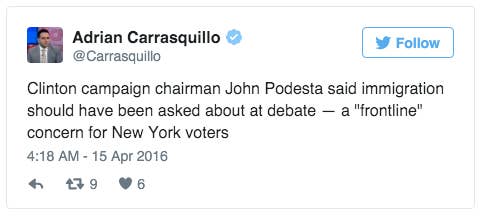 And a little extra.
The presidential campaign is stoking fear and anxiety among children of color, according to a new survey of about 2,000 teachers.
"My students are terrified of Donald Trump," said a middle school teacher with a large student body of African-American Muslims. "They think that if he's elected, all black people will get sent back to Africa."
For more news about the 2016 U.S. elections and other updates from around the world, download the BuzzFeed News app for iOS and Android (available in Canadian, UK, Australian, and U.S. app stores).
Is empty nose syndrome real? And if not, why are people killing themselves over it?
To suffer is one thing. To suffer and be told by medical professionals that nothing is wrong? That's enough to make some people want to end it all. Empty nose syndrome (ENS) is a bizarre and suffocating medical condition that patients who've undergone common nasal surgery have suffered. But many doctors are not convinced the condition is real, Joel Oliphint writes for BuzzFeed.
That includes the ones whom an Ohio man named Brett Helling consulted with increasing desperation before he jumped off a bridge to his death last year. Helling was convinced his surgery had given him ENS, but his doctor disregarded his concerns. Another physician told him he was just having anxiety: "Breathe through your mouth," the doctor told him.
And a little extra.
It's a medical mystery. ENS joins such maladies as chronic fatigue syndrome and Morgellons (a more recent controversial condition involving painful, itchy lesions with mysterious "fibers") as conditions that ruin the lives of people who suffer from them, but that doctors cannot agree are scientifically viable.
"The problem with empty nose syndrome is probably not that it does not exist, it is that we cannot adequately explain its existence by what we currently understand about the nose," said Dr. Spencer Payne, who published a study on ENS in 2009.
WE'RE KEEPING AN EYE ON
Thousands of U.S. fast-food workers went on strike for better pay yesterday as part of the "Fight for 15."
Home-care and Verizon workers also walked off the job. It was the first major strike since the recent historic wins for $15/hour minimum wages in New York and California and was dedicated to Jeffrey Pendleton, a Burger King worker who died in police custody last month after he couldn't afford a $100 bail, BuzzFeed News' Cora Lewis reports.
By ignoring long-running calls for better pay, fast-food companies have created an unintended outcome: Worker movements are now negotiating directly with local and state governments for across-the-board pay rises for all minimum-wage workers.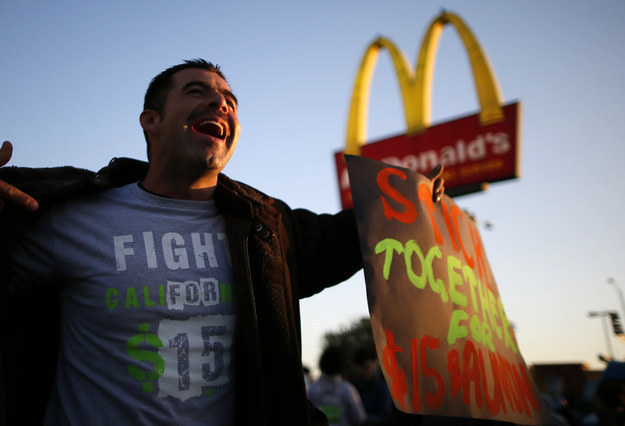 And a little extra.
Most members of the Fight for 15 organizing committee are women of color in their twenties. Yesterday's strikes across the U.S. were the movement's biggest so far. There are 64 million workers who make less than $15 an hour in the U.S., Lewis writes.
The Fight for 15 organizing committee has always kept its meetings closed to the press, but BuzzFeed News got a look at the inner workings and backstory of what is now, undeniably, the most successful labor movement in recent memory.
DID YOU HEAR ABOUT THIS?
How Nina became a disaster movie.
The biopic about singer, pianist, and civil rights activist Nina Simone has been accused of racist casting and wounded by behind-the-scenes fighting, BuzzFeed News' Kate Aurthur reports.
The decision to cast the lighter-skinned Zoe Saldana as Simone caused an outcry after it was announced in 2012. A consensus of media, scholars, and fans felt strongly that the casting was an example of colorism. More backlash followed after photos showed Saldana wearing dark makeup and a prosthetic nose on set.
"I understand the issue of race. And color is a sensitive issue," director and writer Cynthia Mort said. "But at the same time, it is a movie. And it is an actor. And everyone is doing their best to find the truth in that."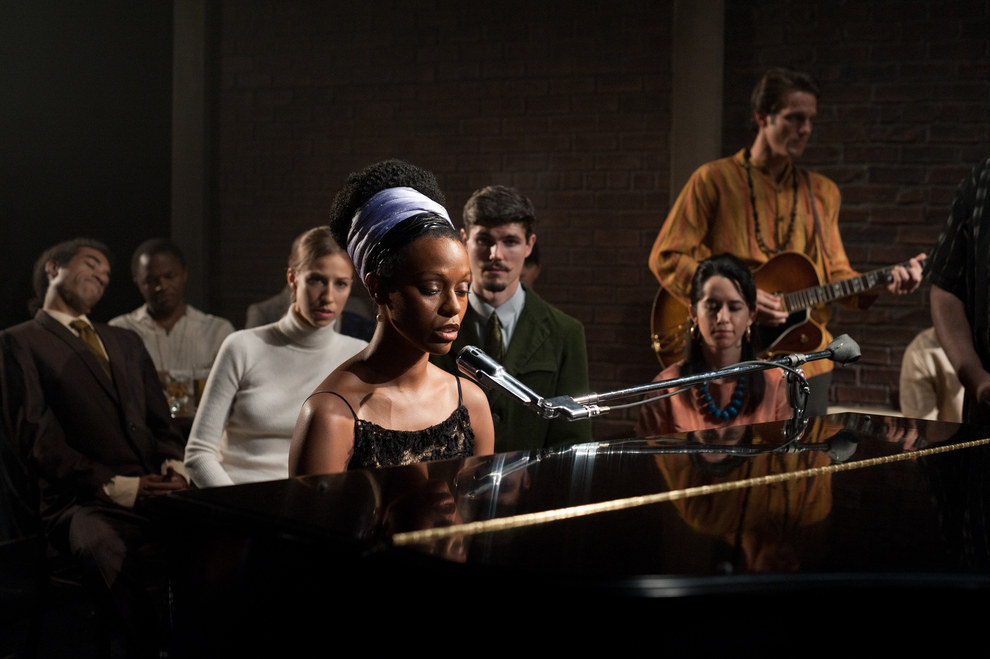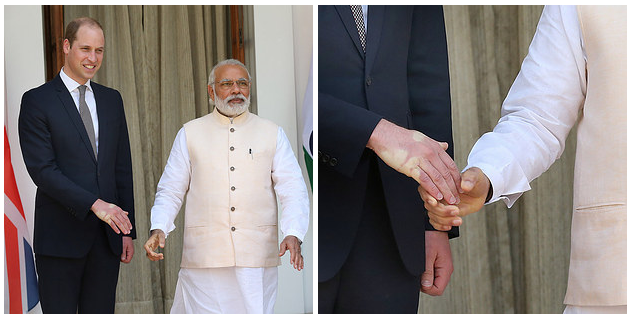 Want a news roundup like this in your inbox every weekday? Enter your email address to sign up now!