What's Going On Around The World Today?
Ferguson, Missouri, will vote today in the first City Council elections since Michael Brown's death. The Boston Marathon bombing trial begins jury deliberations today, with conviction a near certainty. And a romantic Burger King-sponsored wedding.
HERE ARE THE TOP STORIES
The jury in the Boston Marathon bombing trial will begin deliberations today. Closing arguments took place yesterday. The prosecution painted Dzhokhar Tsarnaev, who's accused of making and planting the bombs along with his brother, as a committed terrorist and asked the jury to hold him accountable for his actions. A verdict could come as early as tomorrow or Thursday, according to the Marshall Project's Andrew Cohen, as the government's case has been particularly robust (taking 15 days and 92 witnesses) and Tsarnaev's attorney has already conceded his client's participation in the bombing. The defense's goal had been to avoid the death penalty for Tsarnaev, and the strategy was to shift the focus toward his brother, Tamerlan Tsarnaev, framing him as the mastermind behind the bombing. Tamerlan died in a shootout with police a few days after the bombing.
If Tsarnaev is convicted — and this is considered a near certainty, according to WBUR — the jury will begin hearing evidence on whether he should receive a death sentence, which requires a unanimous vote.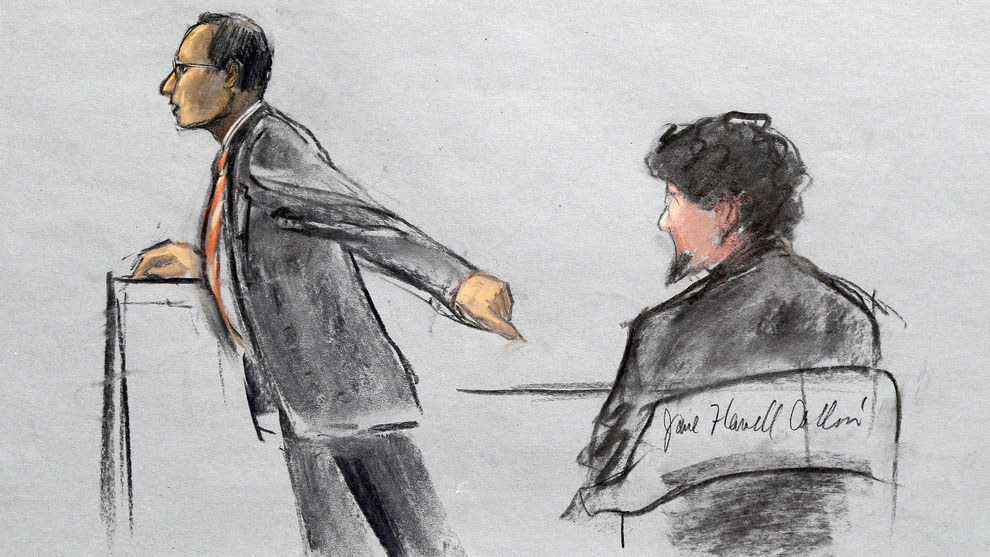 Ferguson, Missouri, will hold its first City Council elections since Michael Brown's death today. Yesterday, we shared how this election is poised to be a historic one: No matter the exact outcome, the city will have more than one black sitting council member for the first time. But "in a city where the last election only brought out 6% of eligible African Americans, turnout is the difference between change and more of the same," Lauren Victoria Burke writes in The Root. "The weak turnout has been blamed on everything from how municipal elections are held on odd years instead of the even years of congressional and presidential elections to the transient nature of the city's black population."
WE'RE KEEPING AN EYE ON
Looks like we'll have another 2016 presidential candidate today. Kentucky Republican Sen. Rand Paul is expected to announce his bid at a rally in Louisville. He'll join the only other official 2016 candidate, Texas Sen. Ted Cruz, in the GOP field. Paul released a video on Sunday that teased the announcement.
Rand Paul is the son of former presidential candidate and U.S. Rep. Ron Paul, and, like his father, has captured a fervent libertarian following. He has ridden a wave of tea party support by backing policies — such as reducing defense spending and reining in government spying — that aren't popular with much of the GOP base. His challenge as a presidential candidate will be to maintain his enthusiastic libertarian support while also appealing to a wider swath of the base, Karen Tumulty and Robert Costa write in the Washington Post.
What's next? Announcements like this will be more frequent in the coming weeks. Florida GOP Sen. Marco Rubio is expected to announce his bid on April 13, and word from Hillary Clinton could come in the next couple weeks. We're not even halfway through 2015, but 2016 campaign season is upon us. If you're keeping up, we found the New York Times' 2016 presidential candidate tracker useful.
Chicagoans will vote today in the city's first runoff election for mayor. Chicago Mayor Rahm Emanuel will face opponent Jesús "Chuy" García, the populist county commissioner. Voters forced Emanuel into a runoff when he failed to secure more than 50% of the vote in February. Many see this as a sign of the city's growing distaste with Emanuel, who is President Obama's former chief of staff. He has been heavily criticized for some of his policies, including the closing of 50 schools, according to The Guardian.
What's next? Emanuel faces the complex challenge of retaining support from Chicago's black community, particularly in a political environment that sees his opponent, García, effectively garnering more favor among black leaders. Nevertheless, Emanuel is expected to win re-election, according to a recent string of polls showing him gaining an increasing lead over García, as The Atlantic's David Graham writes.
DID YOU HEAR ABOUT THIS?
Duke won the NCAA men's national basketball championship. The Blue Devils beat Wisconsin 68-63 in Indianapolis last night, securing coach Mike Krzyzewski's fifth NCAA trophy, which is second only to former UCLA coach John Wooden's 10. And even though he's never professed to be a basketball expert, former Republican presidential candidate Mitt Romney's bracket probably did better than yours, the Huffington Post reports. His bracket finished in the 99.9th percentile of ESPN's Tournament Challenge.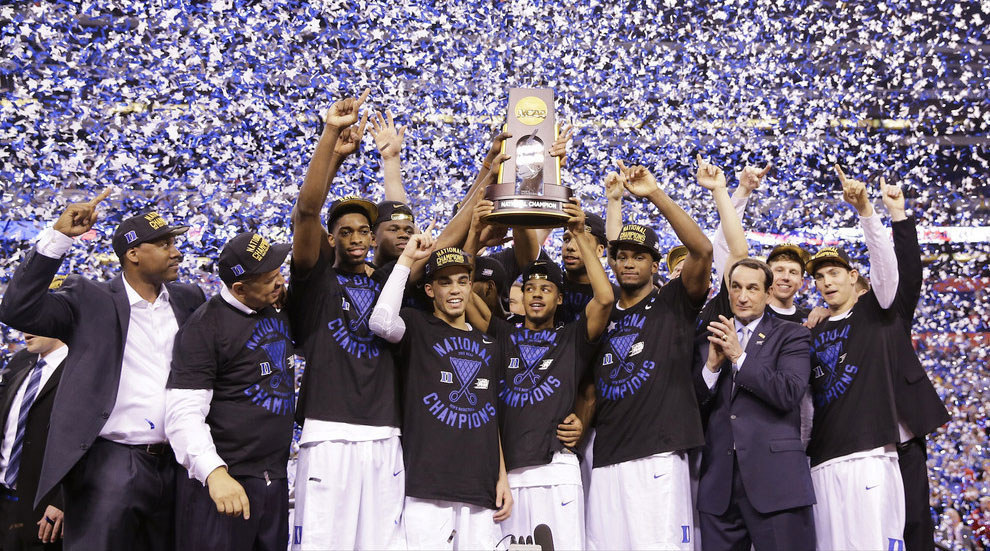 The slow-motion push to drive ISIS from Anbar, Iraq. With the battle for Tikrit, a northern Iraqi town that's a strategic stronghold for ISIS, largely won, Iraqi forces and the Shiite militia are preparing to retake Mosul, a city 10 times bigger and the largest city controlled by the militant group. But retaking Anbar may be even more important to winning the struggle against ISIS, BuzzFeed News' Mike Giglio reports from Iraq. "We call it the head of the snake," a commander, who gave the nom de guerre Hajji Salem, tells Giglio.
Anonymous artists erected a statue of Edward Snowden in a Brooklyn park. The three artists put up the statue in Fort Greene Park before sunrise yesterday. They wanted to "highlight those who sacrifice their safety in the fight against modern-day tyrannies," the artists told Animal New York. It didn't take long for city officials to take the statue down, citing a violation of park policy.
Some immigration lawyers warn against tech companies developing software to help immigrants navigate complex government forms. But those lawyers may not be as well-intentioned as they seem — some critics argue that they are only protecting their monopoly over the immigration law industry, BuzzFeed News' David Noriega reports.
A mysterious and possibly harmful synthetic chemical has been found in 11 dietary supplements. No one knows the effects of BMPEA on human health, but amphetamines are known to increase blood pressure and heart rate. Despite these troubling findings, the FDA has not issued any public warning about the substance, BuzzFeed News' Virginia Hughes reports.
"Power poses" might not be so powerful after all. A 2010 study from Harvard Business School, popularized by Amy Cuddy's TED talk on body language, claimed that open, expansive postures or "power poses" raised testosterone and lowered the stress hormone cortisol. But a replication of the study found no behavioral or hormonal effects of power poses, Cathleen O'Grady writes in Ars Technica.
Quick things to know:
HAPPY TUESDAY
A man named Joel Burger is marrying a woman named Ashley King, and Burger King is paying for their whole wedding. "All we ask in return is that they live happily ever after," a spokesperson for Burger King told BuzzFeed. "And maybe name their first child Chicken Fry." Whoppers for all!