What's Going On Around The World Today?
Iran nuclear negotiations will continue despite missed deadline. Arkansas' governor decided not to sign his state's version of a hotly contested religious freedom law yet after all. And a fourth-grader asks President Obama to put a woman on the $20 bill.
HERE ARE THE TOP STORIES
The Iran nuclear talks were extended by another day, after negotiations continued past the first extended deadline on Wednesday. If you're keeping track, the self-imposed deadline for a "framework agreement," which is a political understanding on major terms of the deal, was on Tuesday. Diplomats from Iran and the coalition of six world powers have sent mixed signals on a potential agreement. Indicating a willingness to walk away, President Obama had told U.S. Secretary of State John Kerry to ignore the deadline, according to the New York Times, while the Iranian Foreign Minister has firmly put the onus of the talks on the six world powers.
While we wait for an agreement, U.S. Secretary of State John Kerry has apparently captured the hearts of the Swiss people as he stays in Lausanne for the talks. Inspiring crowds of fans and a newspaper headline calling him a "weapon of mass seduction," Kerry appears to have found in Switzerland the kind of popular adoration that he never quite found at home, BuzzFeed News' Rosie Gray reports from Lausanne.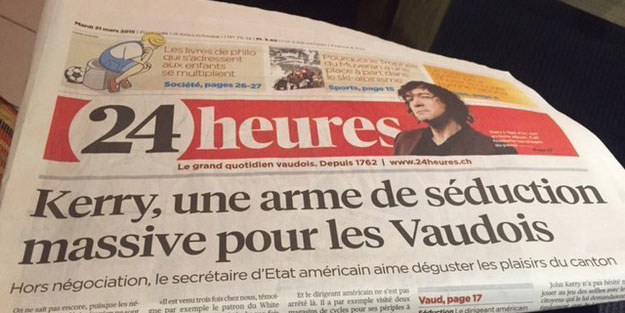 California imposes first-ever statewide water restrictions as it struggles with a historic drought. The restrictions require water use be reduced across the state by 25% by early 2016 and residents could be fined $500 per day for violations. The drought, now in its fourth year, has diminished the snow levels in the state's mountainous areas — which are essential to the California's water supply, according to The Washington Post. More than 99% of California was in some form of drought in March, with 40% of the state in the grips of an "exceptional" drought — the most severe category.
And a little extra. California Gov. Jerry Brown has emphasized that the state's water use culture has to change in order to survive the drought, implying that the restrictions could stay for the long run. "While the restrictions themselves have been praised, how they work and their real impact on the drought remains to be seen," BuzzFeed News' Jim Dalrymple II reports on how the restrictions will work and the potential challenges of enforcement. Wired's Nick Stockton has more on how much water the state needs to save this year: "1.5 million acre feet in the next nine months, when California's wet season (hopefully) starts again."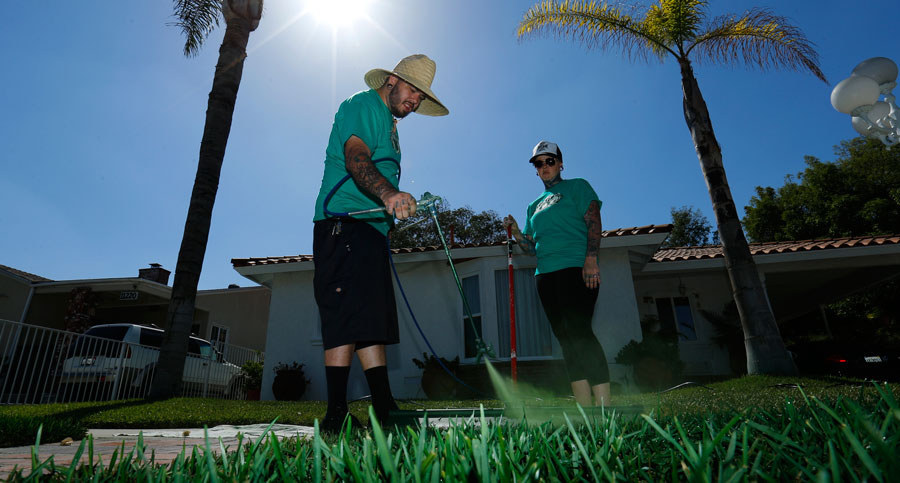 Arkansas' governor called for changes to the state's religious freedom bill — which many argue will allow businesses to discriminate against LGBT people. Acknowledging pressure from businesses and community leaders, Gov. Asa Hutchinson asked legislators to amend the bill to "reflect a more narrowly written federal law." Hutchinson had previously indicated he would sign the bill. "It has divided families and there is clearly a generational gap on this issue," he said on Wednesday. He said his son, 31-year-old union organizer Seth Hutchinson, signed the petition asking him to veto the bill.
State lawmakers have not agreed to recall or amend the law, and the governor did not indicate if he would veto the bill should lawmakers ignore his call.
And a little extra. In Indiana, Republican leaders have reportedly reached a deal with local business leaders to amend their own religious freedom law, which has similarly caused an uproar. The change will specifically grant protections for LGBT customers, employees, and tenants, IndyStar's Tony Cook and Tom LoBianco report. The proposal is set to be announced this morning.
WE'RE KEEPING AN EYE ON
At least 15 are dead after gunmen stormed a Kenyan university and another 65 people have been injured, according to the Kenya Red Cross. Here's what we know so far:
The attack occurred on Garissa University College in east Kenya

Police said around five masked men shot guards at the university's gate in a dawn raid at around 5:30 a.m. local time (10:30 p.m. Wednesday ET) on Thursday

Militant group Al-Shabaab has claimed responsibility for the attack

The group said it separated Muslim and Christian students, killing and taking the Christians hostage
What's next? This is a developing story. BuzzFeed News has the latest.
Amid increasing pressure, McDonald's increases wages for some service workers. On Wednesday, the company announced that employees will soon be paid one dollar above the local minimum wage, but only for those who work in outlets owned by the company itself, not franchises. As a result, the changes will affect employees at about 10% of McDonald's 14,000 locations in the U.S. (which is about 90,000 employees of roughly 840,000 workers) — unless franchise owners match the company, which they will now feel pressured to do. This comes as activist labor groups like Fight for 15, which seeks to raise the minimum wage for service workers, broaden their tactics, according to the New York Times. The McDonald's move follows similar increases by Wal-Mart and Target in the past two months.
What's next? McDonald's wage increases will begin on July 1.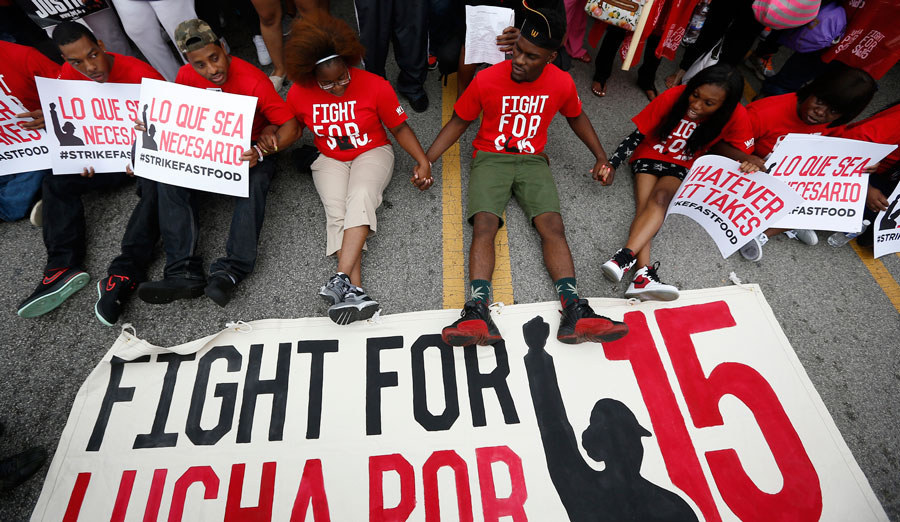 DID YOU HEAR ABOUT THIS?
11 Atlanta Public School educators were convicted in a standardized test cheating scandal. The case, which has been "described as the largest cheating scandal in the nation's history," according to the New York Times, has raised questions about high-stakes testing in American schools. The scandal was exposed in 2008 when the Atlanta Journal-Constitution reported on inexplicable spikes in test scores. The report tied the scandal to a school system that bases teacher and bonuses on how well students perform on tests.
New Jersey Democrat Robert Menendez has been indicted on corruption charges, becoming the 12th U.S. senator ever to be indicted, according to the Associated Press. Sen. Menendez has been the subject of a federal investigation stemming from his relationship with a South Florida ophthalmologist and campaign donor who was also indicted. On Wednesday evening, "Menendez was defiant, vowing not to leave his Senate seat," BuzzFeed News' Katherine Miller and Ilan Ben-Meir report. Sen. Menendez is the top Democrat on the Senate Foreign Relations Committee. "I am not going anywhere," he said, at an appearance in Newark. "I'm angry and ready to fight."
This cop is on trial for firing 49 shots at two unarmed suspects. How a high-speed chase in Cleveland with two unarmed suspects led to two deaths, more than a hundred shots fired, and a police officer facing trial. BuzzFeed News' Mike Hayes reports.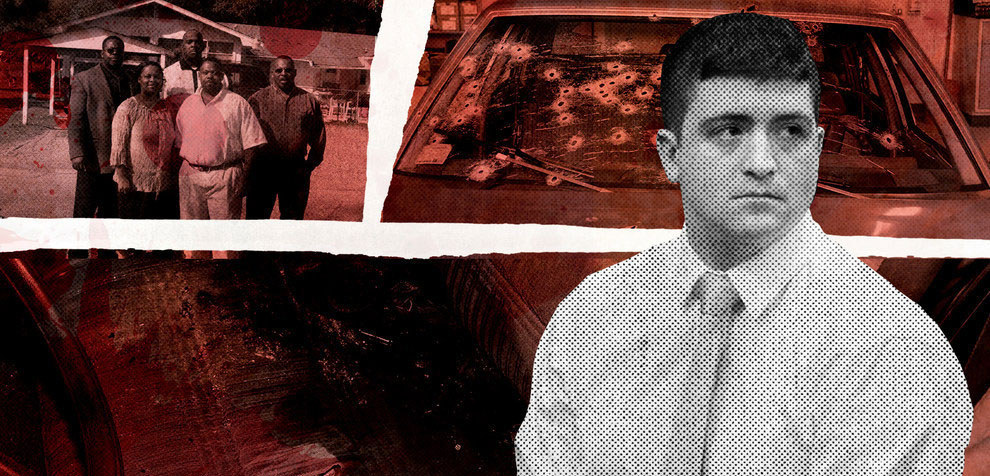 The world's most progressive gender identity law just passed in Europe. The Mediterranean country of Malta adopted the world's most progressive gender identity law on Wednesday. "The act is a beacon of hope," said an European LGBT leader in response to the law passing in Malta, whose Constitution officially deems the country Catholic.
How the TSA is profiling you — and why it's nonsense. Yawning, excessive bobbing of the Adam's apple, strong body odor, and whistling are apparently signs that someone in an airport security line might be a terrorist. A recent lawsuit and leaked documents have scientists reeling over how the TSA is using junk science to screen for terrorists. "We are all horrified," Charles Honts, a professor of psychology who specializes in lie detection, told BuzzFeed News. "These behaviors have no established links to deception whatsoever."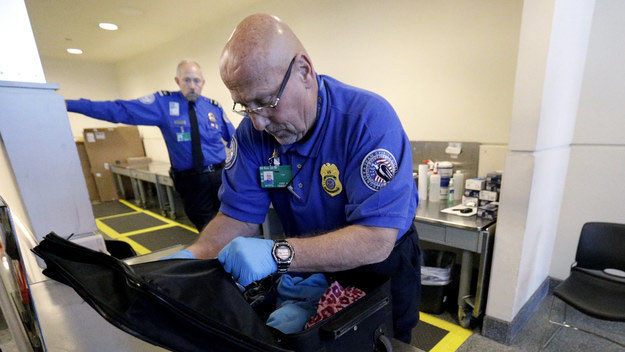 Depression isn't what you think it is. Millions of people are diagnosed with major depression, while a growing number of scientists are saying it isn't a distinct condition, BuzzFeed News' Peter Aldhous reports. It's part of a big shake-up in psychiatry, as researchers attempt to define mental disorders by what's going wrong in the brain rather than using checklists of symptoms.
Quick things to know:
HAPPY THURSDAY
Last spring, 9-year-old Sofia from Massachusetts wrote a letter to the president asking that a woman replace Andrew Jackson on the $20 bill, after noticing during a class presentation that American coins and dollar bills only featured men. "Why is that? Why are no girls on currency?" she told BuzzFeed News. In late July, President Obama said he agreed with her idea during a speech in Missouri. Rock on, Sofia!