HERE ARE THE TOP STORIES
US presidential election: Republican donors are panicking over Trump's "rolling implosion."
Prospective donors are having second thoughts about getting involved, while those who convinced themselves to get behind Trump are at their wits' end over his behavior. BuzzFeed News' Tarini Parti reports.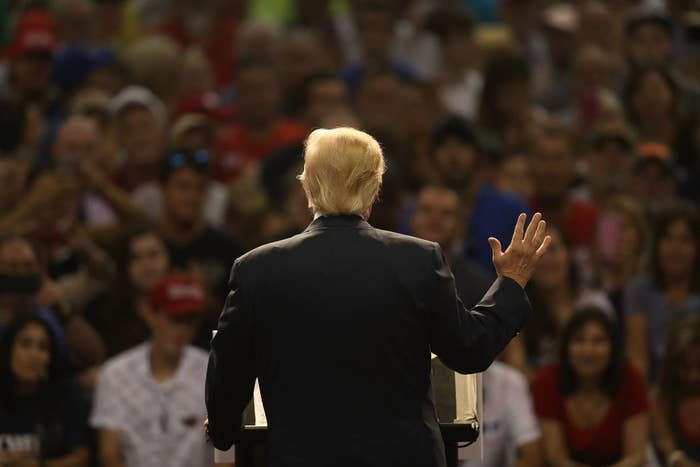 The Trump campaign will begin trying to mobilize black Republicans toward their cause this weekend in North Carolina. But it's a long road ahead. "There was this [cringeworthy] moment every black Republican had about the Mexican judge," a source briefed on the campaign's efforts said. The Trump campaign also plans to focus on securing the support of black celebrities, entertainers, and reality stars, BuzzFeed News' Darren Sands and John Stanton write.

And a little extra.
Trump said Hillary Clinton "should get an award" because she is "the founder of ISIS." The Republican presidential nominee told a crowd of supporters in Florida that Clinton's policies as secretary of state helped birth the terror group. The crowd then chanted "Lock her up! Lock her up!"
The New York Times has an unfiltered look at how Trump supporters express their views in angry ways.
DID YOU HEAR ABOUT THIS?
One woman died and five other people were injured in a stabbing attack in central London.
A 19-year-old man was arrested at the scene Wednesday and is currently in custody, police said. The motive remains under investigation. London's Metropolitan police said the man's mental health seemed to have played a significant role.
US President Barack Obama commuted sentences of 214 people serving federal prison sentences on Wednesday.
It was the most commutations issued by a president in a single day since 1900. The move lowered sentences of convicts — many of whom are serving life sentences for nonviolent drug crimes.
People are calling for a cartoonist to be fired over his "racist" drawing.
The cartoon depicts an Aboriginal child being handed to a drunk Aboriginal man by a police officer. It appeared in The Australian newspaper and was drawn by resident cartoonist Bill Leak. The cartoon comes after footage of Aboriginal children being mistreated in juvenile detention centers in Australia's Northern Territory shocked the world.
Quick things to know:
Waiting on Frank
Frank Ocean promised us an album in July. It's August and we have no album. Then, on Monday, he set up a mysterious livestream on the album's website that seemed promising, but answered ~absolutely nothing~. But then the New York Times got a hot tip that the album, Boys Don't Cry, is coming out THIS FRIDAY(!). But do you believe it anymore?
Want a news roundup like this in your inbox every weekday? Enter your email address to sign up now!