HERE ARE THE TOP STORIES
Hundreds of US residents are still trapped by Donald Trump's executive immigration orders, fueling a bitter battle between civil rights attorneys and border patrol agents.
Part of the problem, legal advocates say, is that a vacuum of leadership at the Department of Homeland Security has given border patrol agents a lot of room in how they choose to enforce the broadly worded executive order.
The confusion started the night of Jan. 27, when President Trump signed an executive order suspending the entire US refugee program for 120 days. People from the Muslim-majority nations of Syria, Iraq, Iran, Sudan, Somalia, Libya, and Yemen were also barred from entering the US for 90 days — refugees from Syria, indefinitely.
Trump's bullying of Mexico is bringing Latin America closer together.
Countries in Latin America are strengthening alliances among themselves, regional commissions are gaining traction, and one president has even called for the creation of a joint South American citizenship.
Mexican President Enrique Peña Nieto has said he'll deepen the country's relationships with Argentina and Brazil, and promised to strengthen its presence in Central America. As Trump intensified his hostility toward Peña Nieto, the presidents of Colombia and Peru pledged their support to Mexico while Venezuelan President Nicolás Maduro warned, "Whoever picks on Mexicans, is picking on Venezuelans."
Mexico's President Enrique Peña Nieto and other leaders in 2014. Felix Marquez / AP Photo
Uber CEO Travis Kalanick left Trump's economic advisory council after the #DeleteUber social media revolt.
People used the hashtag to urge others to uninstall the ride-hail app in response to the company's reaction to Trump's refugee ban. Kalanick argued that him being on Trump's board put Uber in a better position to effect change, but it wasn't enough. "Joining the group was not meant to be an endorsement of the President or his agenda but unfortunately it has been misinterpreted to be exactly that," Kalanick wrote in an email to employees.
WE'RE KEEPING AN EYE ON
How France's nationalist party is winning gay support.
Marine Le Pen has dragged the National Front from the extreme fringes of French politics and now has a shot at winning the presidency — with growing support from LGBT voters. BuzzFeed News' J. Lester Feder reports from Paris on what this means for the future of LGBT politics, with right-wing parties in the ascendant across the continent.
What else?
National Front politicians appear to be working with a large international network of internet trolls to manipulate French social media. Last month BuzzFeed News was briefly given access to a chatroom called The Great Liberation of France, which is hosted on a Slack-like messaging platform called Discord, and its influence can be seen all across the internet. BuzzFeed News' Ryan Broderick has more.
Une version en français de cet article est disponible sur BuzzFeed France.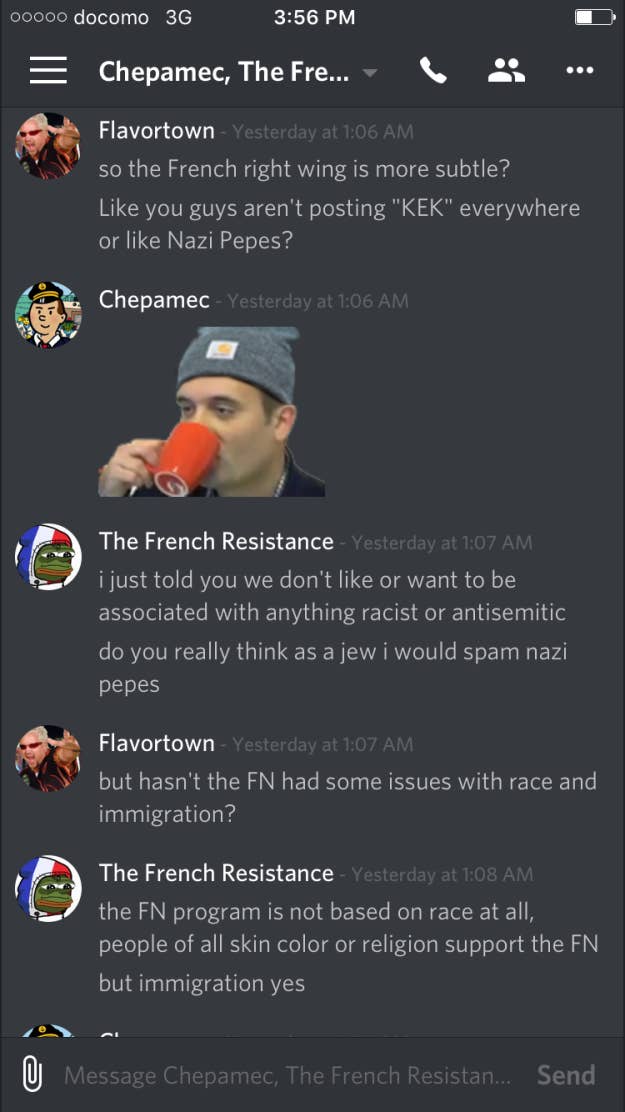 DID YOU HEAR ABOUT THIS?

2017, y'all: President Trump and Arnold Schwarzenegger had a bit of a ~spat~.
At Thursday's annual National Prayer Breakfast, Trump kicked off his speech by asking religious leaders to pray for Schwarzenegger's Apprentice ratings, as well as bragging about his own.
"The ratings went right down the tubes. It's been a total disaster," the president of the United States said about the reality television show. It didn't take long for Schwarzenegger to fire back — on Twitter, obviously.
The Obama administration's "worst deal ever" with Australia really is pretty bad.
Australia is taking some Central American refugees, and the US is helping Australia clear out its offshore refugee detention facilities — which many insist are a massive violation of international law. "When a previous administration does something, you have to respect that," Trump said. "But you can also say 'why are we doing this?'." Why indeed? Here's what's going on with the US–Australia deal, which is really two separate agreements that amount to a refugee swap.
The past few days have been hell for the refugees detained by Australia — the 871 men still detained at an Australian-run offshore detention centre on Manus Island have watched their chances of finding a permanent home rise and fall in line with Trump's temper.