And a little extra
Republicans in the US House of Representatives won't commit to launching a new probe into Russian interference in the election, despite Senate Majority Leader Mitch McConnell calling for an investigation.
The key to Trump is reading him like a celebrity. Analyze him as a politician and you'll only end up confused. Study him like a celebrity, however, and every baffling action makes sense.
And Trump said Russia's alleged hacking wasn't brought up before the election. Except it was. Here are nine examples.
WE'RE KEEPING AN EYE ON
The United Nations has said there has been a "complete meltdown of humanity" in what remains of rebel-held east Aleppo, Syria.
Terrified residents posted messages to social media as Syrian regime forces began to capture almost all of the rebel territory, BuzzFeed News' Rose Troup Buchanan writes. The UN said it had received reliable evidence that in four districts in east Aleppo Syrian pro-government forces had entered homes and shot 82 civilians — including 11 women and 13 children — on the spot, the Associated Press reported.
The Syrian government, supported by Russian airstrikes and Iranian-backed militias, has slowly extended control of the once-vital commercial center of Syria.
Since the beginning of the offensive in early November, rebel forces have been pushed into a tighter and tighter enclave, cut off from the rest of the country and with rapidly diminishing medical supplies, food, and clean water.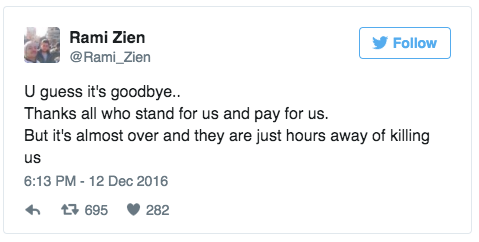 DID YOU HEAR ABOUT THIS?
Turkey's longest war is tearing families apart.
The "Kurdish problem" in Turkey is often painted in simplistic terms — separatists fighting against the state. But in the southeast, the conflict is far messier, overlaid with tribal, ideological, and regional tensions. It's become increasingly militarized as young men find their identities in warfare rather than the fading Kurdish culture and language. And in many areas, Kurds are pitted against their fellow Kurds. BuzzFeed News' Borzou Daragahi reports from Silvan.