CIA Director Defends Spy Agency After Torture Report Release
CIA Director John Brennan held a rare news conference to address the Senate Intelligence Committee's recently released report on torture. He said it was "unknowable" if torture brought useful intelligence.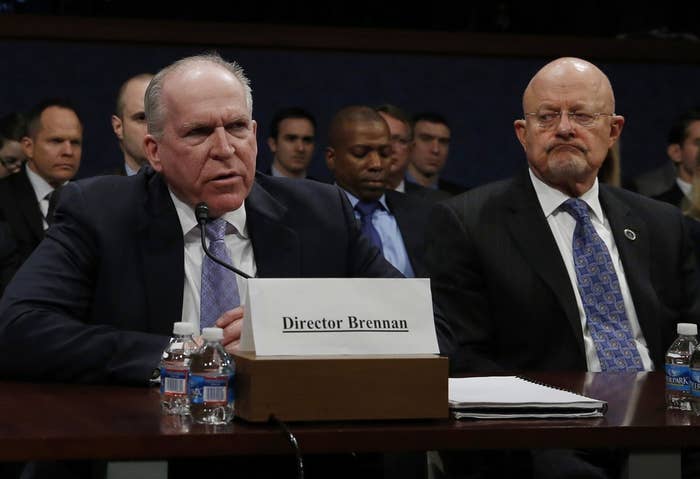 What We Know So Far
The CIA Director held a rare live press conference to defend his agency against the revelations in the Senate Intelligence Committee's report.
Brennan called some of the techniques used by CIA officers "abhorrent."
It is "unknowable" if any useful intelligence was produced from torture, Brennan said.
Sen. Dianne Feinstein live-tweeted rebuttals to some of Brennan's statements with #readthereport.
The report found that CIA officials performed techniques such as "rectal feeding."
Updates
Here are 5 takeaways from Brennan's speech and answers: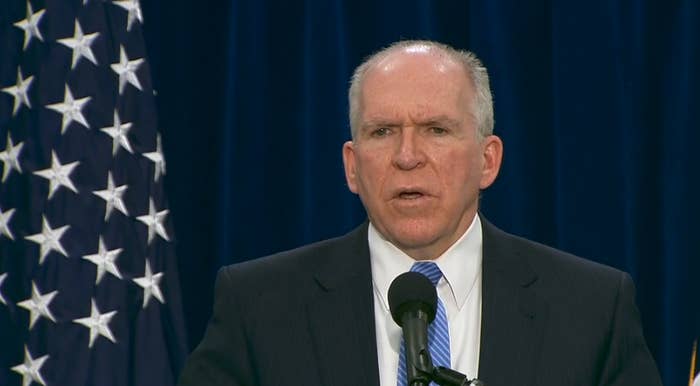 1) Concerning some of the "enhanced interrogation techniques" – many of which amount to torture – used by some CIA officers, Brennan said, "They were harsh. In some instances I consider them abhorrent."
2) When a reporter remarked that one of his answers could be more transparent, Brennan said, "There's more than enough transparency that has happened over the past couple of days. It's over the top."
3) Brennan said that a future president could cancel Obama's executive order banning torture, causing Sen. Dianne Feinstein to tweet, "Legislation is needed."
4) Brennan repeatedly said it was "unknowable" if successful information gathered as a result of using torture could have been obtained in other, more humane ways.
5) Information that led to the ultimate raid that killed Osama bin Laden was obtained after "enhanced interrogation techniques" were used, Brennan said, but he said he wasn't going to say the CIA got the information because of the use of torture.
Brennan says he can't say some CIA officers acted with "complete honesty."
When asked why other interrogation tactics before torture weren't used to get information from some people, Brennan said, "I wish the [Senate intelligence] committee took the opportunity to ask the CIA officers involved...at the time, what were you thinking?"
Did information from torture lead to finding Osama bin Laden?
"The detainees subjected to [enhanced interrogation techniques] provided information that that was useful and was used in the ultimate operation to go against bin Laden," Brennan said, but added, he wasn't "going to attribute that [information] to the use of the [techniques]."
The information was obtained after torture was used, he said.
Brennan was asked how he felt about the public release of the report's summary. Here's his answer:
Brennan refused to answer if he supported the release of the report. He was also asked whether he thought enhanced interrogations led to infomation that saved lives.
"I participated in the discussions that were held on it," Brennan said about the report's release. "The counsel I gave to...the White House...is something I keep to myself."
"There was useful intelligence...that was obtained from individuals who had been at some point subjected" to the enhanced interrogation program, he said, adding that whether that information could have been obtained without the use of the tactics was "unknowable."
"We know we have room to improve," Brennan said, adding, "these techniques were abandoned 7 years ago...we can put aside this debate."
In regards to the CIA briefing the White House on the interrogation program, the "record doesn't the support inference the agency repeatedly...misled," Brennan said.
"None of these lapses should be...downplayed or denied." —Brennan
Sen. Diane Feinstein is live-tweeting rebuttals to Brennan's address. Her committee authored the report.
Brennan on the enhanced interrogation program: "In many respects, the program was uncharted territory for the CIA, and we were unprepared."
"There were no easy answers."
---
This is a developing story. Check back for updates and follow BuzzFeed News on Twitter.