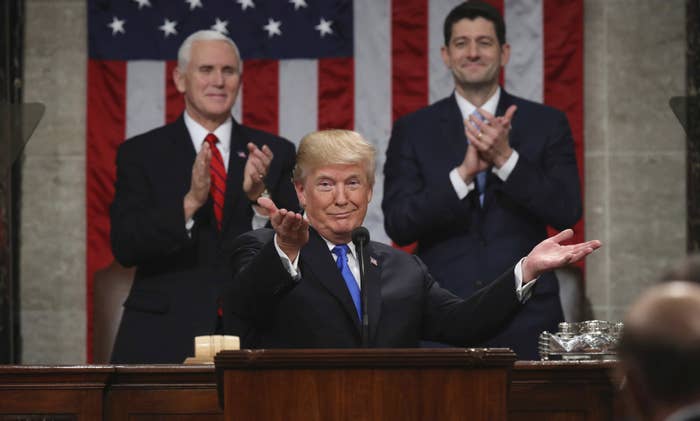 Trump delivered a very long State of the Union address Tuesday night, sticking mostly to his script as he touted his roll back of regulations, slammed gangs and terrorists, and talked about working with people across the political aisle.
• Going into Trump's first State of the Union, many weren't sure if the president would stay on script or adopt the the off-the-cuff style he favors during his rallies. For the most part, Trump stuck to the teleprompter during the hour and half long address.
• The speech came amid heightened tensions over the Russia investigation. On Monday, House Republicans voted to make public a controversial memo that is said to accuse the Justice Department and FBI of impropriety in the probe. And it was reported that Trump has ordered the firing of Special Counsel Robert Mueller last June (Mueller remained in the job.) But the president avoided the subject during his remarks Tuesday.
• First Lady Melania Trump's guests included a welder, two sets of parents whose daughters were killed by suspected members of the MS-13 gang, and a soldier wounded in Raqqa, Syria.
• US Rep. Joe Kennedy III, who delivered the Democratic response to Trump's speech, invited a transgender soldier to attend, highlighting the president's attempt to bar transgender people from serving in the armed services.
One of the biggest announcements of the night came when Trump said he was ordering the Pentagon to keep Guantanamo Bay open.
In his address, Trump lamented that in the past "we have foolishly released hundreds of dangerous terrorists, only to meet them again on the battlefield."
The White House also released the text of an executive order signed earlier Tuesday, which reverses President Obama's 2009 order calling for the closure of the US detention facility in Cuba.
Both before and after the 2016 election Trump criticized Obama's handling of the facility both before and after the 2016 election, and repeatedly pledged during his campaign to "load it up with some bad dudes."
In Tuesday's speech, Trump also touted his campaign promise to "extinguish ISIS," remarking that "one year later, I am proud to report that the coalition to defeat ISIS has liberated almost 100 percent of the territory once held by these killers in Iraq and Syria."
The comments were part of a running theme in which Trump took credit for bolstering national security since taking office.
The only mention of Russia — which has been a recurring topic during Trump's presidency thanks to an investigation into Moscow's 2016 election meddling — was an oblique reference to US "rivals" who "challenge our interests, our economy, and our values."
Trump repeatedly mentioned a desire to work with both Republicans and Democrats.
Early on in the speech, Trump hailed House Majority Whip Steve Scalise and others wounded in a June 2017 shooting at a congressional softball team practice in Virginia. As attendees rose for a standing ovation, Trump used the moment to make a call for bipartisanship.
"In the aftermath of that terrible shooting, we came together, not as Republicans or Democrats, but as representatives of the people," he said. "But it is not enough to come together only in times of tragedy. Tonight, I call upon all of us to set aside our differences, to seek out common ground, and to summon the unity we need to deliver for the people we were elected to serve."
But not everyone in the audience seemed anxious to work with the president.
Video of the speech showed multiple Democrats watching, seated and stony-faced, as Republicans repeatedly stood up in applause.
The only big chorus of boos came during a segment on immigration, about midway through Trump's speech. Democrats jeered loudly as the president called for eliminating family-based migration, claiming that under "the current broken system, a single immigrant can bring in virtually unlimited numbers of distant relatives."
"Under our plan, we focus on the immediate family by limiting sponsorships to spouses and minor children," he continued. "This vital reform is necessary, not just for our economy, but for our security, and our future."
The Congressional Black Caucus was also notably silent, including when Trump mentioned the low black unemployment rate. Many members wore traditional African cloth in protest of Trump's reported remarks about "shithole" countries.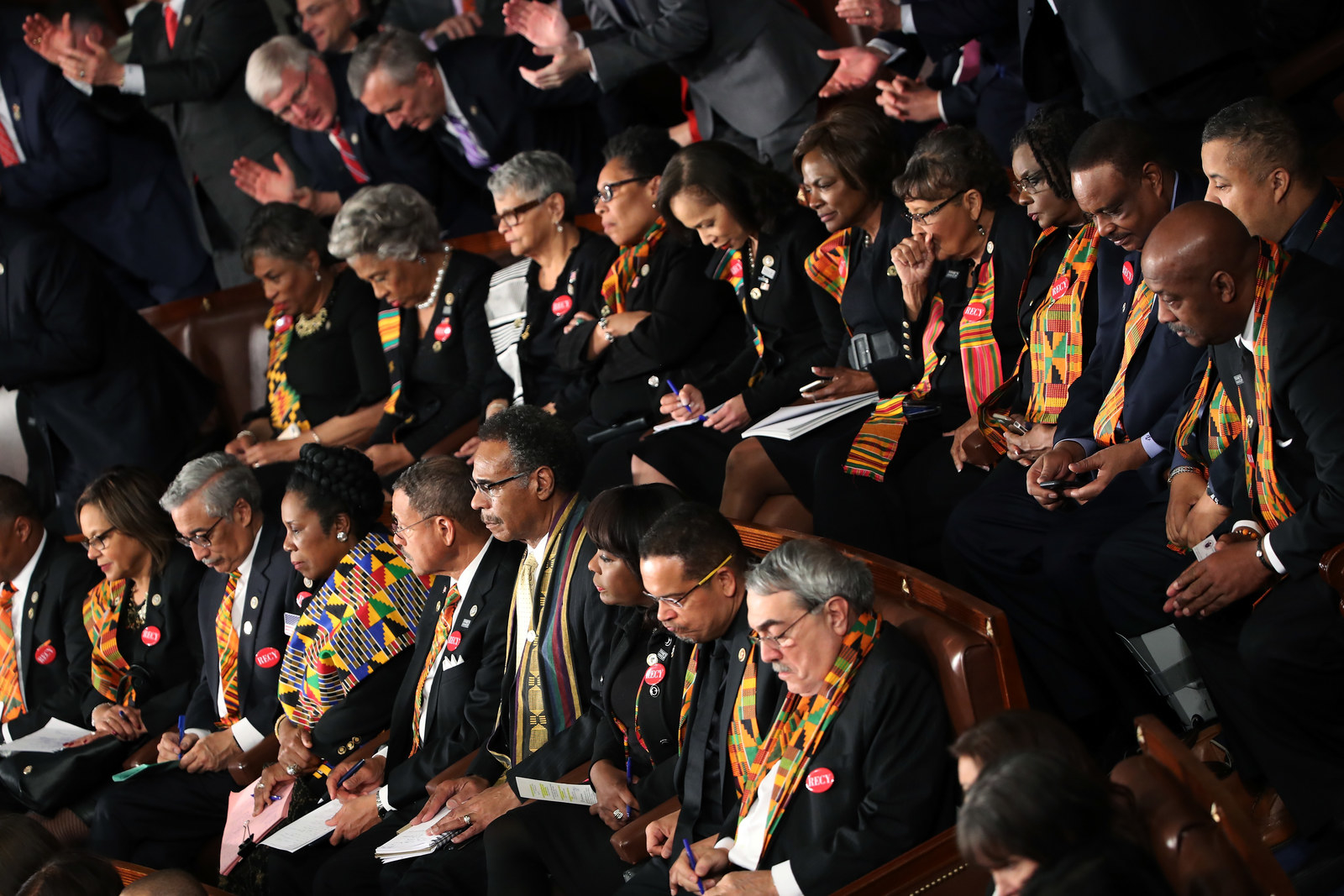 Prior to the speech, Rep. Cedric Richmond, the chair of the Congressional Black Caucus, said that the group had considered walking out during the State of the Union, or holding a separate event at the same time. Members also considered holding up their fists.
"So there's a million options we could do, but I think the most important part is to let people out there know that we're still here, we're still fighting, we really don't care what he thinks about us," Richmond said.
Trump has repeatedly mentioned black unemployment numbers in recent weeks, including tweeting a request that "Somebody please inform Jay-Z that because of my policies, Black Unemployment has just been reported to be at the LOWEST RATE EVER RECORDED!"
He also raised the topic at Davos last week, and during pseudo-campaign stop in Pennsylvania earlier this month.
All of the unemployment talk fits squarely in the nationalist agenda that Trump and especially former adviser Steve Bannon tried to push: Black unemployment is at an all-time low and it's because of Trump, so vote for him next time.
Can Trump actually win back black Americans? That seems to be the plan. The polling shows a lot of room for improvement: In their most recent polling sets, Pew put black approval of the president at 7%, while Gallup put it at 6%.
Trump also praised Americans for coming together during recent natural disasters — though he didn't say much about Puerto Rico specifically.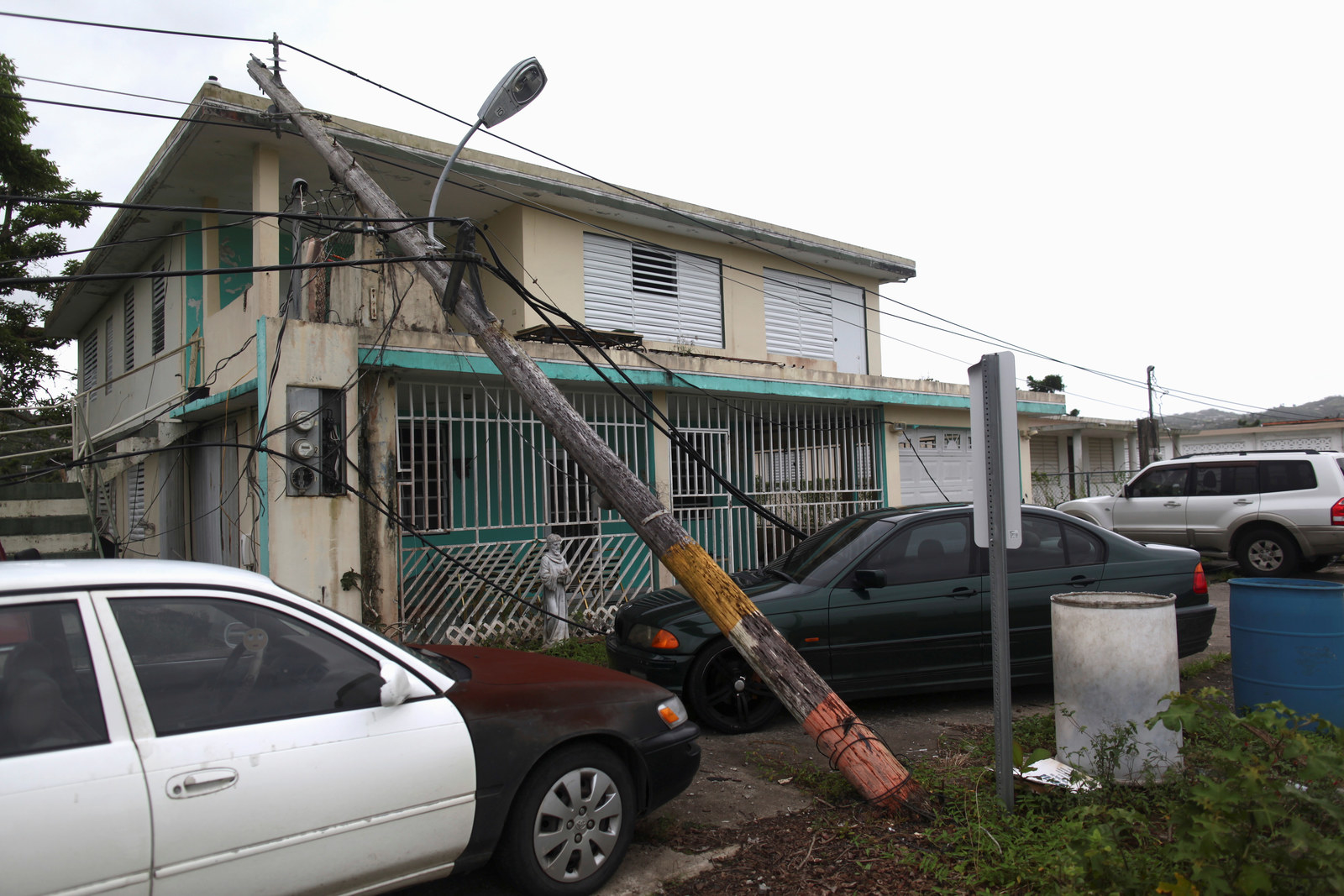 Trump also hit favorite topics including MS-13, rolling back regulations, and nuclear weapons.
• On MS-13: Two sets of parents who lost daughters to MS-13 violence attended the speech. Trump told them that "tonight everyone in this chamber is praying for you," then called on congress "to finally close the deadly loopholes that have allowed MS-13, and other criminals, to break into our country."
The comments follow a familiar pattern that Trump established during his campaign, pointing to crime and violence as one reason US immigration policies need to be tightened.
• On Regulation: Trump said "we have eliminated more regulations in our first year than any administration in history." He also lamented the time it takes to permit new building projects and said it is "time to rebuild our crumbling infrastructure."
At one point Trump also boasted that his administration has "ended the war on beautiful, clean coal."
However, many of these regulatory rollbacks have been controversial. Last year, Trump significantly scaled back Obama-era national monuments in Utah, for example, and this month released a plan the would open 90% of the US outer continental shelf to offshore drilling.
• On nuclear weapons: Trump said that "as part of our defense, we must modernize and rebuild our nuclear arsenal."
Before Trump's speech, the government had to reprint Trump's State of the Union tickets because there was a typo
On Monday, some members of Congress attending the SOTU noticed that there was a little spelling error on their tickets. Part of the invite read, "State of the Uniom" — not "State of the Union."
("Visitor's" is also incorrect, per the Office of Art & Archives website.)
A spokesperson for the Office of the Sergeant at Arms, the nonpartisan office in charge of printing the tickets, confirmed that there was a "misprint" and that Senate staffers had corrected and reprinted the tickets, and are currently redistributing them.