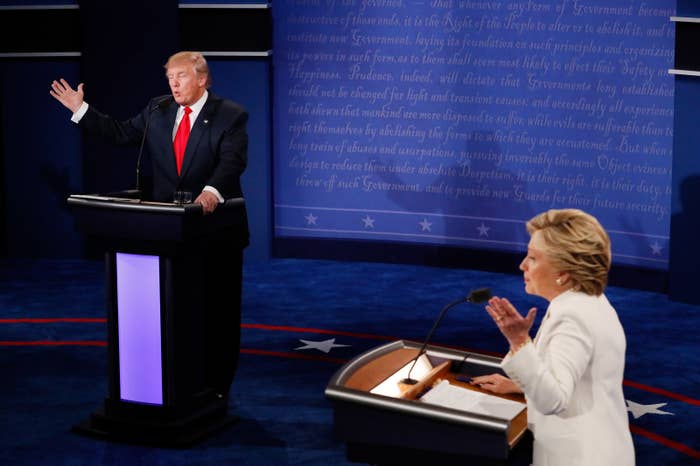 Trump said there's "no quote" showing him advocating for nuclear competition in Asia. But here's a quote from him advocating for nuclear competition in Asia:
Trump repeated false assertion about an ICE endorsement.
Donald Trump falsely claimed during Wednesday's debate that US Immigration and Customs Enforcement (ICE) endorsed him for president, but it was the union and not the federal agency who endorsed him. Trump has made the false statement many times since September when the National Immigration and Customs Enforcement Council endorsed him. The union represents 7,600 ICE officers, agents, and employees working for the federal agency.
Trump was mostly right that Clinton wanted a type of border barrier.
During Wednesday's debate, Donald Trump said Hillary Clinton also wants to erect a huge wall along the US-Mexico border as Trump has famously been calling for since the early days of his campaign.
"Hillary Clinton wanted the wall. Hillary Clinton fought for the wall. In 2006 or thereabouts," Trump said. "Now she never gets anything done so naturally the wall wasn't built, but Hillary Clinton wanted the wall."
The statement was partly true because Clinton did vote for the Secure Fence Act of 2006, which approved the construction of about 700 miles of fence along the border. But that fence is was much cheaper than the wall Trump is calling for.
Trump repeated the claim that ISIS is in 32 countries.
Donald Trump repeated his claim that ISIS is in 32 countries around the world. That number comes from an analysis from the Long War Journal, run by the Foundation for the Defense of Democracies, which determined that the group has supporters in 32 countries.
That is a broad definition of ISIS' presence in countries — the group is actively fighting in a much smaller number. The Congressional Research Service in June found that ISIS is operating main in Iraq and Syria, with affiliates and allies in Egypt, Saudi Arabia, Libya, Nigeria, Afghanistan, and Yemen.
Trump referenced looks of female accusers.
Hillary Clinton said Donald Trump responded to accusations of sexual assault by saying he "could not possibly have done those things to those women because they were not attractive enough."
Trump repeatedly insisted that he did not say that.
However, on two occasions, Trump seemed to clearly invoke his accuser's appearance as a defense against the allegations, though his campaign denied it later.
About one accuser he said: "Believe me, she would not be my first choice."
About another, he said to supporters at a rally: "Take a look at her, look at her words, you tell me what you think. I don't think so."
Trump said he didn't know Putin.
Trump said he didn't use charity money to settle lawsuits.
Trump repeated his claim that the election was rigged and that "millions of people" are registered to vote who should not be.
Trump Wrongly Claims Groping Allegations Have Been "Debunked."