Donald Trump met with President Obama at the White House Thursday to kick off the presidential transition process.
Obama said the meeting was "excellent" and wide-ranging, covering foreign and domestic policy.
Obama and Trump — who had never met in person before Thursday — talked for more than an hour.
"My No. 1 priority in the coming two months is to try to facilitate a transition that ensured our president elect is successful," Obama told reporters afterward. "And I have been very encouraged by the I think interest in President-elect Trump's wanting to work with my team around many of the issues that this great country face."
First lady Michelle Obama also met with Melania Trump and "had an excellent conversation with her as well," Obama said.
Trump also praised the meeting, saying it was an honor.
"We discussed a lot of different situations," Trump said. "Some wonderful and some difficulties. I very much look forward to dealing with the president in the future, including counsel."
He later tweeted that the two had "great chemistry."
After the meeting, Obama told reporters that he stressed the need for a smooth transition that ensures Trump is successful in office.
"I believe that it is important for all, regardless of party and regardless of political preferences, to now come together, work together to deal with the many challenges we face," Obama said, adding that he was encouraged by Trump's wanting to work with his team.
On Wednesday, Trump and his team received agency-specific briefings that have been prepared by Obama's administration officials, according to the White House press secretary.
Those briefings include organizational charts, budget materials, briefings on key agency priorities and more.
From now on, Trump and other senior officials will receive daily intelligence briefings and information aimed at familiarizing the incoming administration on structures that are currently in place on how to respond to major domestic incidents.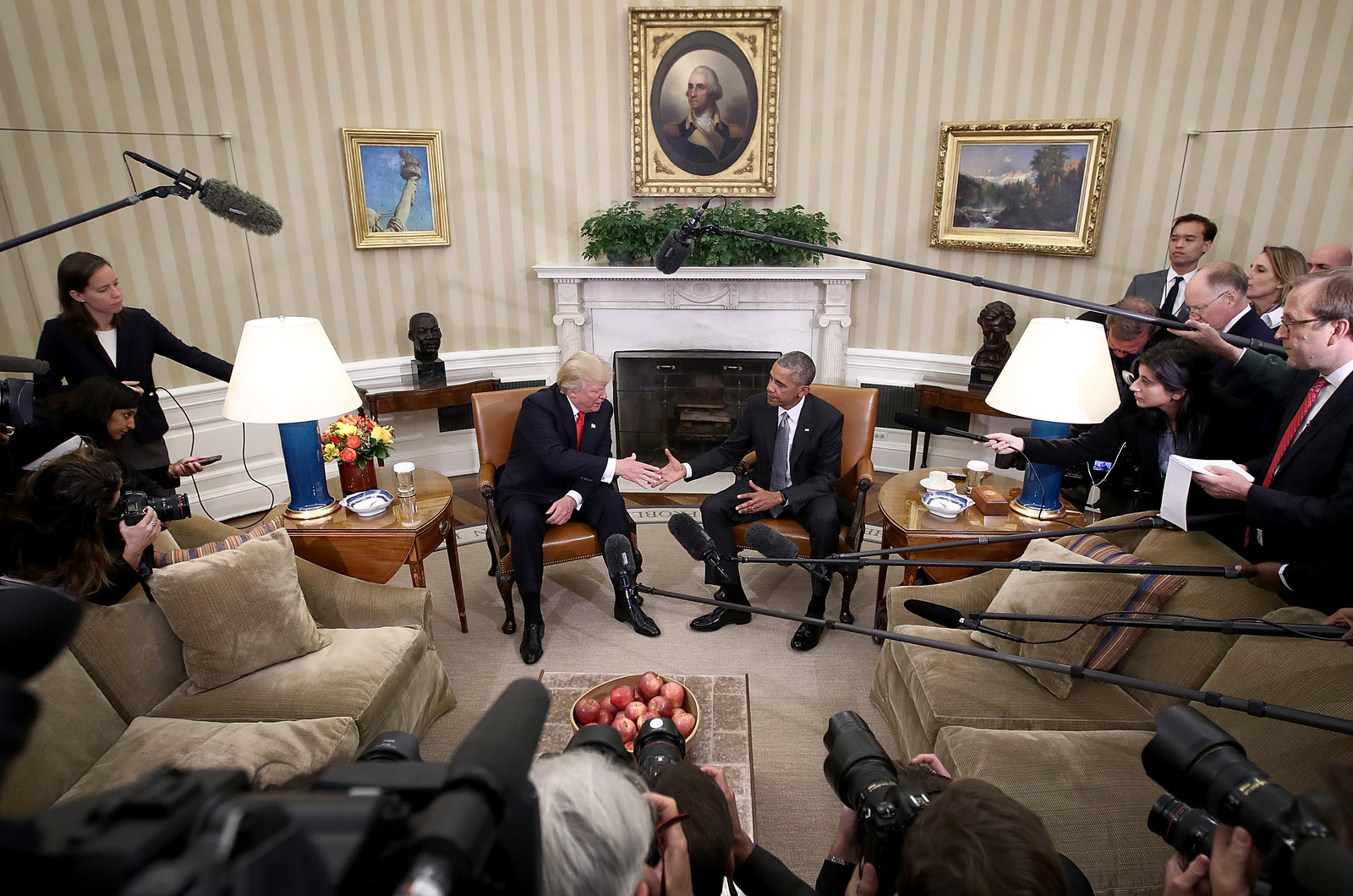 Both men ignored questions from reporters, including whether Obama still thought Trump is a threat to the republic.
There was plenty of speculation about how the meeting would go. Trump was the leading force behind an ugly, years-long conspiracy theory that Obama wasn't born in the United States.
Obama addressed the campaign rhetoric at the White House on Wednesday, telling reporters he had instructed his staff to work with Trump to ensure a smooth transition of power.
"Now, it is no secret that the president-elect and I have some pretty significant differences. But remember, eight years ago, President Bush and I had some pretty significant differences. But President Bush's team could not have been more professional or more gracious in making sure we had a smooth transition so that we could hit the ground running," Obama said. "So I have instructed my team to follow the example that President Bush's team set eight years ago, and work as hard as we can to make sure that this is a successful transition for the president-elect."
Following his meeting with Obama, Trump met with Speaker of the House Paul Ryan.
Trump said he and Ryan had "a very detailed meeting, and we're going to lower taxes, as you know, health care we're going to make it affordable."
Ryan also said he had a great meeting with Trump, adding that "we're going to hit the ground running to get this country turned around and make America great again."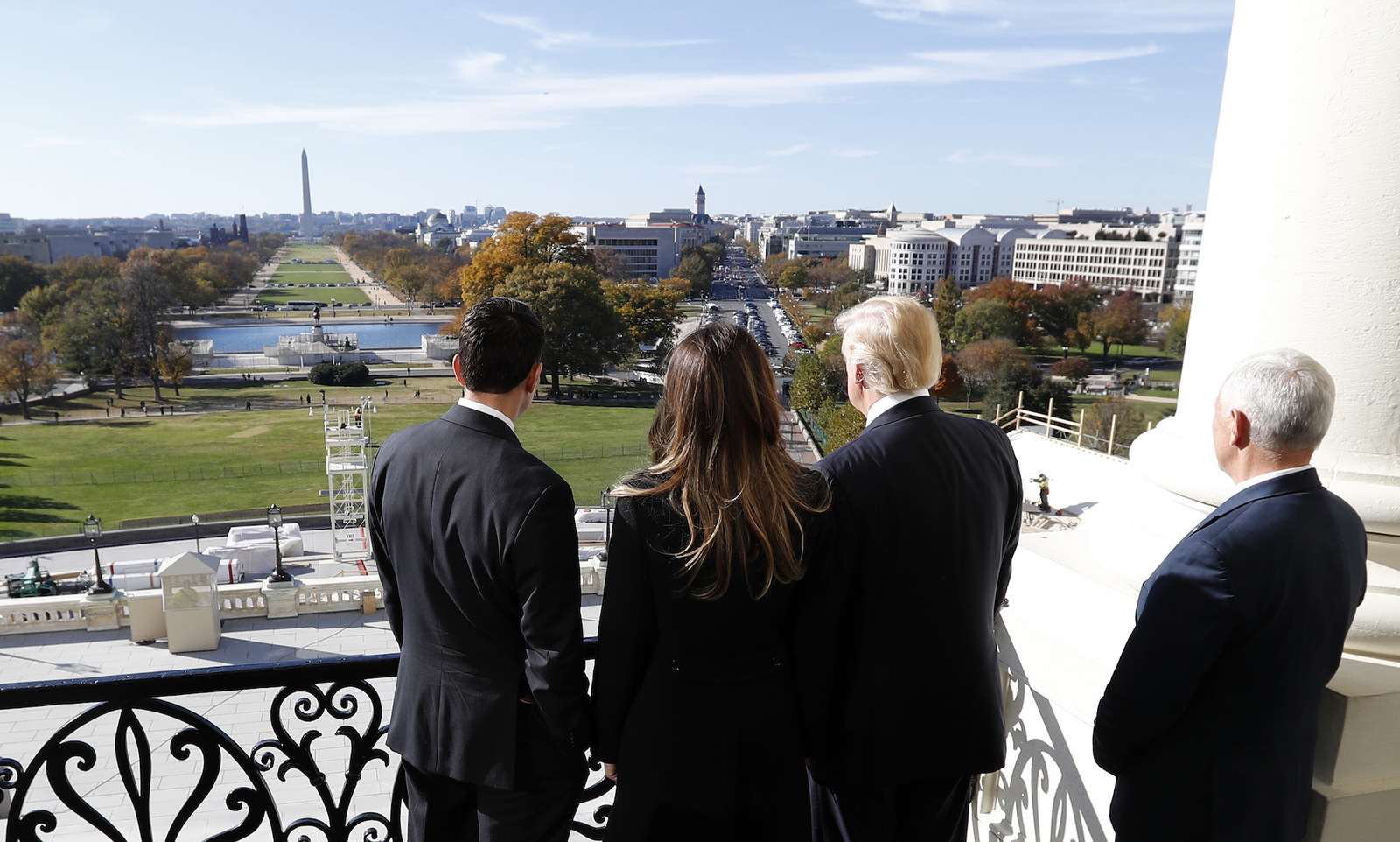 Ryan then led Trump, his wife Melania, and Vice President-elect Mike Pence to his balcony and pointed to various sights around the city, according to the White House press pool.
When he walked by reporters, Trump called the view of the National Mall "absolutely beautiful."
Trump's surrogates have already reached out to a number of lawmakers to discuss plans such as repealing Obamacare, cutting taxes, and reducing regulations, according to Politico.
Trump also met with Senate Majority Leader Mitch McConnell.
"We have a lot to do," Trump said to reporters following his meeting with McConnell. "We're going to work very strongly on immigration, health care and we're looking at jobs, big league jobs."