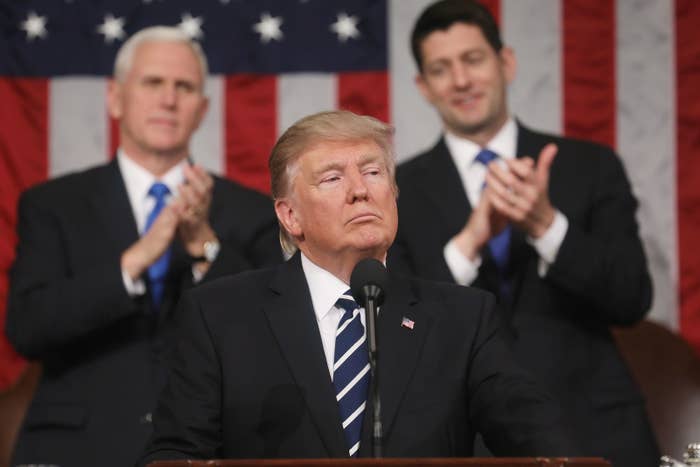 Here's what you need to know:
President Trump delivered a major televised speech to a joint session of Congress on Tuesday — notably on script, in a measured tone, and without his usual bombast — that laid out his nationalist agenda for the country and called on Congress to come together to focus on a vast array of domestic programs and sharply increase military spending. But he didn't say how he'd pay for it.
His speech called for unity, and included the lines "the time for small thinking is over. The time for trivial fights is behind us" — which drew some laughter from Democrats, given the president's Twitter habits. He said the nation needs to attempt "bold and daring things."
He reiterated that he'd open an office for "American victims" of "immigration crime." Some of Trump's guests were the family members of people who were killed by undocumented immigrants.
Trump also said, "my administration wants to work with members in both parties to make child care accessible and affordable, to help ensure new parents have paid family leave" — which is out of the Democratic playbook.
And he called for a $1 trillion investment in infrastructure.
Right off the bat, Trump referenced the spate of anti-Semitic attacks around the nation — after being criticized for not addressing them head-on and last week's shooting outside Kansas City.
Trump called on Democrats and Republicans to repeal and replace Obamacare, and said that under his plan, Americans would able to purchase "their own coverage, through the use of tax credits and expanded health savings accounts."
There was a touching moment when he honored the widow of a Navy SEAL who recently died on a mission. Trump, though, said the raid "generated large amounts of vital intelligence," which is disputed.
On the lighter side, Trump was seen practicing his speech live in the limo on the way to the Capitol — and the internet knew what to do.
Democrats Call Trump's Immigrant Crime Office "Scary"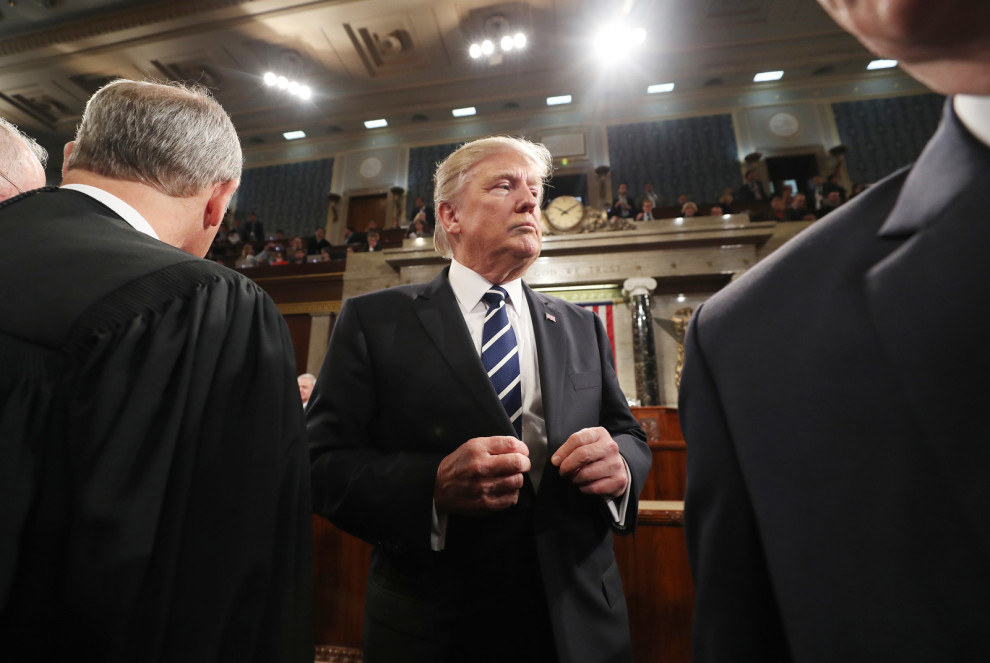 WASHINGTON — In his first address to Congress, President Donald Trump talked about his plan to create an office for the victims of crimes committed by immigrants, and Democrats immediately decried it as a cynical attempt to stoke fear.
Boos could be heard throughout the House chamber on Capitol Hill after Trump declared that he had told the Department of Homeland Security to create an office called VOICE, or Victims of Immigration Crime Engagement, to give "voice to those who have been ignored by our media, and silenced by special interests." He then spoke about the families of three Americans who had been killed by undocumented immigrants, pointing them out in the crowd.
Democratic Sen. Chris Coons said after the speech that he understands Americans' desire to be safe but that the creation of the office, and the president's focus on those killed by immigrants, "continues to inflame passions against immigrants and to highlight a divisive aspect of his focus on immigration."
—Emma Loop and Lissandra Villa
Trump Makes Big Promises But Leaves Republicans To Figure Out The Details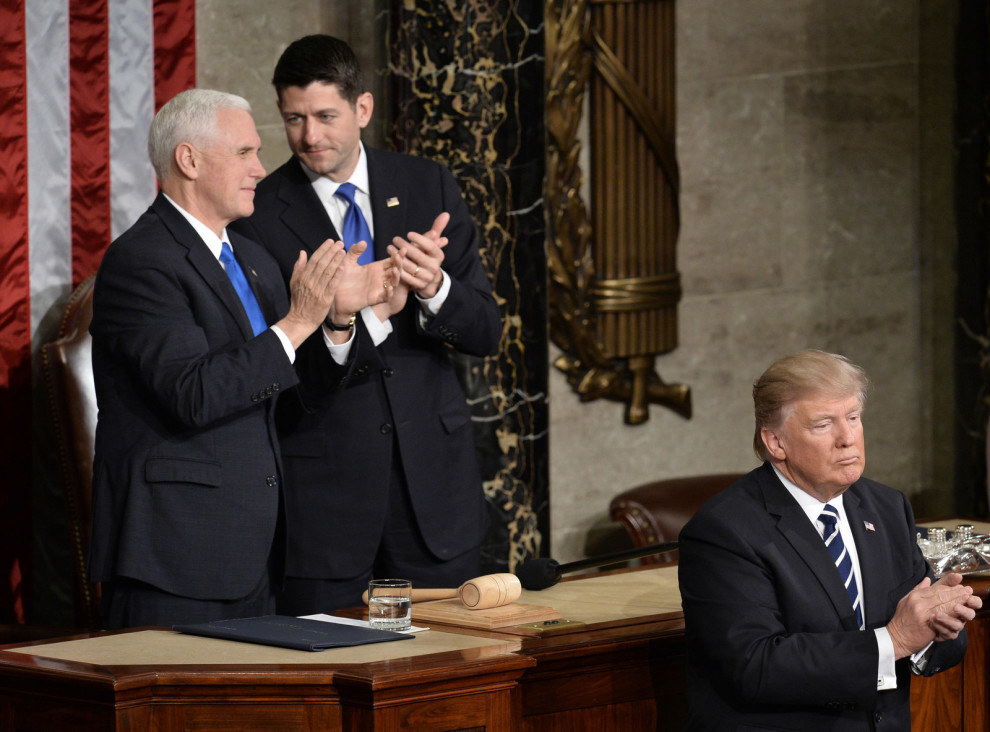 WASHINGTON — President Trump laid out an ambitious agenda for the country during a primetime joint address before Congress Tuesday evening, but Republicans are still far from coalescing around specific plans to fulfill those promises.
From the budget to health care and tax reforms, Trump spoke for an hour in mostly broad strokes, offering his vision for the country — a more optimistic one than he's presented in past speeches. But he gave little in the way of specific proposals or timelines, nor did he address the complicated political calculus and legislative process needed to push through those items.
—Tarini Parti and Alexis Levinson Read more here.
Democratic rebuttal to Trump's speech sparks endless memes
Former Kentucky Gov. Steve Beshear delivered the Democratic rebuttal to President Trump's speech Tuesday night. Beshear hit a number of policy points, but for many viewers the issues were eclipsed by the staging of the message.
Some wondered about the location, which they likened to a "haunted diner."
Others thought the message looked like a commercial for medicine or insurance.
Or like something from a zombie flick.
Finally, some thought the message looked like something else altogether.
Trump announces federal government will track immigrant crime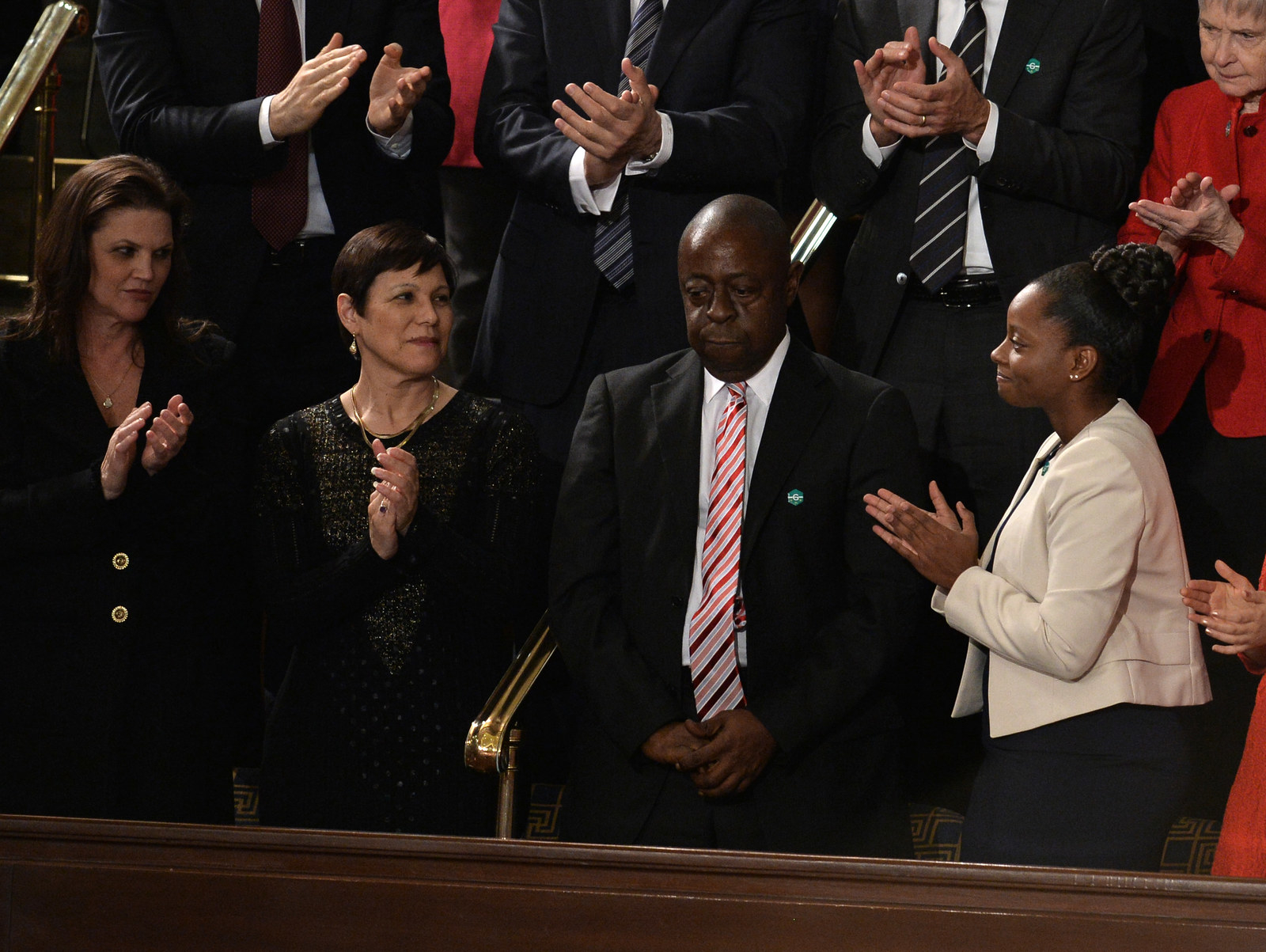 Trump has announced he ordered the federal government to create a new program for the victims of crimes committed by immigrants.
Trump invited Jamiel Shaw, a man whose 17-year-old son was killed by an undocumented immigrant, to Tuesday's address. Shaw had been a presence on the Trump campaign trail, and he was joined on Tuesday by others whose family members were killed by undocumented immigrants.
Trump said he had ordered the Department of Homeland Security to create a new office to serve people like them.
"The office is called VOICE — Victims of Immigration Crime Engagement," Trump said. "We are providing a voice to those who have been ignored by our media, and silenced by special interests."
The office was included in Trump's executive order regarding sanctuary cities. In the order, he promises "proactive, timely, adequate, and professional services to victims" but does not elaborate on what those might include. The order also requires the office to provide quarterly reports on the effect of "the victimization of criminal aliens."
On Tuesday, Trump offered his condolences to the family members in the audience.
"I want you to know — we will never stop fighting for justice," Trump said. "Your loved ones will never be forgotten, we will always honor their memory."
—Claudia Koerner
Trump thanks widow of Navy SEAL William Ryan Owens during address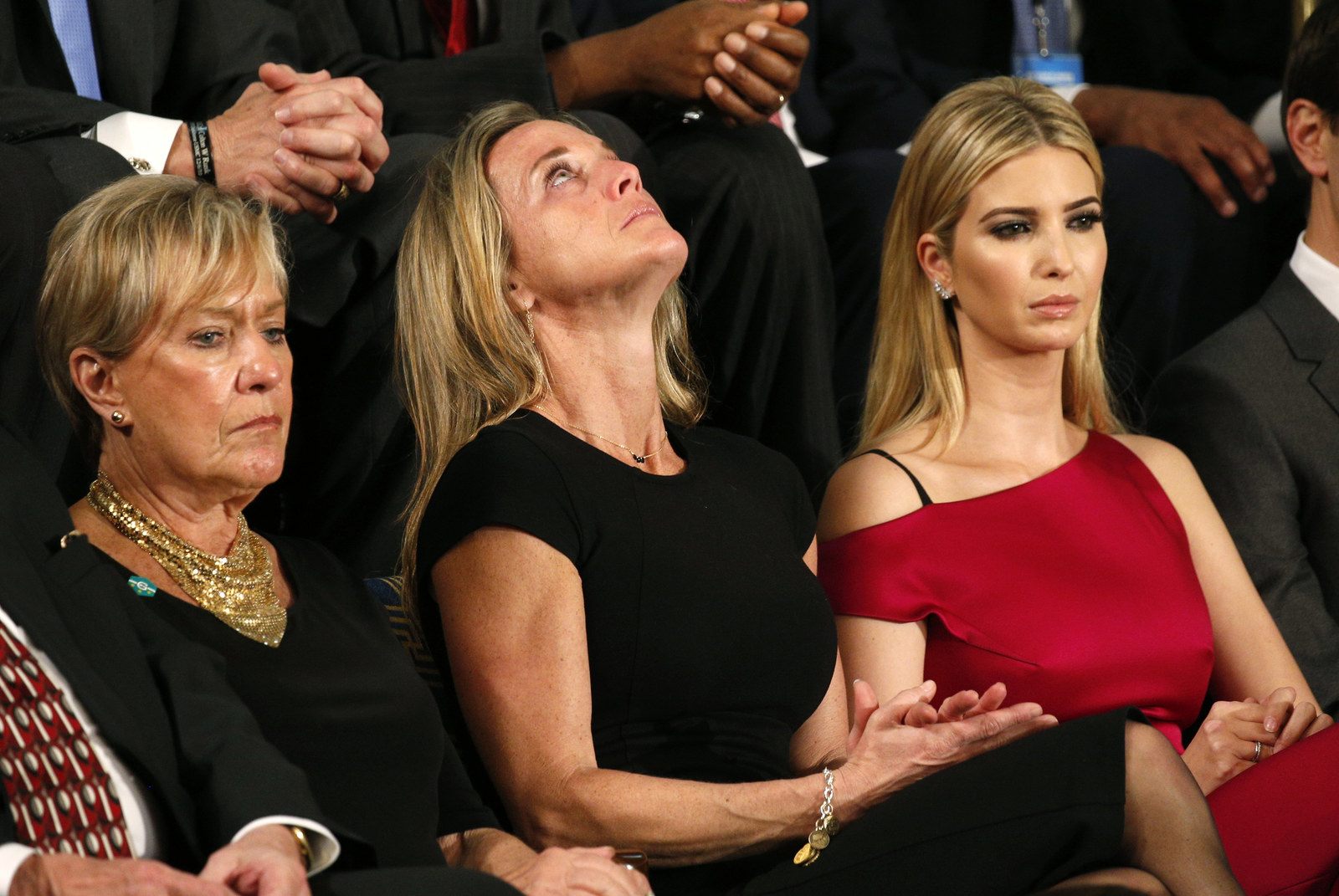 President Donald Trump thanked the widow of William Ryan Owens, the Navy SEAL killed in a Yemen raid in January, during his first address to Congress Tuesday night.
"Ryan's legacy is etched into eternity," Trump told Carryn Owens as she sat next to Trump's daughter Ivanka.
Trump's comment to Owens' widow generated one of the longest applauses of the night, during which she wept and intermittently looked up.
"And Ryan is looking down right now, you know that," Trump said, referring to the long-standing ovation. "He's very happy because I think he just broke a record."
Trump also said Owens had been "part of a highly successful raid that generated large amounts of vital intelligence that will lead to many more victories in the future against our enemy."
However, the raid has not been widely seen as a success, and military sources have said the operation yielded no significant intelligence.
Days after the raid, the military posted a video and pointed to it as evidence that the operation had produced valuable intelligence. The video, however, was 10 years old.
Sen. John McCain has also called the raid, which resulted in the deaths of civilians, a "failure."
The first major military operation approved by Trump, the operation has raised questions over whether the president approved the mission without sufficient intelligence on the ground.
Before his address to Congress, Trump also seemed to pass blame on the mission to the military during an interview on Fox, saying, "this was something that was, you know, just — they wanted to do."
"And they lost Ryan," Trump said.
—Salvador Hernandez
Trump Was Seen Practicing His Speech And People Are Hilariously Captioning Him
In the presidential limo on his way to the Capitol to deliver an address to a joint session of Congress, live cameras captured President Trump seemingly rehearsing lines from his speech.
People tried to closely read his lips — well, people didn't try that hard. They had their fun with it, and started to hilariously imagine what he could have been saying to himself.
They suggested everything from vocal warmups ("Ow now brown cow") to imagined conversations with himself ("I'm good enough, I'm smart enough, and doggone it, people like me"). Read more of this story here.
—Tanya Chen
Trump promises affordable child care, paid family leave to new parents
Trump promised affordable child care and paid leave to new parents, an issue that has been previously promoted by his daughter Ivanka.
"My administration wants to work with members in both parties to make child care accessible and affordable, to help ensure new parents have paid family leave," Trump said Tuesday.
In a survey of 41 countries, only the US does not currently provide any sort of paid parental leave.
It was one of the few lines of Tuesday's address that drew applause from Democrats as well as Republicans. Trump did not immediately provide any information about how he would pursue the policy. —Claudia Koerner
Here are Trump's five points for repealing and replacing Obamacare:
Trump said the Affordable Care Act passed under President Obama "is collapsing –- and we must act decisively to protect all Americans." He added, "So I am calling on all Democrats and Republicans in the Congress to work with us to save Americans from this imploding Obamacare disaster."
"First, we should ensure that Americans with pre-existing conditions have access to coverage, and that we have a stable transition for Americans currently enrolled in the health care exchanges."

"Secondly, we should help Americans purchase their own coverage, through the use of tax credits and expanded Health Savings Accounts — but it must be the plan they want, not the plan forced on them by the government."

"Thirdly, we should give our great state governors the resources and flexibility they need with Medicaid to make sure no one is left out."

"Fourth, we should implement legal reforms that protect patients and doctors from unnecessary costs that drive up the price of insurance — and work to bring down the artificially high price of drugs and bring them down immediately."

"Finally, the time has come to give Americans the freedom to purchase health insurance across state lines — creating a truly competitive national marketplace that will bring cost way down and provide far better care." —Tom Namako
Trump Condemned Bomb Threats And The "Shooting In Kansas City" During His Big Speech
Donald Trump began his first major address as president Tuesday night by condemning recent incidents of hate around the nation.
"Tonight, as we mark the conclusion of our celebration of Black History Month, we are reminded of our nation's path toward civil rights and the work that still remains," Trump said at the top of his nationally televised remarks. "Recent threats targeting Jewish Community Centers and vandalism of Jewish cemeteries, as well as last week's shooting in Kansas City, remind us that while we may be a nation divided on policies, we are a country that stands united in condemning hate and evil in all its forms."
On Monday, bomb threats were called into 30 Jewish community centers and schools in at least 18 states, bringing the total number of anti-Semitic threats across the US and Canada this year to 100.
Trump has been criticized for not addressing the attacks head-on. —Mike Hayes
Here Is The Complete Text Of President Trump's First Address To Congress
President Donald Trump delivered his first address to a joint session of Congress on Tuesday night.
Trump says "sometimes it's the reverse," when asked about anti-Semitic threats and attacks
WASHINGTON — Asked about the recent wave of anti-Semitic attacks and threats across the nation, President Trump on Tuesday told a group of state attorneys general that "sometimes it's the reverse," Pennsylvania Attorney General Josh Shapiro said of Trump's comments in his and other officials' meeting with the president.
"He just said, 'Sometimes it's the reverse, to make people — or to make others — look bad,' and he used the word 'reverse' I would say two to three times in his comments," Shapiro said. "He did correctly say at the top that it was reprehensible."
Asked for further information about the purpose of the president's comments, Shapiro only said, "I really don't know what he means, or why he said that," adding that Trump said he would be speaking about the issue in his remarks on Tuesday night.
Saying that he hoped to see clarification from the president in those remarks, Shapiro added, "It didn't make a whole lot of sense to me."
White House spokespeople did not immediately respond to requests for comment.
Sen. Chuck Schumer, the Senate minority leader, said, "That is an absurd and obscene statement."
—Chris Geidner
Democrats have invited people impacted by the travel ban and undocumented immigrants to the speech
Democrats are using their guest invitations to send Donald Trump a message as he gives his joint address to Congress tonight.
From students affected by the travel ban to undocumented immigrants, the galleries are poised to be filled by people who have felt targeted by the new administration.
"Donald Trump needs to see the diversity, needs to see the policies that directly impact our communities," said Oscar Juarez-Luna, Rep. Jared Polis's guest. Juarez-Luna said he is "undocumented and unafraid."
When asked about potential disruptions during the joint address, Democratic Whip Steny Hoyer told reporters Tuesday that members were only urged to be respectful.
An emotional press conference on Tuesday organized by Rhode Island Rep. Jim Langevin featured some of the House Democrats' guests and a message of inclusivity. Langevin said the guests "will serve as a respectful reminder" that diversity is good.
"If you're in Trump's ever expansive definition of what is an enemy, you will be treated like a criminal," said Rep. Judy Chu. Her guest, Sara Yarjani, is a graduate student who was affected by Trump's travel ban. "I want President Trump to see with his own eyes the people he has hurt."
Rep. Chellie Pingree made the point that it would be beneficial for the public as well as Trump to see people attached to public debate.
Other forms of protest include female members of the Democratic caucus wearing white to remind Trump of the suffrage movement.
This approach is a break from previous ways Democrats have protested Trump, like those who skipped his inauguration altogether in January.
—Lissandra Villa