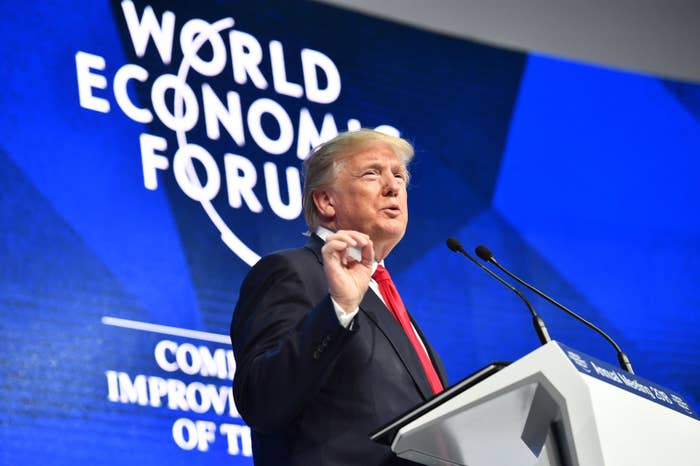 Let's set the scene:
President Donald Trump delivered a standard "America First" teleprompter speech to global elites gathered at the World Economic Forum at Davos on Friday, but lit up when asked in a later question-and-answer session what in his background prepared him to become president of the United States.
Trump's address was highly anticipated not just for his message, but because hours earlier it was reported that he previously tried to fire the special counsel investigating whether his presidential campaign colluded with Russia. (The counsel, Robert Mueller, was ultimately not fired.)
Before his speech, Trump called the report, "Fake news. Fake news. Typical New York Times. Fake stories."
After weeks of behind-the-back trash talking from global elites, the crowd had a see-saw reaction to Trump. They lined up to gain access to his speech as if he were a rock star, with one woman, who was nearly trampled as people pushed and shoved to get in, saying "I can't believe this is all for Trump."
"It's like trying to get into a Rolling Stones concert," said one German journalist waiting in the massive, sweaty crowd.
But World Economic Forum leader Klaus Schwab, while introducing Trump, was booed at his own event for saying, "I'm aware that your strong leadership is open to misconceptions and biased interpretations."
And when Schwab said, "Mr President, you cannot imagine how much we are looking forward to your speech," there were laughs around the room.
Still, despite many rumors of a planned walkout, nothing happened. Trump ended his speech to applause.
The most interesting part: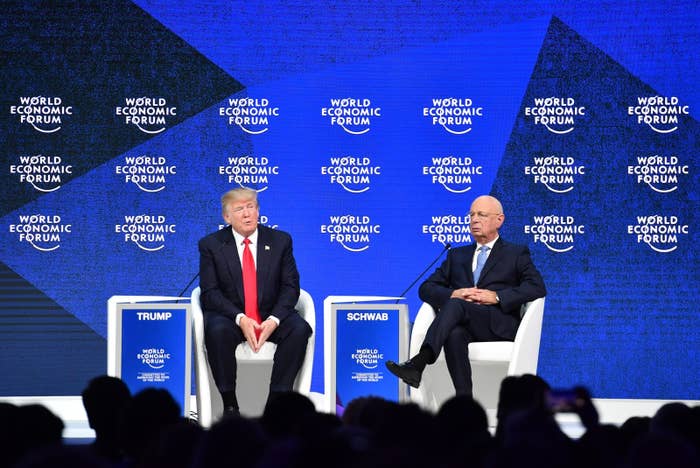 Then there was this strange moment:
Another weird thing: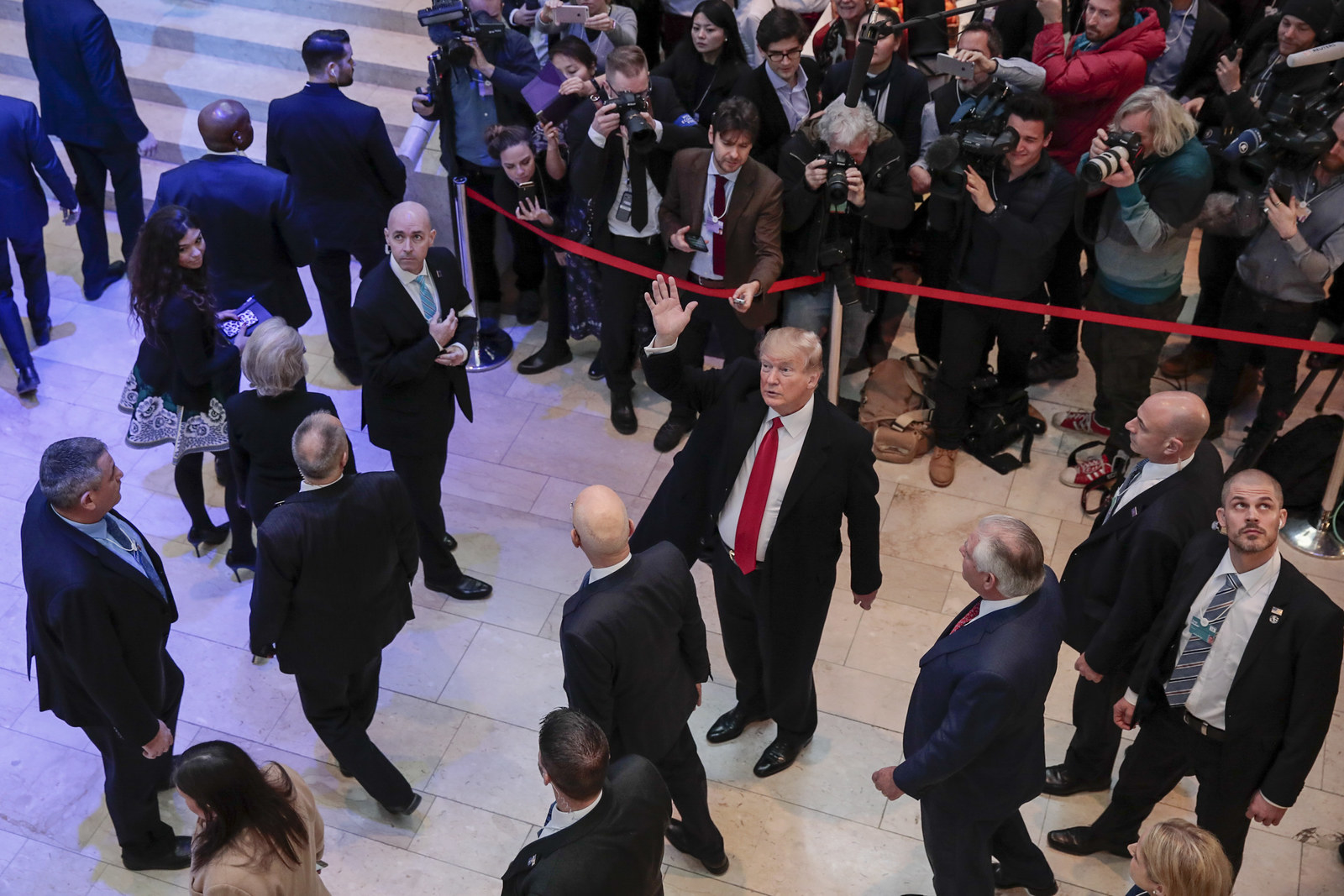 And finally, here's some key parts from Trump's speech:
On regulation and bureaucrats:
This is especially true because we have undertaken the most extensively regulatory reduction ever conceived. Regulation is stealth taxation. The U.S. Like many other countries unelected bureaucrats, we have, believe me, we have them all over the place, and they have imposed crushing and anti-business and anti-worker regulations on our citizens with no vote, no legislative debate, and no real accountability. In America those days are over.
Mentions of terrorism and immigration policy overhaul in the same breath:
When it comes to terrorism we will do whatever is necessary to protect our nation. We will defend our citizens and our borders. We are also securing our immigration system as a matter of both national and economic security. America is a cutting-edge economy but our immigration system is stuck in the past.

We must replace our current system of extended family chain migration with a merit-based system of admissions that selects new arrivals based on their ability to contribute to our economy, to support themselves financially, and to strengthen our country.
On "America first":
I believe in America. As president of the United States I will always put America first just like the leaders of other countries should put their country first also. But America first does not mean America alone. When the United States grows, so does the world. American prosperity has created countless jobs all around the globe and the drive for excellence, creativity, and innovation in the U.S. Has led to important discoveries that help people everywhere live more prosperous and far healthier lives.
On trade:
As the United States pursues domestic reforms to unleash jobs and growth, we are also working to reform the international trading system so that it promotes broadly-shared prosperity and rewards to those who pray -- play by the rules. We cannot have free and open trade if some countries exploit the system at the expense of others. We support free trade but it needs to be fair and it needs to be reciprocal because in the end unfair trade undermines us all. The United States will no longer turn a blind eye to unfair economic practices including massive intellectual property theft, industrial subsidies, and pervasive state-led economic planning.

These and other predatory behaviors are distorting the global markets and harming businesses and workers not just in the U.S. But around the globe.
Editor-in-Chief Ben Smith and World editor Miriam Elder are reporting from Davos. Hazel Shearing and Matt Champion reported from London. Tom Namako reported from New York.
Read more about Trump's trip to Davos: