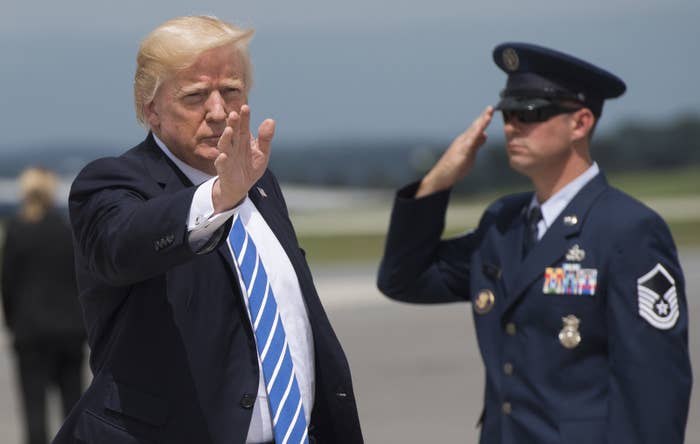 Addressing the country in a nationally televised speech Monday night, President Donald Trump described his commitment to continuing the 16-year-long war in Afghanistan, but did not say how many more troops might be heading to the region.
The address, delivered to troops at Fort Myer in Virginia, laid out the Trump administration's revised strategy for the war in Afghanistan. During his campaign, Trump frequently criticized US involvement overseas, including in Afghanistan. In 2013, he tweeted in favor of a "speedy withdrawal."
Acknowledging his history of criticizing the US military presence there, Trump said Monday that he had changed his mind after discussions with defense advisers.

"My original instinct was to pull out, and historically I like following my instincts," Trump said. "But all my life I have heard decisions are much different when you sit behind the desk in the Oval Office, in other words, when you are president of the United States."
A hasty departure of American troops from Afghanistan would create a power vacuum that would foster the spread of terrorist groups in the region, Trump said. He hinted that the US would increase its presence in the war-torn country, and urge NATO allies to do the same. But he did not give specifics about how many additional troops the US plans to send under his new policy.
"We will not talk about numbers of troops or plans for other military activities," he said.
Right-wing supporters did not appear to be on board. Breitbart News called it a flip-flop, and other pro-Trump media figures bemoaned the president's departure from the nationalist message he promoted during his presidential campaign.

In the meantime, Republican defense hawks including Senators John McCain and Lindsey Graham praised the president's speech.
Though military officials also declined to provide details on what the administration's revised strategy will look like, US Defense Secretary James Mattis reportedly received authorization in June to send as many as 3,900 troops to Afghanistan to expand and support US military efforts there. Trump aides recently hinted to the New York Times that any increase in force levels would be tied to requirements that Afghans would do more to fight corruption or meet other new standards of good governance.

In his speech Monday, Trump repeated his pledge to he give more autonomy to military commanders in the field. "Micromanagement from Washington, DC, does not win battles," he said.
He also struck a harsh tone on Pakistan, criticizing the US ally for providing support to the Taliban and other extremist groups. "We have been paying Pakistan billions and billions of dollars, at the same time they are housing the same terrorists we are fighting," Trump said. "That will have to change. That will change immediately."
He did not, however, provide details on how the uneasy alliance between the two countries might change. And while he lamented how long the war in Afghanistan has lasted, he said he would not offer any timeframe for when US troops might withdraw.
"America will work with the Afghan government as long as we see determination and progress," he said. "However, our commitment is not unlimited, and our support is not a blank check."
To the troops in the audience, Trump offered a simple message: "In the end, we will win."