A car struck pedestrians in New York City's Times Square on Thursday, killing an 18-year-old woman.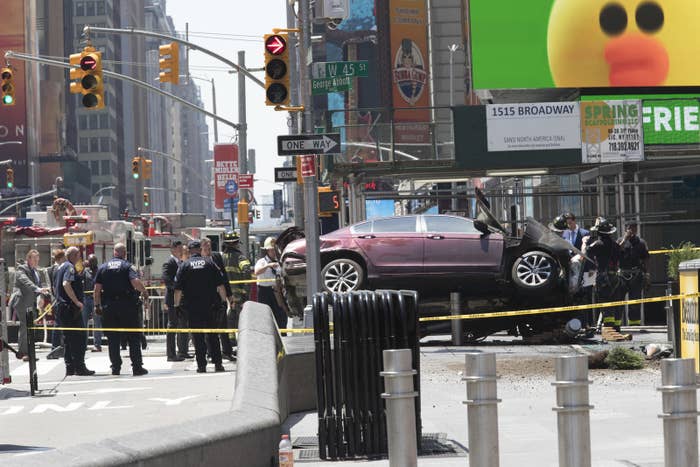 Authorities identified the woman as Alyssa Elsman from Portage, Michigan. Her Facebook profile says she worked at a Sonic Drive-In and graduated from Portage Central High School.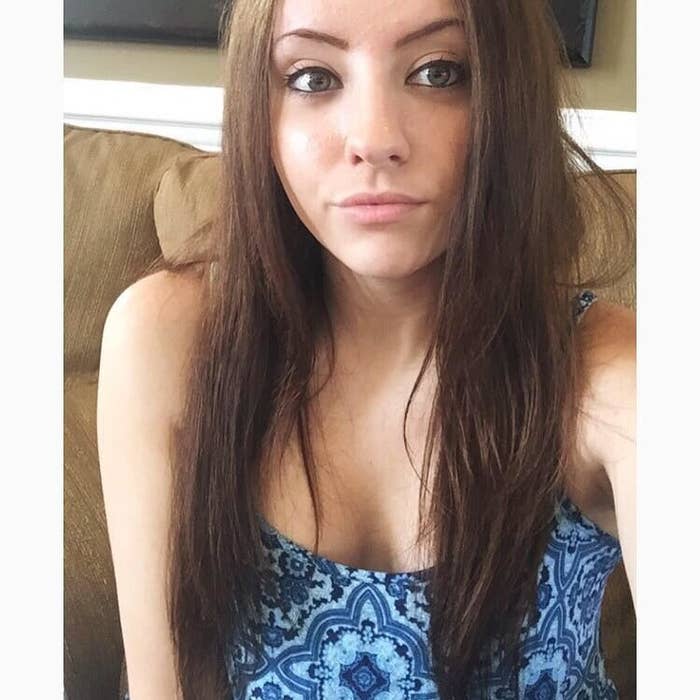 Authorities told reporters 22 other people were injured, four of them critically, in the incident at 42nd Street and Seventh Avenue.
Police said the driver, 26-year-old Bronx resident Richard Rojas, was arrested at the scene. NYPD Commissioner James O'Neill told reporters a preliminary investigation revealed that Rojas had two previous arrests for driving while under the influence of a substance.
Police said they are awaiting results from a toxicology report to determine what substances Rojas was on.
Police said late Thursday that Rojas has been charged with one count of murder, 20 counts of attempted murder, and five counts of aggravated vehicular homicide.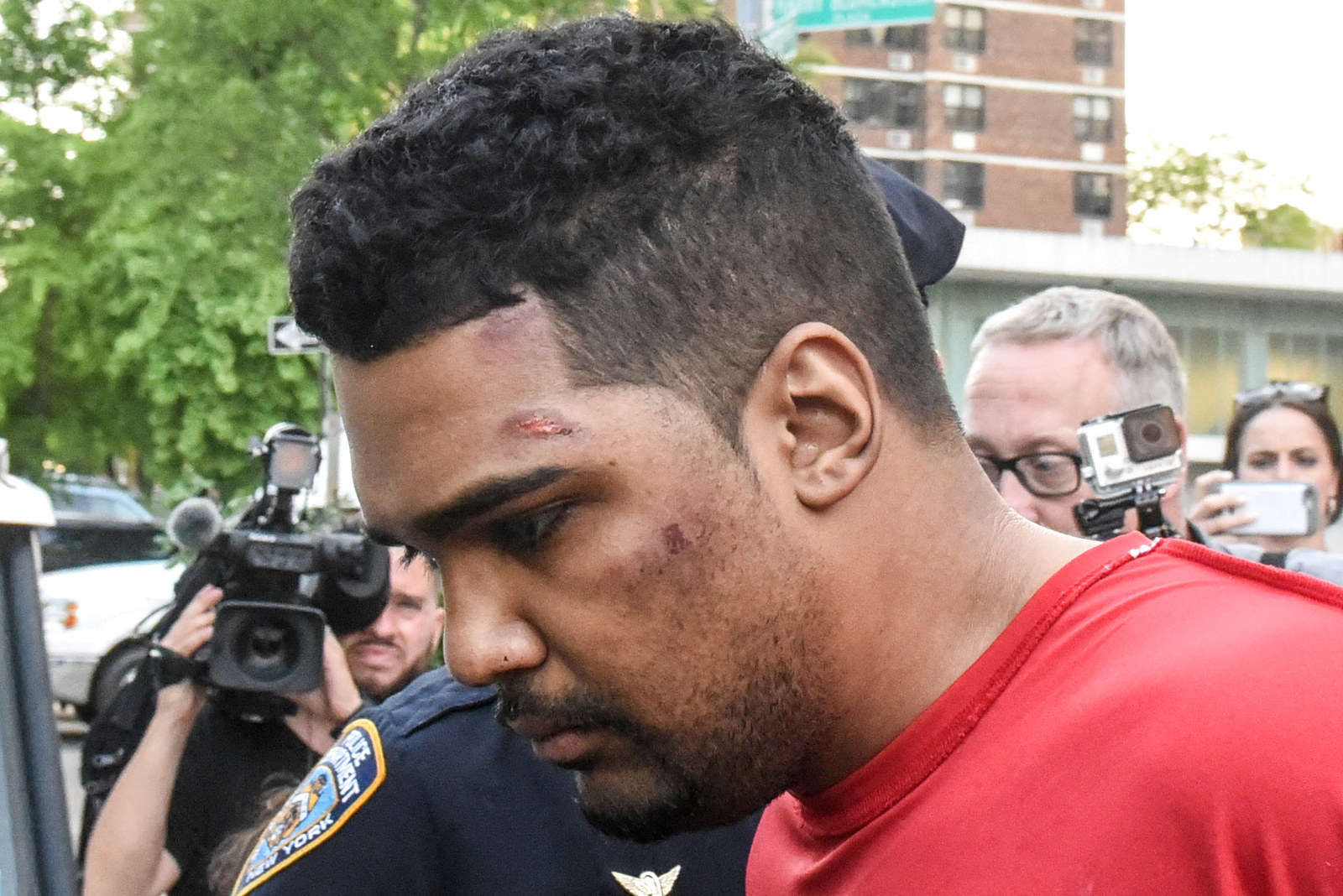 Chief of Manhattan South Detectives William Aubry on Friday said police have obtained a warrant to search Rojas' house. Police already looked through his vehicle and found nothing out of the ordinary, Aubry said.
"Based on the information we have at this moment, there is no indication that this was an act of terrorism," Mayor Bill de Blasio said.
FDNY Commissioner Daniel Nigro said the Elsman was pronounced dead at the scene. Authorities said her 13-year-old sister was among the injured victims.
Nigro said four patients were also taken to hospitals with "various traumatic injuries."
"None of the four are right now likely to perish," Nigro said. "Conditions can change. We're very hopeful, the fact they were treated here quickly and removed quickly, that they will survive."
Three other people received serious injuries and 15 others received minor injuries, Nigro said.
City Councilman Corey Johnson said witnesses described Rojas as appearing drunk, and police said he was being tested for drugs and alcohol.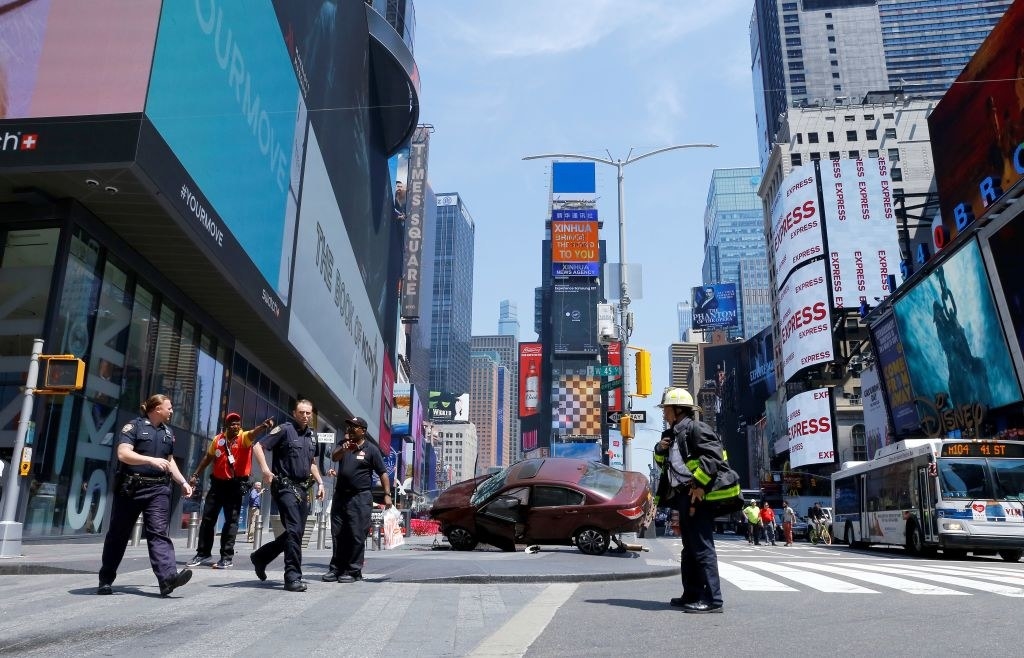 The mayor said Rojas was a US citizen and Navy veteran. His last DWI arrest was in 2015 ABC-7 reported, citing unnamed police sources who said Rojas told officers he "smoked something."
Images from the scene showed people lying on the street after the incident. A Reuters photograph showed a woman with a sheet draped over her body.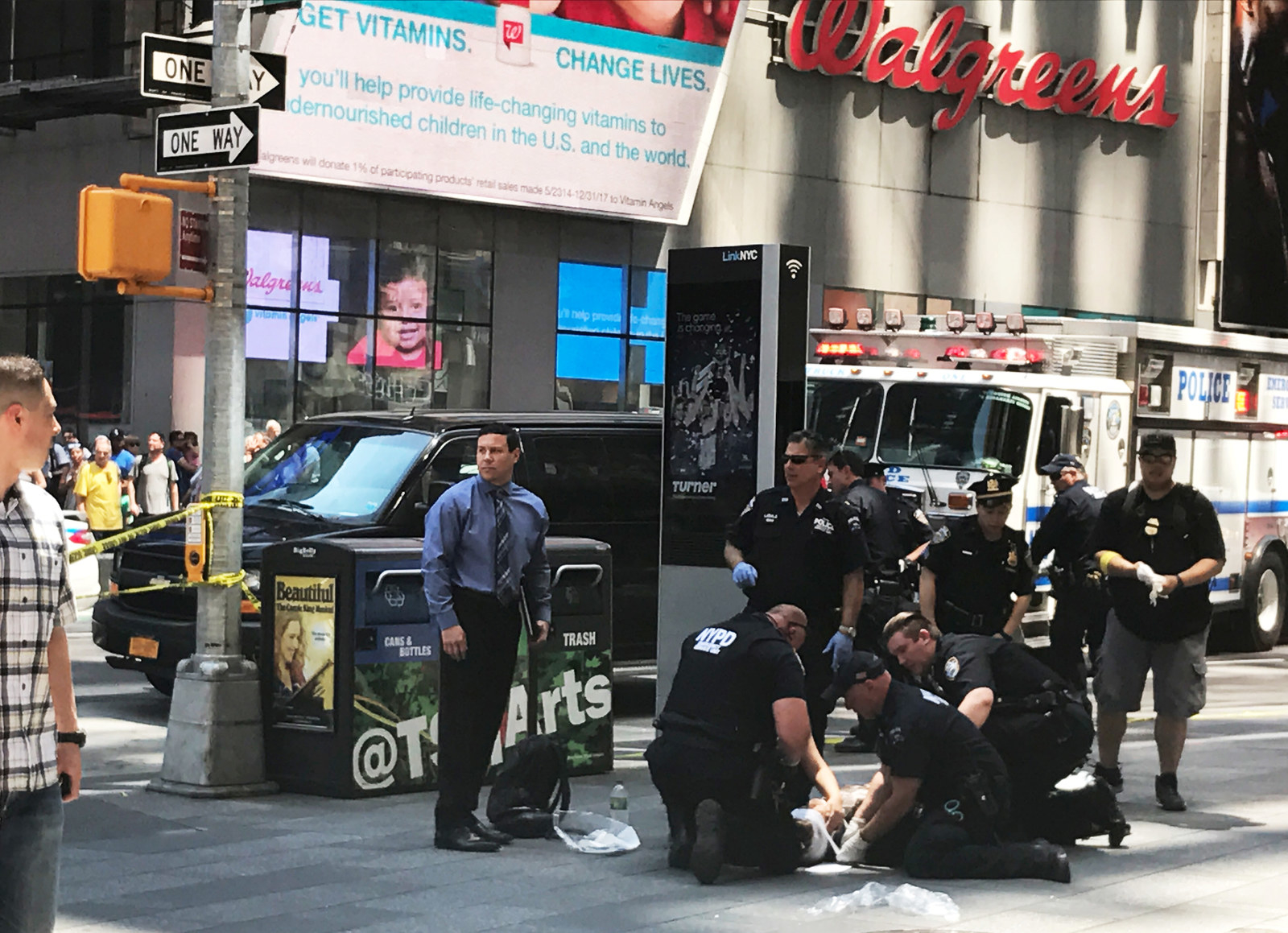 Eyewitness Nicholas Rose told BuzzFeed News he saw the car run through a yellow or red traffic light and hit pedestrians who were crossing the street.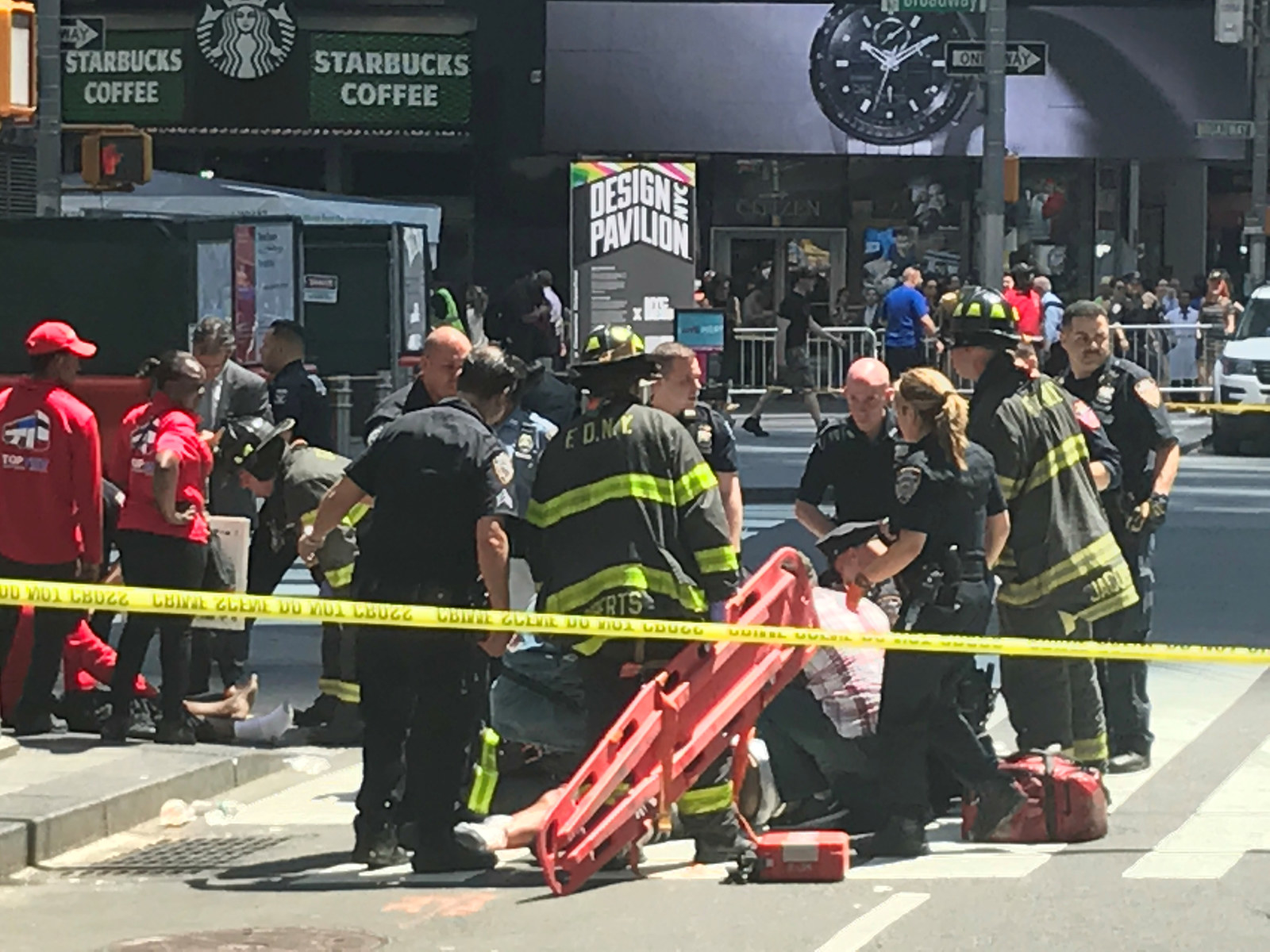 Another eyewitness, Francisco Diaz, who is visiting from Argentina, told BuzzFeed News the car was moving about 60 miles per hour — very fast for the normally congested area. He compared the car to a bowling ball hitting everything in its way. He took this photo: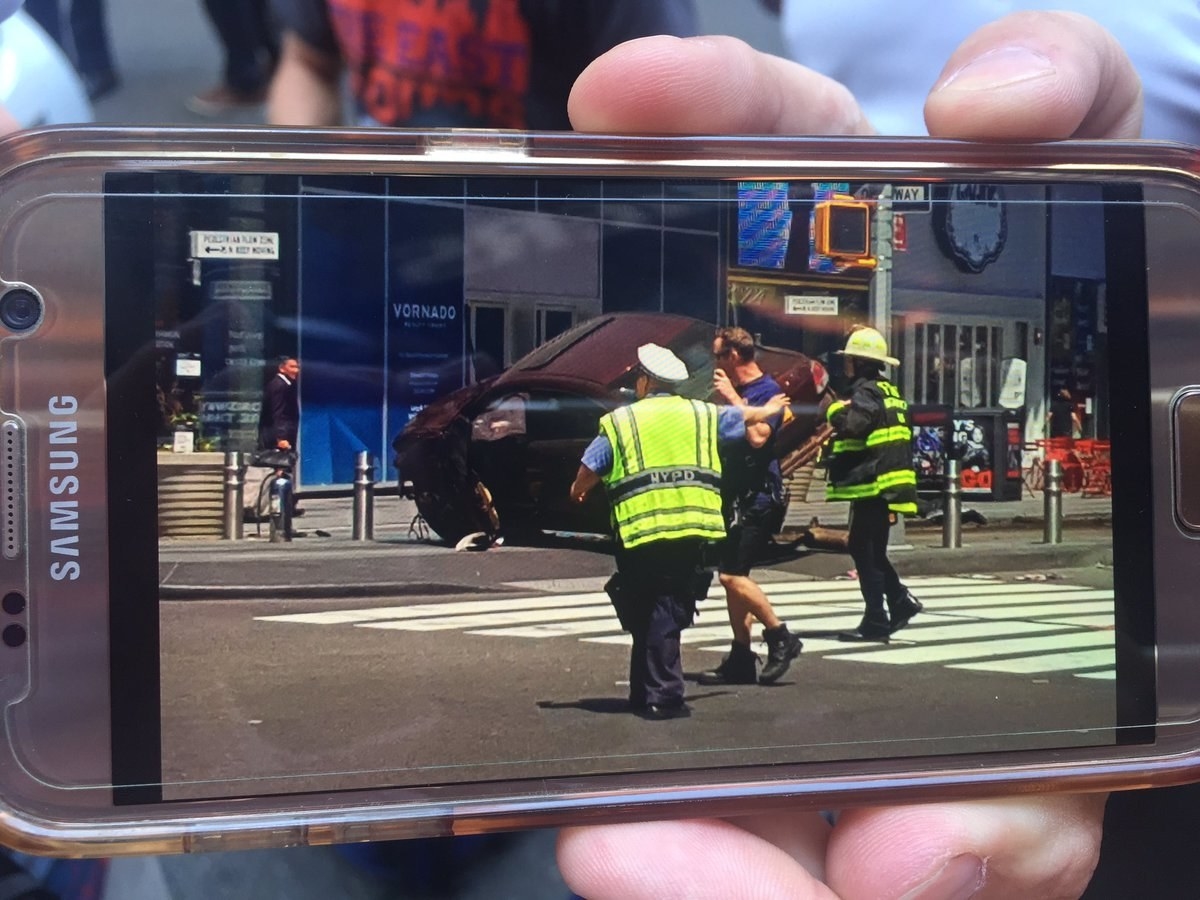 Gov. Andrew Cuomo released the following statement:
Today's events at Times Square were nothing short of horrific. I was briefed at the scene by Commissioner O'Neill and saw firsthand the professionalism and diligence of New York's first responders. As facts continue to emerge, my heart goes out to the victims of this terrible tragedy, as well as their families.
Mary Ann Georgantopoulos, Tasneem Nashrulla, and David Mack contributed to this report.