HERE ARE THE TOP STORIES
North Korea says it tested its first intercontinental ballistic missile — potentially its most powerful weapon yet, and possibly capable of reaching the United States.
The announcement came hours after South Korean defense officials saidNorth Korea had launched a missile from the country's North Phyongan province, which was tracked for 37 minutes and reached an altitude of 2,500 kilometers before it fell in the Sea of Japan.
Tuesday's test comes after a series of missile tests this year, as the United States looks to check North Korea's ability to build a nuclear-tipped missile that could reach North America. Trump took to Twitter to criticize North Korea ruler Kim Jong Un and once again ask China to put pressure on him.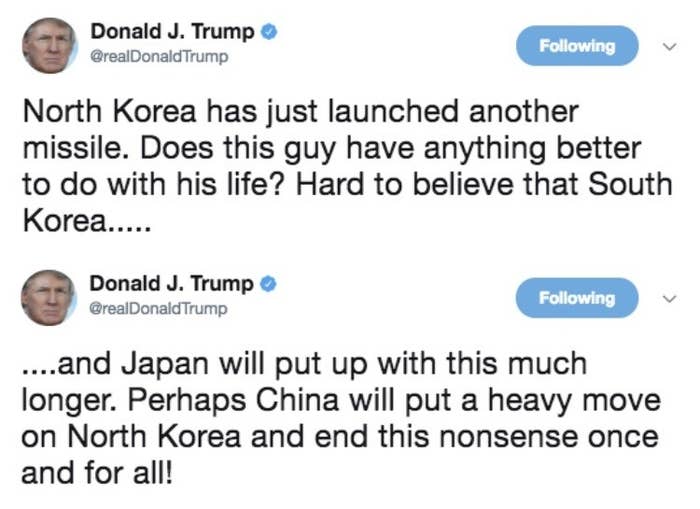 And a little extra
A top Chinese policy expert on North Korea said, however, that Trump's hopes for a "heavy move" by China might be misplaced.
"At its heart, the North Korean nuclear issue is a problem to be resolved between North Korea and the US. North Korea is reacting to the US. China will strongly condemn this test and enforce any measures taken by the UN Security Council — but the US should not try to push its responsibility onto China," said Lu Chao, director of a government think tank in northern China.
QUICK THINGS TO KNOW
Happy 4th of July, America
Hi! Hello! Did you know that Chris Christie, the historically unpopular governorof New Jersey, was busted enjoying a beach that he closed down? And by god, the internet didn't disappoint (see #BeachGate). Meanwhile, the annual feast commemorating freedom, summer, and the invention of light beer is also a big day for the food biz. Americans will spend an estimated $7.1 billion on food during the holiday weekend. We're talking a whole lotta burgers. Enjoy!