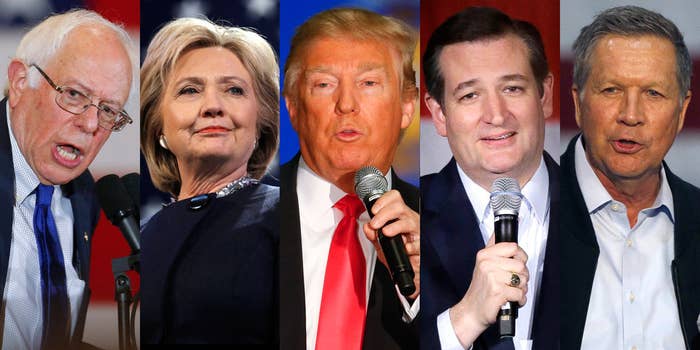 Catch up here:
Bernie Sanders won the Wyoming caucus on Saturday, receiving some 56% of the vote, with 96% of precincts reporting.
It came after he had another victory earlier in the week in Wisconsin.
Ted Cruz easily won the Wisconsin Republican primary, beating out rivals Donald Trump and John Kasich, and blunting Trump's momentum as the national frontrunner.
At a victory rally in Milwaukee, Cruz called his win by double-digit margin a "turning point" as he tries to wrestle the nomination away from Trump.
Trump responded to the loss in a statement calling Cruz "worse than a puppet — he is a Trojan horse, being used by the party bosses."
Still, both Trump and Clinton significantly lead in support from delegates — the people who actually pick the nominee at the July conventions. For Democrats, Wisconsin divvies up 96 delegates on a proportional basis. For the GOP, the winner takes all 42 delegates.
Trump had faced criticism in the past several weeks for saying women should be punished for getting an abortion if the procedure is banned and after his campaign manager, Corey Lewandowski, was charged with battery.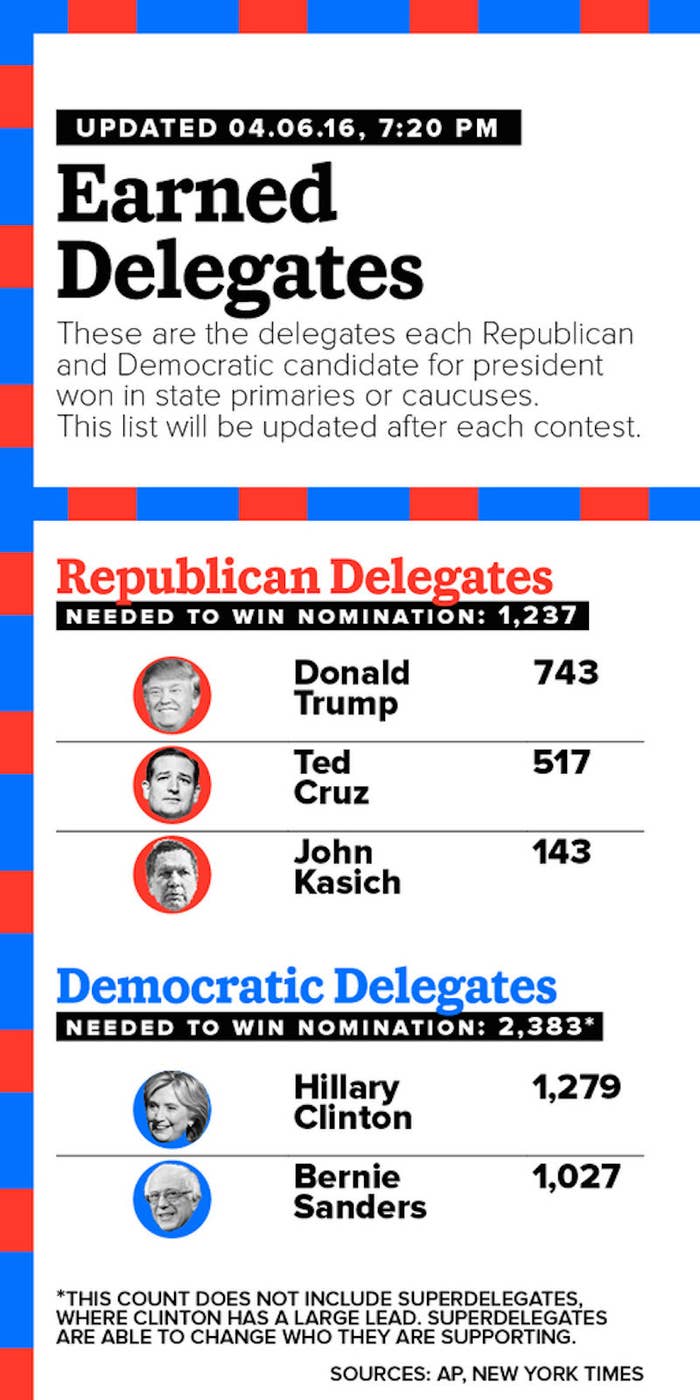 Sanders defeats Clinton in Wyoming caucus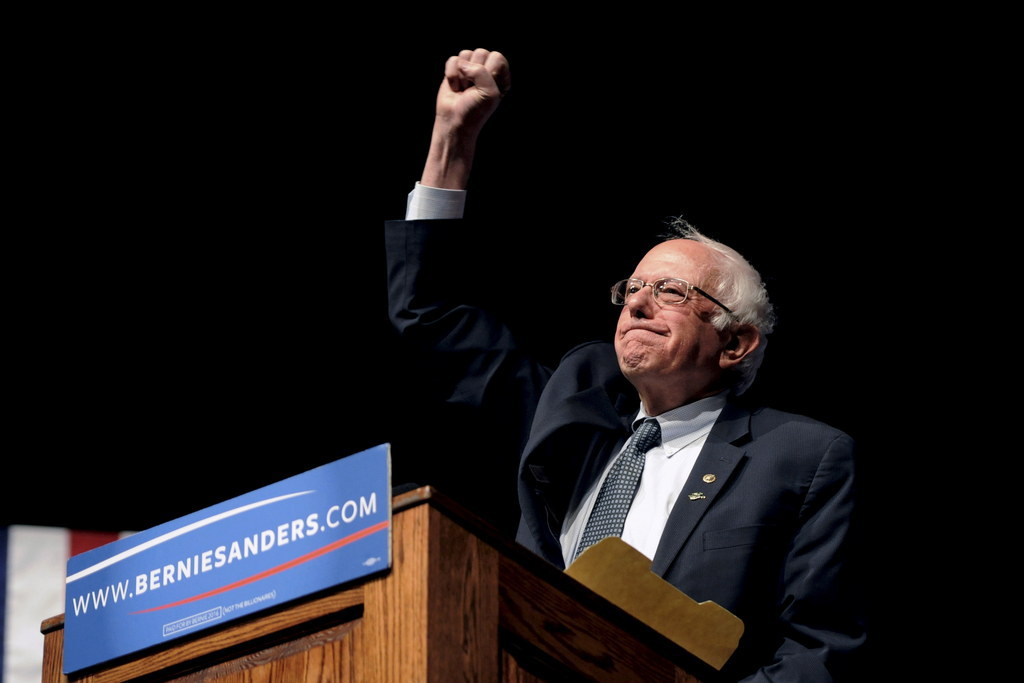 Bernie Sanders scored yet another win in the Democratic primary race against Hillary Clinton on Saturday, winning the Wyoming caucus.
Yet despite the victory, Clinton appeared to have exceeded expectations in a state contest Sanders was expected to win.
After all precincts were reported, Sanders was reported to have won 56% of the votes, but the state's 14 delegates were split down the middle between the two candidates, according to the Associated Press.
Substantially behind in the delegate count, the Wyoming win did little to shorten Clinton's lead over Sanders. Still, the victory means Sanders has now won seven out of the last eight contests against Clinton, adding momentum to his campaign.
Sanders' win in Wyoming was expected, as he has previously performed well in caucus states with high white populations.
Yet Clinton was able to keep the race close Saturday, winning caucuses in Natrona County, Carbon County and Laramie County, according to the New York Times.
At a rally in Queens, New York, Sanders supporters cheered when the senator informed them of his victory.
Wyoming doesn't often get a lot of attention from Democratic candidates during presidential primaries. The state offers only 14 delegates and four super delegates for the race toward the nomination.
Yet, this year the Wyoming caucuses fell as tension between the two candidates increased in recent days. The primaries there were also the last stop for the candidates before they head toward New York, where both are looking to nab the 291 delegates at stake there.
Clinton and Sanders were both hoping a win in Wyoming would offer them momentum before the New York election, an area to which both candidates claim strong ties. Sanders grew up in Brooklyn and Clinton served as the state's Senator from 2001 to 2009.
The senator from Vermont has been buoyed by a string of recent victories in Wisconsin, Washington, Hawaii, Alaska, Utah, and Idaho.
Final Wisconsin Results Show Cruz And Sanders Won With Double-Digit Margins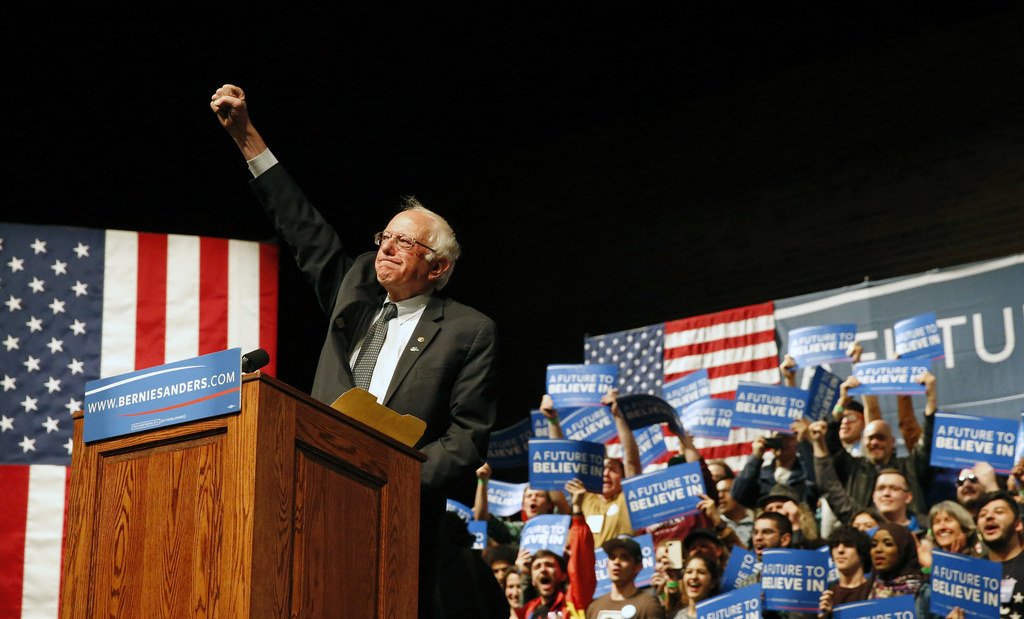 With 100% of precincts reporting in Wisconsin, here's the final primary election breakdown:
Among Democrats, Bernie Sanders won 57% of the vote, taking 47 delegates. Hillary Clinton came in a distant second with 43% of the vote, adding 36 delegates to her tally.
On the Republican side, Ted Cruz won 48% of the vote, taking 36 delegates. Donald Trump came in a distant second with 35% of the vote, adding 6 delegates to his tally. John Kasich came in third place with 14% of the vote, taking 0 delegates.
The next presidential contest comes Saturday when Democrats hold a caucus in Wyoming.
Ted Cruz Tries To Make His Wisconsin Win Last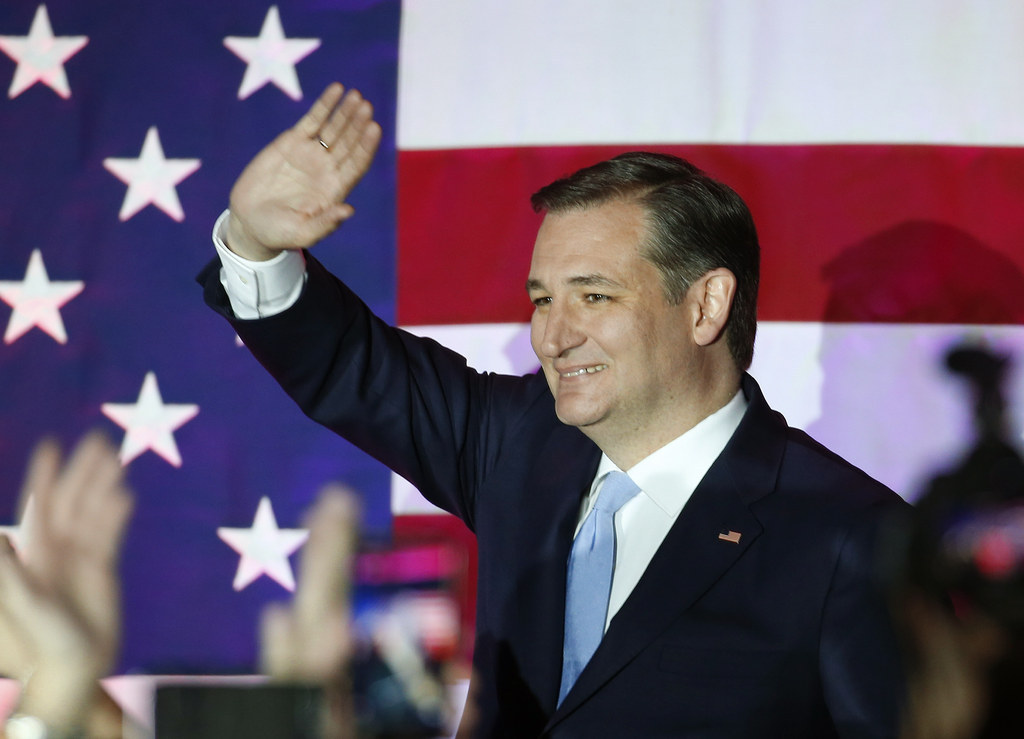 Ted Cruz declared his victory in Wisconsin a turning point in the race on Tuesday.
Both Donald Trump and Cruz kept a busy slate of events in the days leading up to the primary, and Cruz deployed a fleet of endorsers who did events on their own with his wife, Heidi. Trump, appearing to sense the need to put in extra work in a state where he was behind, even skipped his grandson's bris to continue campaigning here after spending a full week off the campaign trail before that.
Cruz's win here will hand him the lion's share of Wisconsin's 42 delegates and further dent Trump's winning image. But the high could be short-lived. The next primary is in New York, Trump's home state, where he is expected to dominate and which yields 95 delegates. Cruz slowed Trump, and made a contested convention more likely, but he didn't stop him.
Clinton Congratulated Sanders On Wisconsin Victory In A Tweet
Clinton skipped the traditional election night speech to attend a private fundraiser in New York. Reports said the Democrat raised $600,000 for her campaign at the event attended by 60 people.
Bernie Sanders Claims Fresh Momentum After Wisconsin Victory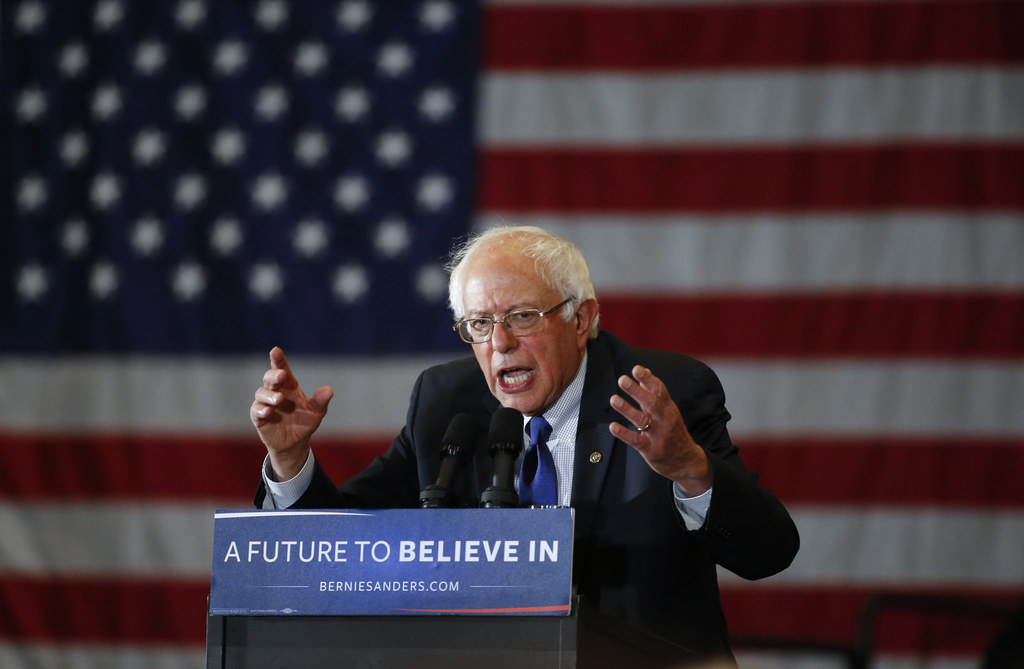 Bernie Sanders declared victory Tuesday night in the Wisconsin primary, claiming fresh momentum and setting his sights on future contests, telling supporters he had a real chance of winning the Democratic nomination.
Though he still lags behind Hillary Clinton in the delegate count, Sanders struck an optimistic note with his Badger State victory, and made it clear he expected to fight Clinton for delegates in her de-facto home state of New York during its April 19 primary election.
"We have now won seven out of eight of the last caucuses and we have won almost all of them with overwhelming landslide numbers," he said.
Sanders spoke from Laramie, Wyoming, where the next primary is to be held Saturday.
"With your help on Saturday, we are going to win here in Wyoming," Sanders told the crowd shortly after being projected the winner in Wisconsin. "Please keep this a secret. Don't tell Secretary Clinton because she's getting a little nervous, but I think we have a chance to win New York and win a lot of delegates in that state."
Trump Reacts to Wisconsin Loss, Claims Cruz Campaigned Illegally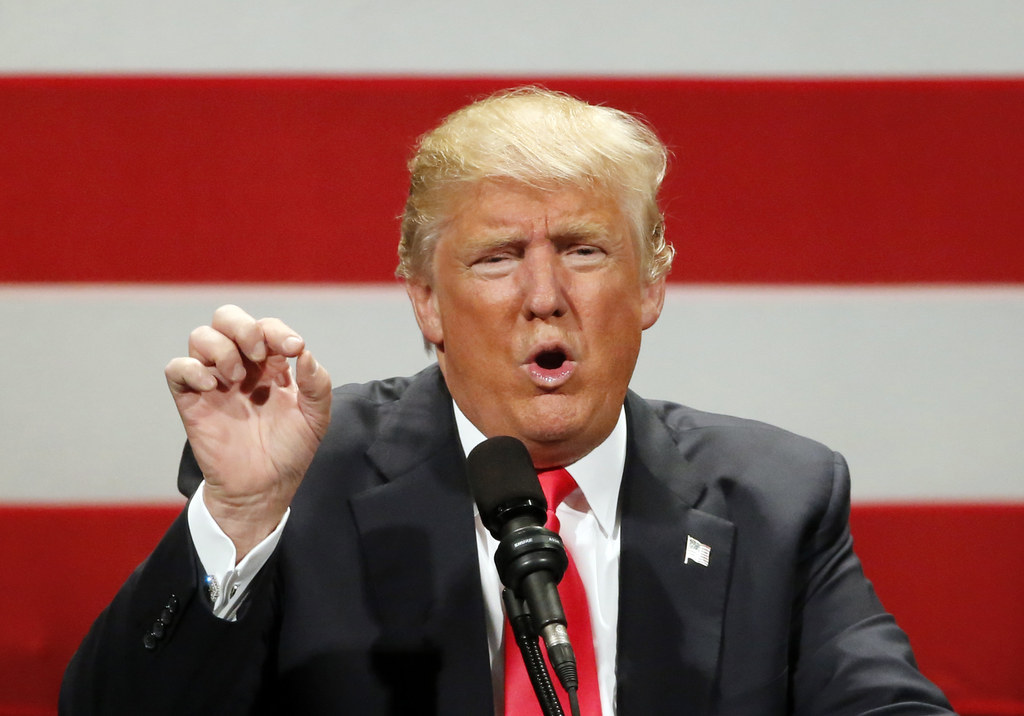 In a statement released after Ted Cruz was declared winner of the Wisconsin primary, Donald Trump called Cruz a "Trojan horse" who worked for the Republican party establishment and also used illegal campaign practices.
"Ted Cruz is worse than a puppet — he is a Trojan horse, being used by the party bosses attempting to steal the nomination from Mr. Trump," the campaign said.
Trump accused Cruz of being steered by super PACs and also illegally coordinating with them. He added the Republican establishment was behind Cruz.
Trump's campaign added he is looking ahead to the New York primary.
"Mr. Trump is the only candidate who can secure the delegates needed to win the Republican nomination and ultimately defeat Hillary Clinton, or whomever is the Democratic nominee, in order to Make America Great Again," the statement said.
Ted Cruz Declares Victory In Wisconsin, Calls It A "Turning Point"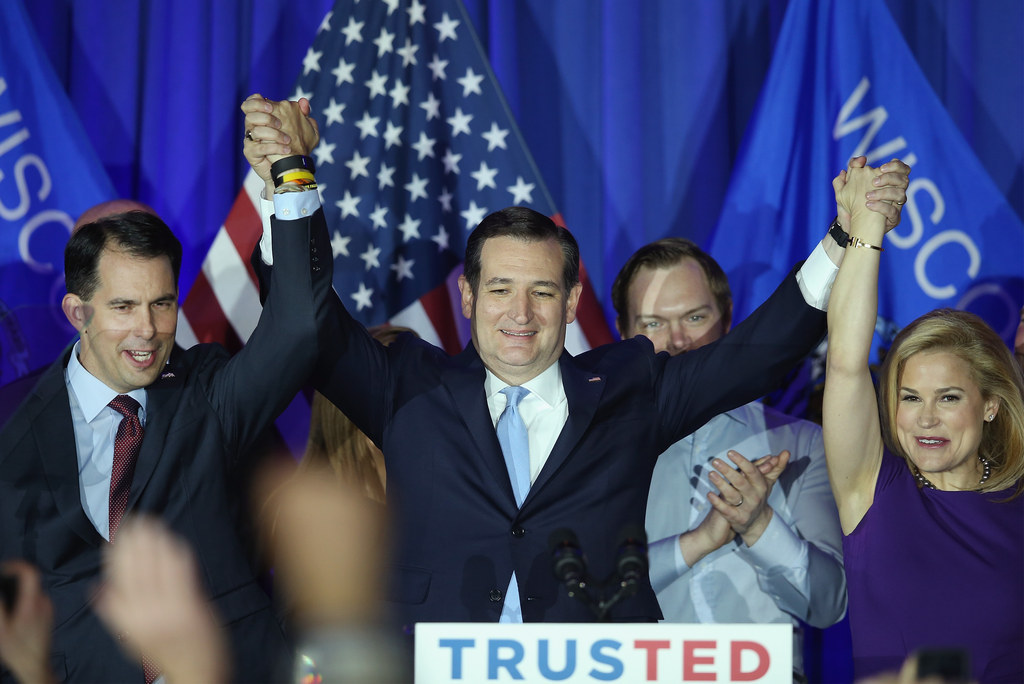 Texas Sen. Ted Cruz claimed victory in Wisconsin Tuesday night, calling it a "turning point" as he tries to wrestle the Republican presidential nomination away from frontrunner Donald Trump.
"Tonight is a turning point," Cruz said during a victory speech in Milwaukee. "It is a rallying cry."
Cruz took all of Wisconsin's 42 delegates, closing the gap in the delegate count against Trump.
"Either before Cleveland or at the convention in Cleveland, together we will win a majority of the delegates and together we will beat Hillary Clinton," Cruz said.
His victory comes as the Republican party continues to a battle from within for the nomination, but Cruz urged GOP voters to back his campaign.
"We've got the full spectrum of the Republican Party coming together and uniting behidn this campaign."
Bernie Sanders And Ted Cruz Win Wisconsin Primary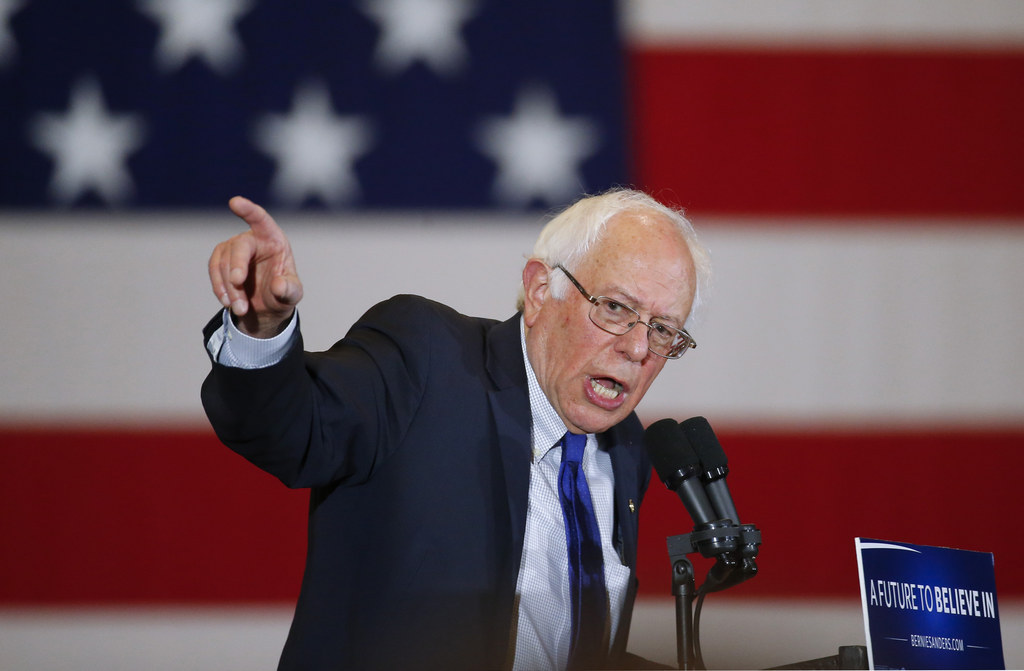 Bernie Sanders and Ted Cruz have won the Wisconsin presidential primary, dealing significant victories to two candidates looking to catch up with their party's frontrunners.
The victory is expected to be a particularly significant one for Cruz, who took all of the 42 delegates from Wisconsin, which is a winner-take-all state for the GOP.
It is also seen as an important win for Sanders as the candidate looks to pick up momentum as the New York primary nears, a state with 291 delegates at stake and Hillary Clinton's de-facto home state.
With 31% of precincts reporting, Cruz was leading the Republican race with 52.6% of the vote. Trump was in second place with 30.6%, and John Kasich with 14.6%.
On the Democratic side, Sanders was leading Clinton 53.5 to 46.2%.
Wisconsin Election Official Projects Highest Primary Turnout In 36 Years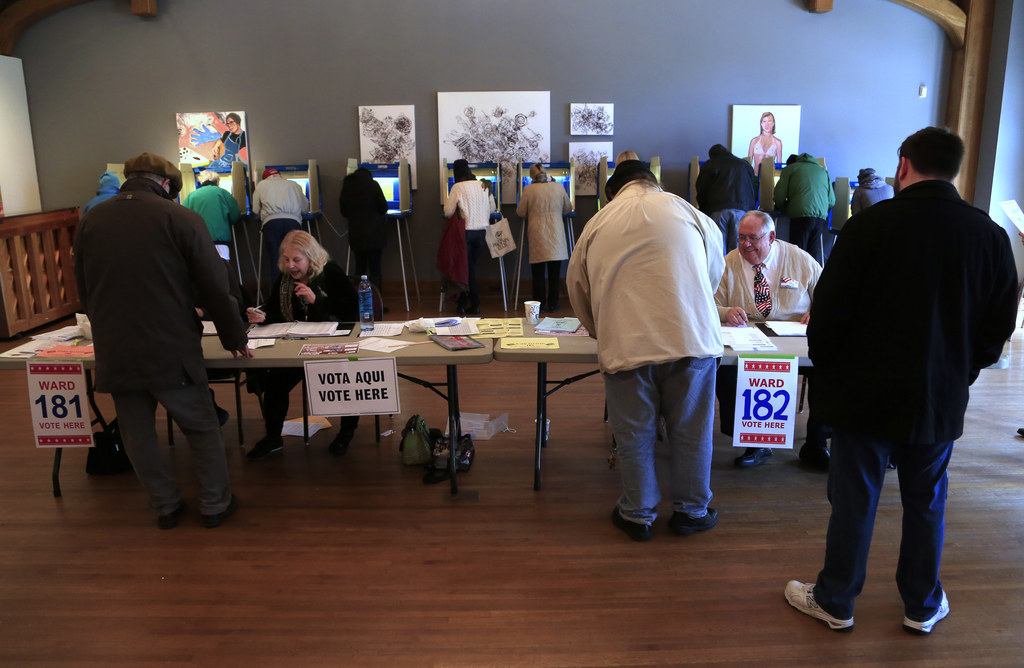 A projected 40 percent of eligible voters showed up to the polls Tuesday for Wisconsin's hotly-contested presidential primary election — the state's highest turnout since 1980.
Mike Hass, the board's spokesman, told the Associated Press that clerks across the state faced a busy pace of voters throughout the day, but no major problems were reported at the polls.
Wait times in Milwaukee, the state's biggest city, did not exceed 30 minutes, Neil Albrecht, executive director of the Milwaukee election commission told AP.
Exit Polls: Voters Worried About Economy, 4 in 10 Republicans "Scared" Of Trump Presidency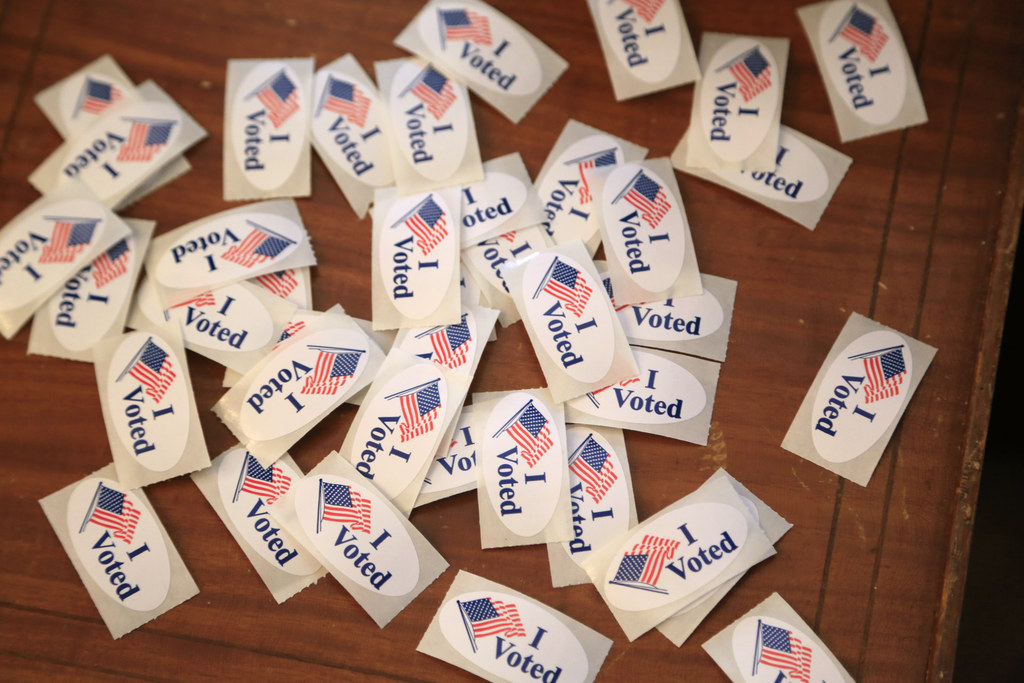 The economy is a major concern for Wisconsin primary voters Tuesday, with voters on both sides of the aisle ranking it as a top issue, according to exit polls.
On the Republican side, more than 9 in 10 primary voters said they were very or somewhat worried with the direction of the nation's economy, according to exit polls conducted by Edison Research for The Associated Press and television networks.
Democratic voters also cited economic concerns, with nearly three-quarters saying they were worried about the direction of the country's economy.
The exit polls also suggest a large swath of people casting ballots Tuesday were late deciders, with about four out of 10 making up their minds in the last month.
Wisconsin is expected to be a tight race for both the Democratic and Republican candidates, with nearly half of GOP voters saying they wanted someone with experience.
As to which Republican is believed to have the best shot to beat the Democratic frontrunner, Hillary Clinton, more than 4 in 10 believed Cruz has the best chance. About a third said Trump has the best shot.
Despite Trump's lead in the GOP field, about four in 10 Republican voters said they were "scared" of what the Republican frontrunner would do in the White House. Only about 1 in 10 voters said they were afraid of a Kasich or Cruz presidency.
GOP voters also appeared split as to what should happen if Trump is unable to muster the needed delegates to win the nomination outright. More than half of voters in the Badger State believe the one with the most votes should get the nomination, while four in 10 would favor a contested convention.
Candidates Make Final Push In Wisconsin As Voters Head to Polls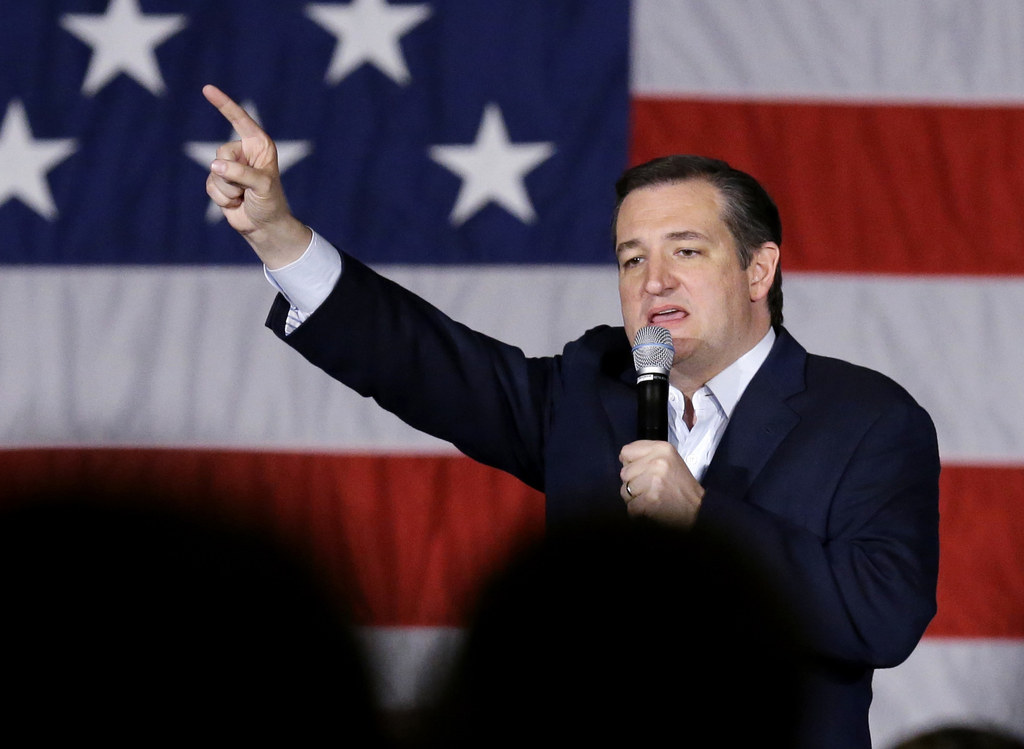 The five remaining presidential candidates made a final push Tuesday in Wisconsin as voters headed to the polls in what has been a hotly contested race on both sides of the political aisle.
Speaking to Wisconsin radio host Charlie Sykes, Republican Ted Cruz noted the importance of Tuesday's election, not just for the 42 GOP delegates at stake, but for what it could mean in the party's primary in the states ahead.
"Wisconsin has a national platform and megaphone, and if we end up with a win tonight it's going to have national repercussions," the Texas senator said. "I think it's going to impact the state's to come."
Cruz pointed to his recent victories against delegate frontrunner Donald Trump, including his 69% popular vote victory in Utah, and called for Republican rival John Kasich to drop out of the race, saying he had "mathematically" already lost the race.
Polls have shown Cruz with a slight lead over Trump in Wisconsin, and the Manhattan billionaire made a final pitch to voters at a diner and polling station.
"We're going to have a surprise tonight," Trump told reporters. "I think we're going to have a great day. I've worked hard in Wisconsin."
The race could also have significant repercussions on the democratic side. NBC News reported Bernie Sanders' campaign has outspent Hillary Clinton's camp by nearly 3-to-1. Polls show the two neck-and-neck in the Badger State.
Meet Trump's Hispanics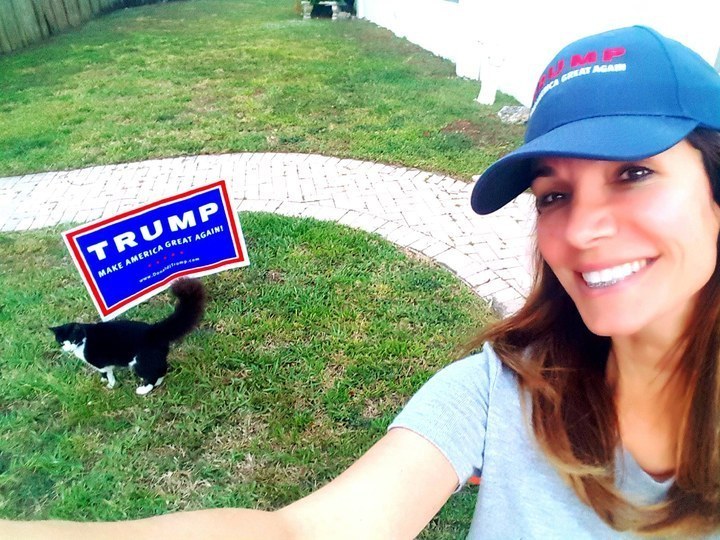 MIAMI — Let's get this out of the way. Donald Trump is toxic with most Latino voters. A new USC/LA Times poll found that in California he has 9% favorable and 87% unfavorable ratings, the worst in a long series of historically terrible polls.

Still — even a low percentage of Latino voters would mean a couple million Hispanic supporters. And an observer of this divisive election cycle might ask: who are these people?

One answer, found in public polling, in interviews at polling places in Nevada and Florida, and in conversations with self-identified Trump supporters on Facebook, appears to be that they're the types of people otherwise disposed to like Donald Trump. Older men; former members of the military; people enraged by the power of the establishment; American nationalists. Another answer reflects the diversity within the term "Latino": Some of Trump's supporters' families have been American citizens for centuries, don't know any undocumented immigrants, or don't identify with newcomers from Mexico and elsewhere — all reasons that contribute to why they embrace his immigration stances.

One thing they all have in common, though, is a thick skin.
—Adrian Carrasquillo
What Happens When Bernie Sanders Takes Over A Bank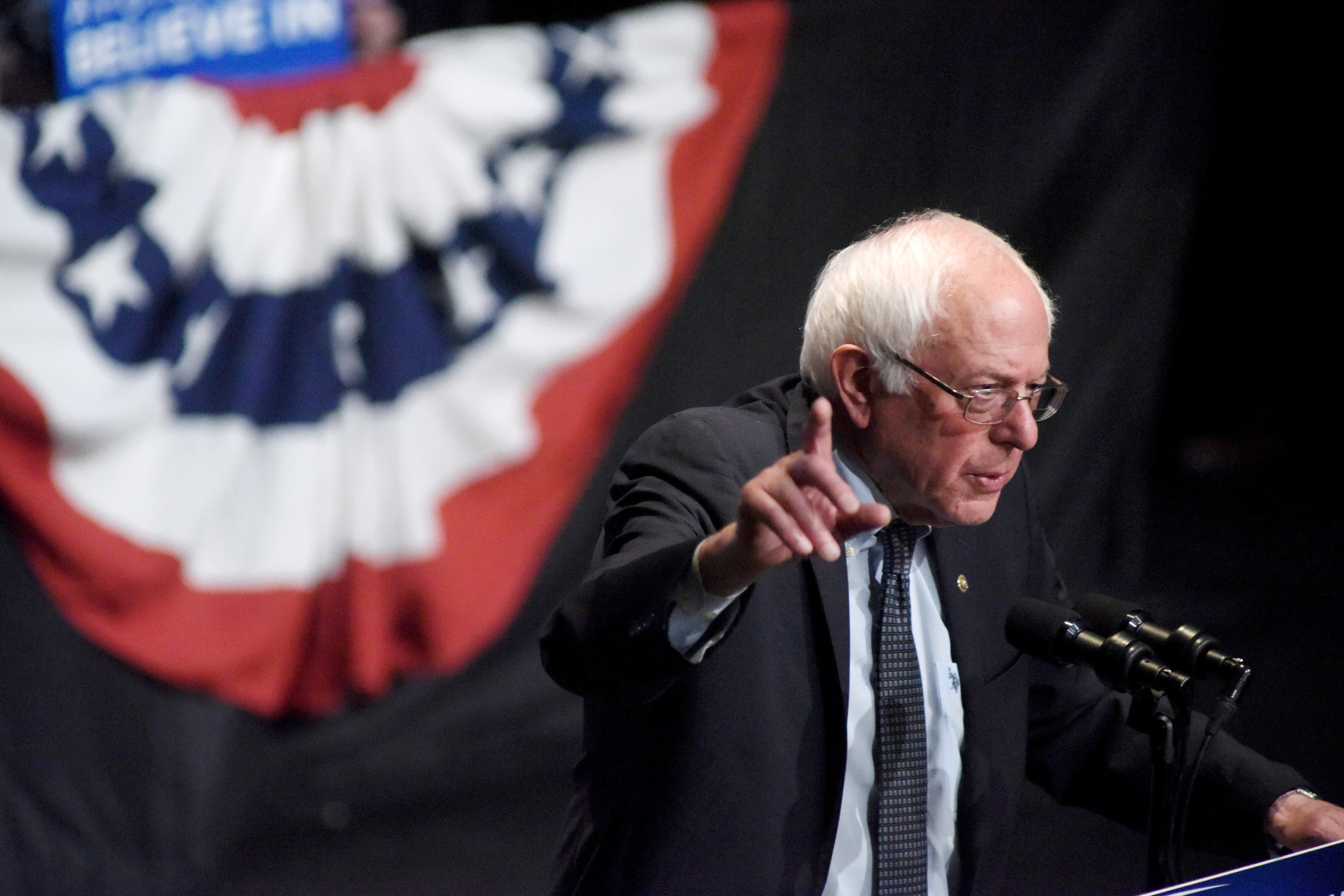 The Bernie Sanders campaign recently opened a field office in Poughkeepsie, New York — part of the campaign's full-scale push for votes ahead of the April 19 primary. The location is the former Poughkeepsie Savings Bank.
Read more here.
BuzzFeed News' Sal Hernandez, Claudia Koerner, Jon Passantino and Katherine Miller contributed to this report.