Quickly catch up on your democracy:
* Here's the bottom line: Super Tuesday was Donald Trump and Hillary Clinton's night. For full, live updates from the evening and into Wednesday's aftermath, check out our running post and recordings of our Facebook live feeds.
* Clinton swept up eight of 12 victories, handily winning the Southern vote and solidifying her momentum against a once-insurgent Bernie Sanders for the Democratic nomination.
* Donald Trump won seven of 11 states up for grabs in the GOP contests — many of them in the South but also Massachusetts and Vermont.
* Ted Cruz won the GOP primary in Texas, his home state, and in Oklahoma, staving off strong challenges by Trump.
* The victories also give Cruz a big talking point for the other candidates to drop out — namely that he is the only Republican to hand Trump his three losses so far. The other was Iowa.
* Sanders made his speech early after winning his home state of Vermont and reminded supporters that he could still pull in a huge amount of delegates and remain competitive. He won four states.
* Clinton's victories are significant because she attracted large support from black voters, who largely went to President Obama in 2008.
* For the Democrats, Clinton won Georgia, Virginia, Tennessee, Massachusetts, Alabama, Arkansas, Texas and American Samoa. Sanders won Vermont, Oklahoma, Colorado, and Minnesota.
* On the GOP side, Trump won Arkansas, Alabama, Georgia, Virginia, Massachusetts, Vermont and Tennessee. Cruz won Alaska, Oklahoma and Texas. Marco Rubio won Minnesota.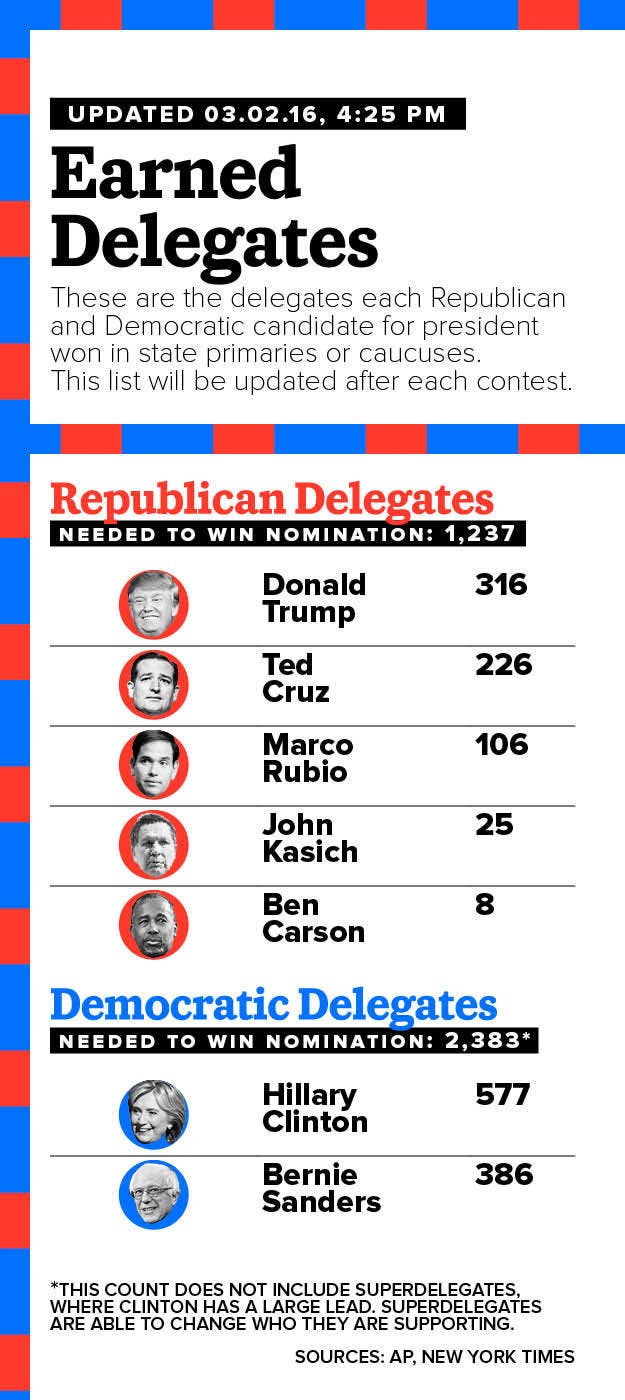 Hillary Clinton and Donald Trump solidified their positions as the candidates to beat for the Democratic and Republican presidential nominations on Super Tuesday, notching sweeping victories from the South to New England.
Both Clinton and Trump tellingly used their victory speeches to look forward to the general election, implying that their challengers have dropped too far down in either momentum or the delegate count to catch up.
Clinton told her supporters to keep fighting as the campaign moved to "the Crescent City, the Motor City" and beyond.
"We have come too far to stop now," she said to a raucous crowd, looking energetic. "We have to keep going, keep working, keep breaking those barriers and imagine what we can build together when each and every American has the chance to live up to his or her own God-given potential."
Trump, instead of holding a victory rally, conducted a lengthy press conference at his Mar-a-Lago Club. New Jersey Gov. Chris Christie, who shocked the Republican establishment by endorsing Trump, opened for the candidate.
"Were going to be a much finer party, a unified party, and a much bigger party," Trump said in a long speech that rambled from international trade policy to the Common Core and women's health. "You can see that happening now. Our party is expanding."
"I would like to see the Republican party get together and unify," Trump said. "And when we do, there is nobody — nobody — that can stop us."
Ted Cruz defeated Trump in his home state of Texas and Oklahoma and Alaska — a relief for the senator, who faced a stiff challenge from Trump in both states. Cruz will use those victories to say the other GOP candidates should clear from the field so he can directly challenge Trump.
"So long as the field remains divided Donald Trump path to the nomination remains more likely," Cruz said at his rally. Cruz used his entire stump speech to attack Trump.
Until Tuesday, Cruz had been the only person to defeat Trump in primaries, having won Iowa.
But on Tuesday, Marco Rubio, who has been struggling to convince mainstream Republicans that they should support him, pulled out a win in Minnesota, but had a lackluster night overall. And John Kasich surprisingly challenged Trump in Vermont, but couldn't secure the win.
BuzzFeed News went live on Facebook with our coverage. Here's a spot with host Gavon Laessig and Editor-in-Chief Ben Smith:
Christie Seemed Super Sad And/Or Pissed During Trump's Victory Speech
Everyone — Democrats and Republicans alike — attacked Donald Trump as the day went on.
Here's Hillary Clinton:
"I was very disappointed that he did not disavow what appears to be support from David Duke and the Klan. That is exactly the kind of statement that should be repudiated upon hearing it," she said. "We can't let organizations and individuals that hold deplorable views about what it means to be an american be given any credence at all."
Here's Republican Sen. Lindsey Graham:
"I think it's pretty clear that people in my party have risen to the occasion generally when it comes to denouncing Mr. Trump," he said. "I'm running of adjectives."

Here's Francisco Valle, 74, who made a "Stop Trump" swastika sign:
"I am here because I want to make awareness of a movement that is very dangerous to all the minorities because Hitler started the same way," he said. "He blamed the Jews for all the problems and now Trump is blaming the Mexicans for the problems."
Here's Valle's sign:
An educated, liberal couple caused a stir on social media for saying they might vote for Trump:
A letter in the Financial Times Tuesday attracted attention online because it was written by a liberal couple who said they were considering voting for Donald Trump, even though "we are not the sans-culottes you see as the prototypical Trump voter."
In the letter, Jon and Elsa Sands, who describe themselves as socially liberal affluent Americans, believe Trump is the only option even as they compare voting for him to voting for a "tameable Hitler in 1933."
Elsa Sands, 65, told BuzzFeed News that she and her Harvard-educated husband, Jon, are not the "nutcases" that the media makes out Trump voters to be.
Sands, who teaches English to refugees and described herself as a big supporter of refugee resettlement, said that even though Trump is a "big jerk, brash, over the top and egomaniacal" he was also a "big-mouth pragmatist who can get things done."
She said that with a "corrupt Hillary, silly little Rubio, and mean-spirited Ted Cruz," they have "nowhere else to go" besides Trump, even though she admitted she was nervous about considering voting for him.
"It's a very scary hope, if we vote for him, that he might be pragmatic and listen to advisers," Sands said. "It's a sorry state we've come to that we have Trump running out there and we're considering voting for him."
And now, finally, there is Bernie Sanders-themed beer: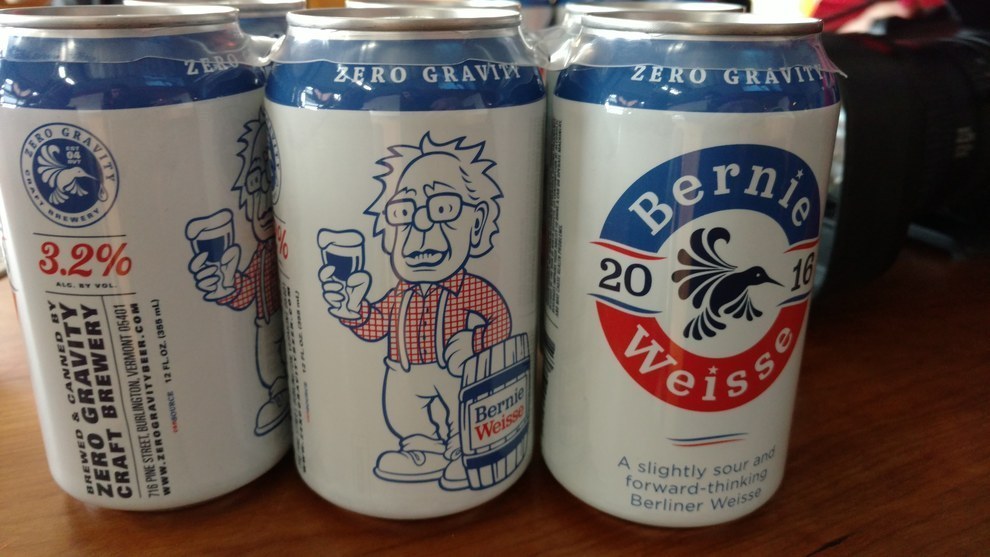 Perhaps the Vermontiest moment of Bernie Sanders' Vermont-based campaign for president came at noon on Super Tuesday.
That's when the Zero Gravity Craft Brewery on Pine Street here officially debuted Bernie Weisse, "a slightly sour and forward-thinking Berliner Weisse" beer, according to the brewery's promotional materials.
The beer is available in draft and cans for a limited time and is the central hook for Zero Gravity's election watch party Tuesday night.
Additional reporting by Tasneem Nashrulla, Nicolas Medina Mora, Stephanie McNeal, Molly Hensley-Clancy, and Ema O'Connor in New York and Ellen Cushing in San Francisco.