State Department Releases Hillary Clinton Benghazi Emails
The State Department has released 296 of Hillary Clinton's messages from her personal account.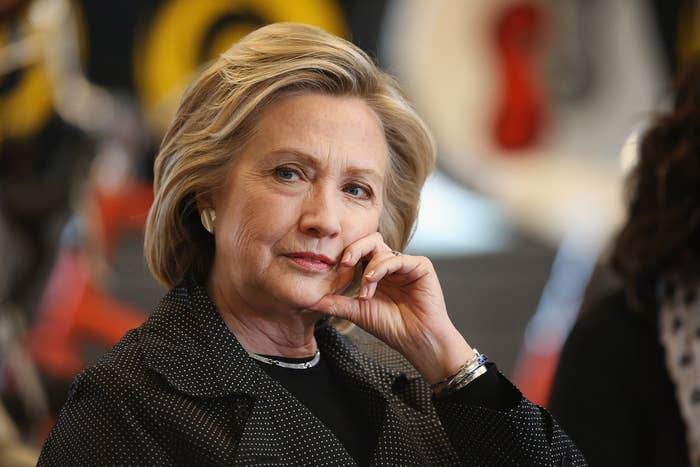 The State Department on Friday released nearly 296 emails from then-Secretary of State Hillary Clinton regarding the 2012 attack in Benghazi, Libya, that left Ambassador Christopher Stevens and Foreign Service worker Sean Smith dead.
Clinton has come under fire for using a personal email address to communicate with her staff and others while she was in charge of the State Department.
The emails released Friday were provided to a Select Committee investigating the attacks.
Some of the emails show people offering Clinton condolences after the deaths.
Others show her staff reassuring her that her statements after the attacks didn't use any phrases that later came under scrutiny critics and media.
The State Department said Friday the contents of the emails don't change the narrative Clinton and her aides put forth about Benghazi.
Updates
The day after the attack, Clinton asked aide Huma Abedin for a copy of the "The Oath of Tobruk" – a film directed by French intellectual Bernard-Henri Lévy and picked up by Harvey Weinstein's company.
This is a condolence letter sent from then- Defense Secretary Robert Gates to Clinton after the Benghazi attacks: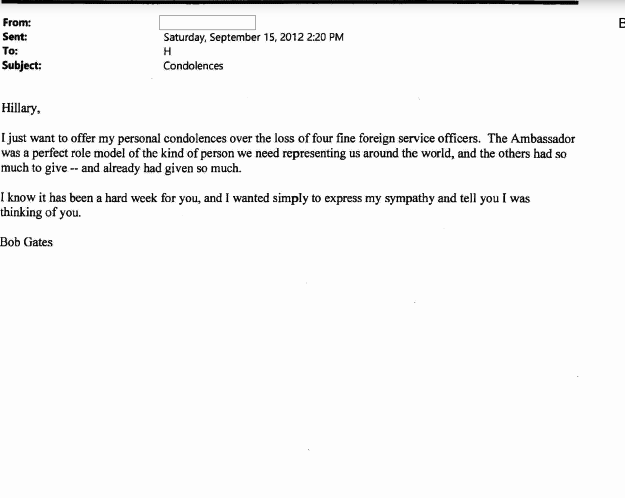 This email, from then-Director of the Office of Maghreb Affairs William Roebuck, regarding the arrest of people allegedly connected to the attack, was sent to Clinton's personal email. At the time is wasn't classified, but its since been marked secret.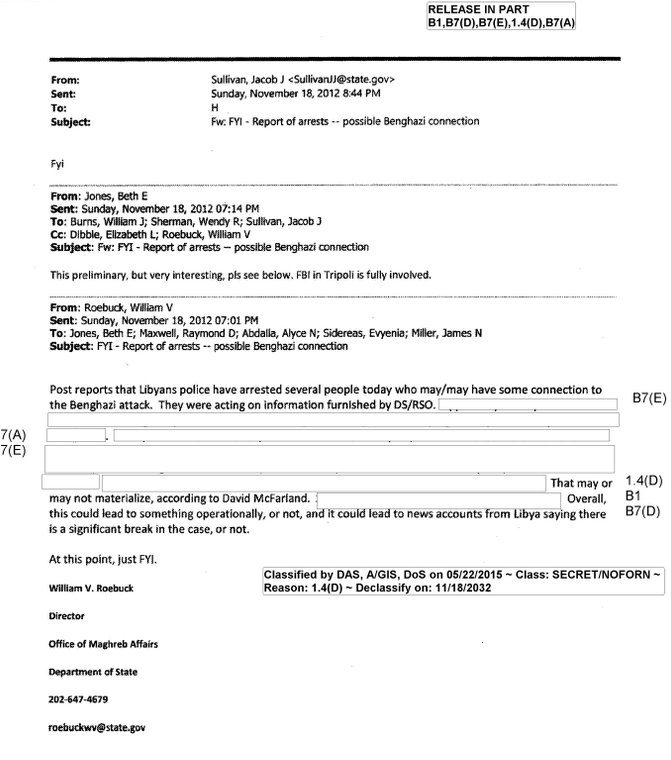 Clinton said she wished the process of releasing today's emails could be "expedited so we can get more of them out more quickly."
She gave brief remarks about the emails, her position on the trade agreement, and her vision for the U.S. presence in Iraq following a campaign event in Hampton, New Hampshire.
Clinton acknowledged that the jurisdiction committee had received the email files months ago.
Here's a memo from then-Deputy Chief of Staff Jake Sullivan on Clinton's "leadership on Libya" as of April 2012 — nearly five months before the attack in Benghazi — calling her the "public face of the U.S. effort in Libya."
One accomplishment, from early March, was naming Christopher Stevens — who was killed in the Benghazi attack — as ambassador.
Jake Sullivan, Clinton's then-deputy chief of staff, assures her she "never said spontaneous or characterized the motives" concerning Benghazi as of Sept. 24, 2012:

From 2011 to 2012, Hillary Clinton received at least 25 memos pertaining to Libya from Sidney Blumenthal, a confidant who worked at the Clinton Foundation.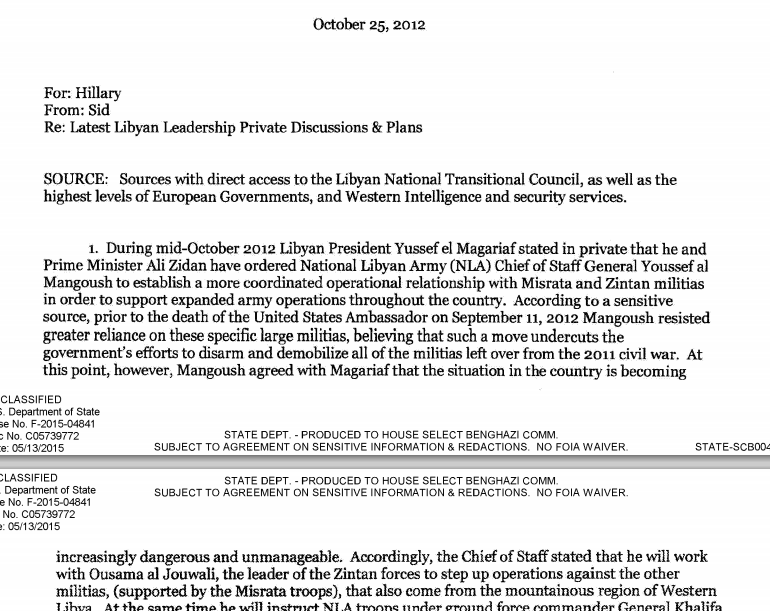 As first reported by the New York Times, it appeared Blumenthal seemed to be gathering information from unnamed Libyan sources with direct access to the Libyan National Transitional Council and high-level European government officials.
In an October 2012 memo from Blumenthal, a source discusses the future of Libya, adding that "the President and Prime Minister also fear that the situation is far worse than Western sources realize."
Clinton forwarded at least 18 memos she received from Blumenthal to her aide Jake Sullivan, who then forwarded to other State Department officials.
Blumental flagged an Oct. 1 Salon story with the subject line "Romney's last gambit. Got done and published"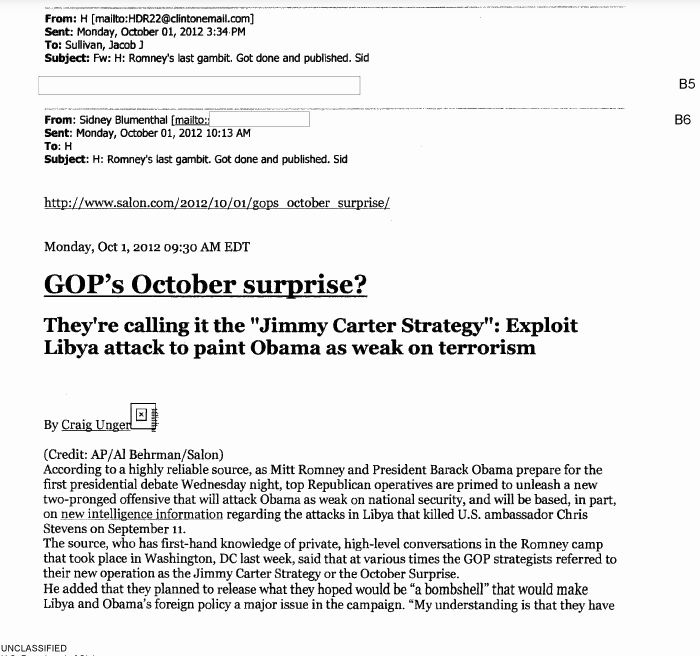 Clinton staff members discussing an interview Clinton did with Monica Langley of the Wall Street Journal:
"I've never seen a Westerner invade her space like that."
No protests?
Congressman Adam Schiff, a Democrat from California who is on the House Permanent Select Committee on Intelligence, released this statement on Friday:
"I'm glad that the State Department has finally released Secretary Clinton's Benghazi related emails to the public, as she requested. Americans can now see for themselves that there is no evidence to support the conspiracy theories advanced about the Benghazi attacks – there was no stand down order, no gun running and no interference with security by the Secretary. The Select Committee must now schedule a public hearing with Secretary Clinton so committee members can ask whatever questions they have about her emails, or the events of that tragic day. Delaying her testimony, or calling for multiple appearances by the Secretary, will only make transparent that the majority's motivation is to attack the potential Democratic presidential nominee, not shed any new light on the events in Benghazi."
Clinton's lead scheduler, on Nov. 25 2012, said Laurene Jobs – the widow of Apple founder Steve Jobs – wanted to meet after an overseas trip.

Also David Hale, then the Special Envoy for Middle East Peace, may have asked her to meet with Isaac Molho, a senior partner from E.S Shimron, a law firm focusing on business and corporate law.
Clinton responded:

An email from Nov. 26 shows that meeting with Molho scheduled to happen:

Hillary Clinton's emails from when she was secretary of state were released on Friday afternoon.
The emails have already been turned over to the special House committee investigating the 2012 Benghazi attacks that killed American ambassador J. Christopher Stevens.
Interest in Clinton's emails grew earlier this year when she admitted she used a private email address and server when she was secretary of state. The emails span a two-year period from January 1, 2011 through December 31, 2012, according to State Department deputy spokesperson Marie Harf.
"The emails we release today do not change the essential facts or our understanding of the events before, during, or after the attacks, which have been known since the independent Accountability Review Board report on the Benghazi attacks was released almost two and a half years ago," Harf said in a statement.
The state department is going through the remainder of Clinton's emails and plans to release them on a rolling basis.
---
Reporting by Kate Nocera and Adam Serwer in Washington, D.C., Ruby Cramer in New Hampshire; Jessica Simeone, Sam Schlinkert, Mary Ann Georgantopoulos, Tamerra Griffin, Tom Namako and Lisa Tozzi in New York.
This is a developing story. Check back for updates and follow BuzzFeed News on Twitter.