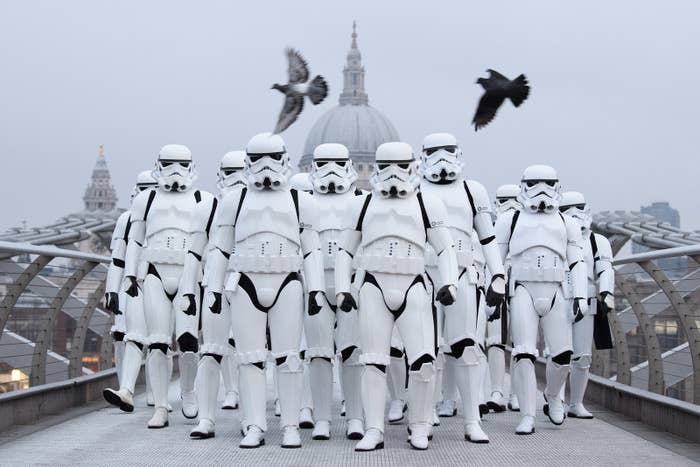 I'm Hayes Brown and I am here to fill your inboxes with a fresh helping of news and a few thoughts on something that has become near and dear to me in the last few days: the Space Force.

I'll give this to Donald Trump: The man dreams big.
Gaudy? Sure. Impossible? Often. Beyond the pale of decency? More frequently than I'd care to think about too deeply. But you have to give him big.
One of those big dreams that's apparently en route to becoming a reality is a sixth branch of the military: the Space Force. And if there was ever a metaphor for what it's like to cover international affairs in 2018, I'd give the Space Force...out-of-this-world marks.
Sorry. It's too early for puns that bad.
But you remember what it was like when you first heard that "Space Force" was a real set of words that the president had said: the memes, the dunks on Twitter dot com, the hearty chuckle at how absurd it all seemed on its face.
But at a rapid clip, it's gone from a longshot hope of some members of Congress to a talking point at Trump's rallies to a plan announced on Thursday in a speech from Vice President Mike Pence. It can feel like all of US foreign policy is in a dream state but eventually we find ourselves having to buckle in and cover it anyway.
That's how I found myself taking a step back, and holding the Space Force up for scrutiny alongside Trump's other big foreign policy dreams. His border wall? Mexico will pay for it AND it will be see-through! A single meeting with North Korean leader Kim Jong Un? He'll no longer be a nuclear threat! Those went from laugh lines to things that real people had to consider as real policies. And as with them, it's going to become very clear, very quickly, that what Trump has dreamed of will bear little resemblance to reality.
"My new national strategy for space recognizes that space is a warfighting domain, just like the land, air, and sea," Trump said in March, during a speech where he first announced the new branch. "We have the Air Force. We will have a space force. … We will call it the 'Space Force.'"
In its report released after a speech from Pence outlining the concept, the Pentagon explained how it would reorganize internally to make that into a reality by 2020. That would include introducing a Space Operations Force that will include "trained, promoted and retained as space warfighting professionals and who form a space community of engineers, scientists, intelligence experts, operators, strategists and more."
Now, in hearing that, you might picture something that looks kind of like this:

Missing from that Pentagon list is anyone who'll be doing any sort of fighting up in space, so in reality it'll likely be a bit more like this:

Because, friends, the fact of the matter is this: War in space will be VERY BORING — at least from the point of view of someone like Trump, who once famously fast-forwarded through all the dull talking parts of the 1988 action movie Bloodsport while being interviewed for a New Yorker profile.
It's really going to be a lot of nerds sitting in a basement somewhere, keeping a very close eye on the US's network of satellites. Now don't get me wrong: There's definitely a national security value in this kind of thing! Picturing just how screwed we'd be without things like GPS satellites and the sort of tech that the intelligence agencies use to snoop on other countries is enough to make a person want to go back to bed.
And it isn't like our good friends Russia and China aren't working on their own technology to shoot down satellites in orbit and otherwise project power beyond our atmosphere. So figuring out how to defend them makes sense. But it won't be with fancy Space Marines, blasting into orbit to engage in hand-to-hand combat in zero gravity. Instead, we'll likely be flying drones around in near-Earth orbit, which sounds cool in a video game kind of way, but it will still be nothing like the Star Wars fantasy that I'm sure a lot of people have.
So that's what it's like to cover international affairs these days: trying to find the truth buried inside the technicolor fantasy that the president is dreaming up at any given moment.
Well, that's a dash of cold water for a Friday morning, so here — have some news!
SNAPSHOTS
Puerto Rico has finally admitted that over 1,400 people likely died because of Hurricane Maria. The acknowledgement came in a draft report to Congress. Evidence has been mounting since October that the death toll was much higher than the government estimate of 64.
Melania Trump's parents have been sworn in as US citizens. They came to the country using the so-called "chain migration" system President Trump wants to ban. Better known as family-based immigration, it allows American adults to petition or sponsor residency for immediate family members. The president has attacked the system in his State of the Union address and has, of course, tweeted about it ad nauseam.
Video shows a Nashville police officer fatally shooting a man who was running away from him. Tennessee authorities are investigating the death of Daniel Hambrick, a 25-year-old black man. Police say that Hambrick was carrying a gun during the encounter.
White nationalists plan to rally in Washington, DC, this weekend on the anniversary of the deadly Charlottesville rally. Officials are preparing to deter potential violence at Sunday's "Unite the Right" rally by keeping the demonstrators separated from counter-demonstrators.
Kanye West has elaborated on his "love" for President Trump. Putting the "Make America Great Again" hat on was the rapper's way of saying, "Liberals can't bully me," he said on Jimmy Kimmel Live. West also opened up about his bipolar disorder.
People think everyone is having a lot of sex, but a survey shows that's not the case. Researchers asked men and women how often they thought people aged 18 to 29 had had sex within the last four weeks. Men guessed 23 for women, but the actual number was an average of five to six times. Women guessed 13 for men, but the real average was closer to four.
WEEKEND READS
Unwind with some longreads
Michael Martin was an aspiring stage actor when he joined a show that many regarded as a major stepping-stone to Broadway. He was thrilled to have the chance to work with six-time Tony Award-winning William Ivey Long, the legendary designer who has made iconic costumes for everything from Chicago to Seussical. In an interview with BuzzFeed News, Martin, now 43, alleges that over the course of the multi-week rehearsal period leading up to the opening of the show in late May 1996, Long relentlessly harassed him verbally and physically, even after Martin had made it clear he had no interest in reciprocating Long's advances.
Remember the Flint water crisis? Of course you do — it was hard to miss the prolonged national outrage over the Michigan city's lead-lined pipes delivering contaminated water to tens of thousands of residents. Now the company at the center of the crisis is at the top of the list for a multibillion-dollar contract to fix crumbling infrastructure in Lagos, Africa's largest city and home to 21 million people.