Police Chief Says FBI Warning Would Not Have Changed Response To Texas Shooting
ISIS supporters claimed responsibility Tuesday for the Sunday's attack at a Muhammad Drawing Contest in Garland, Texas and called the gunmen "soldiers of the caliphate." Authorities shot and killed the two gunmen Sunday after they wounded a safety officer.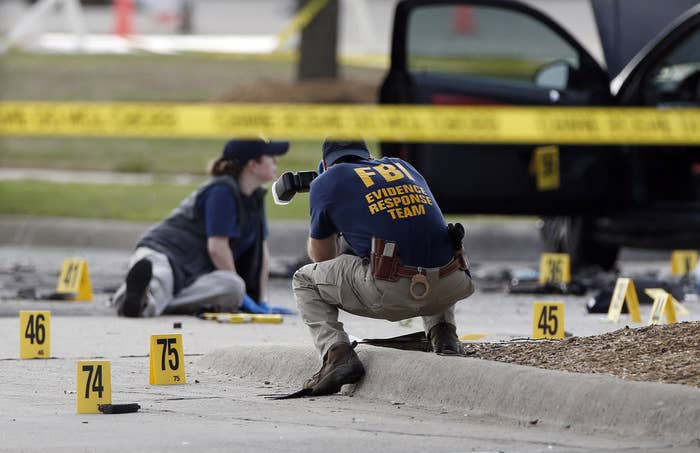 What We Know So Far
Two gunmen were shot dead Sunday after they opened fire outside a contest where people were drawing the Prophet Muhammad, which is considered offensive to most Muslims.
The gunmen have been identified as Elton Simpson and Nadir Hamid Soofi.
ISIS praised the gunmen as "soldiers of the caliphate."
A safety agent was wounded in the incident, and has been released from the hospital.
Shortly before the shooting, some Twitter accounts — since taken down — that expressed sympathy with ISIS posted about the upcoming attack.
The gunmen were roommates in Phoenix, Arizona.
The event was hosted by Pamela Geller, who runs the American Freedom Defense Initiative, an anti-Islamic group.
Updates
The Garland police chief said he is unaware of the FBI memo.
Police Chief Mitch Bates also told reporters on Monday that the warning on Elton Simpson did not suggest he was an immediate threat to the event, according to the Associated Press. He added that the police's response would not have changed based on the memo.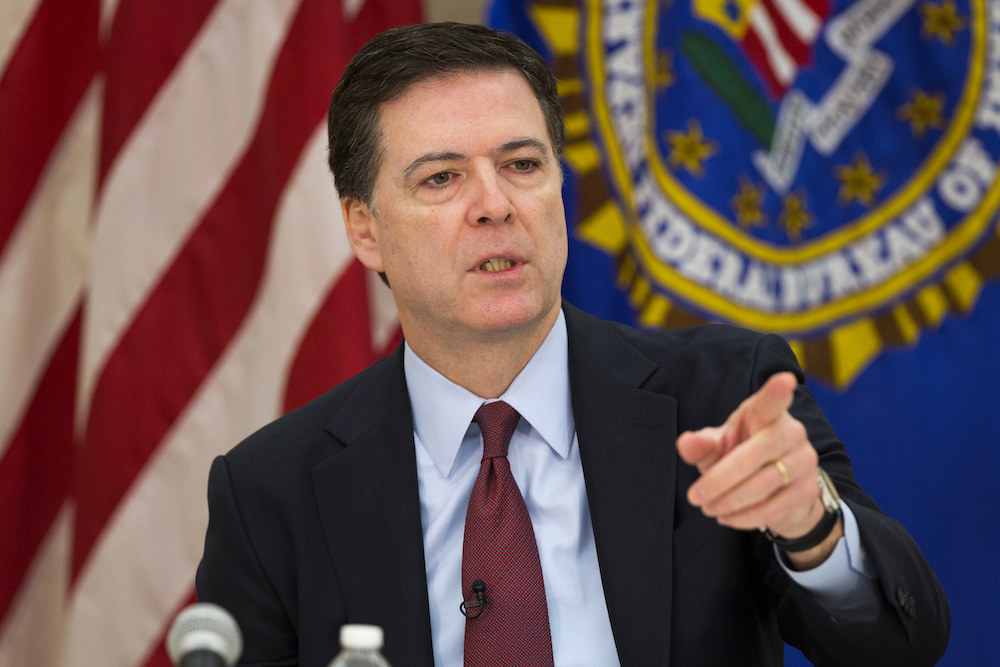 FBI Director James Comey told reporters Thursday that investigators learned Elton Simpson was interested in the Garland, Texas, contest hours before he and another gunman launched an attack, and alerted local law enforcement there.
In his first public comments on the shooting, Comey said the FBI sent an intelligence bulletin to the Garland Police Department that included information about Simpson, "even though we didn't have reason to believe that he was going to attack the event," the Associated Press reported.
"In fact," Comey added, "we didn't have reason to believe that he had left Phoenix."
Comey said there may be thousands of others inside the U.S. consuming "radical poisonous propaganda" online from ISIS. He said members of the group direct supporters on social media to travel to Syria to join the self-created caliphate but, "If you can't travel, kill where you are," Comey said.
"I know there are other Elton Simpsons out there," he said.
"The siren song sits in the pockets, on the mobile phones, of the people who are followers on Twitter," Comey said. "It's almost as if there's a devil sitting on the shoulder, saying 'Kill! Kill! Kill! Kill!' all day long."
Authorities say Simpson and Nadir Hamid Soofi — who were roommates in Phoenix — opened fire at an event where people were drawing the Prophet Muhammad, injuring one officer, before law enforcement shot them dead.
Comey told reporters that the FBI had already identified the event as a potential target for violence.
Federal authorities confirmed Wednesday that Simpson took to social media moments before the shooting.
Speaking with the AP after having been briefed on the federal investigation, Texas Rep. Michael McCaul, the chair of the House Homeland Security Committee, said Simpson tweeted the hashtag #texasattack some 20 minutes before he opened fire on officers outside the event.
Federal officials confirmed that Simpson tweeted the hashtag #texasattack moments before the attack, the Associated Press reported.
The authorities shared their findings with Texas Rep. Michael McCaul, who chairs the House Homeland Security Committee.
"Was he on the radar? Sure he was," Rep. McCaul told the AP.
White House spokesman Josh Earnest described the shooting Tuesday as an "attempted terrorist attack," but said it's unclear at this point if ISIS played a role in the shooting.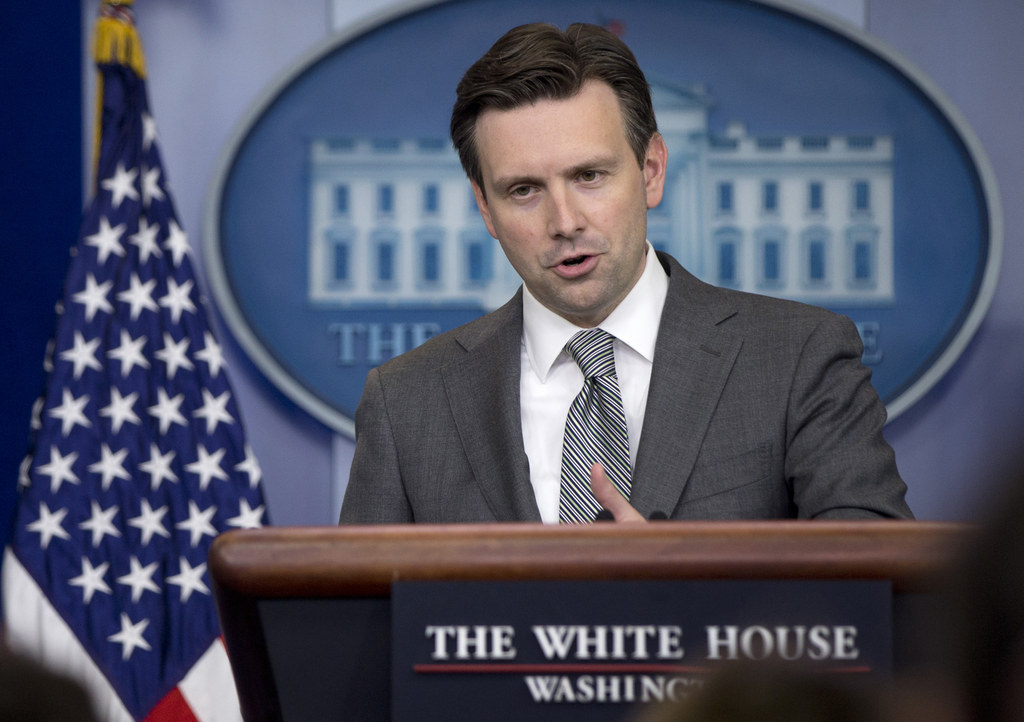 "The thing that we can say definitively, because of the quick, professional, brave work of local law enforcement forces, is an attempted terrorist act was foiled," Earnest said.
"There is no expression, however offensive, that justifies an act of terrorism or even an act of violence," Earnest continued. "That apparently is what these two individuals in Texas were trying to do.
According to the Associated Press, federal authorities had recently been scrutinizing Elton Simpson's social media accounts but had no indication he was planning an attack.
Elton Simpson's family released the following statement via their lawyer on Monday:
We send our prayers to everyone affected by this act of senseless violence, especially the security guard who was injured in the line of duty. As a family we do not condone violence and proudly support the men and women of our law enforcement agencies. We are sure many people in this country are curious to know if we had any idea of Elton's plans. To that we say, without question, we did not.

Just like everyone in our beautiful country, we are struggling to understand how this could happen. We will not make further statements. We are heartbroken and in a state of deep shock as we grieve. We humbly request that everyone respect our need for privacy.
ISIS supporters claimed responsibility for Sunday's attempted attack on a convention center in Garland, Texas.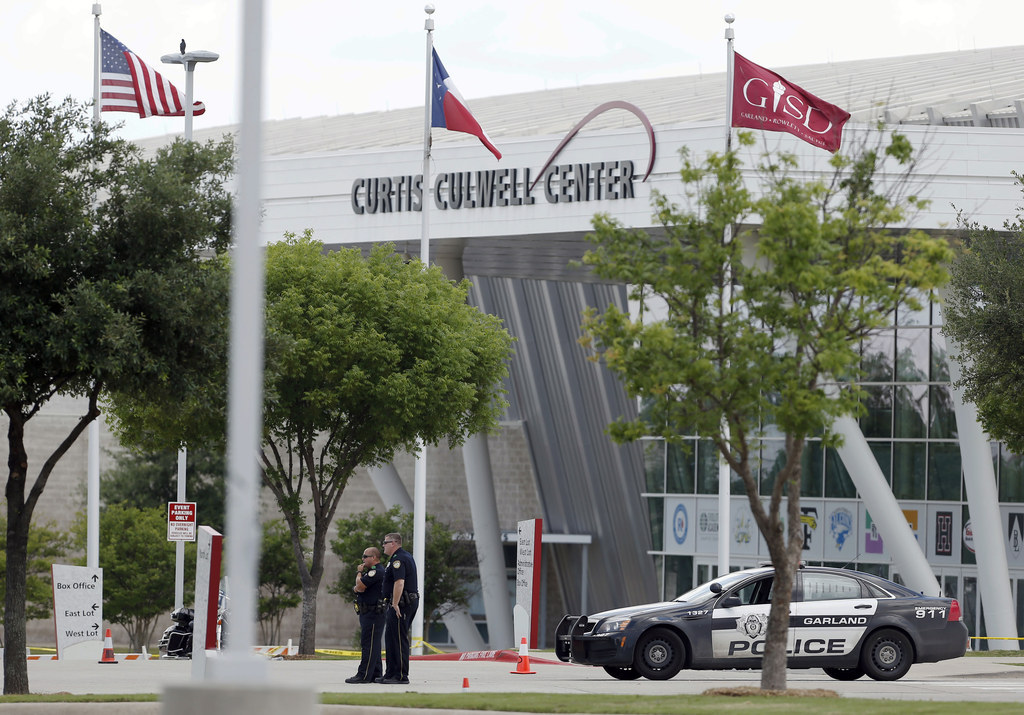 While investigators try to piece together what motivated two men to try to open fire on a Prophet Muhammad drawing contest in Garland, Texas, on Sunday, terror group ISIS on Tuesday, May 5, claimed responsibility for the attempted attack, CNN reported.
The group justified the actions by the gunmen, identified as Elton Simpson and Nadir Soofi, saying in their al-Bayan Radio news bulletin that the exhibition "was portraying negative pictures of the Prophet Muhammad," according to the BBC. An audio statement on the group's radio states said that "two soldiers of the caliphate," carried out the attack and promised for more attacks in the future, according to the Associated Press.
This is the first time ISIS has claimed responsibility for an attack in the U.S., according to AP, but U.S. officials have not confirmed whether or not the extremist group was behind Sunday's shooting.
Simpson and Soofi wounded a security officer at the convention center and were then shot to death by police.
Muslim leaders from the Dallas area on Monday strongly condemned the violence done in the name of Islam in Garland, Texas, as well as all forms of extremism.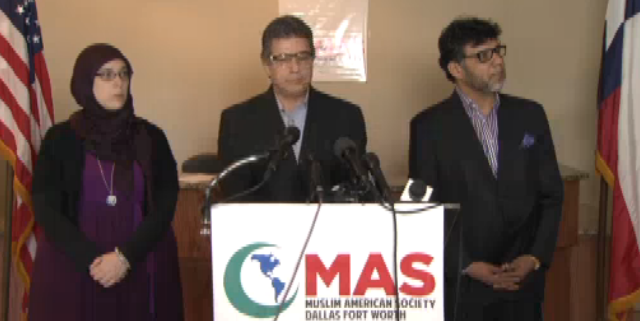 The leaders also thanked local police for their quick action in preventing more destruction by the gunmen they described as "violent criminals."
"These actions are not done in my name, or in the name of millions of law-abiding Muslims across our great nation," said Alia Salem, executive director of the Dallas-Fort Worth chapter of the Council on American-Islamic Relations.
Salem added that the local Muslim community had no responsibility for the gunmen's actions, and stressed their condemnation of violence.
"It's always our hope that our words can calm fears, can unite a community," she said.
There was "some concern," Salem said, about how one of the suspects, Elton Simpson, could have taken part in an attack in spite of previous brushes with the FBI. She asked the Department of Justice to join local authorities in reviewing the events.
Khalid Hamidah, an attorney who has worked with a number of Islamic organizations in North Texas, added nothing should associate Sunday's events with Islam. As a community, local groups decided not to protest the Muhammad Art Exhibit, even though they found the caricatures of the prophet to be blasphemous and disrespectful.
"They just ignored this entire incident," he said. "That also shows that among the Muslim community, there is a great respect for freedom of speech."
Roughly 100,000 Muslims live in the Dallas-Fort Worth area, he added, many of them for years.
"These two groups, one from New York and these two idiots from Arizona, do not represent the residents of Garland," he said, referring to the art exhibit organizers. "Both these fringe groups do not represent the beauty of what this country stands for: Tolerance, freedom of speech, and freedom of religion."
Hamidah described the cartoon contest as an incitement to violence and questioned the potential broader impact.
"These crazies feed off this stuff, and they may do more harm to our forces overseas," he said.
Police and the FBI on Monday searched the Phoenix apartment where the shooters lived.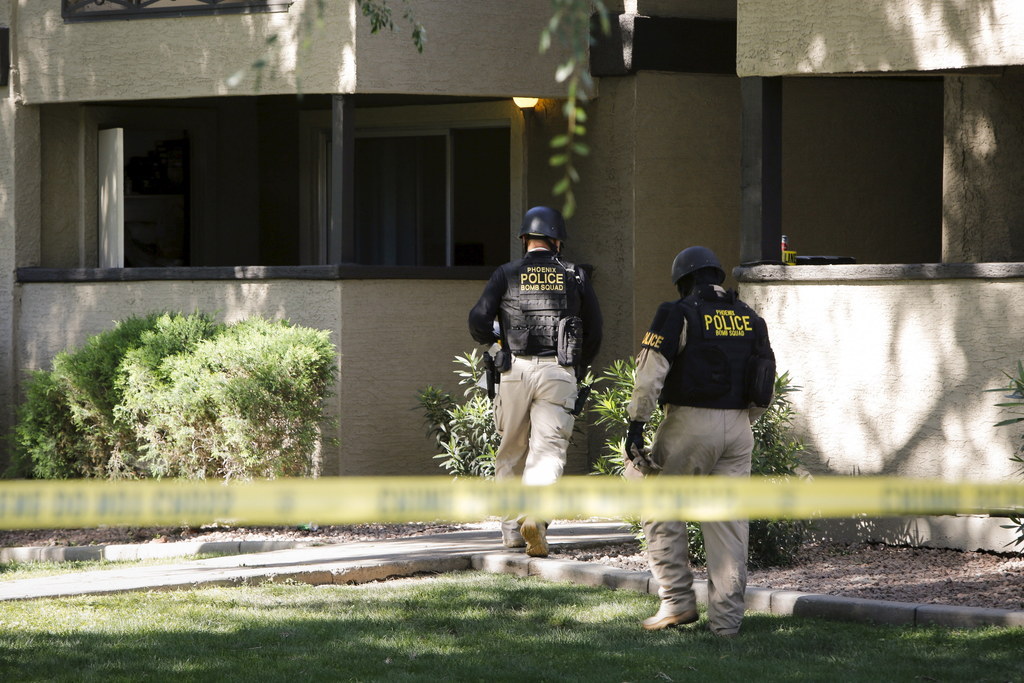 The Autumn Ridge apartment complex in north Phoenix was taped off as investigators searched for evidence.
The Texas governor authorized his administration to "work with federal authorities to fully investigate the assailants' ties to organized terrorist activity."
The Washington Post, citing law enforcement officials, identified the second alleged gunman as Nadir Soofi, 34.
White House press secretary Josh Earnest said Monday President Obama was informed about the shooting on Sunday night and has been asked to be kept up to date with the investigation.
I will repeat a principle that you've heard from me before, which is specifically that there's no act of expression, even if it's offensive, that justifies an act of violence. And, again, there have been -- we have seen extremists try to use expressions that they consider to be offensive as a way to justify violence, not just in this country but around the world. And in the mind of the President, there's no form of expression that would justify an act of violence.

Let me also say that based on the initial reports about what happened in Texas last night, we saw a pretty important and notable display of bravery on the part of first responders who responded promptly to the situation. And because of their courage, the only person that was injured by the two gunmen was a security officer who sustained what I understand to be a relatively minor gunshot wound. And so I think for that, our gratitude goes out to those first responders who acted so bravely and courageously to prevent further bloodshed.
"They were there to shoot people," Joe Harn, public information officer for the Garland Police Department, said in a press conference Monday morning.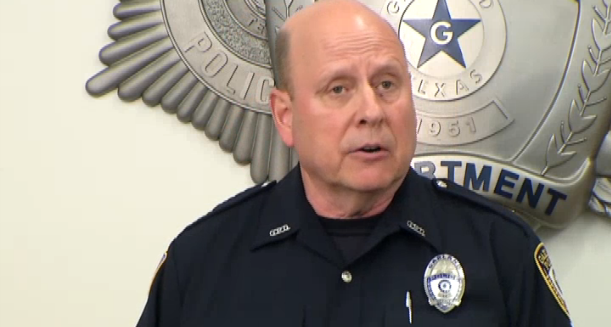 Harn did not release the names of the two gunmen, but instead offered details on the sequence of events outside the art exhibit and cartoon contest.
Harn said the two men pulled up in a dark colored vehicle at approximately 6:50 p.m. They exited the vehicle with assault rifles and started shooting at a police car that was blocking the entrance.
A police officer at that entrance returned fire and fatally struck both men with his service gun. Harn praised his actions saying he did "what he was trained to do."
Other officers and SWAT teams, which were at the event space providing additional security, responded "within seconds" and helped secure the scene.
Law enforcement officials checked the gunmen's vehicle and found additional rifle ammunition and luggage in the trunk of the car. No explosives were found in the car.
Harn said the site is still an active crime scene as Garland police officers and FBI teams work to collect evidence.
Harn said officials are looking into social media presence of the gunmen and when they arrived in Dallas. One of the gunmen was identified earlier as Phoenix resident, Elton Simpson, but Hard did not confirm that name.
Reported Texas gunman Elton Simpson was previously investigated by FBI.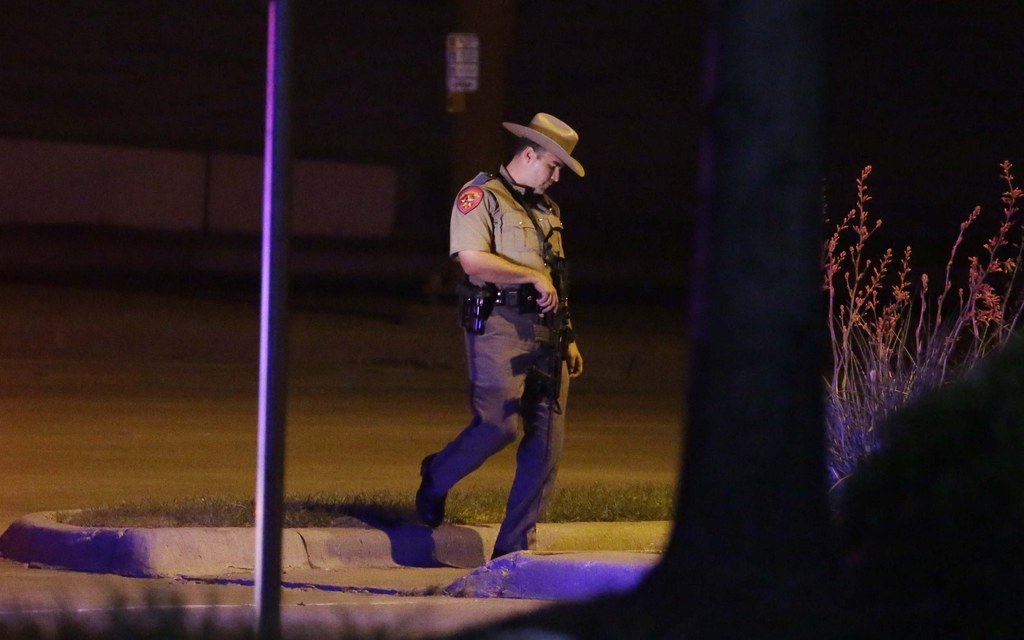 Simpson had been investigated by the FBI for terrorism five years ago. He was convicted for lying to federal agents about plans to travel to Africa. The court ruled that even though Simpson gave false statements to FBI agents, the government did not prove Simpson's false statement involved international terrorism. Read the full story here.
Garland police will hold a news conference later today:
Texas Governor Greg Abbott released this statement Sunday night:
---
Reporting by Claudia Koerner in Los Angeles and Mary Ann Georgantopoulos and Jessica Simeone in New York.
This is a developing story. Check back for updates and follow BuzzFeed News on Twitter.