Reports: ISIS May Have Planted Bomb That Downed Russian Plane
U.S. intelligence suggests ISIS or an affiliate may have planted an explosive device on the airliner that crashed Saturday in Egypt's Sinai Peninsula, killing 224 people.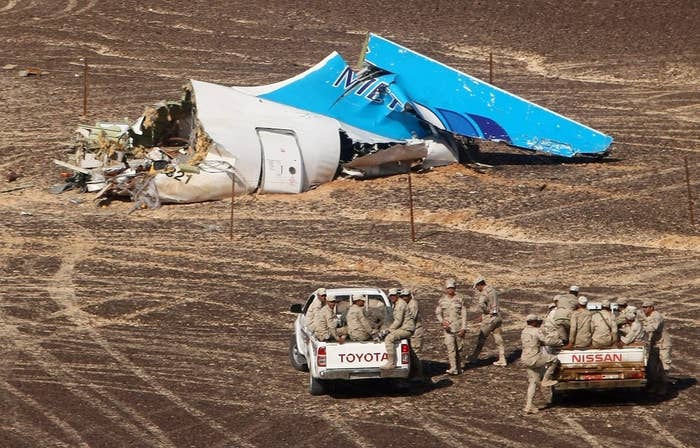 Hours after British officials said Wednesday they believe the Russian passenger jet that crashed in the Egyptian desert was downed by an in-flight bomb, several major news networks reported that investigators are focusing on ISIS or an ISIS affiliate as the attackers.
The claims that ISIS or a sympathetic organization planted a bomb on the jet were initially reported by CNN, then NBC News, both citing U.S. officials. There has been no conclusive evidence of a terrorist attack. Some ISIS supporters have claimed responsibility.
"There is a definite feeling it was an explosive device planted in luggage or somewhere on the plane," the U.S. official told CNN.
An Israeli military intelligence officer told BuzzFeed News they had yet to see evidence to suggest it was a bomb rather than a fault in the plane that caused the crash. "Either explanation is equally plausible to us at this time, given the intelligence we have seen," he said.
At a press briefing on Wednesday, State Department spokesperson John Kirby said, "We don't know what happened."
Meanwhile, a New York Times journalist reported that authorities had not yet forensically determined whether a bomb had been placed onboard.
Later, CBS News and the AP also reported that U.S. intelligence indicates ISIS or an affiliate may have planted a bomb on the jet.
"The official says intercepted communications played a role in the tentative conclusion that the Islamic State group's Sinai affiliate planted an explosive device on the plane," the AP reported.
Rep. Adam Schiff, the ranking member on the House Commitee on Intelligence, told CNN people should not jump to conclusions yet.
"We are still trying to confirm what the cause of the crash was. It is certainly possible that it was an explosive, but it's also possible that this was a structural problem with the plane. With the tail section of the plane," he said.
"So at this point, I don't think we're prepared to draw any conclusions. But obviously we're investigating it and directing our intelligence resources to try to determine the cause of the crash," Schiff said.
The Sinai affiliate for ISIS was originally named Ansar Bayt al-Maqdis, later changed to Wilayat Sinai.
Earlier on Wednesday, that group released a new audio statement, according to Aswat Masriya, taking responsibility for the claim.
The Wall Street Journal translated the statement as saying:
"Take the crashed plane and search it, take the black box and analyze it," the voice says. "Tell us what you found in your investigation, show us your expertise and prove, if you can, that it wasn't us who took the plane down or how it fell."

The speaker said that Sinai Province is "under no obligation to reveal the method by which we took [the plane] down." However, he continued by claiming that "we were the ones, with God's grace, who made the plane fall and we will reveal how we took it down when and how we see fit."
The Metrojet flight departed the Egyptian resort of Sharm el-Sheikh for St. Petersburg on Saturday morning and crashed shortly after takeoff, killing 217 passengers and seven crew members.
One U.S. official told CNN that U.S. officials didn't have credible intelligence about an attack before the crash. Another U.S. official told CNN the intelligence is based on monitoring of internal ISIS messages unrelated to their public claims of responsibility.
Earlier Wednesday, the U.K. government said it believes the passenger jet "may well have been brought down by an explosive device" — and ordered all British flights to the area to be temporarily grounded.
Foreign Secretary Philip Hammond said on Wednesday evening that Prime Minister David Cameron had chaired a meeting of his Cobra national security committee on the Russian jet.
"As a result, we have concluded there is a significant possibility that the crash was caused by an explosive device on board the aircraft," he said.
The British government has now decided to change its travel advice for Europe, now warning against all but essential travel through the Sharm el-Sheikh airport.
British authorities are working with their Egyptian counterparts to put in place additional security measures at the airport, Hammond said.

Reporting by Ellie Hall and Ali Watkins in New York and Sheera Frenkel in San Francisco.