A state of emergency was declared for Charlotte, North Carolina, Wednesday night after a violent protest left one person critically injured in a non-police shooting and multiple storefronts smashed and looted.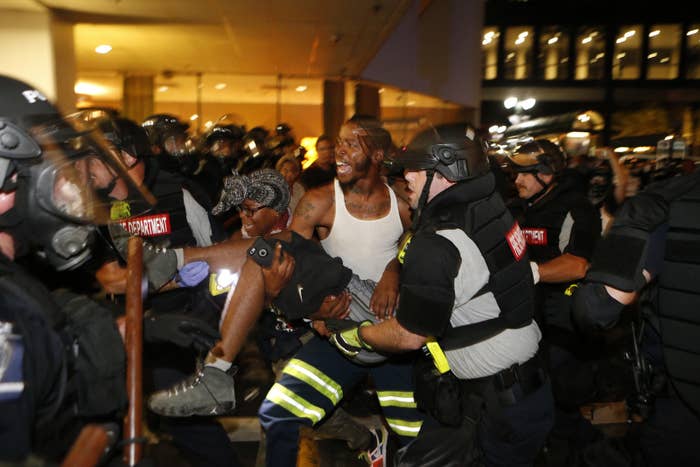 At least one person was on life support after the shooting that occurred during the second night of violent protests in response to the police shooting death of 43-year-old Keith Lamont Scott on Tuesday.
City officials had originally reported that the person died, but later said they were "on life support, critical condition."
Police said they responded to a call for service at 8:31 p.m., when they found one person with an apparent gunshot wound. A medic transported the patient to the local hospital with life-threatening injuries, the Mecklenburg EMS told BuzzFeed News.
The Mecklenburg EMS said in a statement later that they treated two additional patients from the same area with non-life-threatening injuries. Four officers were also treated for injuries sustained in the course of the demonstrations.
The shooting involved civilians and no police officers fired their weapons, according to city officials.
Flash bangs and smoke could be seen as the protests moved through Uptown near the Omni Hotel Wednesday night prior to the shooting as protesters clashed with police.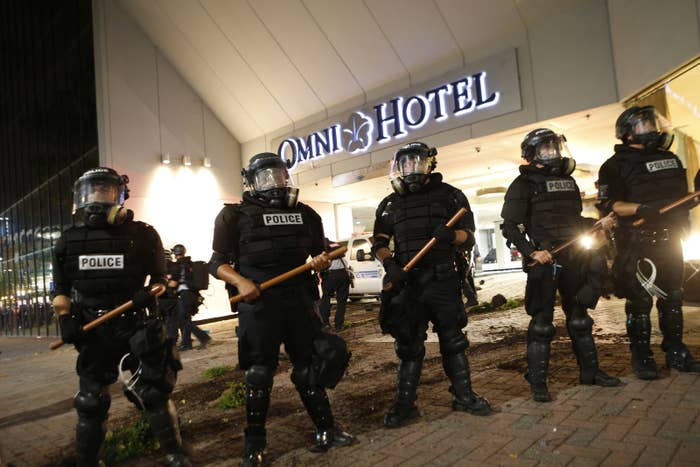 Mayor Jennifer Roberts said in an interview on CNN that Charlotte has a history of pulling together and looking out for each other. But, "when I look at pictures, this is not who we are," she said.
"We know that we are better than this, and that there are a host of reasons and emotions, and series of events that have happened in our country that have led tensions to be high," Roberts later told the BBC's Today program.
"We have a tradition of being collaborative, of working with our community to come to calm solutions, and I do worry that this will look like something that we are not, like a city we are not."
She reminded viewers that there were "other instances" where the National Guard was called in, citing natural disasters, and said she hoped there would not be too much "military equipment" on the streets.
The NC NAACP released a statement on Twitter in which they called for careful review of video purporting to be from the scene of Scott's death. Protesters had earlier held signs reading "Release the tape," in reference to police recordings of Tuesday's incident.
Representatives from the national group will travel to Charlotte to support both the Scott family and city officials. "We support those who exercise the right to peaceful protest, and encourage the First Amendment right to call for redress of wrongs," they said in the statement. "We stand against efforts that undermine the legitimate calls for justice with unjust, random or purposeless acts of violence."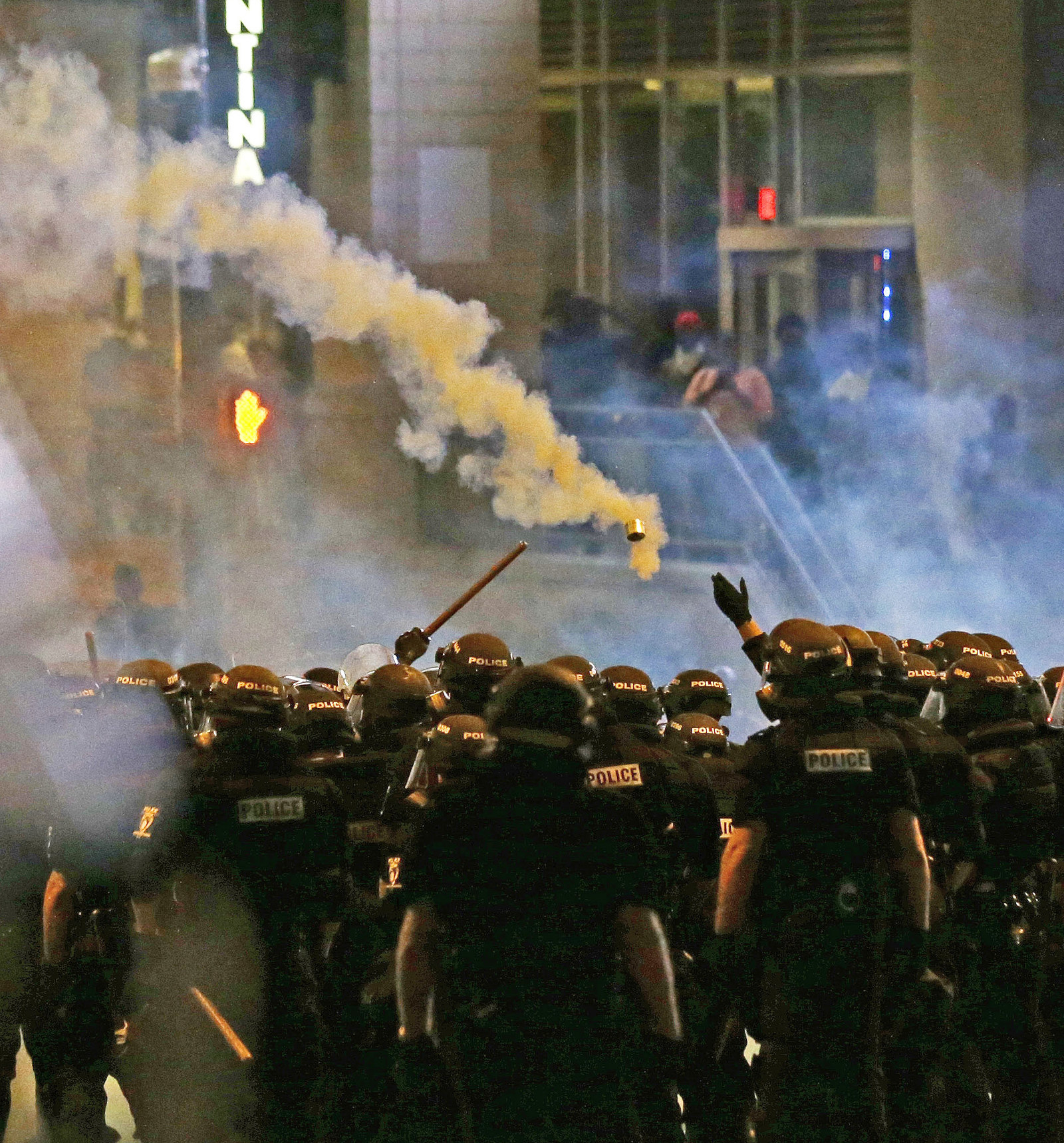 Public defender Toussaint Romain, who was seen in business attire trying to mediate between protesters and lines of police in riot gear, told CNN he was there to help reach out to a frustrated community.
"People are hurting, people are upset, people are frustrated. People need leaders," he said, adding, "We're here to say enough is enough."
Gov. Pat McCrory declared the state of emergency as the night wore on, and sent the National Guard and state troopers to assist police.
"The state has many additional assets nearby to assist," he said. "Any violence directed toward our citizens or police officers or destruction of property should not be tolerated."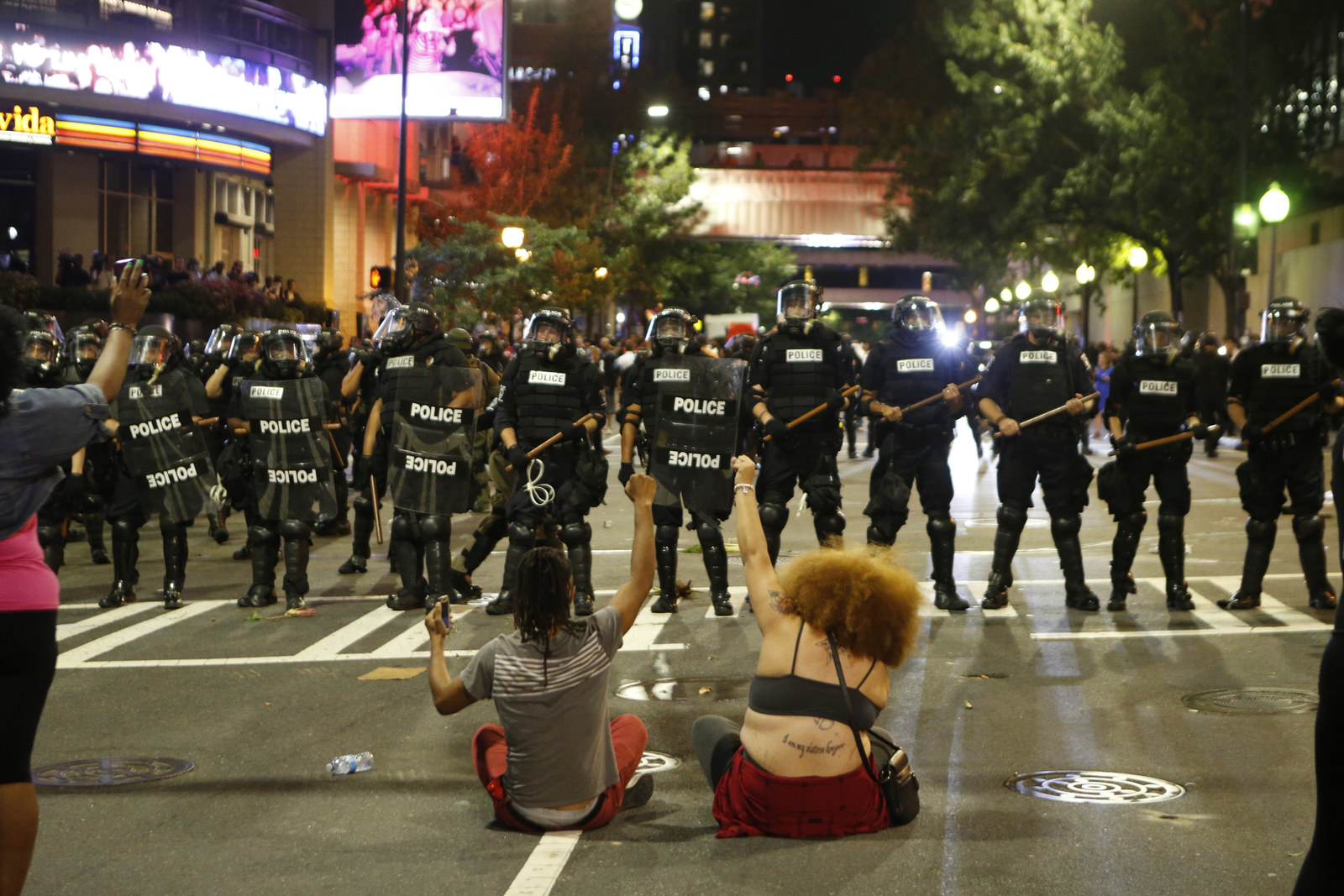 Earlier in the day, Charlotte Police Chief Kerr Putney said Scott was armed with a handgun when confronted by an officer outside an apartment complex, disputing claims from family members that he was holding a book.
"He did have a weapon when he exited the vehicle," Putney said during a news conference. "Officers were giving loud, clear verbal commands. The suspect exited the vehicle with a handgun, threatening officers."
The shooting prompted a night of unrest Tuesday, with protesters blocking streets, throwing rocks, and damaging multiple vehicles. Putney said one protester was arrested and 16 officers were injured.
After Scott's family issued a statement appealing for peaceful demonstrations, crowds gathered Wednesday evening at Marshall Park to hold a vigil.
Students at the University of North Carolina Charlotte on Wednesday also held their own vigil by lying on the floor of the student union.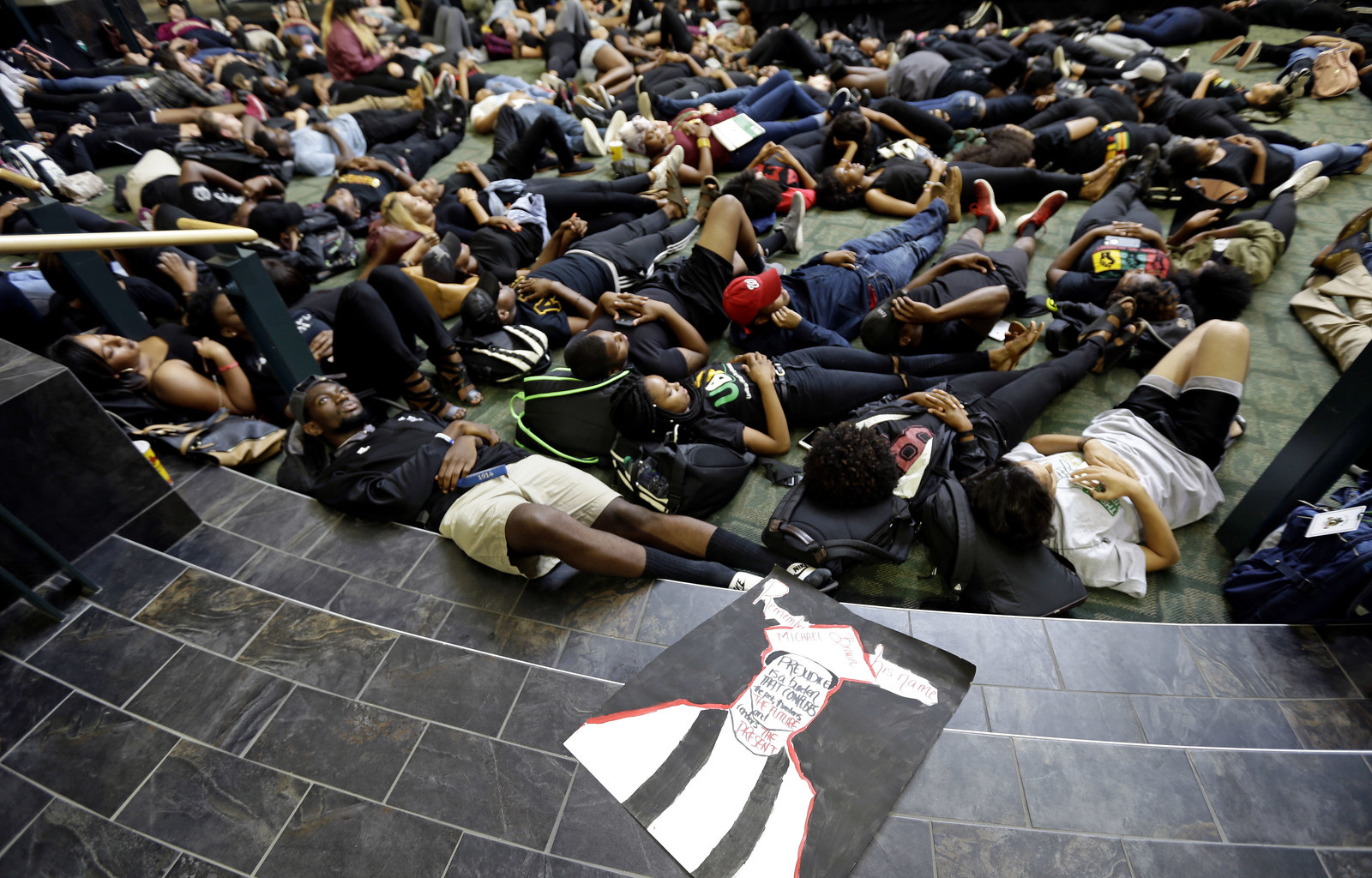 After gathering at Marshall Park, demonstrators started to march through the city, stopping traffic.
The march, however, quickly escalated into confrontations with police as the protesters scattered and then re-grouped through the evening.
A number of journalists were injured as they covered the protests. A reporter and cameraman with NBC channel WCNC were taken to hospital, according to one of the station's journalists.