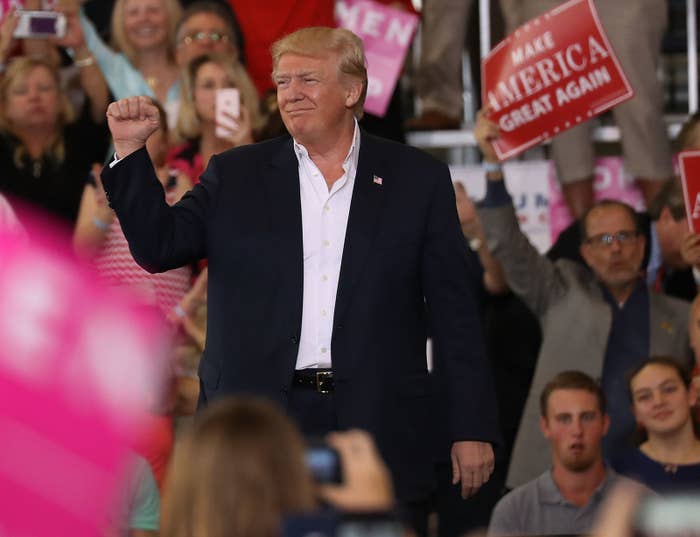 Here's what's happening:
After a rocky first month in office, President Trump delivered a fiery and passionate campaign-style speech to about 9,000 adoring supporters at an airport hangar in Melbourne, Florida as a way to rally his support and regain footing.
Trump made a dramatic entrance — Air Force One rolled up in front of the crowd, and he walked down the stairs to the lectern — and immediately bashed the media that is critical of him as an enemy that publishes "fake news."
He then launched into a full-throated defense of his time in office and what he plans to do, sticking to staples such as bring back jobs and revising his executive order limiting immigration from certain countries.
"People want to take back control of their countries and they want to take back control of their lives and the lives of their family. The nation state remains the best model for human happiness," Trump said.
At one point, Trump told Secret Service to let a supporter up on stage and say a few words, and the guy was THRILLED.
Trump supporters at the rally told BuzzFeed News that they are very happy with Trump's performance so far. Many took up Trump's mantle and decried "fake news" outlets that are critical of the president. Others said the immigration ban — which was eventually halted by federal court judges — would keep the nation safer and that stemming the flow of undocumented immigrants was the top priority.
A contingent of Resist Together protesters were outside the event — there were no protests during Trumps speech — and things remained peaceful.
BuzzFeed News was live on Facebook talking to Trump supporters before and after the event — the interviews are great, and you can watch it all here.
You can rewatch our live feed, with interviews with Trump supporters, here
President Trump says he hates the press, and his supporters go right with it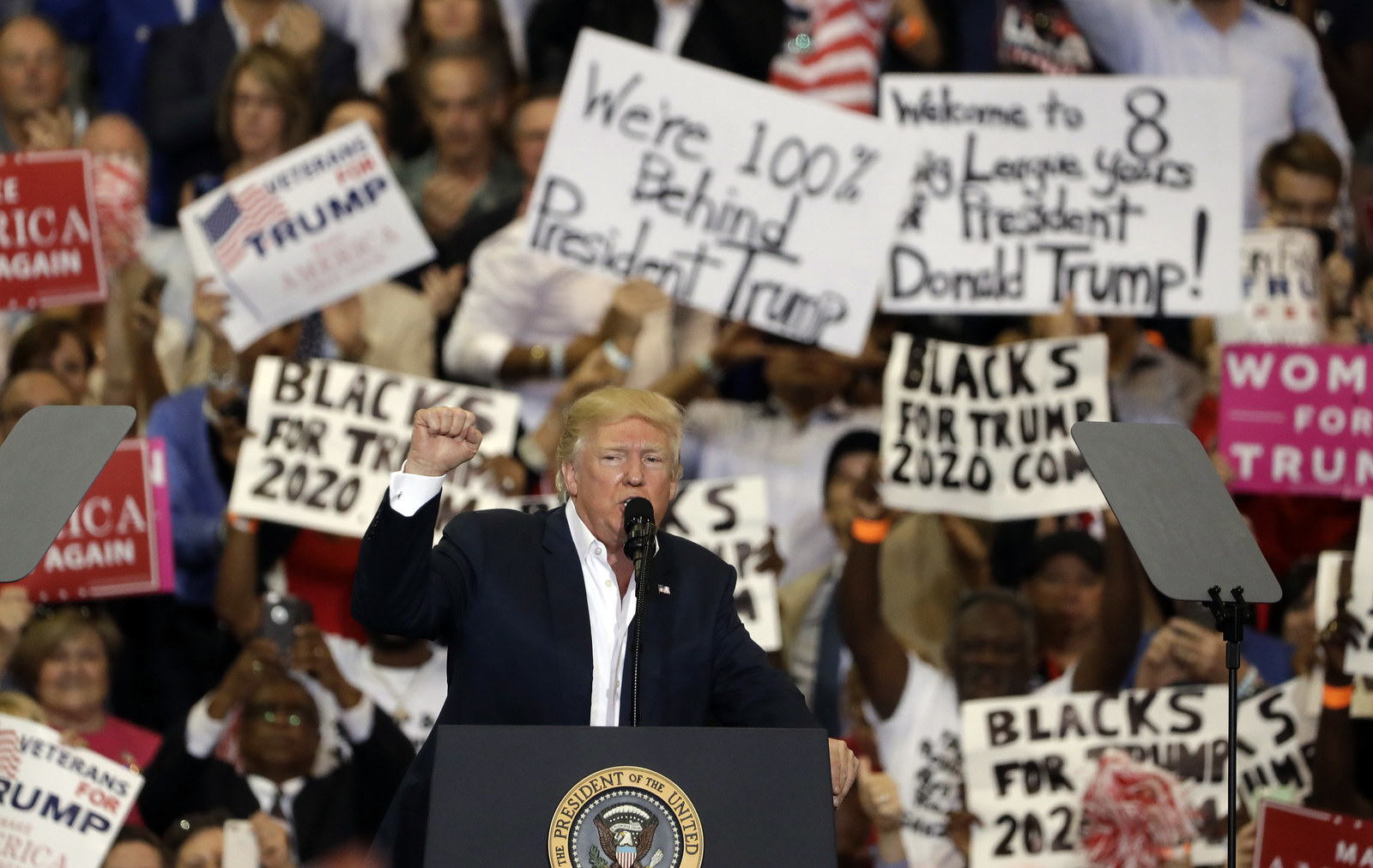 President Trump attacked the news media during a campaign-style rally in Florida Saturday, and his supporters there appeared to be on the same page is the president.
"He tells the truth and all the rest of them are liars," one supporter told BuzzFeed News.
Just minutes after the rally started, the crowd turned unfriendly against reporters covering the event. As the president criticized the news media for what he said were "fake news" reporters, the crowd roared.
Supporters told BuzzFeed News their media consumption has changed during the campaign, and others said they get their news from right-leaning outlets, Facebook, and Russia Today, a Kremlin-backed news outlet.
Read more about it here.
—Salvador Hernandez
Trump's supporters are completely unfazed by his the reported chaos in his first month in office
About 9,000 people turned out for Trump's rally, and of the dozens BuzzFeed News interviewed on our live stream there was little to no disappointment with the president's performance so far.
His supporters — like Trump — still appear to be in campaign mode. They are already looking past some of the issues that liberals have trumpeted — such as the rollout of the travel ban, the firing of the national security advisor, and his labor secretary nominee dropping out of contention — and are focused on what Trump says he plans to do.
The only criticism was light. One supporter, Joyce Fudge, who is in her 80s, said she thinks Trump said "what the crowd wanted to hear," was prone to "bloviating," and said "he's impressive just because of the ego he brings."
Another woman who identified herself as an educator said she wasn't happy with Trump's education secretary, Betsy DeVos, a billionaire campaign donor to the president, because of her support for charter schools.
But mostly his supporters said they thought the travel ban — which focused on refugees and people from seven Muslim-majority nations and was blocked by a federal judge — would keep the country safer. They also said they liked his policies on domestic safety and his bashing the media.
Here's a quick sample of some of his supporters comments:
President Trump attacked the media and defended his month-long term during a campaign-style rally in Florida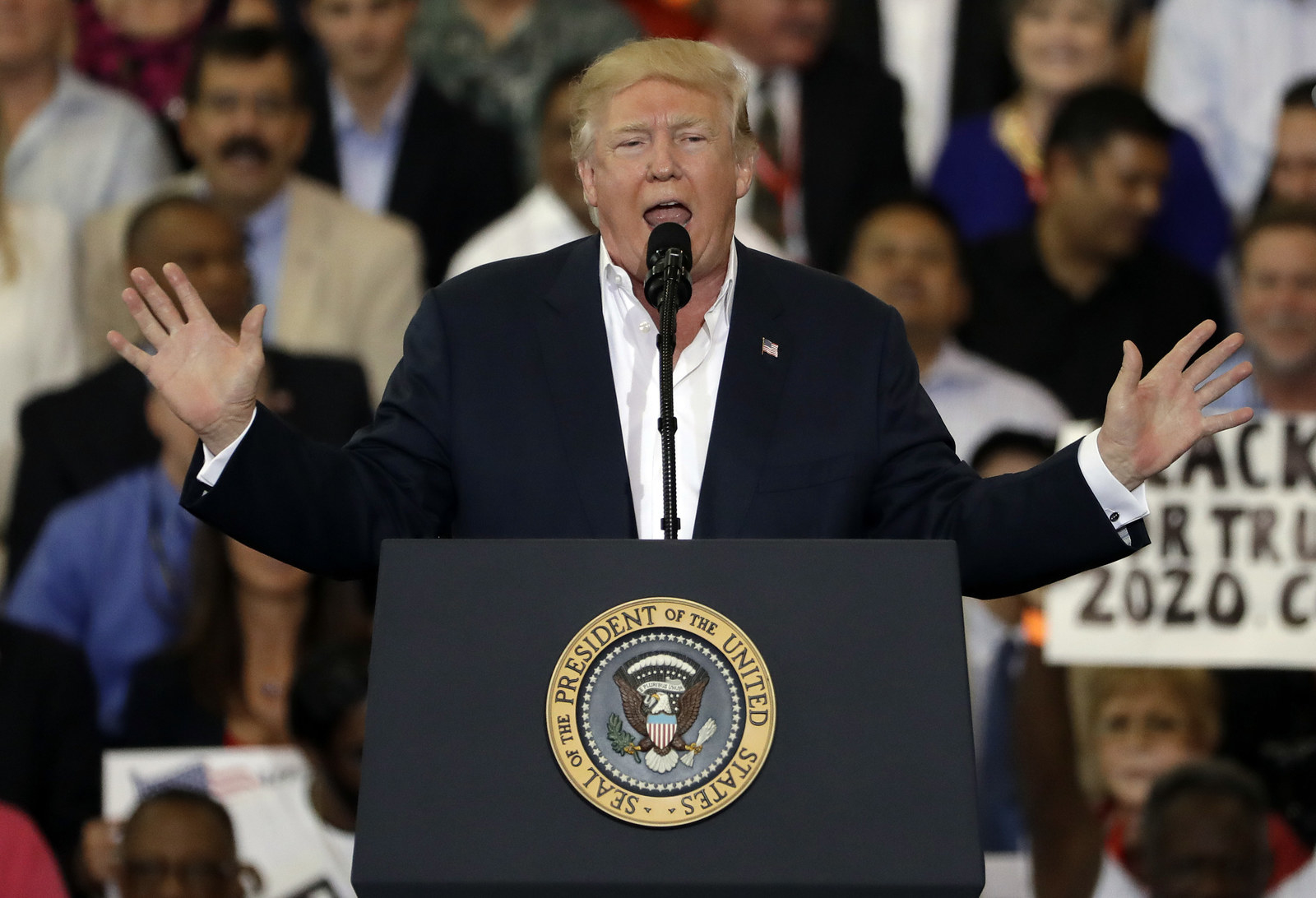 President Donald Trump attacked the news media and defended his month-long presidency at a campaign-style rally in Florida Saturday.
Speaking to a crowd of about 9,000 supporters, the president did what was a quick review of his last first weeks in office, including a review of his skirmishes with the courts and the news media.
Trump's early days in office have been troubled with the resignation of his national security advisor, Michael Flynn, and court challenges to his executive order banning travel from seven Muslim-majority countries. On Saturday, however, he surrounded himself with some of his more fervent supporters.
"I want to be in a room with hard working American patriots, who love their country, who salute their flag and pray for a better future," Trump said. "It's now been one month since my inauguration and I'm here to tell you about our great progress."
The rally was also, for Trump, a chance to address his supporters without the "filter" of what he has repeatedly called "fake news."
"They make them up in some cases," Trump said referring critical news reports about his administration. "The just dont report the truth."
Trump has been particularly dogged by news reports about possible links to the Russian government, including reports by the New York Times and the Washington Post that his campaign had been in contact with the Russian government repeatedly before the election.
"They've become part of the problem," he said. "They are part of the corrupt system."
Trump also took the chance to go over some of the points he made during similar campaign rallies before taking office, including a promise to keep companies from leaving the US and making them "pay a very big price," if they moved manufacturing abroad.
"Look at what's happening at every poll when it comes to optimism in our country," the President said. "We believe in two simple rules: Buy American and hire American."
He also pointed to his push to continue construction of the Keystone and Dakota Access Pipelines, a promise from his campaign days.
Trump said he was also planning on address the increase of crime, particularly in innner cities. The task force would focus on destroying "transnational criminal cartels, which are all over the United States, and we're going to stop drugs from pouring into your community."
–Salvador Hernandez
Trump stopped mid-speech at a rally to invite one of his supporters up on stage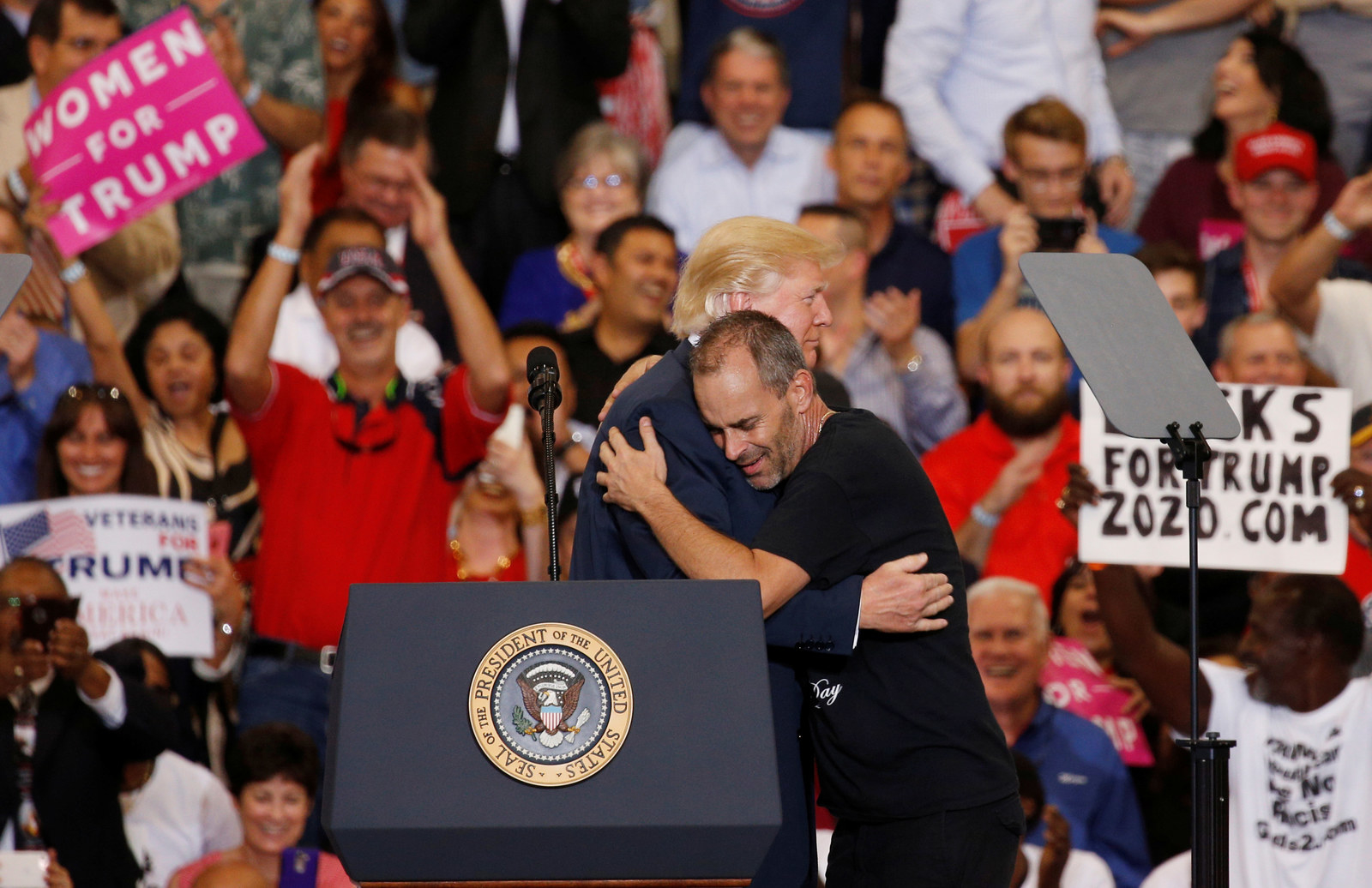 President Trump invited one of his supporters up on stage at a rally after he recognized the man from television.
"Look at this guy, c'mon!" Trump said, pointing at Gene Huber, who had apparently been the first person in line at a rally that drew about 9,00 supporters. "Hope over the fence, come on, he can do it."
The sudden invitation to stand along the president even caught some Secret Service agents off guard, who blocked Huber from the stage for a few seconds even as Trump egged him to come up.
Huber said he had been waiting in line since 4 a.m. for the rally, and that he has a cardboard cutout of Donald Trump at his home that he salutes every day.
Read the story here.
–Salvador Hernandez
The draft for a new travel ban order would reportedly not affect green-card holders and might allow some Syrian refugees
President Donald Trump is expected to issue a new executive order on immigration as early as Tuesday, and it's expected to include a temporary travel ban of citizens from the seven Muslim-majority countries included in the last order, the Wall Street Journal reported.
The new order is expected to have some significant differences from the past order, according to the WSJ, including allowing green card holders to travel to and from the country's affected.
Trump's initial order, which banned travel from Iraq, Iran, Syria, Lybia, Yemen, Somalia and Sudan, was put on hold by a ruling from the Night Circuit Court of Appeals after multiple lawsuits were filed by people affected by the order.
The Justice Department told the court that it be issuing a new order.
It was unclear whether a complete ban on accepting refugees from war-torn Syria would be included in the new order, the WSJ reported. The number of refugees allowed in to the US may be lowered, one US official told the paper.
Trump's previous ban sparked protests at international airports across the country the day it went into effect.
The current draft would also give the secretary of state authority to make exceptions for individual cases.
–Salvador Hernandez
Trump demanded the Secret Service let a man who complemented him up on stage to speak:
TRUMP: This guy. So he's been all over television saying the best things and I see him standing and didn't you get here at like 4 in the morning.
SUPPORTER: I did sir.
TRUMP: Say a couple of words to this crowd.
SUPPORTER: Mr. President, thank you so, sir. We the people, our movement is the reason why our president of the United States is standing here in front of us today. When president trump during the election, promised all these things that he was going to do for us, I knew he was going to do this for us. Thank you so much, sir.
TRUMP: A star is born. I wouldn't say that secret service was thrilled with that, but we know our people, right? We know our people. Great guy
A reporter who spoke to him earlier in the day identified him as Gene Huber:
Trump, after saying he wanted to talk about his policies, immediately lashed out at the media:
Here's a transcript:
I also want to speak to you without the filter of the fake news. The dishonest media, which has published one false story after another, with no sources, even though they pretend they have them, they make them up in many cases, they just don't want to report the truth and they've been calling us wrong now for two years. They don't get it, but they're starting to get it. I can tell you that. They've become a big part of the problem. They are part of the corrupt system.
Trump compared his disdain for the media to a quote from President Thomas Jefferson. "Nothing can now be believed which is seen in a newspaper. Truth itself becomes suspicious by being put into that polluted vehicle," Trump said, quoting Jefferson.
But despite all their lies, misrepresentations and false stories, they cannot defeat us in the primers, and they could not defeat us in the general election, and we will continue to expose them for what they are, and, most importantly, we will continue to win, win, win.

We are not going to let the fake news Tulsa what to do, how to live, or what to believe. We are free and independent people, and we will make our own choices.

We're here today to speak the truth, the whole truth, and nothing but the truth. I hear your demands. Ism your voices. And I promise you, I will deliver. I promise that. And, by the way, you've seen what we've accomplished in a short period of time. The white house is running so smoothly, so smoothly."
Trump arrived at his rally in dramatic fashion, with Air Force One rolling up and then he and Melania Trump emerging from the fuselage:
Supporters at Florida rally believe President Trump over "fake news"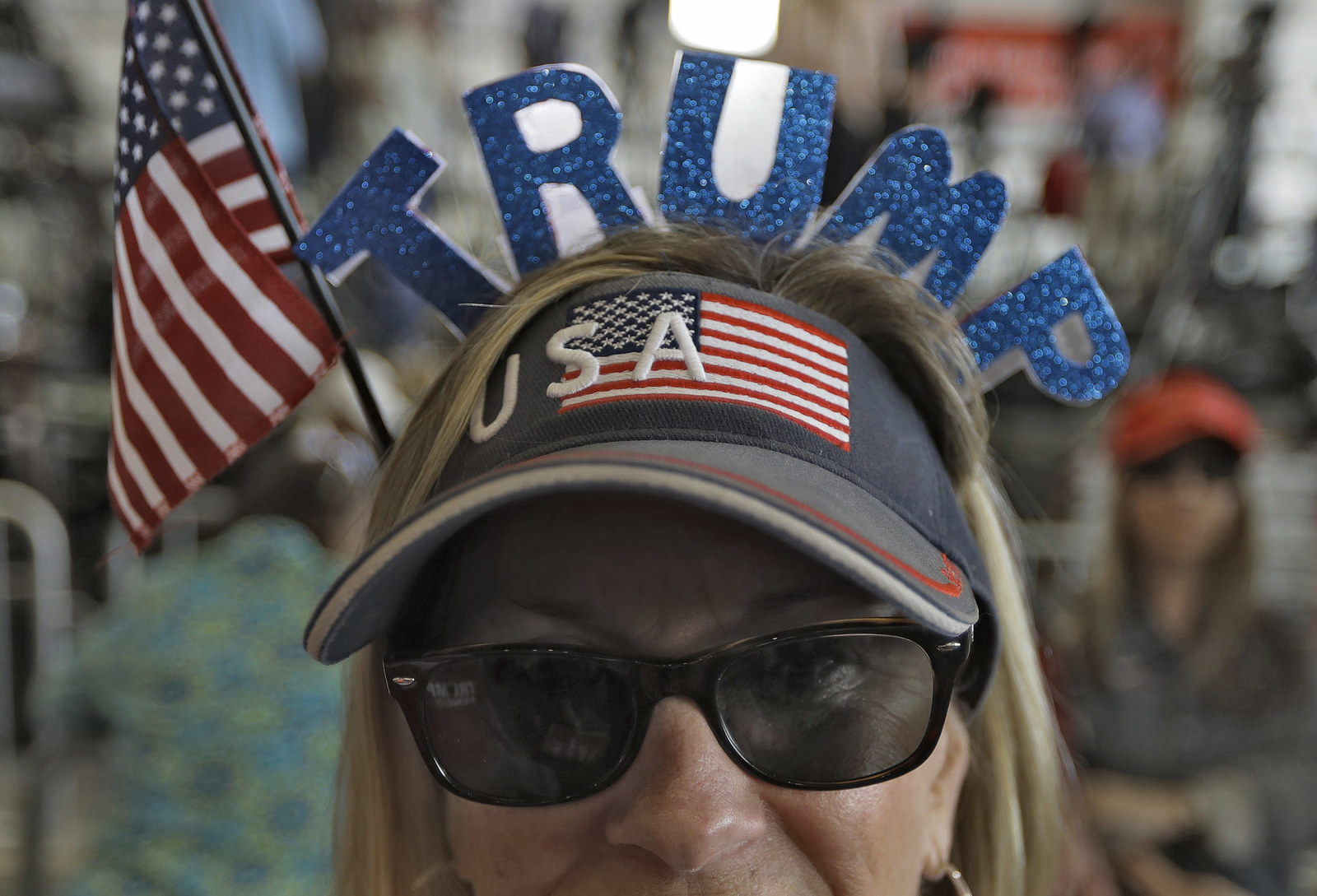 President Trump supporters at the Melbourn rally seemed to share the president's disdain and anger toward the news media, including several of them who said they would believe Trump's word over news reports.
"He tells the truth and all the rest of them are liars," one supporter told BuzzFeed New Andrew Kimmel.
When asked about what political issues supporters wanted the president to address at his Florida rally, about a month after taking office, many of them listed the "liberal media" along with healthcare, the economy and terrorism.
Asked about some of the troubles Trump has faced just weeks into his inauguration, including the resignation of Michael Flynn as National Security advisor, and the court block of Trump's immigration ban via executive order, one supporter complained about "fake news."
Asked where people could get real news, one supporter answered, "Listen to President Trump."
Another supporter, who was there with his wife, was asked what news he trusts to stay informed.
"Hopefully we can trust Donald."
–Salvador Hernandez
The crowd size at the rally is unclear, but the line to get inside was really long
One reporter on the ground in Melbourne noted that at one point, the queue extended about a mile away from the entrance as people waited for hours to get inside.
Estimates on social media have ranged from hundreds to thousands.
—Tamerra Griffin
Some people have passed out from the heat while waiting in line to get into the rally
Andrew Kimmel / Via BuzzFeed News
According to a BuzzFeed News reporter on the scene, the temperatures are high, and there doesn't appear to be anyone selling or providing bottled water.
—Andrew Kimmel
Trump supporters at rally are generally pleased with the administration so far
Trump supporters told BuzzFeed News that they are generally pleased with the president's first four weeks in office.
The crowd in Melbourne, Florida, is jovial. As the line to get into the venue queued down the road earlier this afternoon, attendants led random chants of "USA!" and were in good spirits.
They told BuzzFeed News that they see Trump as a truth-teller, and though some admitted that they wished he would take action on Hillary Clinton's emails and the wall along the US-Mexico border he's promised to build, his supporters continued to blame others for his supposed shortcomings.
–Lissandra Villa and Tamerra Griffin
BuzzFeed News' Lissandra Villa is live in Melbourne, FL today, follow her tweets for updates on the action
Trump says the media is the "enemy of the American people" in Friday night tweet
President Trump's war against the news media escalated to new heights Friday, posting on Twitter that news organizations are "the enemy of the American people."
In the tweet, Trump said the New York Times, CNN, NBC News "and many more" are not his enemy — but rather that of the general public.
"SICK!" the tweet concluded.
Read the full story here.
He doubled down on Saturday morning, urging the public to not believe the "fake news" media
Trump has a busy day planned at "The Southern White House" before heading to his rally in Melbourne tonight