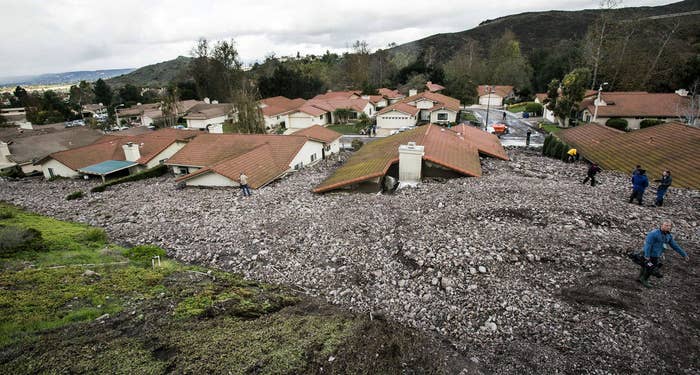 What We Know So Far
At least two people died during the storm, which caused widespread debris and mudflows, particularly in fire-scarred Southern California.
A rare tornado touched down in South L.A., causing minor damage.
Two people had to rescued from a swollen L.A. River Friday after getting trapped by rapidly rising water.
Electricity was knocked out in a large part of San Francisco, causing the evacuation of riders on a BART train, the Los Angeles Times reported.
Officials in many areas canceled school — a first-ever rain day — and airline flights as the storm approached.
As much as 9 inches of rain has fallen on coastal mountain regions.
Wind gusts reached more than 100 mph at high elevations.
The storm dumped more than 10 inches of rain on some parts of Northern California.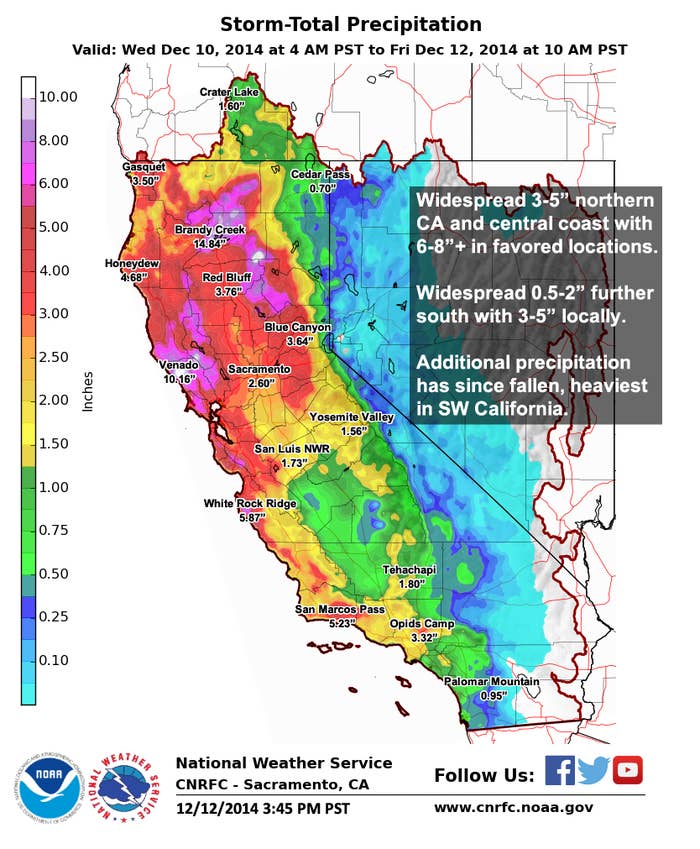 A rare tornado touched down in South Los Angeles, causing damage to buildings, according to the National Weather Service. No injuries were immediately reported, KABC-TV reported.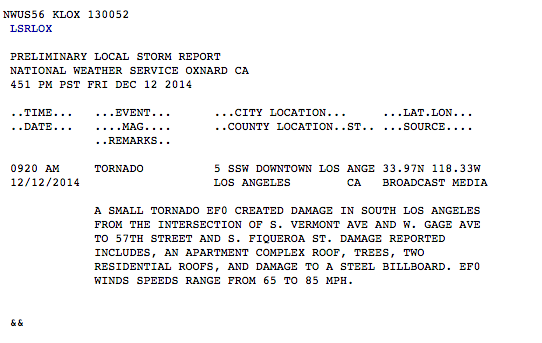 Here's a map showing the area where the tornado touched down.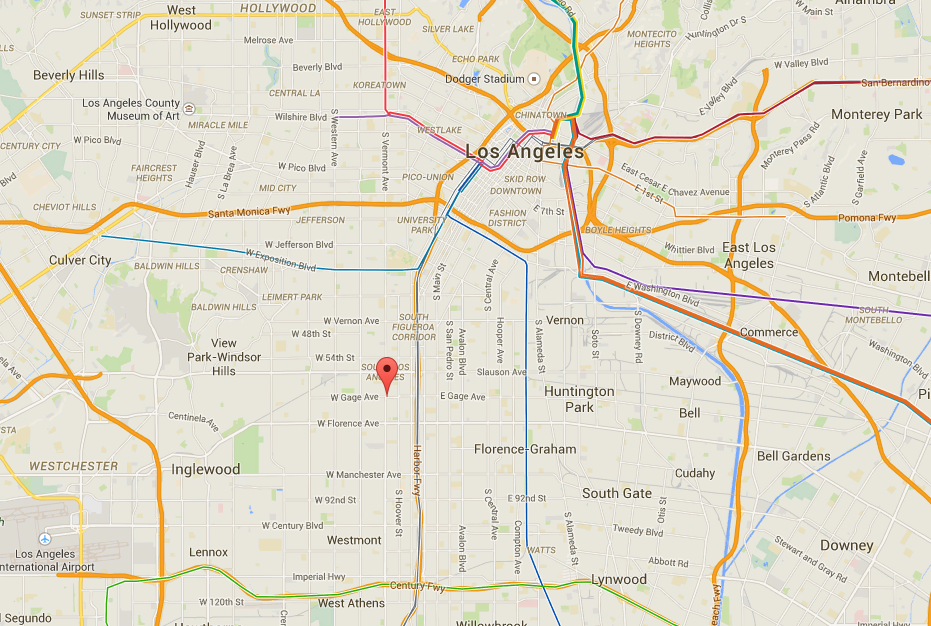 A waterspout was spotted off the coast of Newport Beach Friday afternoon. No injuries were reported from the rotating storm.
The storm dropped the first snow of the year on Yosemite National Park.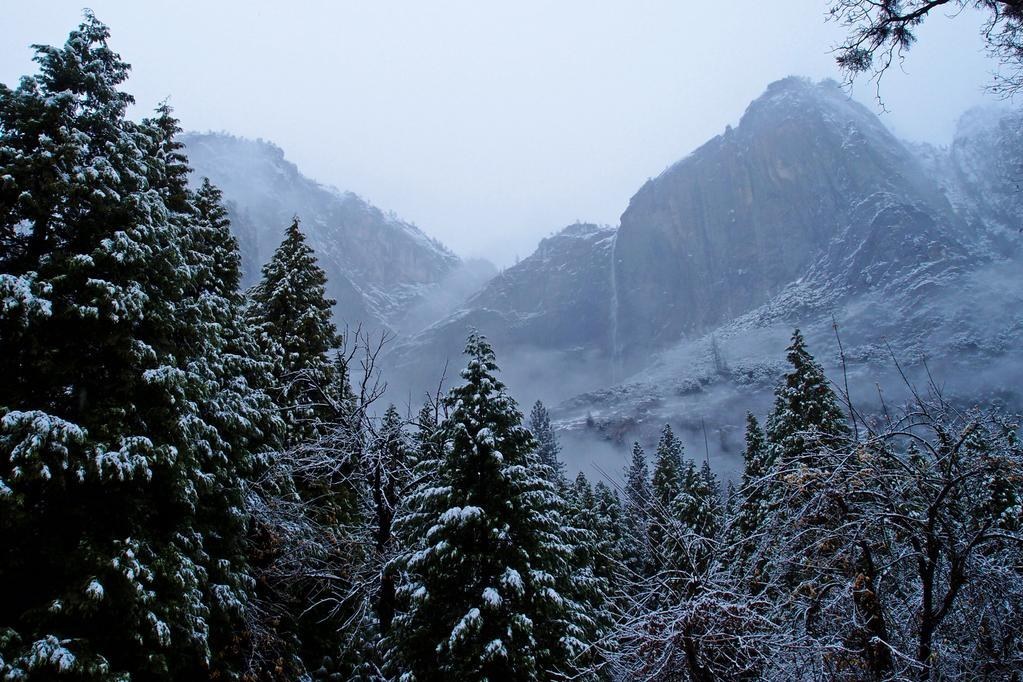 Firefighters were called to rescue two people from L.A. River after receiving reports of people stuck in trees Friday morning.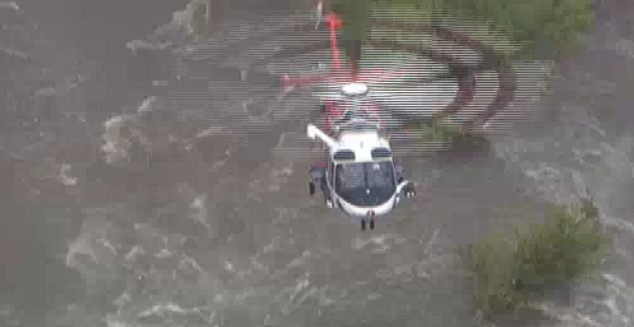 Katherine Main, spokeswoman with the L.A. Fire Department, said the first person was transported to a local hospital in fair condition. Firefighters also launched a rescue boat Friday morning to get to a second person, who was described as being alert.
The woman was also rushed to a local hospital after she was retrieved.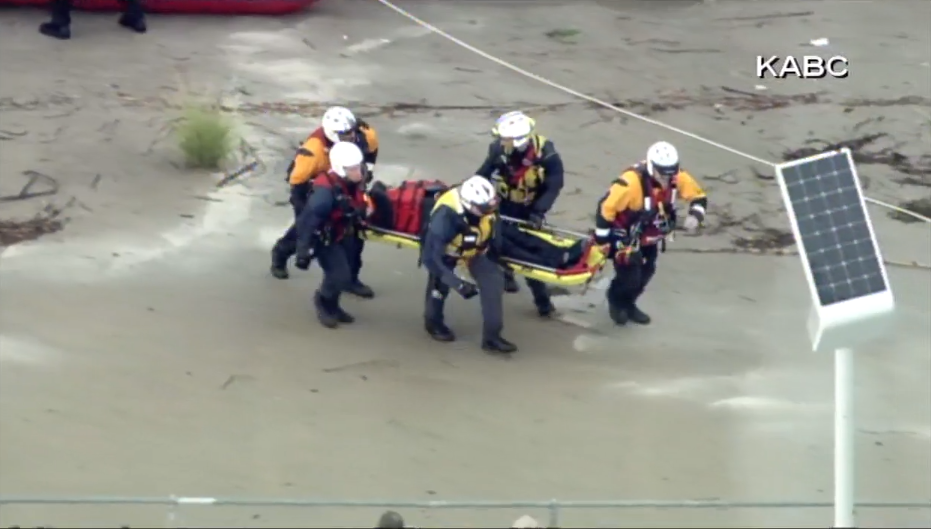 Mud and rocks bury homes in Camarillo Springs.
The area is especially vulnerable following previous mudslides on Halloween, which caused some homes to be red-tagged, according to ABC.
Teen boy dies after tree falls on car in Oregon
A teenage boy died and a woman was seriously injured after a tree fell on their vehicle Thursday evening in Porland Ore.
The falling tree caused the woman, who was driving, to swerve the car and hit another tree. The boy was pronounced dead at the scene. His name and age have not been released. The woman was taken to a nearby hospital with serious injuries.
Flash flood warning issues in Los Angeles
The biggest storm to hit California in several years continued its powerful path early Friday as a flash warning was issued for Los Angeles County. Heavy rain moved east from the coast into the Inland Empire. Wind gusts were measured as high as 71 mph knocking down trees and causing power outages.
More than 6 million people are affected by flash flood warning in Los Angeles area until 5:30 am.
Approximately four inches of rain are supposed to hit Los Angeles between 3 a.m. and 7 a.m. local time, according to the Los Angeles Times.
Californians in multiple cities battled flooding Thursday. In Windsor, north of San Francisco, a city employee drained water through a manhole.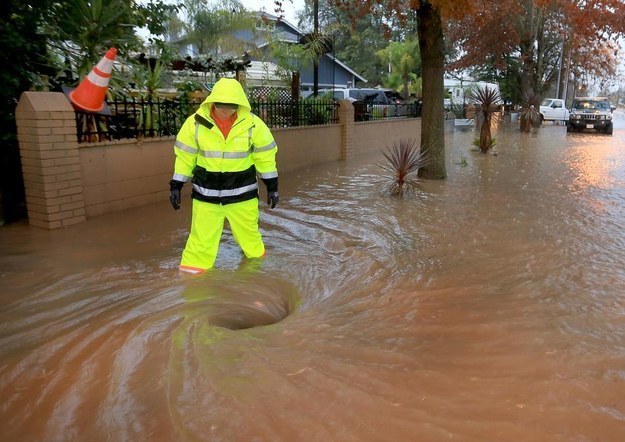 Police in the L.A. area ordered mandatory evacuations Thursday night for those living near the site of the Colby Fire.
The Colby Fire burned in Glendora, about 45 minutes east of downtown L.A. Mandatory evacuations began in Glendora at 10 p.m. PT for those near the fire's burn scar, where a lack of ground cover raised the risk of mudslides.
Falling tree kills camper in Oregon.
A camper was killed Thursday after high winds knocked down a tree onto a camp site in southern Oregon, the Jackson County Sheriff's Office said.
The falling tree, which was 8-10" in diameter, hit the tent and partially struck 40-year-old Phillip T. Crosby across the arm and chest. Crosby later had difficulty breathing and succumbed to his injuries.
More than 123,000 customers were without power Thursday night in Western Washington as strong winds battered the region.
The National Weather Service issued a high wind warning for the Puget Sound area as winds gusted as high as 65 mph.
As daylight faded Thursday, images showed rain soaked Californians wading through floodwaters all over the state.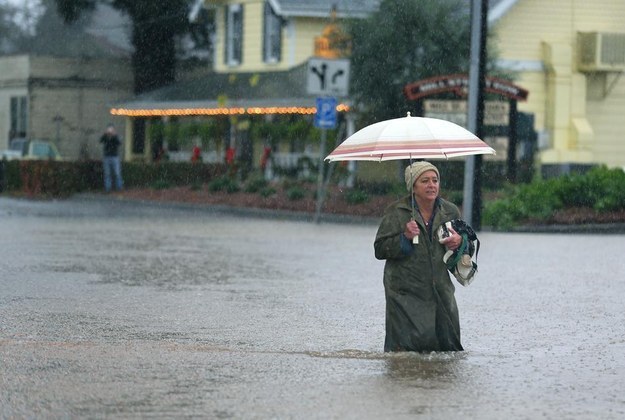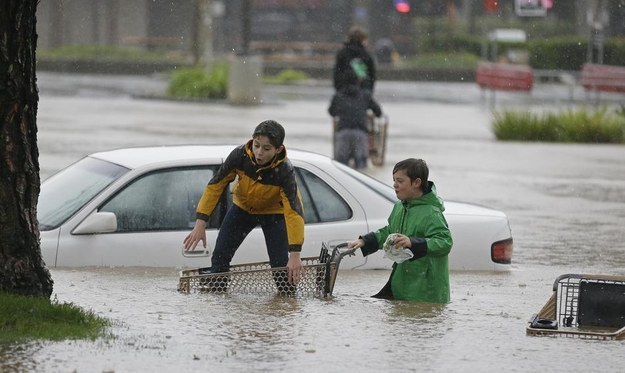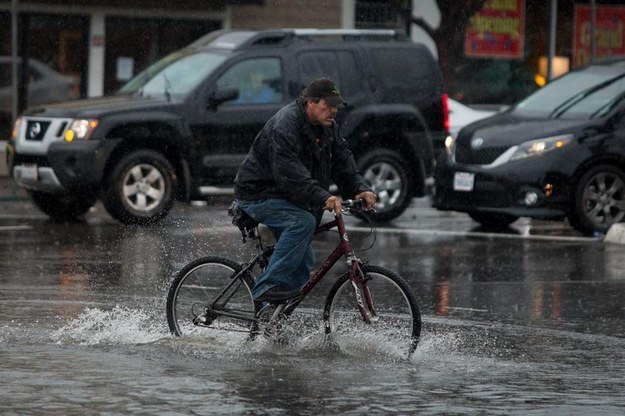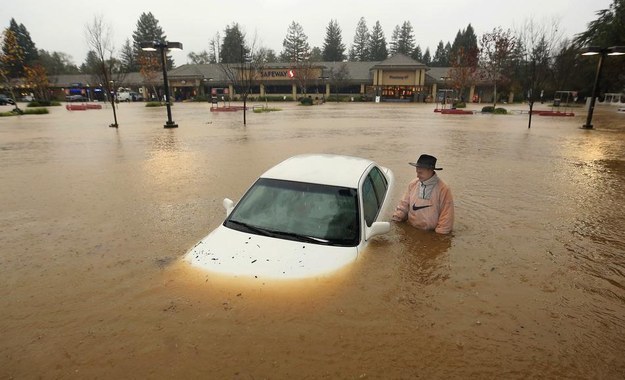 Two homes in Washaway Beach, Washington, were damaged Thursday when hillsides and cliffs collapsed in the storm.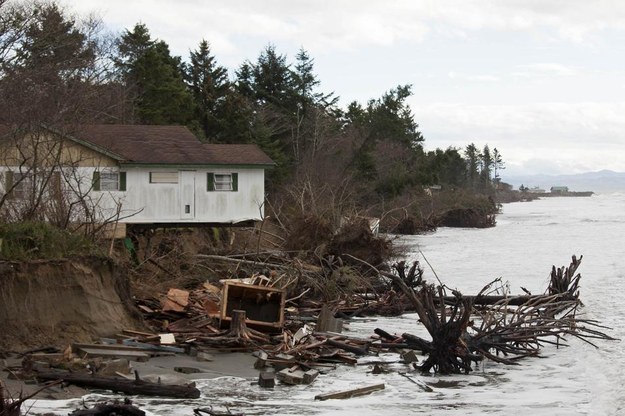 One home collapsed and another teetered precariously on a cliff as heavy rain and storm-driven waves lashed the coast. According to King 5, rising tides and erosion also contributed the damage. A nearby resident told the TV station that one of the homes was built in 1973 and occupied by an elderly couple.
Ray Miller, another neighbor, told Komo News that he was racing to save his belongings.
"I knew it was going to happen sooner or later, but I had hoped it wasn't this soon," Miller said.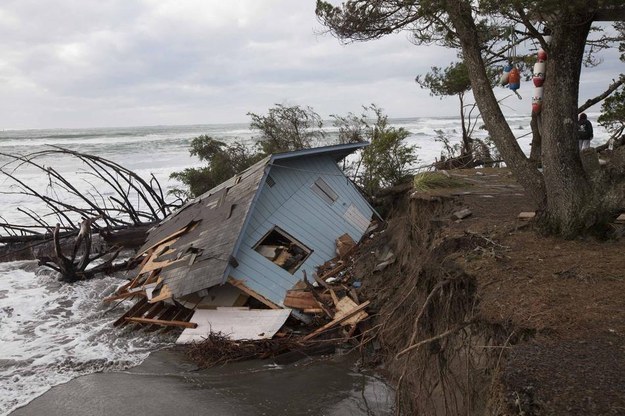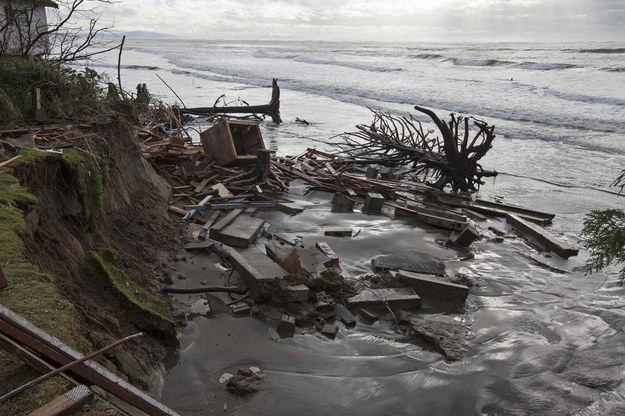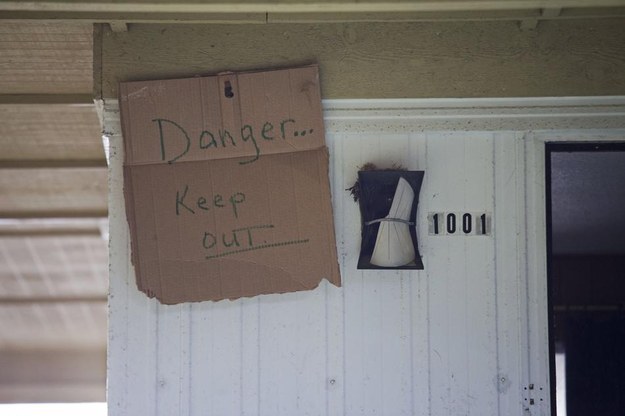 Thursday's storm pounded Portland, Oregon, sending debris into the air that smashed the windows of a downtown high rise.
And Portland International Airport recorded the strongest winds in more than 30 years.
Surfers braved the cold Thursday to take advantage of large waves on Lake Tahoe caused by the storm's fierce winds.
A driver was forced to push his car as flooding hit Highway 101 in South San Francisco.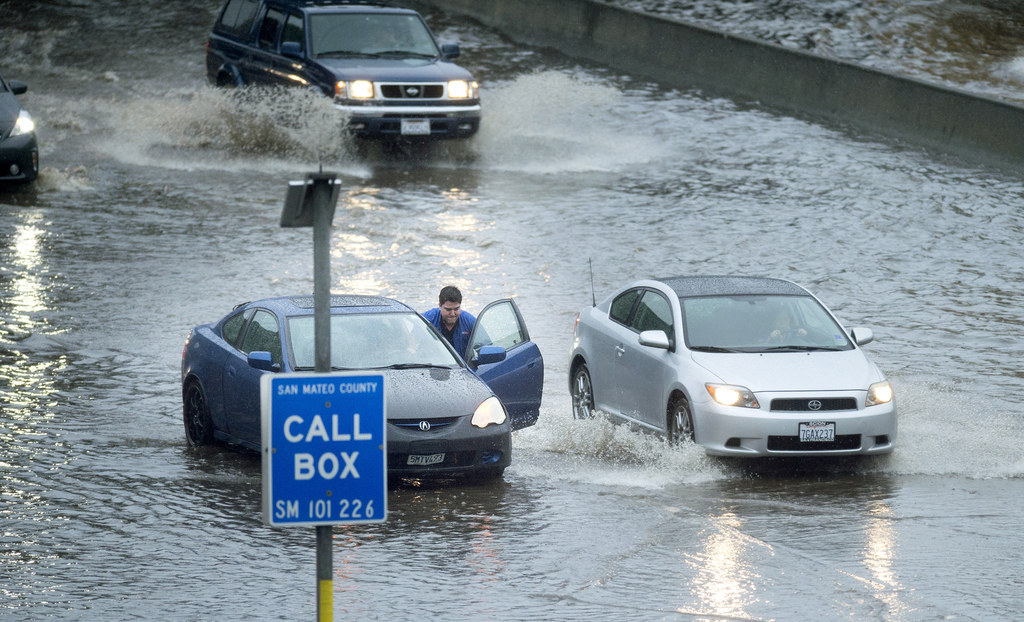 An electronic road sign was apparently hacked Thursday in Novato, north of San Francisco.
Part of Somona County recorded more than 9 inches of rain, the National Weather Service said.
Wind gusts topped 80 mph in the mountains.
About 240 flights at San Francisco International Airport had been canceled, airport officials said Thursday.
NASA image of storm moving through
By late morning, the worst of the rain had passed, according to the National Weather Service. Flooding remained an issue in some areas, however.
A flash flood warning was extended in Sonoma County, where high waters flooded along the Russian River and other areas.
Tens of thousands remained without power.
The storm closed some highways, and caused flight delays and cancellations at San Francisco International Airport.
Power in large swaths of downtown San Francisco has been knocked out, the Los Angeles Times reported:
Here's the storm's wind flow along the coast:
Power outages continue to increase across the Bay Area.
Power outages are beginning:
Here's the National Weather Service's radar as of 6 a.m. PT: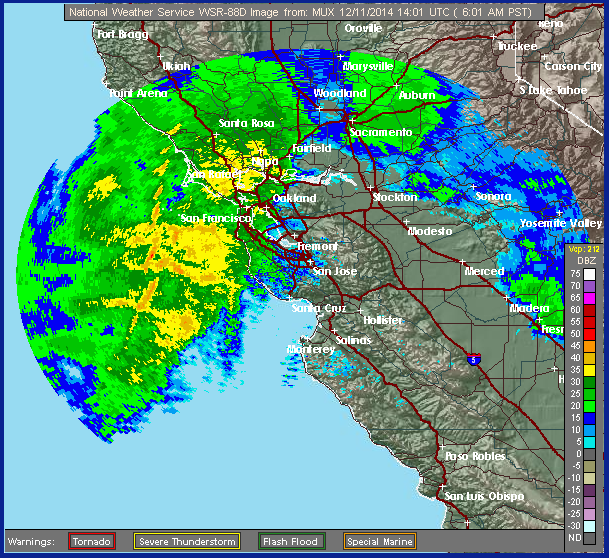 One meteorologist mapped out the wind gusts as of 6:30 a.m. PT:
Bay Area residents are bracing for torrential rainfall.
Reporting by Tom Namako, Claudia Koerner, Jon Passantino, May Ann Georgantopoulos, and Jim Dalrymple II.