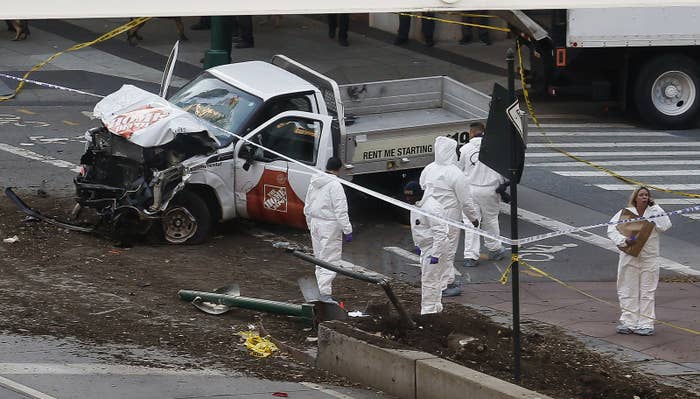 Eight people were killed and at least 11 others injured when a driver plowed a rental truck through a busy bike path in Manhattan on Tuesday in what officials said was the deadliest terrorist attack on New York City since Sept. 11, 2001.
The attack began at 3:05 p.m. when a 29-year-old man drove a rented Home Depot truck into a bike and pedestrian path on West Street, striking multiple people, New York City Police Commissioner James O'Neill said. The driver continued until he collided with a school bus carrying adults and children.
The driver then got out of the truck "brandishing two handguns" and was shot in the abdomen by a police officer, O'Neill said. The suspect was taken into custody and hospitalized. Police recovered a paintball gun and a pellet gun from the scene.
The attacker shouted "Allahu akbar" — "God is great" in Arabic — as he got out of the truck, O'Neill said, which "enabled us to label this a terrorist event."
Police did not name the suspect, but the Associated Press, NBC News, and other outlets identified him as Sayfullo Saipov, an Uzbek national. Unnamed officials told the New York Times and other outlets that investigators found a handwritten note at the scene pledging allegiance to ISIS.
The attack is under investigation by the New York Police Department, FBI, and Joint Terrorism Task Force. The FBI on Tuesday evening was seeking the public's help in gathering information related to the attack.
On Wednesday, the president of Uzbekistan, Shavkat Mirziyoyev, offered his condolences to President Trump and the families of the victims. He also said that his country would help the US with its investigation, the AP reported.
Six people died at the scene of the attack, and two others were pronounced dead after being transported to a hospital. Another 11 people were hospitalized with serious but non-life-threatening injuries, but New York Mayor Bill de Blasio said "over a dozen" people in total suffered injuries.
"This was an act of terror, and a particularly cowardly act of terror aimed at innocent civilians," De Blasio said. "We know that this action was intended to break our spirit.
"But we also know New Yorkers are strong. New Yorkers are resilient and our spirit will never be moved by an act of violence and an act meant to intimidate us."
Images from the scene showed at least one body lying near a sidewalk where the attack occurred.
Another photo from the scene showed a school bus with significant damage to one side. O'Neill said two adults and two children on the bus suffered injuries from the collision.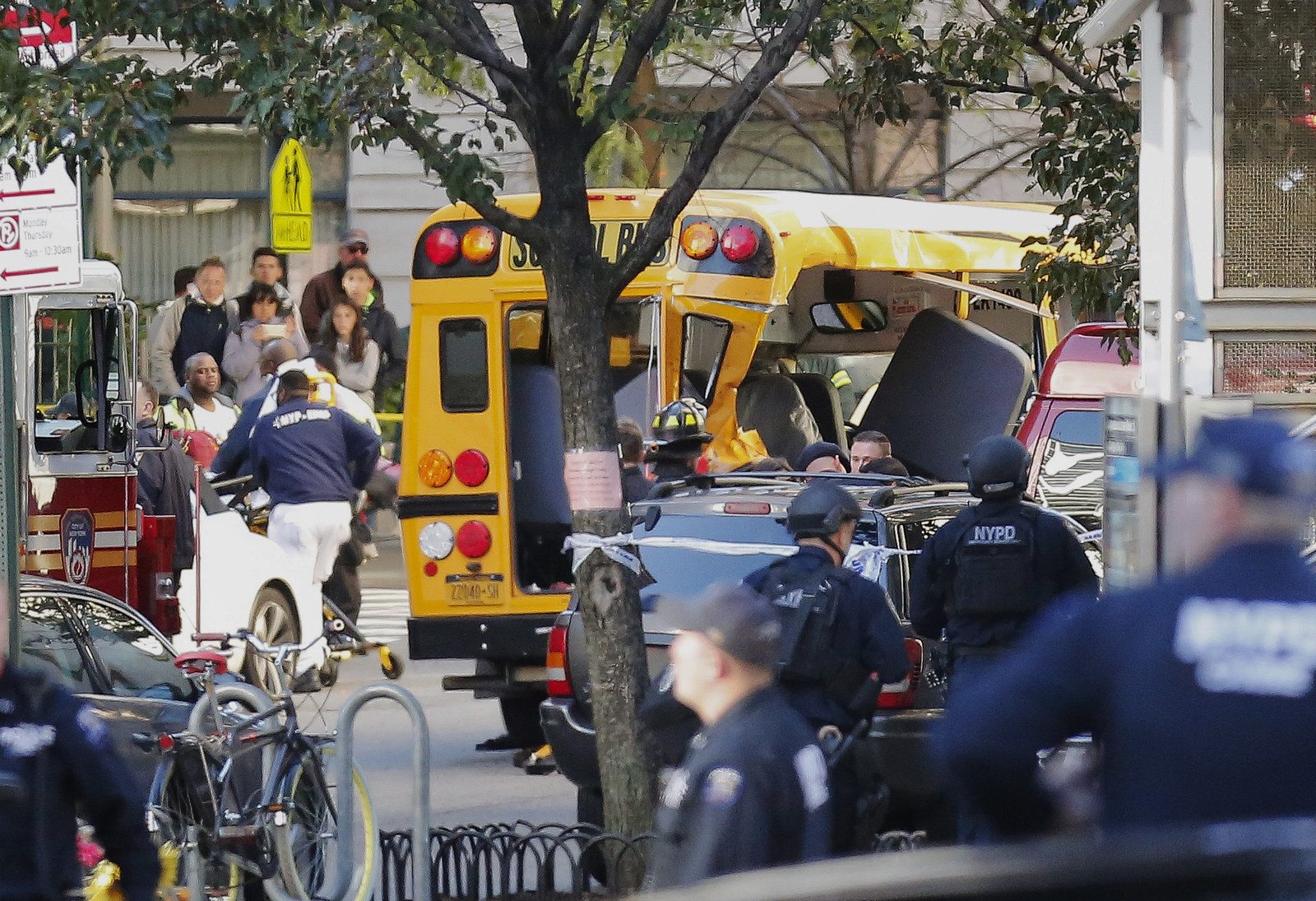 Five Argentine citizens were among those killed in the attack, the country's foreign affairs ministry said in a statement. They were identified as Hernán Mendoza, Diego Angelini, Alejandro Pagnucco, Ariel Erlij, and Hernán Ferruchi.
A sixth person from Argentina, Martín Ludovico Marro, was hospitalized, the ministry said. The Argentines hailed from the city of Rosario and were in New York celebrating the 30th anniversary of a college graduation.
Belgium's deputy prime minister, Didier Reynders, tweeted that one Belgian citizen was killed and three others were wounded.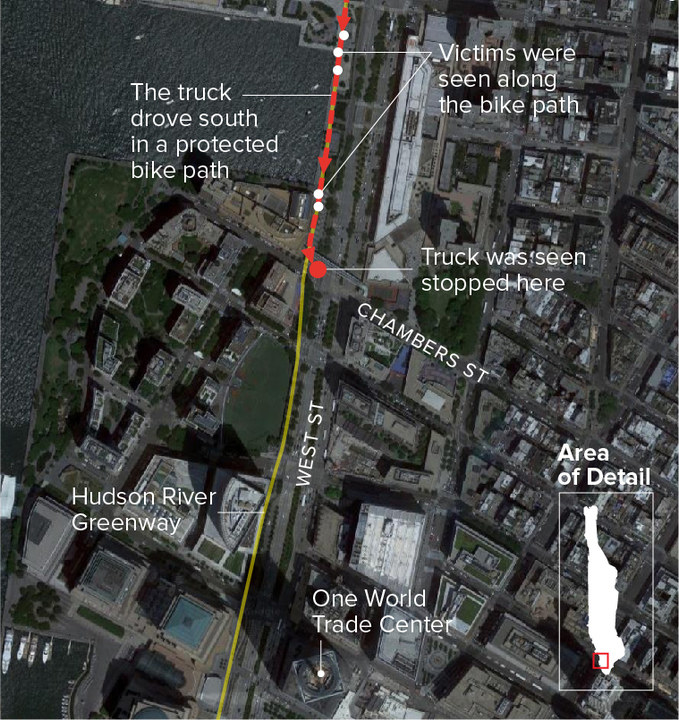 Tawhid Kabir, 20, who witnessed the incident, told BuzzFeed News he saw a man emerge from the truck and run "as if he was being chased." He said he heard five to six gunshots but wasn't sure who fired them, before police apprehended the driver.
Video from the scene of the attack showed people lying on the ground, as well as mangled bicycles.
A witness, Ramon Cruz, told WABC-TV that he saw the man get out of the truck and begin "screaming in the street."
"He look frustrated, panicked, confused," Cruz said. "From there, a whole bunch of customers started running past me, yelling, 'He's got a gun! He's got a gun!' I did not see any gun."
Other images and videos showed a significant police presence in the area, as well as the wrecked truck with a Home Depot logo on the hood. A Home Depot spokesperson told BuzzFeed News that the truck was one of the company's rentals, adding the company "is cooperating with authorities in their investigation."
Video also showed emergency responders transporting people away from the scene on stretchers.
In his initial response, President Trump tweeted that the incident "looks like another attack by a very sick and deranged person."
He later issued an official statement, saying that "our thoughts and prayers are with the victims of today's terrorist attack in New York City and their families."
"My administration will provide its full support to the New York City Police Department, including through a joint investigation with the Federal Bureau of Investigation," Trump said, adding that the attack was "cowardly."
"We have recently seen attacks like this one throughout the world," the Department of Homeland Security said in a statement. "DHS and its law enforcement partners remain vigilant and committed to safeguarding the American people."
Later still, Trump tweeted that he "ordered Homeland Security to step up our already Extreme Vetting Program."
First lady Melania Trump tweeted that her "heart breaks" for New York.
Police said Tuesday night that there would be an increased law enforcement presence in New York City, including at the Halloween parade.
New York Governor Andrew Cuomo also directed an array of agencies including the state National Guard, the Metropolitan Transportation Authority, and the Port Authority of New York and New Jersey to increase security at high-profile sites.
Cuomo ordered One World Trade Center, located near the site of the attack, to be lit in red, white, and blue, and said that he was "deeply saddened by the attack on New York, and I join all New Yorkers in mourning the innocent lives we lost today."
"New York is an international symbol of freedom and democracy, and that makes us a target for people who oppose our way of life," Cuomo said. He added that there was no evidence the attack was part of a wider plot, and encouraged "all New Yorkers to go about their business and live their lives without fear."