Obama Makes Case For Gun Control In Town Hall Meeting
The event came two days after Obama delivered an emotional speech outlining his executive actions on gun control.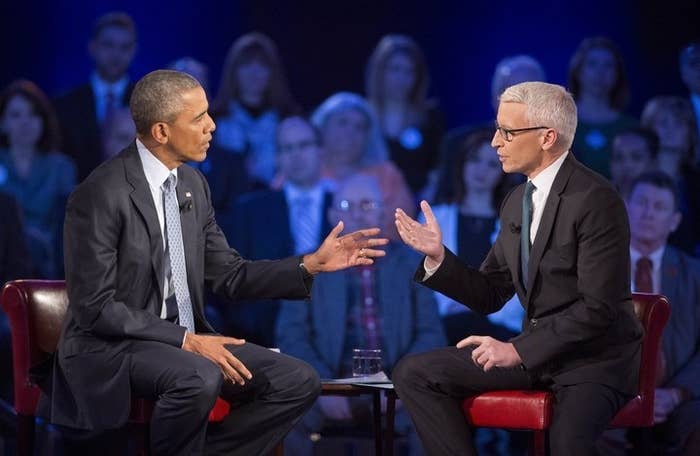 Two days after President Obama delivered an emotional speech outlining his executive actions on gun control, he defended his "modest way to get started" in a CNN town hall meeting.
Obama spent much of his time Thursday evening explaining key aspects of his gun strategy, such as expanded background checks. He said that in some cases gun dealers load up vehicles with firearms, then sell them to kids on the street. In other cases, Obama said, people use "trusts and shell corporations to purchase the most dangerous weapons," such as sawed-off shotguns.
In response, he wants to make it harder for law-breakers and people who circumvent regulation to get guns.
"This is about enforcing existing laws and closing what has grown into a massive loophole," he said, adding at another point that this "should not be something that threatens responsible gun dealers across the country.
But during the question-and-answer section of the broadcast, one woman — who identified herself as a rape survivor — questioned whether Obama's plan would really just make it more difficult for her to defend herself and her family.
Obama countered that his proposal wouldn't. He noted that law abiding citizens would still be able to get guns, but at the time, "you certainly would like to make it a little harder for that assailant to have a gun."
Later, Obama went on to argue that the majority of gun owners agree with background checks, as did Republicans and the National Rifle Association (NRA) at one time.
The NRA came up several times, with CNN's Anderson Cooper asking if Obama would be willing to meet with the firearm advocacy group.
"I'm happy to meet with them," Obama replied. "I'm happy to talk to them, but the conversation has to be based on facts and truth."
Obama heavily criticized the NRA several times during the broadcast, including for killing smart gun technology. The technology would have allowed manufacturers to create guns that can only be fired under certain conditions.
Obama said Colt, as well as Smith and Wesson, were developing so-called smart guns before the NRA and boycotts forced them to to back down.
"We're going to do some of the research," Obama added. "We'll work with the private sector."
At another point, Obama called the NRA's rhetoric "overheated."
Other topics Obama discussed included his pledge to only support candidates who back gun reform, parallels to other industries that have rolled out safety measures, and the gridlock in Washington that has stalled gun reform.
Leading up to Tuesday's gun control announcement, the president formed a task force to figure out ways to curb gun violence.
The gun control actions are the most aggressive taken since the shooting at Sandy Hook Elementary School that claimed the lives of 20 children and six adults.