President Obama called on Americans to come together to uphold the ideals of democracy in his farewell speech Tuesday night in Chicago.
Going back to Chicago for this historic moment was symbolic to Obama because the city is where he worked as a young community organizer and where eight years ago he declared victory to become the country's first black president.
"This is where I learned that change only happens when ordinary people get involved, get engaged, and come together to demand it," Obama told the crowd of approximately 18,000 people.
"After eight years as your president, I still believe that. And it's not just my belief. It's the beating heart of our American idea — our bold experiment in self-government."
The eight years of his term had brought successes, he said, from reversing the tide of recession, to expanding health care coverage, to defeating Osama bin Laden. But Obama acknowledged the challenges to Americans' sense of solidarity: terrorism, inequality, and demographic changes.
"These forces haven't just tested our security and prosperity, but they're testing our democracy as well," he said. "And how we meet these challenges to our democracy will determine our ability to educate our kids, and create good jobs, and protect our homeland."
He urged Americans to have empathy for their fellow citizens who are different from them.
"For blacks and other minority groups, it means tying our own struggles for justice to the challenges that a lot of people in this country face — not only the refugee, the immigrant, the rural poor, the transgender American, but also the middle-aged white guy who from the outside may seem like he's got advantages, but who's seen his world upended by economic, cultural, and technological change," Obama said. "We have to pay attention and listen."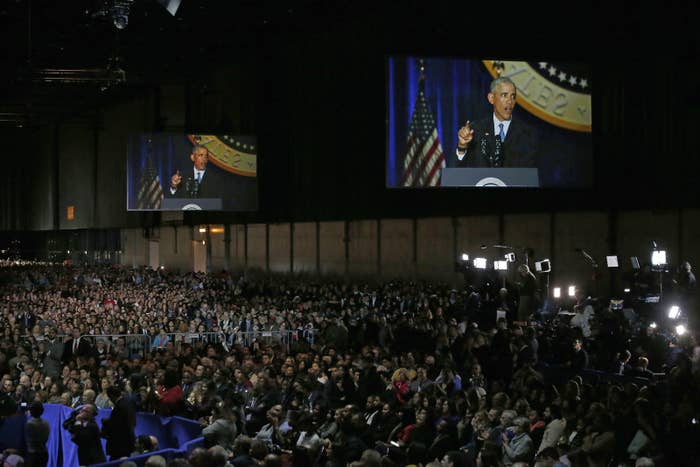 He also called for Americans to move outside the "bubble" of their own neighborhood or Facebook feed and to embrace facts over opinions.
"So regardless of the station we occupy; we all have to try harder; we all have to start start with the premise that each of our fellow citizens loves this country just as much as we do; that they value hard work and family just like we do; that their children are just as curious and hopeful and worthy of love as our own," Obama said. "And that's not easy to do."
Over the last eight years, America through its military and diplomacy has successfully responded to threats from the outside world, Obama added. But American democracy remains vulnerable at home, he said, with those who take it for granted.
"It falls to each of us to be those anxious, jealous guardians of our democracy; to embrace the joyous task we've been given to continually try to improve this great nation of ours," he said. "Because for all our outward differences, we in fact all share the same proud title: the most important office in a democracy. Citizen."
Those unhappy with the direction of politics should get involved — whether by engaging in conversations with their neighbors, organizing, or even running for office themselves, he said.
"That's what our democracy demands. It needs you," he said. "Not just when there's an election, not just when your own narrow interest is at stake, but over the full span of a lifetime."
Obama also took time to thank his family and Vice President Joe Biden, as well as those who had worked on his staff and volunteered during his campaigns.
"I do have one final ask of you as your president — the same thing I asked when you took a chance on me eight years ago," Obama said.
"I am asking you to believe. Not in my ability to bring about change — but in yours," he said with a familiar refrain. "Yes We Can. Yes We Did. Yes We Can."
On Friday, first lady Michelle Obama gave her last speech from the White House. She discussed highlights from her Reach Higher initiative, and also spoke on the role of school counselors.

In her last words she said, "I hope I have made you proud."