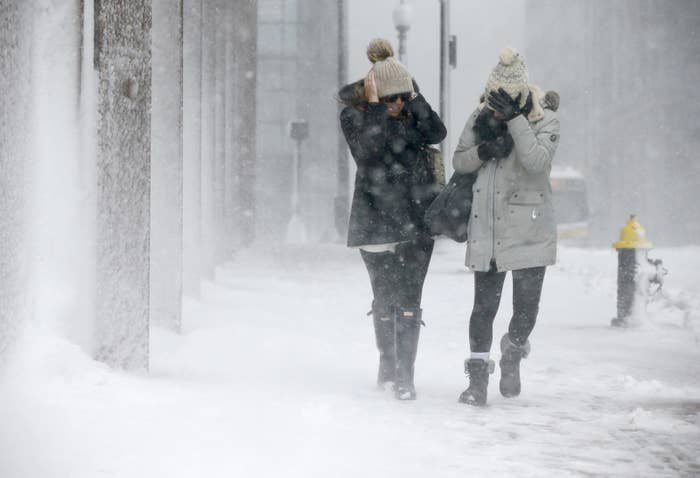 ☃️❄︎
The Northeast United States — stretching from Washington, DC, to north of Boston — experienced heavy snowfall overnight Monday, with snowy conditions stretching late into Tuesday.
Because nothing is fair, the nor'easter came just two weeks after most of the region saw springlike temperatures in the high 60s to low 70s.
Harrisburg, Pennsylvania, received at least a foot of snow, Wantage, New Jersey, got at least 17 inches. Meanwhile, New York's Hudson Valley got up to 20 inches by Tuesday afternoon.
The storm was a bust in some areas — the blizzard warning was removed for New York City by mid-morning. DC saw mostly slush.
School was canceled in multiple cities, and transportation agencies curtailed service. Here's how the National Weather Service put it for drivers: "If you must travel, have a winter survival kit with you."
More than 6,000 flights were cancelled as a result of the storm system.
The storm also knocked out power for thousands of customers across the northeast, including an estimated 60,000 in Massachusetts.
The storm was expected to move out of the northeast overnight Tuesday.
A satellite image taken Tuesday afternoon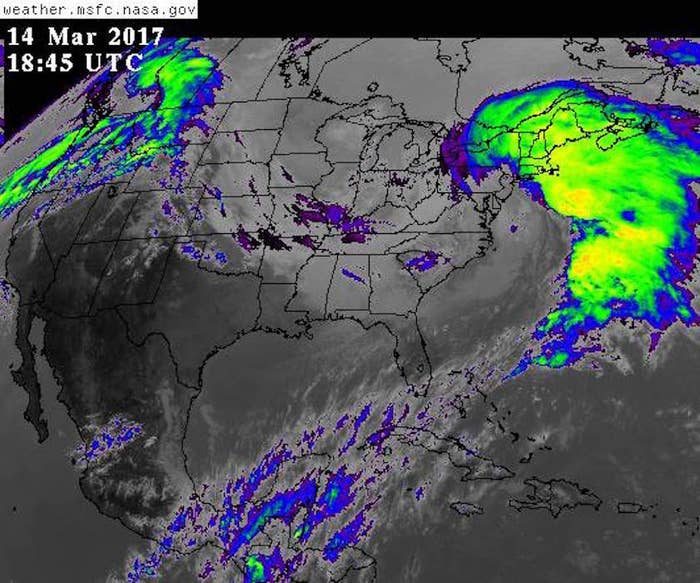 This is why the East Coast blizzard turned into a mess of slush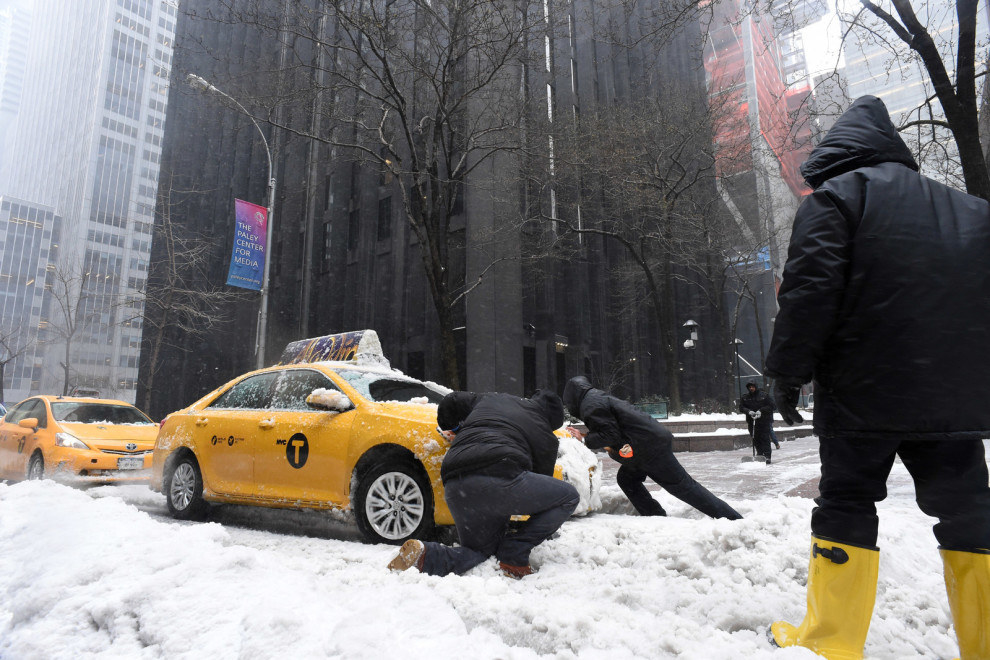 The northeast blizzard may have packed a punch for inland residents hit by more than a foot of snow in northern New Jersey, upstate New York or eastern Pennsylvania, but those in major East Coast cities who braced with refrigerators full of food for the winter storm of the season likely felt let down when they drew their curtains and saw just lots of slush on the streets.
What went wrong? Nothing really, weather scientists say. Weather models simulating the storm ahead of time always showed a wide range of possible snowfall totals. It's the media and government officials that — perhaps prudently or perhaps not — emphasize the worst-case scenario of whiteout blizzards.
"The amount of precipitation that was expected was there. And the winds were strong enough for a blizzard," Bob Henson, a meteorologist at the Weather Underground, told BuzzFeed News. "It's just a matter of a very small difference in temperature."
What caused what would have otherwise been snow to fall as sleet over much of the East Coast was — in the words of another meteorologist, Thomas Downs at the private forecasting firm WeatherBELL — a "warm tongue" of air from the Atlantic Ocean.
Read more here.
—Dino Grandoni
A pair of ponies ran loose in Staten Island during the snowstorm
Two ponies were wrangled by police after getting loose in Staten Island on Tuesday when a gust of wind opened their barn door, officials said.
The ponies made a run for it around 9:30 a.m. and were soon spotted by an off-duty police officer. The officer had a tow strap with him and was able to gather the ponies and tie them to a lamp post until additional officers arrived to the scene.
"I want to thank our cowboy officer for having quickly addressed the situation," New York Mayor Bill de Blasio said at a news conference.
The ponies were returned to their owners, uninjured, at about 10:30 a.m., a police spokesperson told BuzzFeed News.
The owner told the New York Daily News, "Wow you guys woke all of Staten Island this morning."
— Mary Ann Georgantopoulos
More than 60,000 people were left without power in Massachusetts
As of Tuesday afternoon, more than 60,000 power outages were reported in Massachusetts as heavy snow pounded the region.
Up to a foot of snow was expected in Boston, while central Massachusetts could see up to 18 inches.
Parts of western Massachusetts and southern New Hampshire could see as much as 2 feet of snow.
Massachusetts Gov. Charlie Baker said he dispatched more than 3,000 pieces of equipment to clear roads.
A 16-year-old New Hampshire girl was killed in a crash after she lost control of her car while driving in the snow, NBC Boston reported.
— Mary Ann Georgantopoulos
The National Weather Service has downgraded the blizzard in New York City
Once expected to receive as many as 20 inches of snow, the National Weather Service has announced a lower snowfall estimate for New York City as of Tuesday morning.
While expectations in areas of upstate New York remain high, New York City projections have fallen to between 4 and 8 inches.
Manhattan, for example, has seen between 4 and 5 inches of snow, while the Bronx county received 6 inches as of 8:15 a.m., according to the NWS.
—Tamerra Griffin
More than 70,000 power outages in Virginia and Maryland
This blizzard has caused more than 70,000 power outages across Virginia and Maryland as the storm continues to pummel through the Northeast and mid-Atlantic regions.
According to an outage map from Dominion power company, 40,977 people in Virginia are currently without power. Most of the outages are concentrated in Richmond.
Maryland officials told the Associated Press that about 30,000 people in the state lost power.
Additionally, thousands more have been reported in Delaware, New Jersey, and around Philadelphia, according to the AP.
— Tamerra Griffin
More than 5,500 flights have been cancelled into, out of, and within the US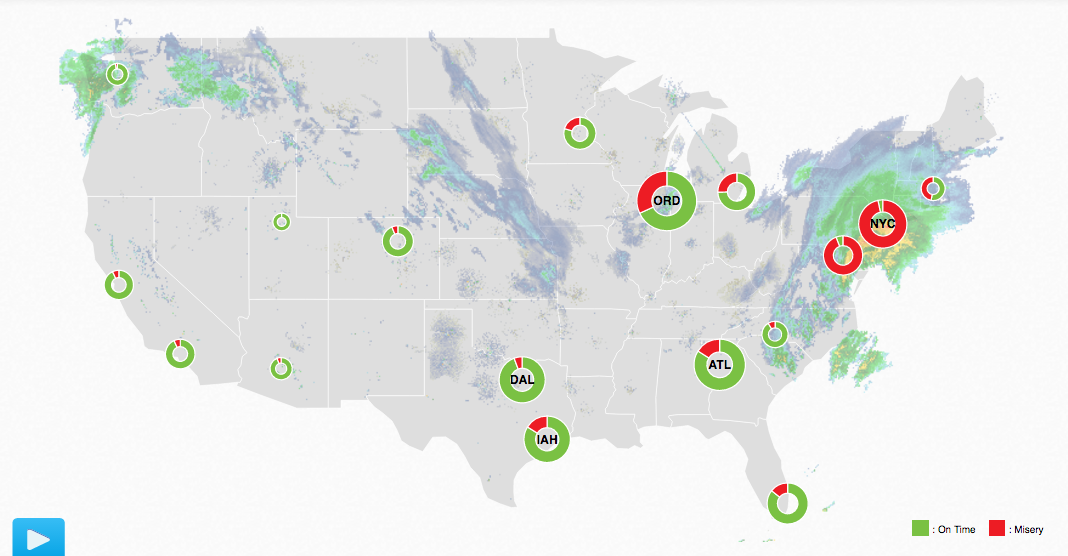 The number of flights canceled into, out of, and within the US exceeds 5,500 Tuesday morning as airports struggle to deal with a blizzard plummeting across the Northeast.
According to the flight-tracking website FlightAware, there have been 5,507 flight cancellations within, outside of, and throughout the US today, and 5,928 cancellations altogether.
Additionally, there have been 217 flight delays in the US, and 1,894 worldwide. Southwest, American Airlines, JetBlue, and United Airlines have experienced the most cancellations, at 907, 700, and 639, respectively, according to the FlightAware.
The airlines with the highest volumes of cancellations have offered up travel waivers for passengers affected by the storm.
Airports most affected by the blizzard are concentrated in the New York City area and Boston, but also include major airports in Baltimore, Philadelphia, Chicago, and Washington, DC.
— Tamerra Griffin
New York Gov. Andrew Cuomo deploys 2,000 National Guard members across the state to manage Stella
New York Gov. Andrew Cuomo on Tuesday morning urged New Yorkers to stay at home and off the roads as the blizzard continues to blast through the state.
In an interview on CNN, the governor states that he had deployed 5,000 plows and 2,000 members of the National Guard to manage the effects of the storm.
Cuomo added that "airports are basically closed in New York," as was the government and schools.
"There's no real reason to be on the roads," he added, but noted that New York City subways would continue to operate.
Service on above-ground railways, like the Metro-North, could be suspended later in the day, Cuomo said.
He reiterated that the safety measures were statewide, "and the snow plus sleet plus wind is a nasty mix, but because of the light traffic, the light volume, we've been able to stay ahead of it."
—Tamerra Griffin
New York, other states declare emergencies as storm begins pummeling the Northeast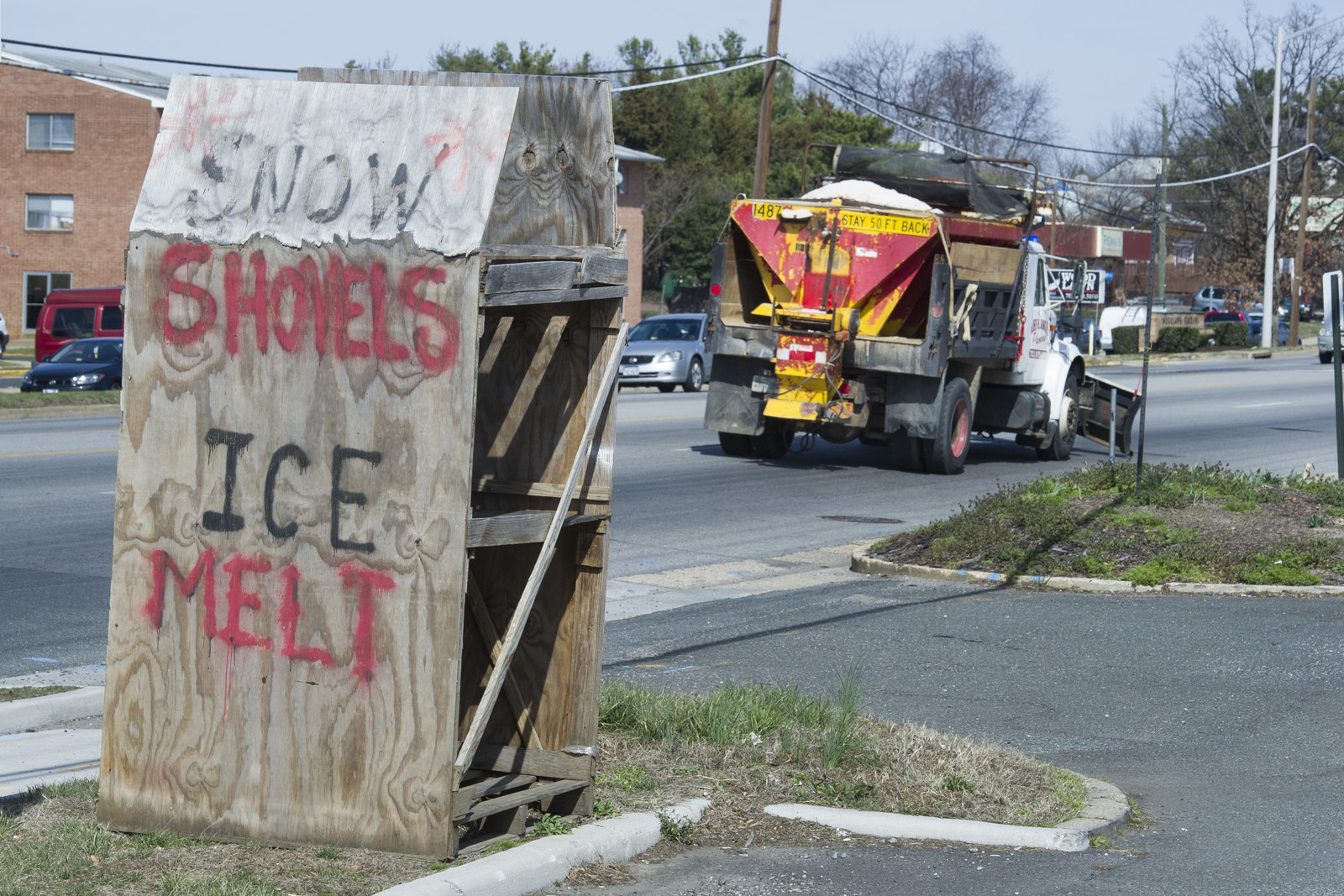 New York Gov. Andrew Cuomo declared a state of emergency late Monday in the face of a massive storm that was expected to have widespread impacts throughout the region.
New York's emergency declaration took effect at midnight Tuesday and included the entire state. It warned of "blizzard conditions" and up to two feet of snow in some areas.
Also Monday night, Maryland Gov. Larry Hogan declared a state of emergency in his state.
New Jersey Gov. Chris Christie and Virginia Gov. Terry McAuliffe had previously declared states of emergency earlier Monday.
 — Jim Dalrymple II
Grocery stores face big crowds, empty shelves as storm approaches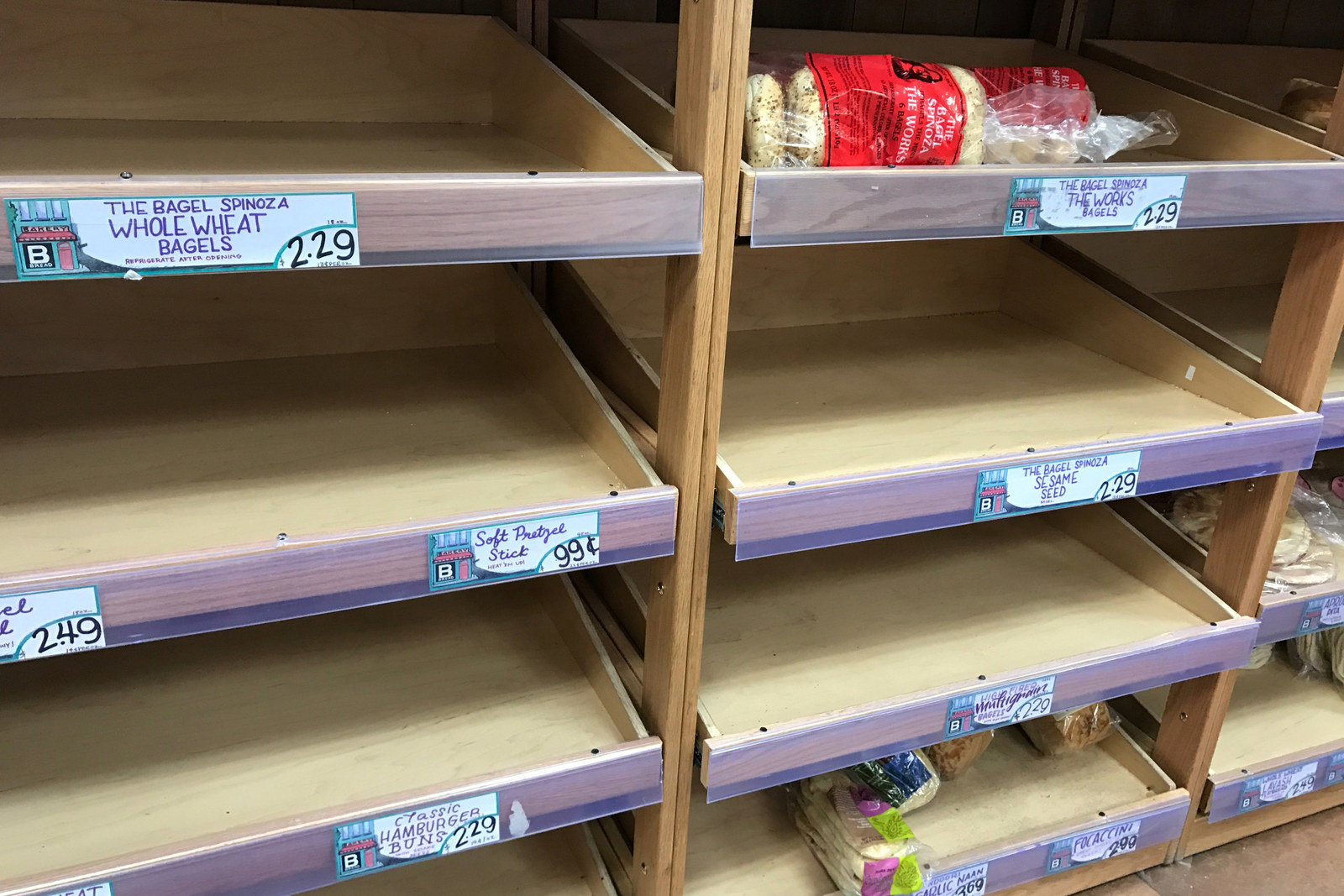 Supplies at some grocery stores in the Northeast were running low Monday as shoppers stocked up for what was likely to be a day holed up at home beneath feet of snow.
The brunt of the storm was expected to hit late Monday and Tuesday. In the hours before the storm arrived, shoppers hoping to stock up on food and other supplies faced long lines:
Others shared images of empty shelves:
Storm forces emergency declarations, travel shutdowns as it bears down on the Northeast
Travel across much of the Northeast began shutting down Monday as a massive winter storm bore down on the region and officials warned the public to hunker down.
New Jersey Gov. Chris Christie closed state offices Tuesday, declared a state of emergency, and urged "all New Jerseyans to remain off the roads so we can safely & efficiently handle all emergency situations." Some transit in New Jersey was scheduled to shut down at midnight.
In Connecticut, Gov. Dan Malloy issued a state-wide travel ban, beginning at 5 a.m. Tuesday, on all state roads, except for "those whose services are absolutely essential for emergency purposes."
New York City Mayor Bill de Blasio declared a state of emergency that was set to begin at midnight Tuesday.
New York Gov. Andrew Cuomo asked people in his state to work from home Tuesday and said above ground MTA service would stop starting at 4 a.m. He also said express subway service would end at midnight, and left the door open to other potential transit suspensions.
Meanwhile, officials in Philadelphia declared a snow emergency beginning at 9 p.m. Monday. The emergency includes restrictions on parking and trash collection.
Virginia Gov. Terry McAuliffe also declared a state of emergency. The declaration advised Virginians to stay off the roads, and will let the state deploy 200 National Guard troops.
Emergency managers in Maryland advised people to stay off the roads as well. Maryland's transportation department also canceled some transit services.
Maryland Gov. Larry Hogan declared a state of emergency Monday night.
In Washington, DC, officials were watching the storm to determine if federal employees should be ordered to stay home Tuesday. A decision was expected by 4 a.m.
— Jim Dalrymple II
Here are some snowfall forecasts for the entire region from the National Weather Service: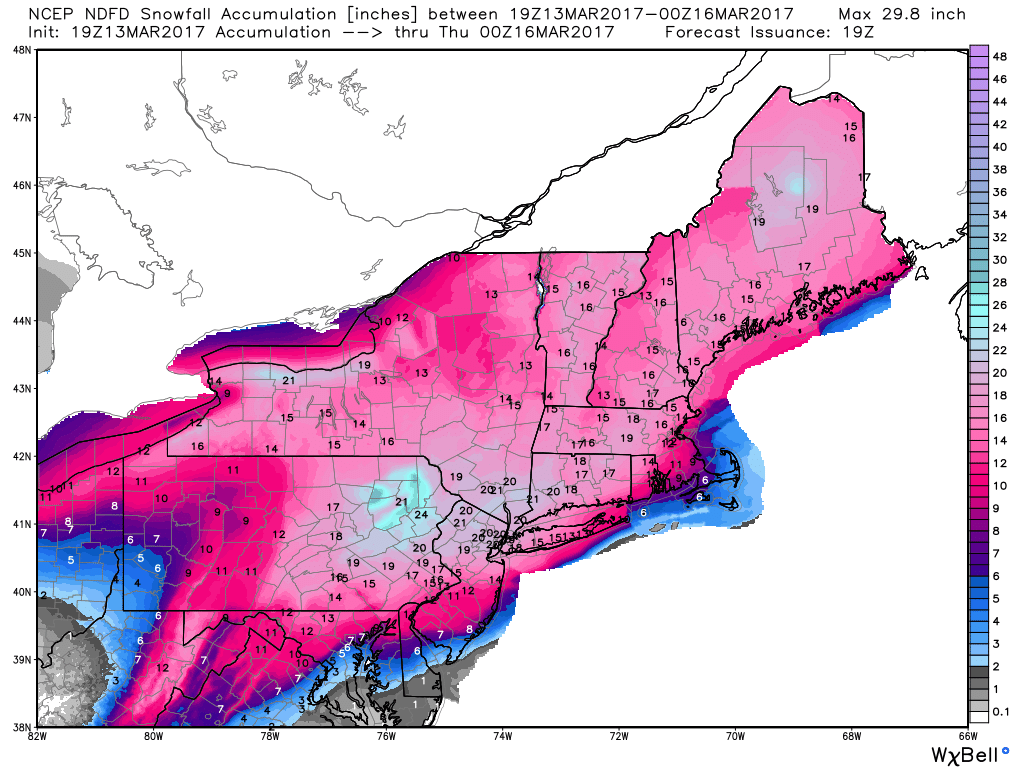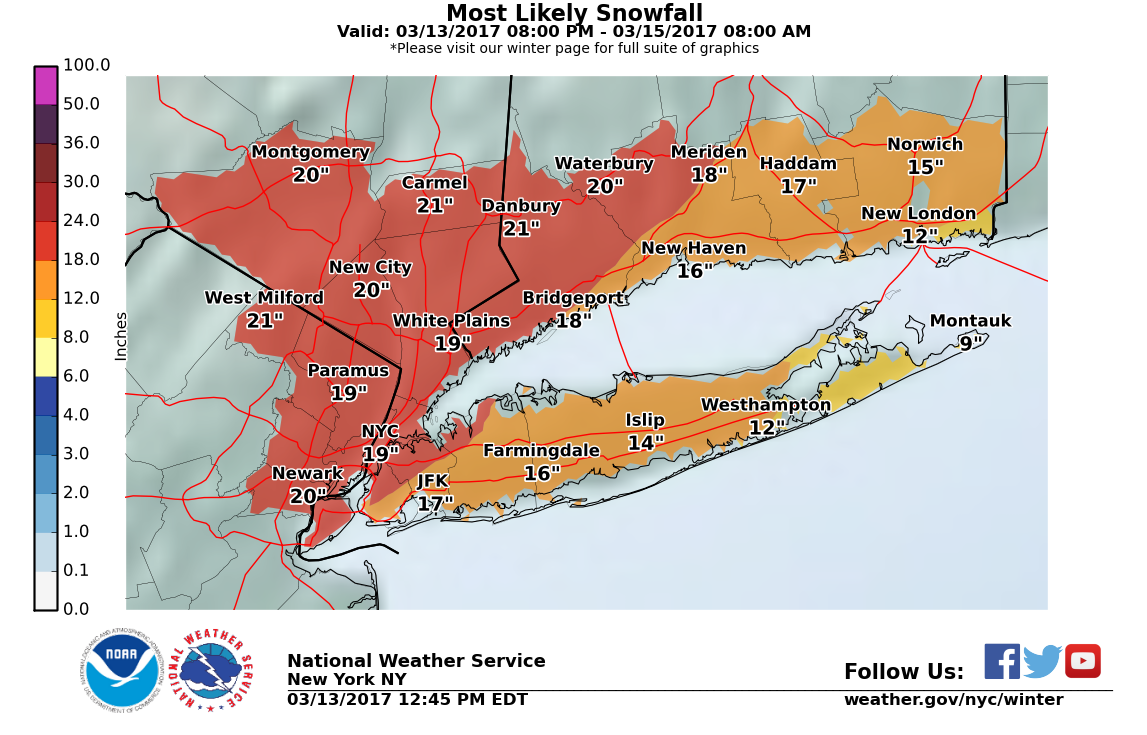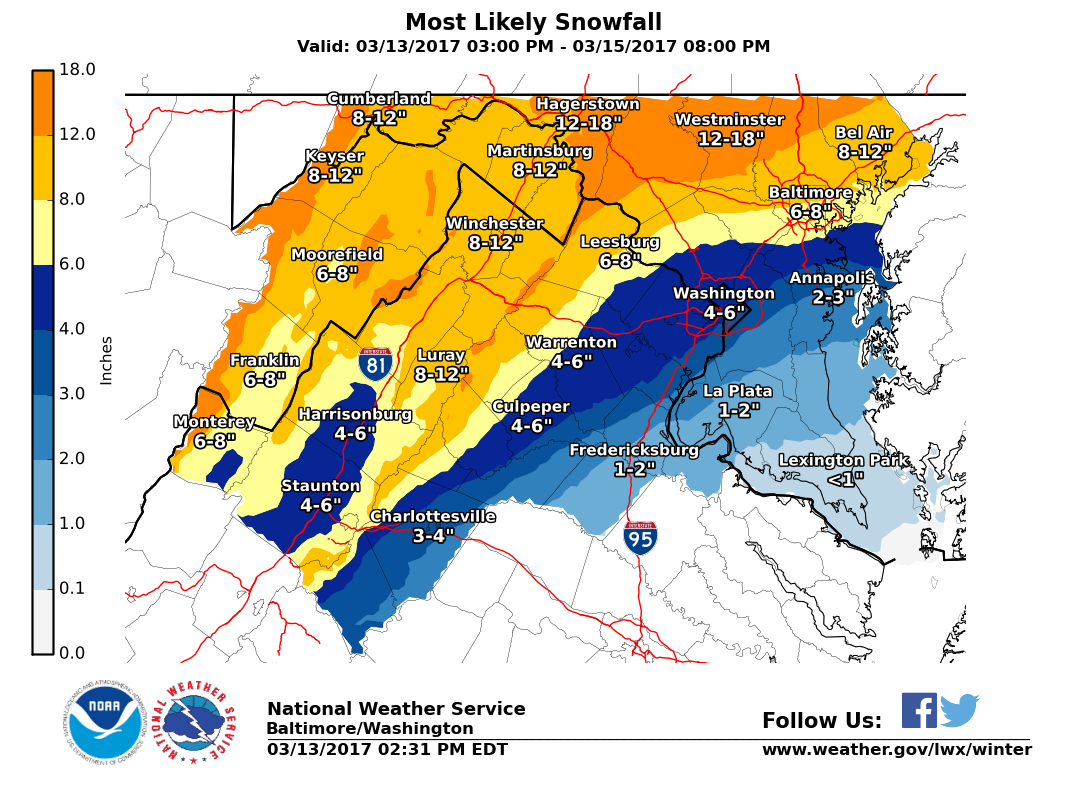 Thousands of flights have been canceled and New York City called off school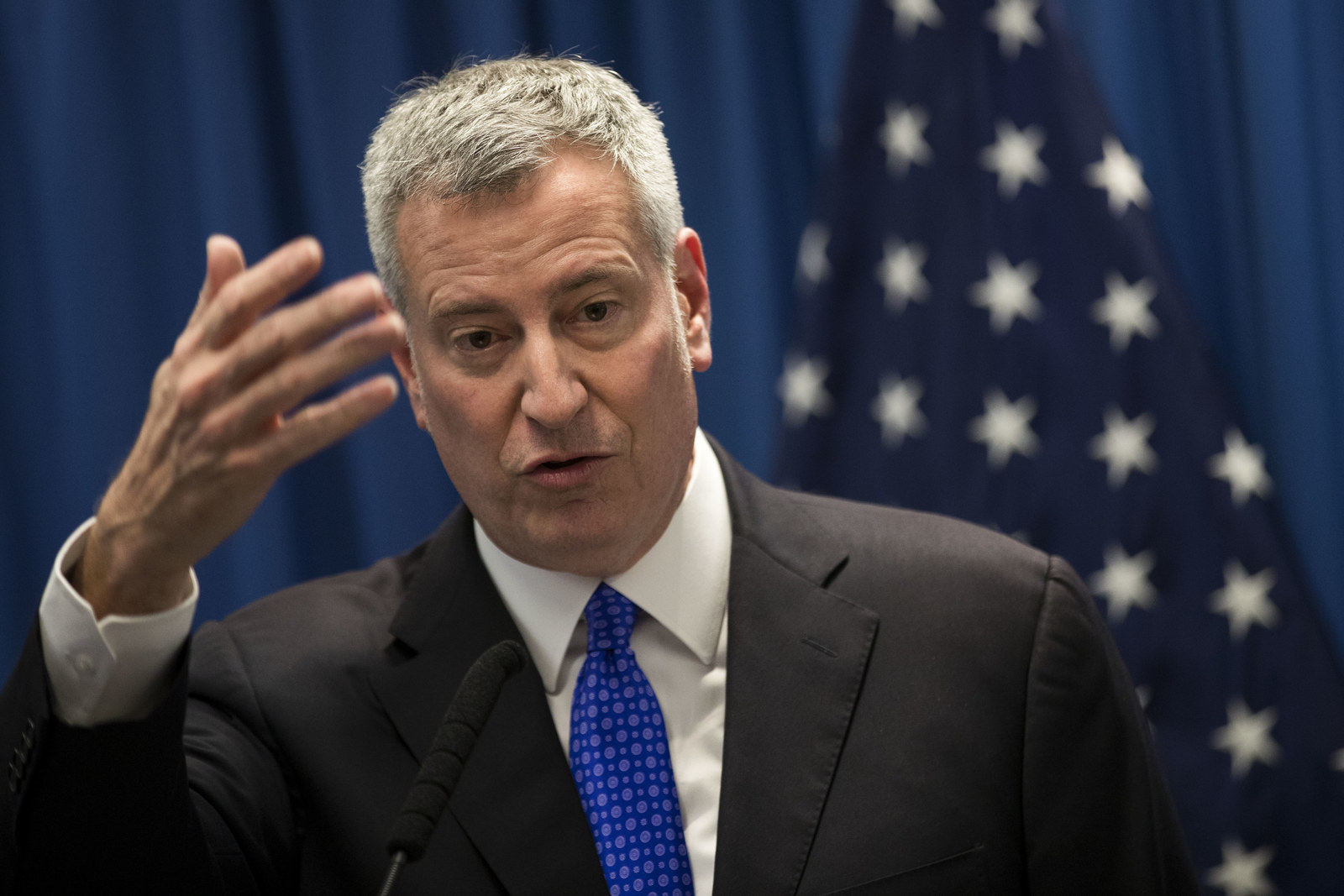 A late-season snowstorm expected to hit the Northeast overnight on Tuesday has already grounded more than one thousand flights in the region.
Cities including New York, Philadelphia, Baltimore, and Boston are expected to see snowfall totaling 12 to 18 inches.
As of Monday afternoon, more than 725 flights were canceled and another 815 flights were grounded for Tuesday.
Most US airlines, including Delta, Southwest, and United, have waived ticket change and rescheduling fees for airports affected by the storm.
In New York City, Mayor Bill de Blasio shut down schools on Tuesday, as a blizzard warning is in effect in the area.
"We're preparing for a significant storm on Tuesday and New Yorkers should also prepare for snow and dangerous road conditions," de Blasio said Monday.
Boston has also closed schools tomorrow.
—Mary Ann Georgantopoulos
Trump warns people to listen to officials
White House Press Secretary Sean Spicer said President Trump has been briefed on FEMA regulations regarding the forecast, and directed the agency's administrator to be prepared to help states that may require federal assistance.
"We urge everyone to listen to state and local leaders and public safety officials, to follow their warning and closure notice," Spicer said at Monday's press briefing. "They are the best source of information during that storm."
In a tweet from the @POTUS account, Trump urged everyone to stay safe and listen to local officials.
The president's Tuesday meeting with the chancellor of Germany, Angela Merkel has also been rescheduled to Friday March 17 due to the weather.
—Mary Ann Georgantopoulos