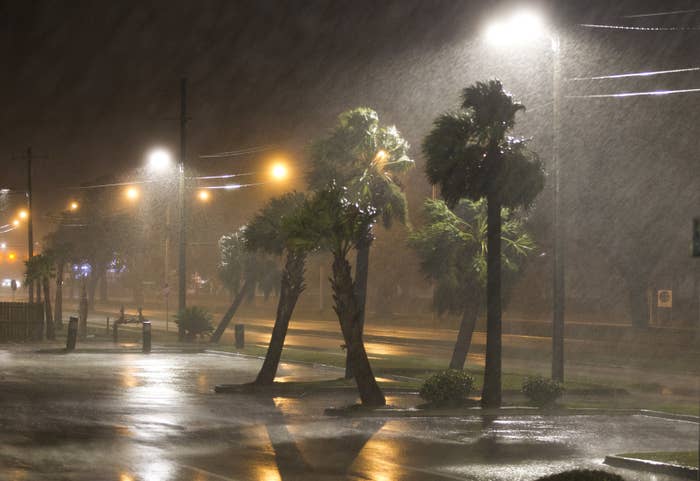 What We Know So Far
This post is now closed.
As of late Sunday morning, Nate is a Tropical Depression with maximum sustained winds of 35 mph.
As a tropical storm, Nate was responsible for the deaths of at least 21 people in Central America and dozens are still missing.
Nate made its first landfall in the US Saturday night near the mouth of the Mississippi River.
President Trump declared a federal state of emergency for Alabama and Florida on Sunday, allowing federal disaster officials to coordinate relief efforts.
Curfews and coastal warnings ended on Sunday after the storm delivered a storm surge up to 6 feet high along much of the Gulf Coast, and then headed north.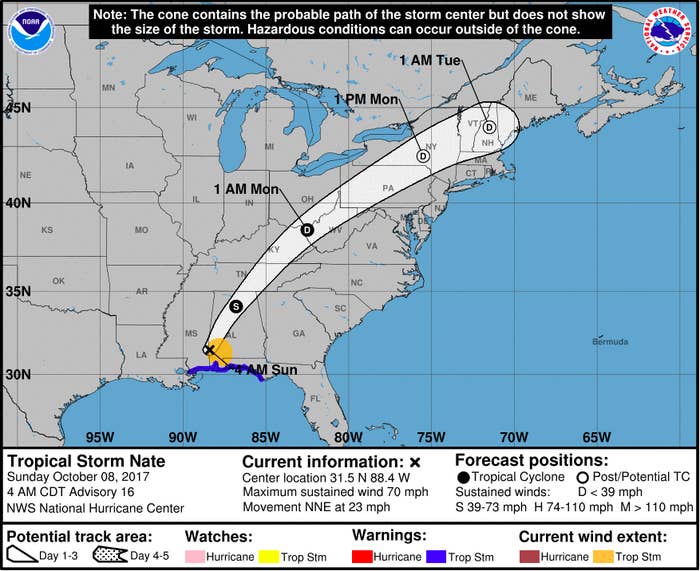 Nate closes out with threats of flash floods and tornadoes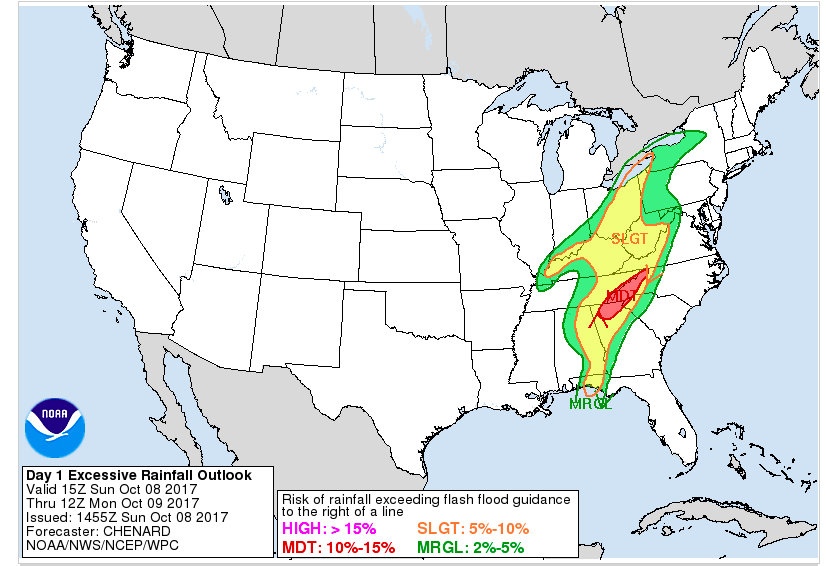 Nate is much weakened and not expected to cause much more damage as it heads north at 24 miles per hour, though the remnants of the downgraded storm — now just Nate to the National Weather Service — promise "heavy to excessive rainfall" across much of Appalachia on Sunday evening.
The storm has also spawned at least two tornado warnings in upstate South Carolina, near Spartanburg.
The Weather Prediction Service does warn of "moderate" risks of flash flooding from heavy rainfall along the south side of the Ohio River Vally, affecting Kentucky, and perhaps southern Indiana. On Monday, the forecast calls for the storm to head into Pennsylvania and New York.
—Dan Vergano
Trump saluted the Nate recovery efforts
President Trump left the Trump National Golf Club in Sterling, Virginia on Sunday afternoon, and took time to give a Twitter shout-out to Hurricane Nate recovery efforts. "Very much under control!," tweeted the president.
No longer a tropical storm, Nate deposited heavy downpours in upstate Georgia on Sunday afternoon, threatening tornadoes in the region. Its remnants promise wind gusts above 40 mph across Appalachia tonight, followed by welcome rains in coming days over parched portions of the Northeast. — Dan Vergano
Alabama and Florida declared federal emergency over Nate
Federal disaster officials will help coordinate relief efforts in Alabama after President Donald Trump approved an emergency declaration for the state, the one hit hardest by Hurricane Nate. He later added Florida to the declaration.
The Federal Emergency Management Agency (FEMA), "is authorized to identify, mobilize, and provide, at its discretion, equipment and resources necessary to alleviate the impacts of the emergency," said the declaration, made at 11:55 a.m. EDT. The agency will reimburse 75% of relief measures costs undertaken by state and local officials, under the declaration.
In Alabama, more than 70,000 homes have reportedly lost power and in Florida some 6,800 are without power.
On Sunday, FEMA director Brock Long told ABC's This Week that 85% of his agency's personnel were already deployed to hurricane recovery efforts in the US Virgin Islands and Puerto Rico, where 43% of the population still lacks reliable water, as well as in Florida and Texas, and called agency resources, "strained."
But he added, "the bottom line is, is that we're positioned to support Nate very well."
Trump had declared an emergency for Mississippi over the storm on Saturday, ahead of landfall.
— Dan Vergano
Nate downgraded to Tropical Depression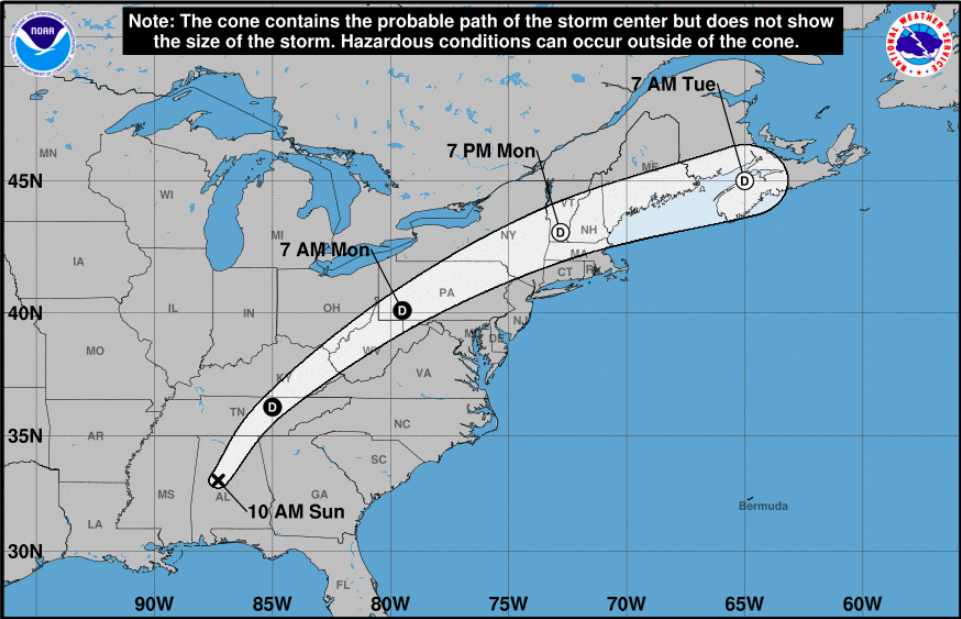 Federal weather forecasters downgraded the storm to a Tropical Depression with 35 mile per hour winds late on Sunday morning, ending all coastal warnings and watches.
"Nate's center will continue to move inland across the Deep South, Tennessee Valley, and central Appalachian Mountains through Monday," said the National Weather Service Forecast. Strong winds are predicted to continue from Alabama through the Florida panhandle today. "Life threatening" rip currents and tides will continue through Monday along the Gulf Coast, according to the weather service, and "a couple" tornadoes may result from its passage.
Nate is predicted to speed up as it heads north, cutting across the Deep South through Appalachia on Monday before arriving, much weakened, in New England on Tuesday. It is projected to drop 3 to 6 inches of rain, with a maximum of 10 inches, on southern states.
— Dan Vergano
Hurricane Nate knocks out power and roads along Gulf Coast
Downed power lines and fallen trees are Hurricane Nate's major impact, emergency officials are reporting on Sunday morning, along with flooding in parts of Biloxi, Mississippi and Mobile, Alabama.
However, emergency officials are not reporting any deaths or injuries so far from the storm, now far inland, according to the National Weather Service. "Nate rapidly weakening but storm surge flooding continues," the weather service warns in its latest alert on the storm.
Some coastal structures and boats are reported damaged, and more than 28,000 homes are without power in Southern Mississippi, along with 71,000 reported in Alabama. Emergency crews are clearing roadways along the coast as well.
A storm surge up to 6 feet high was reported along the Mississippi coast, and some coastal roads are reportedly blocked by fallen trees. But evacuation orders and curfews have ended in most parts of the state, with storm surge warnings still in effect to the east, stretching from Mobile to Pensacola, Florida.
The fast moving storm did not linger over the coast after making landfall, sparing the region the most feared amounts of rain, though early reports showed heavy downpours.
—Dan Vergano
Nate downgraded to Tropical Storm, brings life-threatening storm surges
Hurricane Nate has been downgraded to a Tropical Storm after making landfall in the US for a second time.
Latest updates from the National Hurricane Center show Nate is about 80 miles north northeast of Biloxi, Mississippi with maximum sustained winds of 70mph.
Storm surge warnings are in place for Pointe a la Hache to the Okaloosa/Walton County Line in Florida. Many areas of the coast will see some flooding, the NHC said.
The storm is forecast to move inland across the Deep South, Tennessee Valley and the central Appalacian Mountains throughout Monday.
However, Storm Nate is expected to quickly weaken as it moves farther inland. It should degenerate into a remnant low late Monday.
—Alicia Melville-Smith
Hurricane Nate makes second landfall near Biloxi, Mississippi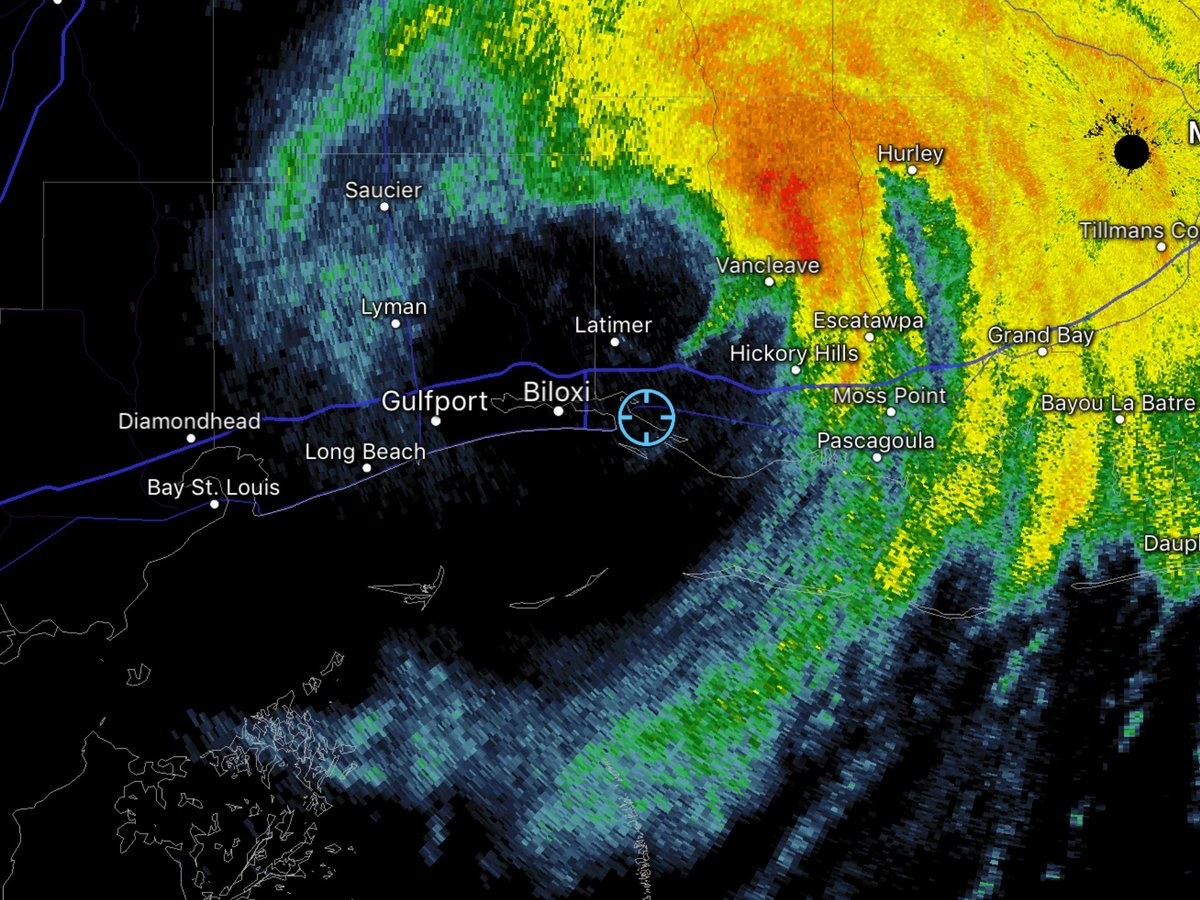 Hurricane Nate made its second landfall in the United States near Biloxi, Mississippi, early Sunday morning as a Category 1 system, marking the first time that a hurricane has hit the state directly since 2005's Hurricane Katrina.
Nate's eye is moving north at 20 miles per hour, with maximum sustained winds of 85 mph. The storm is now expected move inland across Mississippi and other parts of the Deep South and the Tennessee Valley through Monday, according to the latest update from the National Hurricane Center.
Forecasts show Nate weakening quickly as it crosses land, and predict that it will likely be downgraded to a Tropical Storm sometime Sunday.
Along the Gulf Coast, conditions deteriorated rapidly overnight Saturday as Nate made its second approach. By midnight, thousands of energy customers in Alabama and Mississippi were without power, and social media posts showed major flooding and heavy winds battering cities like Gulfport, Mississippi, and Biloxi.
The most serious damage from Nate is expected to come from the storm surges, which is predicted to be as high as 7 to 11 feet along the Alabama-Mississippi border. Flood warnings are in effect for much of the Gulf Coast.
On Alabama's Dauphin Island, local officials reported Saturday night that roads in low-lying areas were already inundated with more than four feet of water.
State officials in Mississippi, Alabama, and Louisiana spent much of Saturday warning residents in evacuation areas to leave their homes.
"This is the worst hurricane that has impacted Mississippi since Hurricane Katrina," Mississippi Emergency Management Director Lee Smithson said Saturday. "Everyone needs to understand that, that this is a significantly dangerous situation."
More than 40 percent of oil- and gas-drilling platforms in the Gulf of Mexico were also evacuated, according to the US Department of the Interior, shutting about 70 percent of oil production and 53 percent of natural gas production. The region accounts for about one-fifth of US oil production.
—Grace Wyler
Hurricane Nate expected to bring life-threatening flooding across the Gulf Coast, from Louisiana to Florida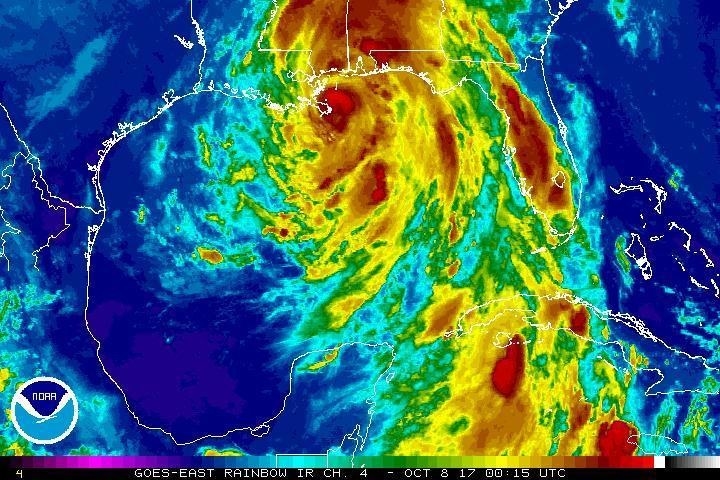 Hurricane Nate eye is headed toward the Mississippi coast, and officials warn the storm could bring life-threatening storm surge flooding to Gulf Coast states, including Louisiana to Florida.
Nate made landfall near the mouth of the Mississippi River earlier Saturday night, and is expected to move northeast.
Flooding along Mississippi's coast is expected to reach somewhere from 7 to 11 feet, according to the National Hurricane Center.
The storm is expected to bring about three to six inches of rain to most places, but some areas may see as much as 10 inches of rain.
As it crosses inland, Hurricane Nate is still a fast storm, moving at about 20 mph, officials said. That will likely bring tropical-force winds across the southeastern portion of the US, the center said. Some areas as far north as Tennessee may see enough rain for flash flood warnings.
Tropical storm watches have been issued for southeastern Mississippi, most of Alabama, and western Georgia. On Saturday night, President Donald Trump approved a disaster declaration for Mississippi, freeing up federal relief funding for the state as the storm starts to batter the coast.
—Salvador Hernandez
New Orleans mayor lifts curfew in city
New Orleans Mayor Mitch Landrieu lifted a mandatory curfew after the National Weather Service canceled a hurricane warning in the city.
Hurricane Nate made landfall in Louisiana Saturday evening as a Category 1 with winds up to 85 mph, a bit weaker than earlier forecasts expected.
The city, however, is still asking residents to shelter in place as the hurricane passes over the state.
"There is still a serious threat of storm surge for areas outside of levee protection and residents should continue to monitor local news and take precautions," the statement read.
—Salvador Hernandez
Hurricane Nate has made landfall in Louisiana near the mouth of Mississippi River
Hurricane Nate made landfall in Louisiana as a Category 1 hurricane, the National Hurricane Center announced, just 10 miles southwest of the mouth of the Mississippi River.
Winds of up to 85 mph were blowing as Nate made landfall, moving north at about 20 mph, the center announced.
A hurricane warning remained in effect from Grand Isle, Louisiana, to the Alabama and Florida borders. In New Orleans, officials have issued a tropical storm warning.
Nate is expected to pass over Mississippi, Alabama and Tennessee sometime before Sunday night.
—Salvador Hernandez
Hurricane Nate arrives in New Orleans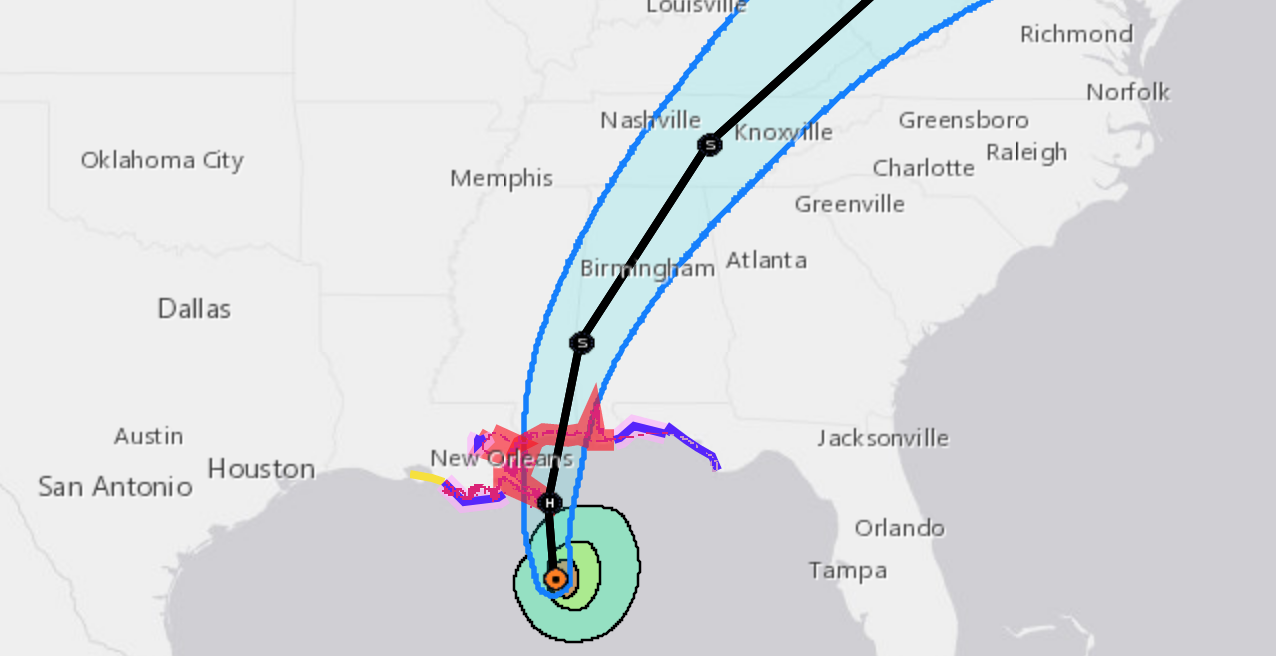 The outer bands of Hurricane Nate, which is projected to be a category two hurricane when it makes landfall on Saturday night, are already hitting New Orleans, with wind gusts up to 45 mph.
The National Weather Service warned in a tweet that "conditions will deteriorate quickly this afternoon."
A hurricane watch remains from Grand Isle, Louisiana, to the Alabama/Florida border, and includes metropolitan New Orleans. Photos and videos by Louisiana locals show the grey clouds of the first hurricane band.
At 1 P.M. CT, the eye of Nate was 105 miles "south of the mouth of the Mississippi River," tweeted the National Weather Service for New Orleans.
The latest report from the National Hurricane Center notes that "the center of Nate will approach the mouth of the Mississippi during the next several hours and will make landfall along the central U.S. Gulf Coast tonight."
It also warns that storm surges between the mouth of the Mississippi and the Mississippi/Alabama border could reach up to 11 feet, and up to nine feet between the Mississippi/Alabama border and the Alabama/Florida border.
"The deepest water will occur along the immediate coast near and to the east of the landfall location, where the surge will be accompanied by large and destructive waves," warned the NHC.
Nate gathers strength over the Gulf of Mexico and is expected to be a Category 2 when it makes landfall in the US
The National Hurricane Center said on Saturday morning said Nate "is a little stronger over the central Gulf of Mexico."
The storm is traveling at a quick 22 mph and is not expected to slow down, and is now expected to be a Category 2 hurricane when it makes landfall in the US.
—Gavon Laessig